7 Best Budget Jigsaws under $100 – Reviews & Top Picks 2023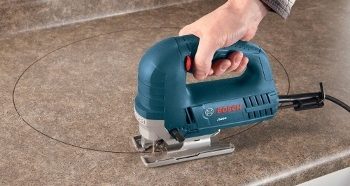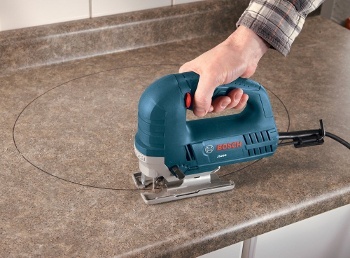 Did you know that the jigsaw was invented by a Swiss engineer who modified his wife's sewing machine to use a blade rather than a needle? It's true – this indispensable modern-day woodworking tool has its roots in a minor modification of another machine and still features the incredible versatility afforded by easily changeable blades.
We've been using jigsaws for home improvement, DIY, and basic drywalling projects for over a decade now, and want to share our experience with you in these reviews. By the end of this guide, you'll know enough about this style of saw to find the perfect jigsaw for your home workshop. No matter what size of budget or project you have, there's an option that's just right for you.
---
A Quick Comparison of Our Favorites in 2023
Rating
Image
Product
Details

Best Overall

Bosch JS260 Jigsaw

Excellent power output
Variable speed control
Easy blade changes
CHECK PRICE

The Runner-up

Makita 4329K Jigsaw

Variable speed control
Low vibration design
Low vibration design
CHECK PRICE

Best Value

SKIL 4495-02 Orbital Jigsaw

Accepts both T- and U-style blades
Variable speed trigger
Fast and easy toolless blade change
CHECK PRICE

PORTER-CABLE PCC650B Jigsaw

Most portable jigsaw
Easy to change blades
Variable speed and three orbital settings
CHECK PRICE

Ryobi ZRJS481LG Jigsaw

Extra powerful integrated dust blower
Variable speed and orbital settings
Comfortable
ergonomic grip design
CHECK PRICE
7 Best Budget Jigsaws – Reviews:
1.

Bosch JS260 Jigsaw – Best Overall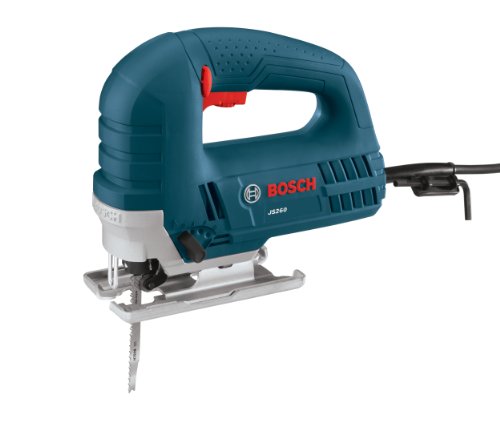 Bosch was the first company to capitalize on the new saw design pioneered by Albert Kaufmann and began producing the first mass-market jigsaw models as far back as 1947. This has given them more time to hone and refine their design than any other jigsaw manufacturer, resulting in marvelous pieces of equipment like the Bosch JS260 Jigsaw.
A comfortable molded plastic handle and top housing contain a hard-working 6.0-amp motor, capable of producing up to 3,100 strokes per minute. Thanks to a variable speed control system, you can dial in as much of this power as you need, making it useful for precision work as well as raw cutting power.
The JS260's toolless blade change system makes it fast and easy to insert and remove whichever blade you need for the project at hand, and the multidirectional blade clamp provides a reliable grip on any T-style blade.
Add all of that to the Bosch's low-vibration design and always-on dust blower, and it's easy to see why we've given it our number one spot.
Pros
Excellent power output
Variable speed control
Easy blade changes with integrated toolless system
Four different orbital action settings
Low-vibration design
Durable molded plastic top and heavy-duty steel footplate
Cons
On the expensive side
A small portion of these jigsaws have factory defects
---
2.

Makita 4329K Jigsaw – The Runner-Up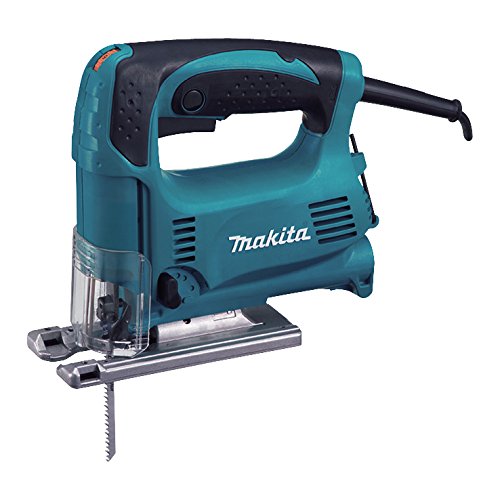 Of all the jigsaws we tested for these reviews, the Makita 4329K may very well be the most comfortable to use. After making hundreds of curved, scrolling cuts through plywood, hardwood, and tile, we kept coming back to the Makita for its easy handling and ergonomically designed grip.
The benefits of this small jigsaw don't stop there, though – we also appreciate the variable speed control, vibration-reducing counterweight balance system, and easy blade change system with an onboard hex wrench. Additionally, it was the only jigsaw we tested that features a reliable lock-on button to save your finger strength during extended operation.
Perhaps the only reason that the 4329K didn't end up at the very top of our list is its slightly underpowered motor. Though it's easily capable of producing 3,100 strokes per minute, the 3.9-amp motor lacks some of the oomph necessary for tackling larger jobs.
Pros
Exceptionally comfortable, ergonomic handle design
Variable speed control
Low vibration design
Dust port attaches to a hose for clean operation
Onboard wrench for fast and simple blade changes
Comes with a tool case
Cons
Underpowered motor
Needs to be hooked up to a vacuum
---
3.

SKIL 4495-02 Orbital Jigsaw – Best Value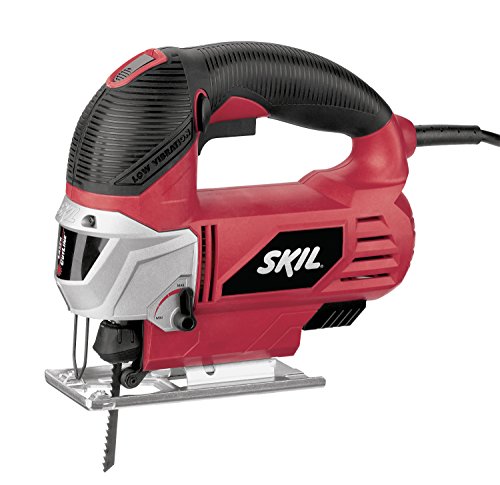 It's not every day that you can find a power tool that packs serious performance at a price nearly half that of its competitors – but with the SKILSAW 4495-02 Orbital Jigsaw, that dream can be a reality. While it's far from being the most comfortable jigsaw that we've used, its combination of high-powered operation and laser-guided accuracy easily make it the best jigsaw under $100 for the money.
A 6-amp motor powers the four orbital positions for this jigsaw, giving it both an excellent maximum cutting power as well as the ability to make perfect cuts on precise jobs. While the low-vibration design makes it less fatiguing during extended use, we found that the shape and material of the handle made it feel cramped and prone to slipping.
Furthermore, the SKILSAW 4495-02 is one of the few jigsaws on this list that accepts both T- and U-style blades. If you're looking to replace an older jigsaw, the 4495-02 is a safe bet. Add in that it features a toolless blade change and foot adjustments as well as on-tool blade storage, and it becomes a truly impressive piece of machinery. For this price of jigsaw, this is the best budget jigsaw on our list.
Pros
Excellent power for the price
Accepts both T- and U-style blades
Variable speed trigger
Fast and easy toolless blade change
On-tool blade storage is a nice touch
Cons
Handle design and material is somewhat uncomfortable
Lacks a sufficient dust removal system
---
4.

PORTER-CABLE PCC650B Jigsaw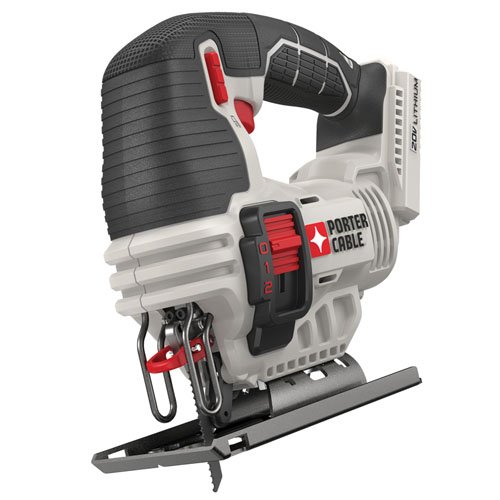 Jigsaws are held in high regard by many woodworkers for their ability to make smooth, rounded cuts and accurate curves. What you may notice getting in the way of that, however, is the cord: Always present, many woodworkers learn to account for it and work around that limitation in their projects.
If you'd rather go for a jigsaw that has maximum freedom of movement and portability, though, a battery-powered alternative like the PORTER-CABLE PCC650B jigsaw has your name on it. Surprisingly powerful for a battery-operated tool, it's capable of producing anywhere from 0 to 2,5000 strokes per minute thanks to its 20V Max System battery.
A tool-free blade change system and three orbital settings make it fast, convenient, and versatile enough for a wide variety of projects, but the underpowered dust blower left us less than impressed. In short, it's a perfect choice for anyone who's ever been frustrated by the cords and power outlets required of traditional power tools.
Pros
Surprisingly powerful for a battery-operated saw
Most portable jigsaw of any we tested
Easy to change blades
Variable speed and three orbital settings
Cons
Heavier than corded jigsaws
Dust blower gives underwhelming performance
---
5.

Ryobi ZRJS481LG Jigsaw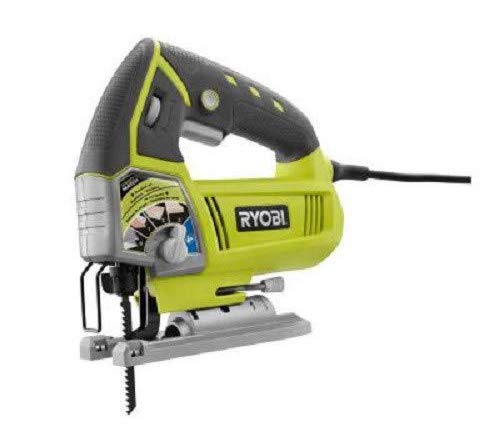 Ryobi's ZRJS481LG shines a high-intensity LED light on every work surface and combines this clarity with a powerful built-in dust blower for maximum accuracy no matter your working conditions. A variable speed dial and four-position orbital action further hone its precision cutting capabilities, making it perhaps the best option for anyone looking to do detailed work with their jigsaw.
Where the Ryobi does not excel, however, is in its overall power. A 4.8-amp motor lacks the necessary strength to make this saw a versatile choice, often struggling with denser hardwoods, metals, or tile. We think this jigsaw is best for hobbyist woodworkers and craftsmen, but poorly suited to heavy-duty construction jobs.
Pros
Super bright LED light illuminates your workspace
Extra powerful integrated dust blower
Variable speed and orbital settings
Tool-free blade clamp for fast and easy changes
Comfortable, ergonomic grip design
Cons
Underpowered motor
Not suitable for use on exceptionally hard or dense materials
---
6.

TACKLIFE Advanced 6.7 Amp 3000 SPM Jigsaw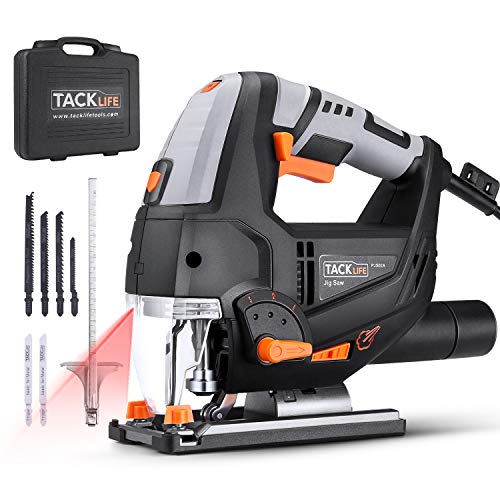 Taking just one glance at the TACKLIFE Advanced 6.7 Amp 3000 SPM Jigsaw's specifications, it seems that it might be the most powerful and well-equipped jigsaw on the market today: An incredibly powerful 6.7-amp motor produces a variable speed of up to 3,000 strokes per minute, giving it more raw cutting power than any other jigsaw we tested. So why isn't it in our number one spot?
As many great things as the TACKLIFE jigsaw has going for it – from an LED cutting guide, to vacuum port attachments, to easy and tool free blade changes – it seems like the company has a bit of a problem with producing reliable tools.
Basically, if you get a well-made jigsaw, then it's an absolute steal for the price. That said, a few too many people have reported immediate problems with the saw's functioning for us to wholeheartedly recommend it without warning that you may have to deal with a lengthy returns process.
Pros
Extremely powerful motor
Excellent variable speed and orbital action controls
High-intensity LED laser cutting guide
Fast and convenient blade changes
Cons
Unreliable manufacturing
Prone to mechanical errors
---
7.

WORX WX550L 20V AXIS 2-in-1 Reciprocating Saw and Jigsaw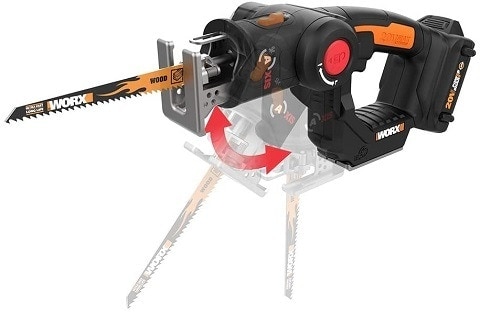 If you're familiar with woodworking or construction saws, you may already know that the jigsaw is not the only style of saw to use a reciprocating blade. There's also the aptly named reciprocating saw, also known as a hognose or recip saw, that's been used in drywall construction for decades.
Well, the folks at WORX have taken the best of both saw worlds and put them into one peculiar package with their WX550L 20V AXIS 2-in-1 Reciprocating Saw and Jigsaw. Combining the functionality of both a jigsaw and a reciprocating saw by allowing the blade to rotate around an axis at the end of the handle, it's a curious saw that also has the benefit of being battery powered.
Lightweight, powerful, and versatile, the WORX combo saw is an excellent choice for anyone who primarily needs a jigsaw for rough work. While we commend this company for its ingenuity, the jigsaw portion of this saw lacks the accuracy needed for making precise rounded cuts and scrollwork.
Pros
Most versatile saw of any we tested
Powerful battery-operated design
Compatible with all reciprocating blade styles
Lightweight and easy to handle
Cons
On the expensive side
Hard to use accurately as a jigsaw
Battery doesn't have great longevity
---
Buyer's Guide – How to Choose the Best Budget Jigsaw for Under $100
Novices and occasional users are invited to use this review as a starting point in making an informed consumer decision about which budget jigsaw to try. Sometimes, in fact, it's less what someone says about a specific product that helps guide people, and more the process used to arrive at that destination. Keeping that in mind, here are the things we looked at in reviewing budget jigsaws.
Common Uses for Jigsaws
One of the great strengths of a jigsaw is its easily interchangeable blades. This allows a single saw to be used for cutting lumber, plywood, plastic, tile, and metal.
Jigsaws are ideal for cutting curves and shapes into any of the above-mentioned materials. With practice, you can also use them for making short crosscuts on boards or finishing inside corner cuts that you've started with another saw.
It's worth noting what jigsaws are not well suited for: Cutting through thick pieces of dense material. A jigsaw's blades are often thin and always subject to stress, thanks to the reciprocal cutting style, making them easier to break on tougher materials.
What to Look for In a Jigsaw
Comparing a jigsaw's most important features to its price will give you a clear picture of whether it's worth the cost. We look for five major attributes in each jigsaw that we test:
Power, measured in amps and strokes per minute, will determine how quickly and easily your jigsaw is able to handle tougher jobs. Anything less than five amps will feel underpowered, with a power range of five to seven amps being the sweet spot for most home improvement projects.
Ergonomics are an essential feature for jigsaws since they will strongly affect your ability to consistently make accurate cuts. Look for saws with comfortable, molded handle grips.
Easy blade changes will allow you to focus on the job at hand, rather than taking time away to deconstruct your saw. Some of our favorite models have a toolless blade change design that makes for incredibly fast changes.
Accuracy, while largely a function of the handle design, also relies on a suitable dust blower and precisely machined housing.
Durability is what keeps your saw running year after year and is mainly a product of the materials used in the construction of the saw. While plastic handles are standard at this point, it's the blade housing and foot that you should look more closely at; if they're made of solid metal, the saw is built to last.
How to Use a Jigsaw
Steve Ramsey is something of a legend among modern woodworkers, thanks to his popular YouTube channel "Woodworking for Mere Mortals". Check out his video on jigsaw basics to get a head start on how to use your new tool:
Conclusion
Bosch came away atop this review of budget jigsaws, with the Makita a close second. Skil was great for the value. We would have probably loved the Porter more, except that it was severely limited by the fact that most people can't use it right out of the box. That leaves the sad little Ryobi, which had little going for it except price, which, considering the negatives, isn't really much at all.
We think of this not only as a set of specific recommendations but also as a guide to how you can make better-informed decisions. It's a crowded marketplace out there for budget jigsaws, and individual users have their own mix of criteria for how they make decisions. We hope that this little guide will help you make the best choice to suit your needs.
Related Reads: