10 Best Miter Saw Stands of 2023 – Top Picks & Reviews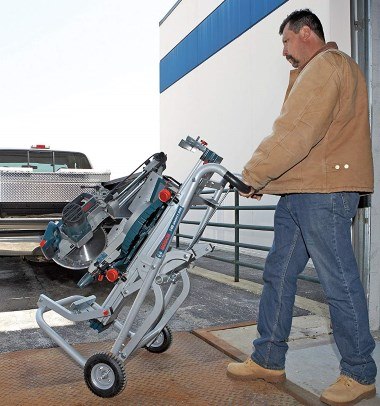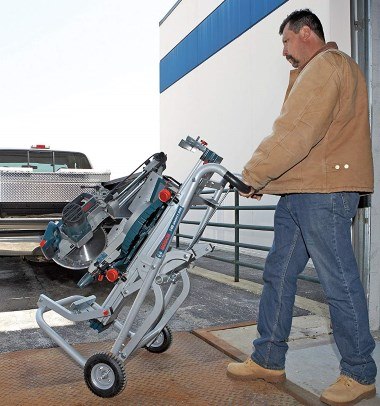 Plain and simple, the miter stand is designed to increase the utility of your miter saw. The right product will make the process of using your tool as intuitive and seamless as possible. From height adjustment to portability to accommodating different material lengths, the perfect miter stand can handle just about anything.
Unfortunately, the wrong stand will do you dirty. Complicated adjustments, instability, and inaccurate cuts add up to an overall frustrating user experience, which is what awaits the buyer who doesn't acquire the proper gear.
Fortunately, that's not something you will need to worry about. Not with this guide at your fingertips. All of the products featured below made their way onto our list only after extensive tests and experimentation.
What's left is the cream of the crop. Read on for some miter stand reviews that are sure to please!
A Quick Glance at our Favorites of 2023:
Rating
Image
Product
Details

Best Overall

Bosch T4B Miter Saw Stand

Stable and solid
Universal saw fit
Adjustable feet for leveling
CHECK PRICE

DEWALT DWX726 Miter Saw Stand

Very stable
Wheels for transport
300-pound weight capacity
CHECK PRICE

Best Value

BORA Portamate Miter Saw Stand

Very affordable
500-pound weight capacity
Only weighs 30 pounds
CHECK PRICE

DEWALT DWX723 Mitre Saw Stand

500-pound weight capacity
Lightweight
16' of material support
CHECK PRICE

HICO UWC4000 Miter Saw Stand

Lightweight
Affordable
CHECK PRICE
The 10 Best Miter Saw Stands:
1.

Bosch T4B Miter Saw Stand – Best Overall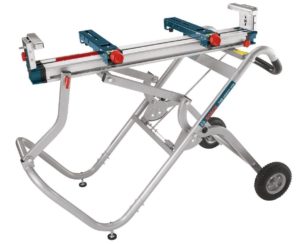 This Bosch miter saw stand is fully equipped. The namesake Gravity-Rise system makes it very easy to open your stand up to proper height with very little effort involved. At 77 pounds, it's a monster of a stand. Luckily, 8-inch wheels make it easy to roll around. Getting it in and out of the truck is still going to be fun though! With an impressive material capacity of 18 feet, this stand is leading the pack, making it possible for you to easily work with materials of any length.
No matter what saw you currently have, it should fit on this stand. We also found that this stand was very stable, with no rocking or swaying in any direction. To that end, it has adjustable feet that allow you to make it completely level on any surface. Helping achieve this, a telescoping leveling leg is built-in to provide stability when working on uneven surfaces. In case you're wondering, it does fit through a standard doorway. Expect to shell out a pretty penny for all these great features though.
All in all, we think that this is the best miter saw stand of the year.
Pros
Stable and solid
Impressive 18' material capacity
Wheels for transport
Universal saw fit
Adjustable feet for leveling
Cons
Premium price
Very heavy 77 pounds
---
2.

DEWALT DWX726 Miter Saw Stand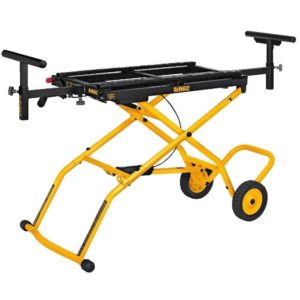 With a weight capacity of 300 pounds, this DeWalt miter saw stand is very stout. It features pneumatic assisted raising and lowering to make it easy and quick to set up or break down. The mounting rails adjust very easily to accommodate a wide range of different sized miter saws. At 67 pounds, this is a pretty heavy unit, but it's also very solid and we didn't experience any unwanted movement while working with it. Since it is so heavy, DeWalt has built two wheels into this design to make it easy to roll around.
While this stand does perform well in many aspects, one place where it missed the mark is with the material capacity. Providing a pretty poor 8 feet of material support, this stand won't make it easy on you if you need to cut any extra-long boards. For many though, 8 feet is plenty since that's the length of a standard 2×4 anyway. Overall, it's a stout and stable stand and we think it's a close second to the Bosch, but at a more affordable price.
Pros
More affordable
Very stable
Wheels for transport
300-pound weight capacity
Cons
Only 8' of material support
Heavy at 67 pounds
---
3.

BORA Portamate Miter Saw Stand – Best Value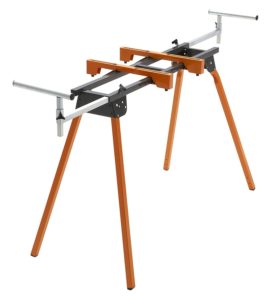 This folding miter saw stand from BORA is a no-frills added tool that performs its job admirably, but without any need for extras or conveniences. We think its combination of very low price and high strength make it the best miter saw stand for the money. This stand is not height adjustable. It sits at a comfortable height of 36 inches, which should be a good compromise for most people. There are no wheels, but they're not necessary since this stand only weighs 30 pounds and is easily carried. But don't let the light weight fool you, this is a very sturdy stand. With a weight capacity of 500 pounds, you're unlikely to even get close to pushing this stand's limits.
The material capacity of the BORA Portamate isn't class-leading by any means, but it's also not the bottom of the pack. With over 9 feet of material support, it's still punching above its weight. However, we weren't thrilled with the extension arms. When you tighten them down all the way, they would twist and no longer be square. This meant we had to spend more time making adjustments than we would have liked, though we did work it out in the end.
All in all, we think that this is the best miter saw stand for the money.
Pros
Very affordable
500-pound weight capacity
Only weighs 30 pounds
Cons
Only 9' material capacity
Extension arms twisted when tightened
No height adjustability
---
4.

DEWALT DWX723 Miter Saw Stand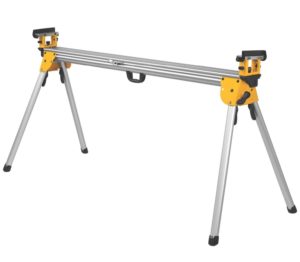 We had high expectations for this miter saw stand from DeWalt, a company that is known for producing high-quality tools. Unfortunately, this particular item does not live up to the standards we've come to know them for. On paper, everything looks good. It's pretty light at just 35 pounds, although it's got a very respectable weight capacity of 500 pounds. The support arms extend to hold up to 16 feet of material. Even though it's priced more than double what other models with similar features are going for, it's still a good stand based on its capabilities.
Where this stand failed though, is in the way saws are meant to mount to it. It's difficult to make work with just one person. The release levers are also very awkward to use, and they're cheaply built as well. After a few weeks, one of ours broke making it much more difficult to mount and remove the saw. If these problems weren't present, this stand would probably rank much higher on this list.
Pros
Lightweight, just 35 pounds
500-pound weight capacity
16' of material support
Cons
More expensive than similar competitors
Saw mount is awkward to use
Saw release levers are cheap
Poor longevity
---
5.

HICO UWC4000 Miter Saw Stand
For the low price of this HICO miter saw stand, we were surprised at its impressive specifications. Of course, it wasn't surprising when it didn't manage to live up to our expectations. Let's start with the positive traits. It's affordably priced, our first plus. It's also incredibly lightweight at just 23 pounds, though it has a weight capacity of 500 pounds. This is a pretty impressive strength-to-weight ratio. This would definitely earn the HICO a higher position on this list if it weren't for the terrible design of the support arms.
The arms are made of square tubes, but they're sliding into round tubes. The plastic broke when tightening the knobs to hold them in place. Even though this is a very low-cost model, it's not even worth the low price if it can't hold up to even very basic usage.
Cons
Poorly designed
Square extension arms slide into round tubes
Tightening the arms breaks them
---
6.

Makita WST06 Compact Folding Miter Saw Stand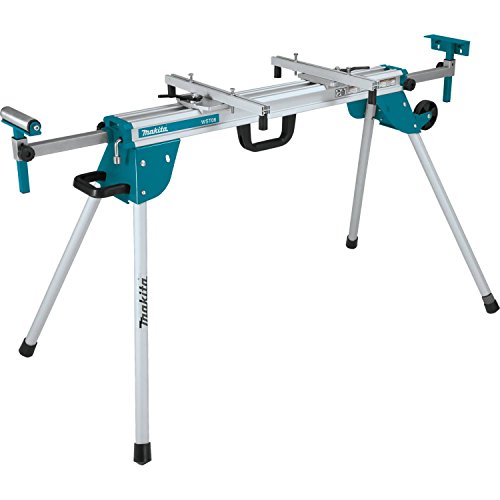 For an amazingly lightweight miter saw stand that doesn't sacrifice on weight capacity or extension length, we recommend considering Makita's WST06. Its lightweight tubular aluminum construction helps it to weigh in at an ultra-portable 33.7 pounds, and with a fully extended size of 100.5 inches, you'll certainly have plenty of workspace.
Even though it's light enough to carry in one hand via the integrated side handle, the WST06 is also equipped with solid rubber wheels for rolling transportation around the job site. The tubular aluminum construction is designed in such a way that, in spite of being hollow, it can still support an impressive 500 pounds — more than enough for any miter saw you might have.
Lastly, the tool-less adjustment makes it easy to install, adjust, and remove your miter saw. Overall, it's an excellent stand that's only held back by its exaggerated price tag.
Pros
Super lightweight and portable
Multiple transportation options built-in
100″ worktable capacity
Tool-less system for easy mounting and removal of miter saw
Cons
Expensive
Directions are hard to follow
---
7.

Toughbuilt 124″ Miter Saw Stand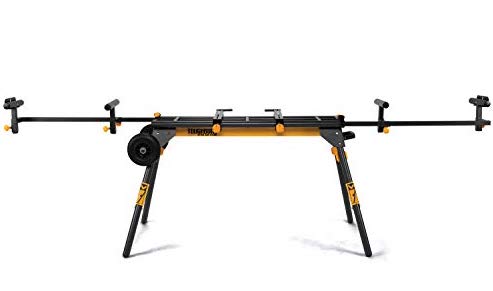 With one of the largest material support capacities of any miter saw stand that we've tested, as well as the most rugged tires we've seen yet, the Toughbuilt Miter Saw Stand certainly lives up to its name. If your working area resembles a battlefield more than a workshop, its heavy-duty steel construction might be just the thing you need.
Amazingly, the Toughbuilt weighs in at a tiny 23.04 pounds — making it one of the lightest miter saw stands we've used. It's universally compatible with any miter saw, thanks to the quick release tool mounts that are twist-lock for ease of use.
That being said, the handles aren't mounted too comfortably for transport and can lead to a lot of banged up knuckles. It's fairly pricy, but a great option for anyone who needs an extra-durable miter saw stand.
Pros
124" material support capacity
Durable steel construction
Lightweight design
Easy to mount and remove miter saws with twist-lock system
Cons
Quite expensive
Handles aren't designed comfortably
---
8.

PROTOCOL Equipment Professional Miter Saw Workstation
Designed specifically for professional-grade strength and rugged durability, the PROTOCOL Equipment Professional Miter Saw Workstation has a lot to offer — and that's good because its price tag certainly demands it. Nearly as expensive as fully integrated fold-out models, it stands out thanks to an all-steel construction and built-in GFCI strip that opens up a single extension cord into three outlets.
Given the 60-pound weight, though, we do wish that this PROTOCOL miter saw stand had better grips and easier portability. It has wheels that make it somewhat easier to roll, but the handle on the opposite end isn't comfortable or positioned well for carrying.
If you'd like a stand that can double as a mobile workstation for all your tools, this is a great choice. But unless you plan to use that GFCI outlet, there are better miter saw stands for the money.
Pros
Transforms one extension cord into a whole power station
Durable all-steel construction
Supports materials up to 124″
Cons
Too expensive
Not comfortable to transport and carry
---
9.

REDLEG Universal Miter Saw Stand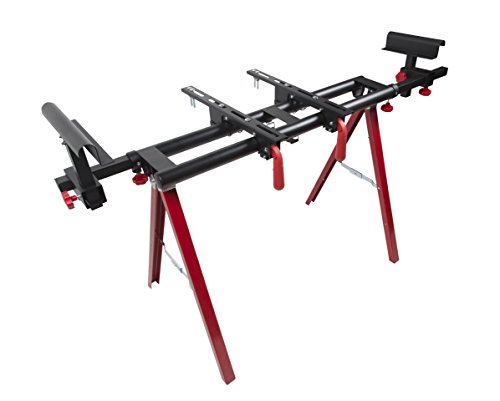 Featuring a remarkably similar design to other miter saw stands we tested, yet available at just a fraction of the price, we were curious to see whether the REDLEG Universal Miter Saw Stand could hold up to its competition. Basically, is its bare-bones approach well-executed, or destined to make your life harder?
Our verdict definitely falls on the latter side. Its 60-inch extension for material support is tiny in comparison to most other options in our review, and the tool clamps never held tight enough to really keep the saw steady while working.
Even though it might be tempting to get this stand based just on the price, we'd recommend that you pass on it and invest your money in a model that will give you better results over time.
Cons
Extra small material support capacity
Not comfortable to carry
Clamps do a poor job of keeping the saw in place
---
10.

Bora Portamate PM-8000 Portacube Miter Saw Work Station
With how well Bora's other miter saw stand tested in our reviews, we had high hopes for the PM-8000 Portacube. It is, after all, a rather unique option that can transform into a full, level table. It's solidly built, and definitely provides a stable workspace for sawing.
But with just a 90-inch workspace, we expected more out of this 90-pound monster of a stand. In the end, no matter how many bells and whistles they might be able to add to this stand, it's just too heavy and too expensive to really work well. Add in some difficulties with mounting saws and it's clear that, while this is a great concept, it is poorly executed.
Cons
Extremely heavy
Overly expensive
Difficult to mount your saws
Challenging to transport
---
Buyers Guide – How to Choose the Best Miter Saw Stand
Now that you've seen how the five best miter saw stands stack up against each other, you may be itching to go out and get one of your own. Before you do, let's go over the important functions that you'll want yours to possess. These are the same features we compared for our reviews since they are truly what determines whether a particular miter saw stand is a useful tool or not.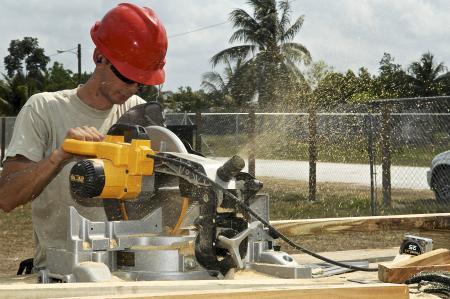 Weight Capacity
Some miter saws are hefty tools that can be a pain to lug around. Your stand has to support much more than just the saw though. If you're only going to be cutting trim pieces, then weight capacity may be of less concern. If you're cutting large lumber, sometimes it can add substantial weight. The last thing you want is for your stand to collapse under the weight of your saw and lumber, becoming potentially dangerous and definitely causing damage to the saw. Be sure the stand you choose has a high enough weight capacity that you won't even have to think about it for the work you intend to perform.
Saw Compatibility
It would sure be disappointing to be full of excitement, ready to test out your new miter saw stand, only to find out that your saw doesn't fit. While many stands are universal, some are only able to work with saws of certain sizes. Check what size saw you have before making a purchase, so you don't end up having to regret your decision.
Weight of Stand
If you've already got a heavy miter saw to lug around, you probably don't want to add the extra hassle of an awkward and bulky stand to the mix. Of course, heavier stands are often very strong and stable, so it may be a tradeoff. Some of the bigger, heavier stands actually feature wheels to make them easier to move around. If yours doesn't, then you'll be carrying that weight around in addition to your saw.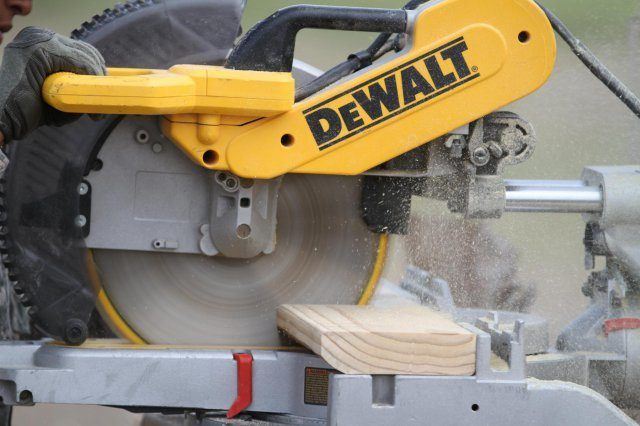 Height Adjustability
Not every stand features the ability to change height settings. Many are set to a single height that is meant to be a good compromise for people of all heights. But what if you're the only one who uses the saw and you want it set at the most comfortable height you can find? Well, some models will allow you multiple height settings to choose from, so you can adjust the stand to suit your exact preferences.
Folded Size
Your miter saw is not always going to be in use. When it's not, neither is the stand, but both need to be stored somewhere. If your miter saw stand is large and obnoxious and doesn't fold into a smaller form, then you may be devoting quite a bit space to its storage. This is one of the main reasons not to just build one yourself from whatever wood you have lying around. You might save a few bucks, but you're not going to save yourself any headache in the long run.
Stability
A good stand should be rock-solid, never moving when the saw kicks on. If your saw wobbles, jolts, or vibrates, it's more than just annoying. With your fingers that close to a blade spinning at thousands of RPM, do you really want to take those kinds of chances? Make sure you find a stand that sits perfectly level and holds steady through any pressure.
Price
The most expensive option on this list is nearly five times more expensive than the most bargain-priced one. At the end of the day, they both perform the same function. All they do is hold up your miter saw and your materials to make it easier to cut. While certain models may have features that improve the convenience and ease which they perform that job with, they're all built to perform the same single function.
If you use your saw every day to earn a living, then you'll probably find it a worthy investment to spend a bit more and get those features that make you more productive and comfortable. On the other hand, if you're a weekend warrior who only needs to make use of the miter stand a few times a month, then some of those extra features may not even be noteworthy for you. You'll have to determine which features you really need and base your budget on that.
SEE ALSO: our favorite budget miter saws
Conclusion:
After making it through our reviews and buyer's guide you should have a pretty idea of what features you expect your miter saw stand to have and which stand might best meet your needs. We think the Bosch T4B is the best overall thanks to its incredibly stable and solid build and 18-foot material capacity. In a close second, the DeWalt DWX726 offers similar capabilities at a lower price point. When you just need function and you don't want to spend the extra money on fancy features, then we recommend the BORA Portamate BM-4000. Weighing only 30 pounds with a 500-pound weight capacity, this stand is less than half the cost of the DeWalt. No matter which of these stands you choose, we're confident that you'll be satisfied with the robust quality.
We truly hope that this article helps you find the best miter saw stand for your needs. Good luck in your search!
We think you're also going to find these pages: