9 Best Budget Shower Heads of 2023 – Reviews & Top Picks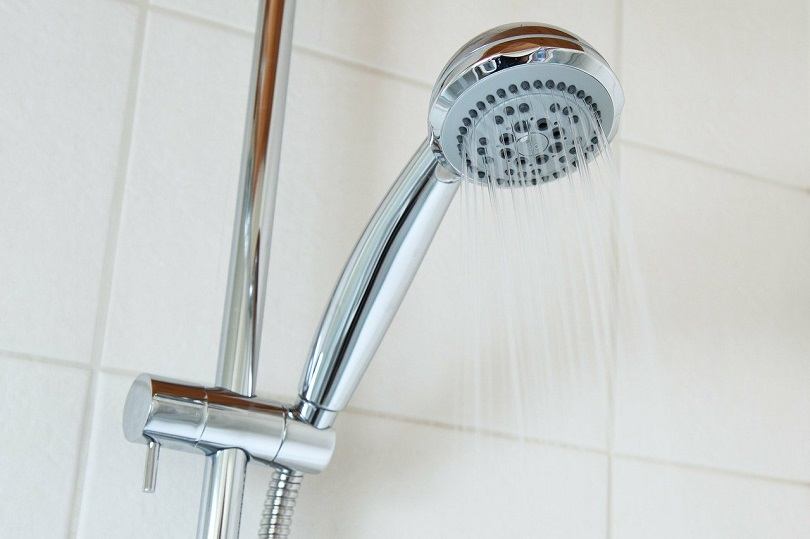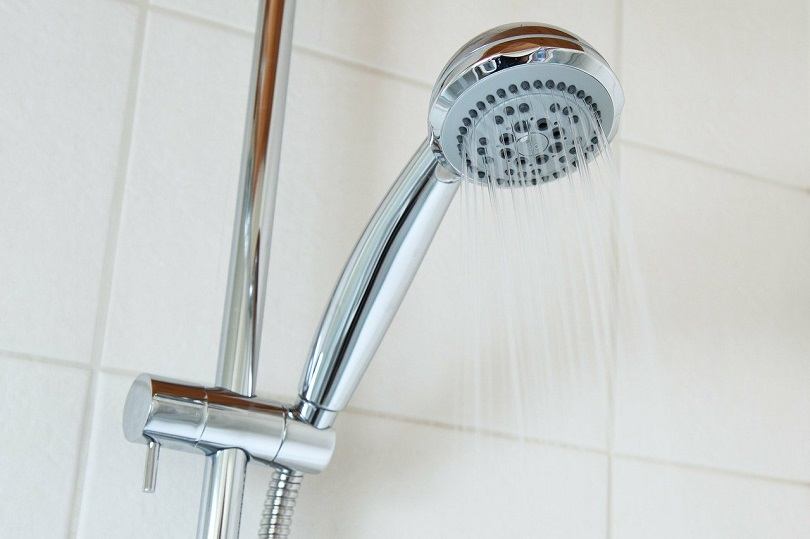 It can be quite disappointing when you move into a new place and discover that you hate the shower head in your new shower. While showers are purely functional for some, for others, they are moments of Zen or spiritual getaways. Because showers can be so amazing, you want to make sure yours is the best.
The first step is getting rid of that crummy showerhead that the place came with. In these reviews, we will go over wonderful showerheads that won't break the bank. Let's hop in!
---
A Quick Comparison of Our Favorites in 2023
Rating
Image
Product
Details

Best Overall

WASSA High Pressure

Easy to clean
Easy to install
High-end item
CHECK PRICE

Best Value

AquaDance All-Chrome

6 shower modes
One size fits all
Easy to install
CHECK PRICE

Premium Choice

AmazonBasics Rain

6-inch head
Makes for relaxing showers
5-gallon-per-minute output
CHECK PRICE

Niagara Chrome

Conserves water
Good water pressure
CHECK PRICE

HOPOPRO Fixed

5 settings
Self cleaning
ABS and brass construction
CHECK PRICE
The 9 Best Budget Shower Heads
1.

WASSA High Pressure Shower Head — Best Overall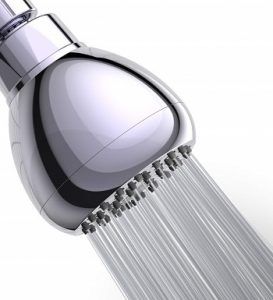 Our top pick from Wassa is a modern take on the old classic shower head. The sleek chrome finish makes your shower look more futuristic, but the small head keeps it grounded in the present. We are pleased with the looks of this product, as well as the performance.
The first thing to note is the installation process. Wassa has made a shower head that is installed and ready to be used in five minutes or less. All you have to do is remove your old shower head and then screw this one on. This product fits all standard-sized shower arms, but if you do not have a standard one, this product comes with Teflon tape to help you fit it to your preexisting appliance. This could increase the installation time, though not by much.
Once installed, you will be on the fast track to taking showers with wonderful water pressure. If you have low water pressure, you will find that this shower head improves it, putting out water at a rate of 2.5 gallons per minute.
This product is also easy and safe to clean. While other shower heads have jet nozzles that can scratch or cut, the 45 silicon nozzles on this shower head won't harden over time, and their flexibility will allow them to easily move around your hand, not the other way around. This is wonderful for the prevention of lime hard water buildup. The head itself is mounted on a ball joint swivel, so you have maximum flexibility of movement when in the shower.
Connoisseurs of the falling water arts are generally blown away by this item. Between fixing water pressure issues, longevity, and flexibility, it's easy to see why. Add in the price range of this product, and it's a grand slam. The only complaint we have heard about this item is that it can cause the water pressure to be too hard. With all that being said, this is the best budget shower head we have tested this year.
Pros
Easy to install
Easy to clean
Fixes water pressure issues
High-end item at an awesome price
Cons
Water pressure too hard for some
---
2.

AquaDance 3301 All-Chrome Finish Shower Head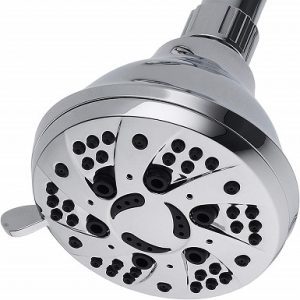 Just like most things in life, everyone has their own preferences when it comes to showers. Some people like jets stinging into them, while others like a nice, gentle rain shower. With this shower head from AquaDance, you can choose whichever experience you want. This is especially nice for multi-resident households or if you just like to switch it up every now and then.
Not only does the AquaDance shower head give you options, but the chrome finish looks nice as well. It is easy to keep this product clean, which is crucial to preventing hard water and lime buildup. It is also super simple to install, as all you have to do is screw it on. This product fits all standard-sized shower arms and comes with Teflon tape in case you need to do any further fitting.
As for flexibility, not only is this attached to a ball joint so you can move it around, but it has six different types of sprays: power rain, pulsating massage, power aeration, rain massage, aeration rain, and water-saving mode.
Even the most expert of shower takers agree that this is a nice product. For those with low water pressure, this might even be a solution to your problem. Those with extremely low water pressure will find that this does not save them, however. Another thing to keep in mind is that this is a plastic product, so it probably will not have the same lifespan as one made of metal.
This product comes with a lifetime warranty. Overall this is the best shower head for the money available this year.
Pros
Six different shower modes
One size fits all
Easy to install and clean
Cons
Won't fix chronically low water pressure
Durability concerns
---
3.

AmazonBasics Rain Shower Head
The AmazonBasics Rain shower head will remind you of being in a swanky hotel. It's the type of shower head that looks like it belongs in the shower of a mansion, as it's all glass and fancy looking. While this is not as big as other "rainfall" shower heads, it still covers a good area, 6 inches to be exact.
This is another easy-to-clean product, which is good because of how much extra surface area there is. While this might not solve severe water pressure issues, it does help a little if your water pressure is just low. If you have good water pressure, you will want to consider installing the flow restrictor.
Unlike our last two entries, this does not have different types of waterfall. This is meant to be a peaceful and relaxing experience, just like getting rained on. That being said, it still puts out an impressive 2.5 gallons per minute.
Users agree that this is a nice product. It is easy to adjust the positioning of the shower head and covers a good portion of your body while showering. Those with complaints generally suffer from very low water pressure or just don't like the rain head style of shower.
This product comes with a one-year warranty.
Pros
6-inch head covers a wide area
Makes for relaxing showers
5-gallon-per-minute output
Cons
Won't fix low water pressure/not hard enough for some people
---
4.

Niagara N2915CH Chrome Shower Head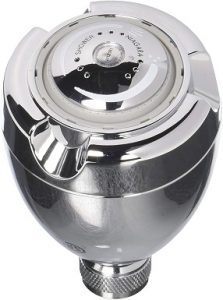 Because of the name of the brand of this shower head, you would expect a ton of water pouring down on you like a waterfall. But this shower head was actually made with water conservation in mind. Niagara states that this product uses 40% less water than their leading competitors. So, if you want to take a shower and feel like you are being a good steward of the land, this just may be the shower head for you!
At the same time, they promise that this will provide wonderful water pressure no matter how bad your water pressure is at your place of residence. This is done with a shower jet they call a "turbo massage." This is the first shower head on our list that puts out only 1.5 gallons a minute.
Users of this shower head have a love/hate relationship with it. Some are quite impressed and love the shower experience, while others don't like the type of spray it provides. Most users agree that it is hard to keep clean. This shower head allows for buildup and quite quickly.
Pros
Conserves water
Good water pressure
Cons
Residue buildup happens quickly/hard to clean
One type of spray
---
5.

HOPOPRO Fixed Showerhead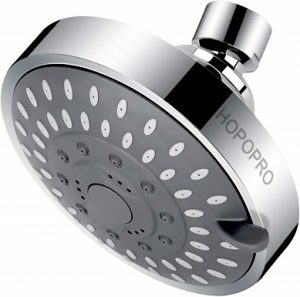 This is another offering with multiple different settings. Adjusting this shower head is nice and easy. All you have to do is turn the knob to have a whole different experience. There's even a setting for washing your face! HopoPro also claims that they have made a 100% self-cleaning shower head.
This shower head is said to help with low water pressure issues, but if your water pressure is fine, then you will probably want to use the flow restrictor included in the package. This will also help you conserve water. Made of ABS and brass, this shower head was built for the long haul.
Users seem genuinely thrilled to find such a good product at this price. The most common complaint we hear about this item is that it makes water pressure too hard, though this may not be the case if the flow restrictor is installed.
Pros
Five different settings
Self cleaning
ABS and brass construction
Cons
Water pressure is too hard
---
6.

WarmSpray D10301 Rainfall Shower Head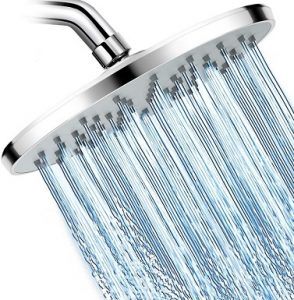 Here we have another rainfall-style shower head with WarmSpray. While this only gives you one setting for your showering experience, many folks prefer that one setting.
This is also another easy-to-install, easy-to-clean shower head. Once you have it installed, you'll be thrilled with its size. The 9-inch surface area will easily cover most, if not all, of your body. This shower head is made out of anti-rusting ABS material. This also prevents hard water and lime buildup.
It has been said that to fully enjoy the benefits of this shower head, you need to have good water pressure to start with. It has also been noted that this product works best when facing straight down. Those who already have good water pressure absolutely love this product, while others who have ordered this hoping it would fix some of their issues have been disappointed.
This product comes with a lifetime service warranty.
Pros
9 inches of coverage
Anti-rust material helps prevent build up
Cons
Won't help low water pressure issues.
---
7.

Baban BABANgjdklaks179 Rainfall Shower Head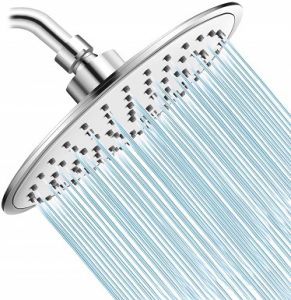 If you want a hotel shower experience, this shower head is designed to look and feel that way. Our seventh rainfall shower head on the list, the Baban, is similar to our number seven pick, though it is 1 inch smaller in diameter and doesn't look quite as good.
This is meant to be a high-pressure shower head. The ball joint swivel allows you to aim this anywhere you want, but we recommend keeping it in the shower! It's made from ABS material and is plated 10 times over to add durability and help with cleaning. The 90 jet nozzles are self-cleaning.
This easy-to-install item has a maximum flow rate of 2.5 gallons per minute, though it is not specified if that is with the restrictor or not. Those who have installed this in their homes love it, but we are guessing that they were looking for rainfall shower heads in the first place. Those who want variety should steer clear. Even though it is advertised as a high-pressure shower head, those with low pressure report no added benefit to their showering experience.
Pros
8-inch coverage
Easy to clean and install
Cons
Does not help with water pressure
No variety
---
8.

Tibbers High Pressure Shower Head
Tibbers has offered us a shower head with five settings. It has a nice compact design but looks like a shower head that might have been installed by a landlord instead of one you would choose yourself. This isn't saying that it looks bad, it just doesn't look that good.
Made with a metal ball joint for easy positioning, the shower head itself is made of plastic. While sometimes plastic can hold up to the constant pressures of having water pushed through it, most of the time, it can't and has a moment where it just snaps.
This is an easy-to-install shower head. It will fit any standard-sized shower arm.
Most who have opted for this have nice things to say, but a common refrain is how the spray is a bit unwieldy.
Pros
Five settings
Metal ball joint
---
9.

DANCO 80779 Mobile Home and RV Showerhead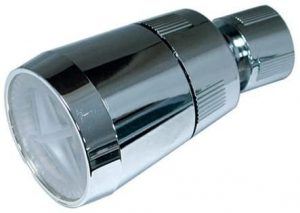 This is for the folks with RVs out there! The Danco is a wonderful little option for your motor home and a bad option for your regular home because the water pressure at your house will make it blow up — probably.
This shower head connects to an IPS connection. While it can improve the water pressure in your mobile home, don't expect miracles, as water pressure in mobile homes is not meant to be that hard. This comes with a flow restrictor, but it seems that most opt to install this without it. Even without the restrictor, this shower head can have a hard time producing any water pressure at all.

Conclusion
Depending on your age, you probably have a good idea of the type of shower taker you are by now. Even so, shopping for a new shower head can be confusing! In these reviews, we wanted to show you a wide range of possibilities so you can have a simple idea of what you want when you go shopping and are educated about various styles.
Even if the perfect shower head for you isn't on this list, you have a better idea of the different categories now. We fell in love with the shower head from Wassa, so why wouldn't you? Happy shopping, and happy showering!
---
Featured image credit: PublicDomainPictures, Pixabay