7 Most Expensive Homes in Georgia (with Pictures)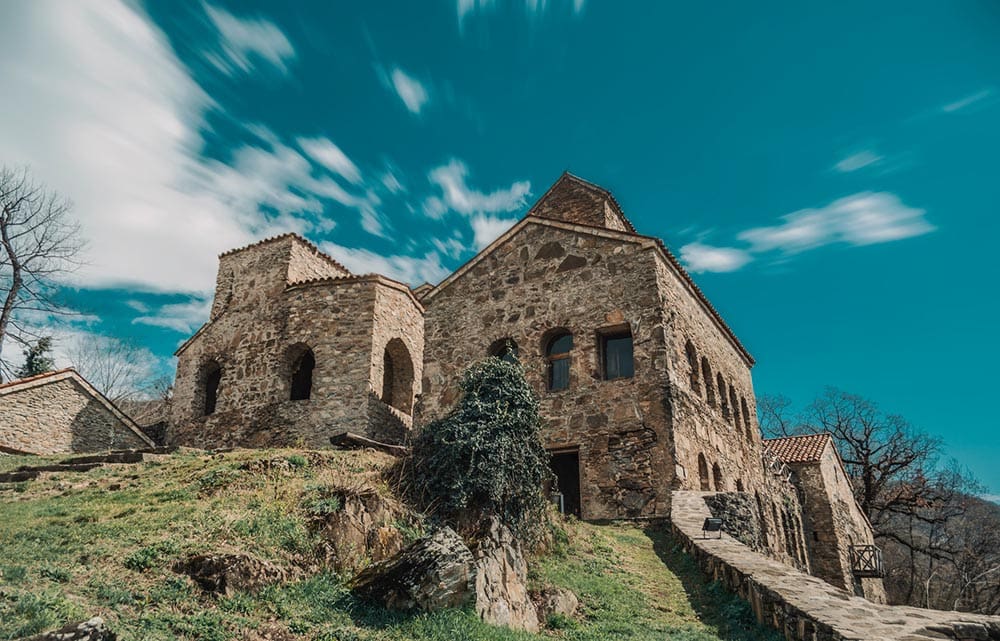 Georgia may not be the first place to come to mind when searching for the most luxurious homes, but the state's many charms have attracted plenty of the country's elite.
As the most populated and economically important city in Georgia, it's no surprise that Atlanta contains most of the premium property in the state. Dozens of celebrities and business leaders alike call the bustling city home. Resort destinations like Sea Island further extend the appeal, drawing buyers into another realm of high-end real estate.
It may be unassuming, but there's grandeur at every corner of the Peach State. We'll show you the limits of luxury as we explore the most expensive homes in Georgia.

The 7 Most Expensive Homes in Georgia
1.

4110 Paces Ferry Rd NW, Atlanta, GA 30327
| | |
| --- | --- |
| Square Footage | 34,688 |
| Year Built | 2007 |
| Sold Price | $17.5 million |
A nearly 35,000-square-foot mansion featuring seven bedrooms and 14 bathrooms (nine full and five half) sits on 17 acres near the Chattahoochee River. Providing a palatial private resort for the owner, the home built in 2007 quickly set records as the most expensive home ever sold in Atlanta. In 2016, entertainment mogul Tyler Perry let go of the property for a whopping $17.5 million.
The manor hugs a 70,000-gallon swimming pool, which is a magnificent centerpiece for the estate's awe-inspiring design. Ornate architecture, such as spiral staircases, intricate hardwood paneling, and ribbed vaults, adorn its many studies, offices, sitting rooms, and hallways. Notable features include a movie theater, fully equipped gym, tennis court, and wine cellar.
---
2.

3595 Tanners Mill Cir, Gainesville, GA 30507
| | |
| --- | --- |
| Square Footage | 12,000 |
| Year Built | 2000 |
| Sold Price | $13,765,000 |
There's endless room to engage your passions at this 446-acre estate in Gainesville, GA. The five-bedroom, nine-bathroom mansion shares the property with an enormous stable, a 40,000-square-foot car barn (enough room for 70 vehicles), and tons of open land for horseback riding and exploration.
Rustic charm mingles with traditional refinement through the primary residence's slate roof, stone exterior walls, and soaring interiors. Natural waterfalls complement the landscaping near the home. Across the property, the rolling hills, coursing streams, covered bridge, and spring-fed lake provide a soothing idyllic splendor at every turn.
---
3.

113 E 21st St, Sea Island, GA 31561
| | |
| --- | --- |
| Square Footage | 6,530 |
| Year Built | 1954 |
| Sold Price | $10,650,000 |
A step out the back door puts you within a stone's throw of a private beach at this home on Sea Island. The five-bedroom, seven-bathroom house may sit on a single-acre lot, but the location is hard to beat. The promise of premium waterfront property was enough for it to sell for over $10 million.
The beachfront home is sizable, but the low ceilings and unchanged installations harken back to the home's 1950s roots. Soft, rosy color palettes touch every room, while the flooring runs a narrow spectrum across the natural stone, terra cotta, and ceramic tiles.
Despite the relatively underwhelming interior, the exterior features provide the ultimate in leisure. A vast, open porch is the perfect hangout spot, and the outdoor pool lets you cool off if you can't be bothered to walk 100 feet to the shoreline.
---
4.

404 Ribault Lane Cottage #99, Sea Island, GA 31561
| | |
| --- | --- |
| Square Footage | 9,200 |
| Year Built | 1947 |
| Sold Price | $10,200,000 |
The cottage at 404 Ribault Lane is an elegant blend of European architectural styles: a hallmark of its designer, Frances Abreu. The bright, traditional interior boasts delightful details such as parquet wood flooring, polished tile, and white plantation shutters.
The manor takes up most of the 0.82-acre lot, but the design takes full advantage of the space with a gorgeous patio area and lush landscaping. Thanks to its location on the beach, the home offers far more than what falls within the relatively meager property line. An upstairs terrace provides clear ocean vistas, which produces a one-of-a-kind experience, undoubtedly contributing to the home's massive $10 million sale price.
---
5.

1401 Bullard Rd, Powder Springs, GA 30127
| | |
| --- | --- |
| Square Footage | 14,791 |
| Year Built | 2005 |
| Sold Price | $9,495,000 |
A gorgeous French provincial manor built in 2005 rests at the center of a 46-acre property in Powder Springs, a small town west of Atlanta. The equestrian estate, which features a 12-stall barn and an 1867 farmhouse alongside the nearly 15,000-square-foot mansion, sold for $9.5 million in 2019.
Inside and out, the attention to detail is mesmerizing. Old-growth lumber and stone installations through the 8-bedroom mansion lend natural sophistication to the interior. The refined landscaping lends pastoral charm via a varied selection of manicured trees and flawless fence-lined fields. A riding arena, outdoor pool, and well-appointed patio round out the property, completing the perfect setup for relaxed country living.
---
6.

1950 Lower Birmingham Rd, Canton, GA 30115
| | |
| --- | --- |
| Square Footage | 23,000 |
| Year Built | 2013 |
| Sold Price | $9,250,000 |
As the home of Atlanta Braves legend Chipper Jones, this 23,000-square-foot is a fitting palace for Georgia royalty. The interior details are rich in refinement. From the wall-spanning picture windows to the towering stone fireplace, every facet exudes exclusive quality.
Since it's hidden within a 37-acre wooded private property, the modern mansion is a world of lavish amenities. In the main residence, entertainment and recreation features include a game room, sauna, home movie theater, gym, and custom child's playroom. Outside the mansion, a heated Olympic-sized pool, a stocked private lake, and open pastures offer numerous opportunities to take in the secluded surroundings.
---
7.

1001 W Paces Ferry Rd NW, Atlanta, GA 30327
| | |
| --- | --- |
| Square Footage | 21,439 |
| Year Built | 2010 |
| Sold Price | $9,000,000 |
Sitting on an acre of land, the mansion at 1001 W Paces Ferry Rd. in Atlanta supplies nearly all of its value in an impressive 21,439-square-foot space.
The interior has smart home innovations, high-end custom fixtures, and a bevy of luxury amenities, including a full-size theater, massage room, sauna, and billiards room. The manor utilizes its limited outdoor space with a patio and pool, adding the final touch to this $9 million masterpiece.

Conclusion
It's easy to miss the affluence hiding in your backyard, especially in an area as unpretentious as Georgia. While it may lack the profile of big city settings, the charms are undeniable. With this glimpse at its most expensive properties, it's clear that plenty of people are willing to pay high prices for luxurious homes.
---
Featured Image Credit: Nika Tabatadze, Unsplash