8 Best Bullet Blenders of 2023 – Reviews & Top Picks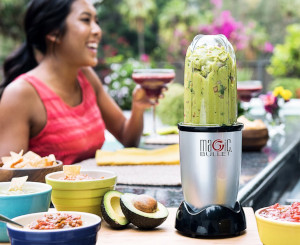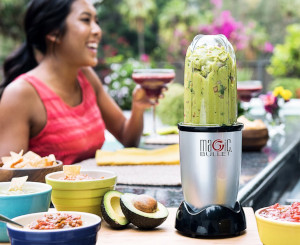 As people work to become healthier, juicing and smoothies have become very popular, and there is no better way to get them than to make them yourself.
Bullet blenders hit the stores fast and hard in a short period of time, so you may be wondering what makes one bullet blender different from another.
We've reviewed many different bullet blenders and made a list of our top eight picks for you. We will share some of the pros and cons of each so you can get a complete picture of what each has to offer.
---
A Quick Glance at the Winners (updated in 2023)
Rating
Image
Product
Details

Best Overall

NutriBullet 12-Piece

Sturdy
600-watt motor
Stainless steel blade with cyclonic action
CHECK PRICE

Ninja BL456

900-watt motor
Manual pulse
Twist-on spout lids
CHECK PRICE

Best Value

Magic Bullet

One speed setting
Pulverizes anything in 10 seconds
Dishwasher safe pieces
CHECK PRICE

Cuisinart CPB-300

Stainless steel blade
High, low and pulse controls
Safety interlock and auto stop
CHECK PRICE

CHULUX Smoothie

Four blades
One-touch operation
Easy to clean
CHECK PRICE
The 8 Best Bullet Blenders
1.

NutriBullet 12-Piece Bullet Blender – Best Overall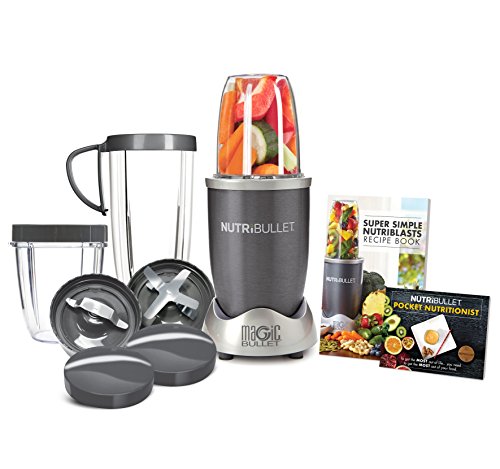 The NutriBullet NBR-1201 12-Piece Blender/Mixer is our favorite due to its powerful 600-watt motor and its sturdy, patented stainless steel blade with cyclonic action. It comes in a set that includes one tall cup, two short cups, a flat blade, an emulsifying blade, two resealable lids, a pocket nutritionist booklet, and a manual with recipes.
This blender has enough power to blend any foods you put into it, but it has one major flaw. The motor runs in the opposite direction than the cup screws into the base. This allows the cup to unscrew from the base as your food is being blended.
We also found that the rubber seals don't always seal very well. Make sure you screw your lids on tightly and check that they're sealed well before you take them on the road with you. This model also comes with a limited one-year warranty.
All in all, we think this is the best bullet blender available this year.
Pros
600-watt motor
Stainless steel blade with cyclonic action
Includes cups, blades, lids, pocket nutritionist, and recipe manual
1-year warranty
Cons
Cup unscrews during blending
Cups don't all have rubber seals
---
2.

Ninja BL456 Bullet Blender
The Ninja Countertop 24 oz BL456 Blender has a powerful 900-watt motor. This blender allows you to manually pulse the blade to easily crush ice and frozen foods, and tear through seeds, skin, and stems of other foods, to give you the nutritional value you want in a smooth drink you love.
Once your drink is done, just screw on one of the twist spout lids to take it on the run with you, and throw all the other parts into the dishwasher before you leave. This blender is easy to use, effortless to clean and gives your body the nutritional kick it needs to start your day right.
The Ninja Countertop Blender, which comes with a one-year warranty, is twice the size of the typical bullet blender. If you have a small kitchen and you want to keep your blender out on the countertop, you may want to check the measurements to make sure it will fit your space before purchasing it.
We also found that it's very loud while blending, so it might be a rude awakening to make a smoothie for your breakfast first thing in the morning. When you blend hot liquids, such as coffee, it's difficult to remove the cup from the base. You may want to have what we call a "rubber husband" to help you get it out. The rubber will give you a better grip, as well as a barrier between your hand and the heat.
Pros
900-watt motor
Manual pulse
Twist-on spout lids
All parts are dishwasher safe
1-year warranty
Cons
Hard to remove from base when hot liquids are used
Twice the size of typical bullet blenders
Loud
---
3.

Magic Bullet Blender Set – Best Value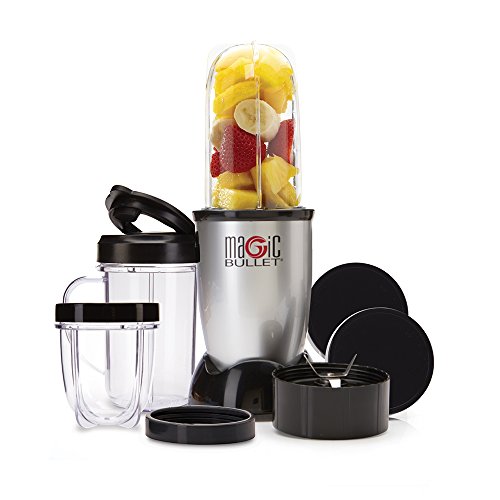 The Magic Bullet Blender comes with everything you need to get your day started. It includes a high-torque power base, one stainless steel cross blade, one tall cup, one party cup, one short cup, two comfort lip rings, two stay-fresh resealable lids, one flip-top to-go lid, and one recipe book and user guide. It's known for its mixing and chopping power. In past versions, the Magic Bullet was great at pulverizing anything you put into it in ten seconds or less. The newer version doesn't seem to be as powerful.
The blades don't chop as finely as they once did, and the motor isn't powerful enough to move the food around as needed for a smooth, even blend. You'll need to stop your blend and shake the unit around to get the untouched food down to the blades. It helps that you can manually pulse the food, allowing untouched food to drop down closer to the blades each time it stops.
The Magic Bullet can get the job done if you have the time and patience to play around with it. You should also be aware that the cup sometimes gets stuck in the base. Be careful how you get it out. If you happen to break one of the tabs off the cup, that cup will no longer work. The blade won't engage unless all the tabs press down where they're supposed to. Keep in mind that this blender comes with a one-year warranty.
Pros
Chops, mixes, blends, whips, and grinds in 10 seconds or less
One speed setting with pulse control
Includes base, blade, cups, lip rings, lids, recipe book and user guide
All pieces are dishwasher safe
1-year warranty
Cons
Doesn't move food around as it should
Not as powerful as other models
Cups get stuck in the blender
---
4.

Cuisinart CPB-300 Bullet Blenders
The Cuisinart CPB-300 Blender has a 350-watt motor with safety interlock and auto stop features. The stainless steel blade can be used in constant high or low power, or in pulse mode to chop up your foods.
The motor on this blender isn't powerful enough to blend all foods. You almost need to put your food in a little at a time, pulverize it, and then add some more. If you try to put everything in at once, the motor bogs down and overheats, giving off that nasty overheating smell. It does the same thing when you try to crush ice or other frozen foods.
Beware when you take your drink with you on the run. The lids tend to leak when you are drinking out of them. On the plus side, this model comes with a lengthy three-year warranty.
Pros
350-watt motor
Safety interlock and auto stop
High, low and pulse controls
Stainless steel blade
3-year warranty
Cons
Overheating smell
Not powerful enough to crush ice
Bogs down easily
Lids leak when drinking
---
5. CHULUX Smoothie Bullet-Blender Maker

The CHULUX Smoothie Bullet Blender Maker is a good blender for those on a tight budget. It has a 300-watt motor that spins four blades to chop up your food. We did find that this blender isn't powerful enough to chop frozen food or ice efficiently. It does okay at first, when the blades are sharpest. Once they begin to dull, however, the motor can't take the extra taxation.
Once you have your food in the bottle, just hit the power switch to turn the machine on. After the blender has done its magic, put on one of the spill-proof lids and be on your way. The bottles fit nicely in the cupholder of your car. They have a folding carrying hook that can be attached to a bag or belt loop. All parts of this product are dishwasher safe, making cleanup a snap.
The CHULUX has a few issues, though. There is a maximum fill line. Most blenders have a tiny bit of leeway, but this blender shuts down if you go over the max line at all. When it freezes up, you have to wait a few minutes before you can restart it. One thing that helps give you more room in the bottle is cutting your food up into small pieces, about the size of a raspberry. This is a blender, and you want it to chop your food, but this model isn't powerful enough to cut through large chunks of hard items, like apples.
Be extra careful with the bottles. They're made out of a thin plastic that doesn't take much to break. The company doesn't sell replacement bottles by themselves. You have to replace the whole unit to get more bottles. If it's been less than a year, your blender may be covered under the warranty.
Pros
300-watt motor
Four blades
One-touch operation
Easy to clean
1-year warranty
Cons
Freezes up if overloaded
Not powerful enough for frozen foods or ice
Need to cut food into smaller pieces
Bottles break easily
Replacement bottles not available
---
6.

Hamilton Beach 51131 Bullet-Blender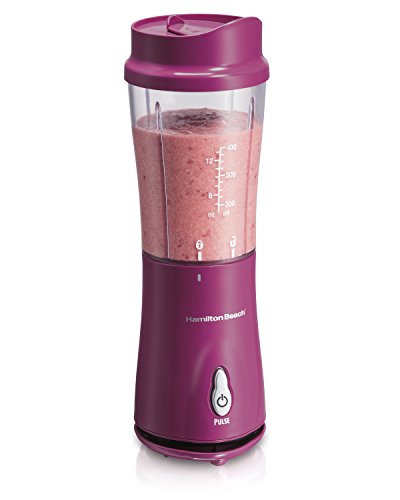 The Hamilton Beach 51131 Blender is unique in the way it stores. The bottles store upside down, and there's a place at the bottom of the base to wrap the cord into. That is nice if you want to leave it out on the counter but don't want cords all over.
This blender features one-touch blending with its stainless steel blades. There isn't a whole lot of power to this machine, so be prepared to cut your food into small pieces before putting it in the bottle to blend. Even with smaller pieces, the blades don't rotate the food down, so the food on top doesn't get blended. You'll have to stop and push those ingredients to the bottom.
The motor isn't powerful enough to handle crushing ice or chopping other dense or frozen foods. This blender works best with soft fruits and vegetables.
Cleaning can be a pain. The blades aren't removable, so you have to clean them in the base. Not only is that bad for cleaning, but it also means they cannot be replaced. When the blades get dull, you'll have to buy a new unit, though there is a three-year warranty.
The bottle can be challenging to clean, especially if you can't rinse it out immediately after finishing your drink. The bottle has vertical ribs that are probably there to direct the food downward. These ribs leave crevices for small food particles to get stuck in. It can be tough to get those ribs clean if the food has a chance to dry.
Pros
One-touch blending
Stainless steel blades
Compact storage
3-year warranty
Cons
Blades aren't removable
Food must be cut into small pieces
Food on top doesn't get blended
Not powerful enough for ice
Vertical ribs on bottle hold food
---
7.

BLACK+DECKER FusionBlade Bullet Blenders
The BLACK+DECKER FusionBlade PB1002R runs a 275-watt motor with the simple switch of an on/off button to blend your food with its stainless steel fusion blades.
This blender is suitable for those who live paycheck to paycheck because it does the job that you need it to. You just have to be patient to get the consistency you want. The blades don't move the food around well, so you'll have to take the top off and push the ingredients on top down to the bottom a couple of times to get everything blended.
This is an economical blender that you'd purchase because of the price, not the quality of the product. The motor isn't powerful enough to use on ice or frozen foods. It only lasts approximately a year when used with soft foods. That life will be shortened if you try chopping up hard foods. BLACK+DECKER does offer a two-year warranty.
The cups come with lids so you can take your drink with you, but the part that flips open to drink out of is hollow. Liquid accumulates in the empty spot when you take a drink and sits there until you take your next drink. When you flip it open the next time, the liquid sitting in the hollow spot spills out.
Pros
275-watt motor
Stainless steel fusion blade
On/off button
2-year warranty
Cons
Hollow flip closure accumulates liquid
Takes a lot of playing to get all food blended
Not powerful enough for ice
Motor only lasts about a year
---
8.

BELLA Personal Size Rocket Blender
The BELLA (13586) Personal Size Rocket Blender features a 700-watt motor and stainless steel blades. It comes with five blending cups so more than one person can use it. We've used BELLA blenders in the past, and this model is not made as well as its predecessors. The plastic appears and feels thin and cheap, though there is a two-year warranty.
This blender is incredibly loud. By the sound of it, you'd think it could cut through anything, but that isn't the case. Even with the power behind them, the blades aren't made to cut through ice or other dense or frozen foods. If you want to make a smoothie, you'll need to crush the ice into small pieces before putting it into your blender, and then make sure there's enough liquid in the cup to move the ice around. When you blend harder foods, your blades get dull faster. The BELLA doesn't have replacement blades available. When your blades get dull, you'll have to buy a new blender.
As with many of the other more economical models, the BELLA's blades don't pull food from the top down towards the bottom. You'll find yourself shaking the unit and/or removing the lid to push the food down before it reaches the blades.
Another issue is the cup getting stuck in the base. There are slots that the tabs on the cups go into and have to push down for it to run. If you slide the tabs slightly forward, the tabs will slide under a lip that keeps the motor running without you having to push it down continually. It's almost as if the blades' spinning somehow forces the tabs so far into that slot that they get jammed and don't want to come loose.
Pros
700-watt motor
Stainless steel blades
Five blending cups
2-year warranty
Cons
Quality not as good as past models
Replacement blades not available
Cup gets stuck in base
Have to shake and stir to get all food blended
Must crush ice before putting in blender
Loud
---
Buyer's Guide: How to Find the Best Bullet Blender
What is a bullet blender?
Bullet blenders are compact blenders that usually mix things directly in the bullet-shaped cup you drink from. Blades in the bottom churn your food in a circular motion that forces your food down into the blades. The blades are sharp enough and the motor is powerful enough to cut through the skin and seeds of most fruits and vegetables, giving you the most nutritional value possible. They're great when you need to crush, puree, blend, or liquify superfoods.
See also: a rundown of the best small blenders!
Things to consider when choosing the best bullet blender
1. Purpose of Use:
If this blender is going to be used at a business, make sure you purchase one that's heavy-duty and built to take the constant usage it'll get.
If you're going to use your blender at home, you won't need one that's built as tough as ones made for commercial use. You'll want to know how many people will be using it and how often. That will determine the quality you need to get. If it serves three to four people every day, you'll need one that's built better than one made to be used by one person two to three times a week.
You'll also want to consider whether you'll be drinking your product at home or on the run. If you're just using it at home, a blender that just comes with lip rings for the cups will be fine. If you'll be making drinks and taking them with you to consume while traveling, purchase one that comes with lids to keep your drinks from spilling out.
2. Price:
The cost of bullet blenders ranges from around $40 to a few hundred. You'll want to get the best quality product possible for your money, but with the wide range of prices out there, it pays to know precisely how you'll be using the product before purchasing it.
If you're just trying blenders out to see if you like them, look for one at the lower end of the price range. They do the job but aren't built to last quite as long. If you know you will be using a blender daily to incorporate healthier foods into your diet, pay more attention to the quality of the product than the price.
3. Power Level:
Bullet blenders come in a wide variety of wattages. The more power a blender has, the more finely it will puree your food.
4. Quality of the Finished Product:
The quality of your finished product is directly related to the amount of power your blender has. The lower wattage ones require that foods be skinned, seeded, and cut into small pieces to blend correctly. Even with all that, you may get a final product that still has some lumps in it. Some motors are just not powerful enough to produce a completely smooth product.
On the other hand, some are so powerful that you can throw food into them in large chunks with skin and seeds intact, and the blades will cut through them like a hot knife cuts through butter. No matter what you put into these blenders, you'll end up with a smooth texture that's pleasant to drink.
If you want to incorporate as much good nutrition as possible into your diet, the blender's power plays a significant role. Many foods get the majority of their nutrients from the skin and seeds. For example, over 50% of the fiber in an apple is found in its skin. If you have to skin it before blending, you'll lose half the benefit of eating/drinking it in the first place.
5. Easy to Clean:
Some parts of bullet blenders can usually be put into your dishwasher's top shelf, while other components need to be hand-washed. If you're always in a hurry, get a blender that's easy to put together, take apart, and clean.
Conclusion:
Now that we've explained how a bullet blender works and what to look for when shopping for one, let us quickly remind you of our top 3 we found during our reviews & testing:
1. NutriBullet NBR-1201 12-Piece Blender/Mixer – Best Overall
2. Ninja Countertop 24 oz BL456 Blender
3. Magic Bullet Blender– Best Value
Hopefully, these reviews have given you enough information to narrow down the field and get on the right track to finding the bullet blender that's best for you.
Related Reads: