8 Best Carpenters Tool Belts of 2023 – Top Picks & Reviews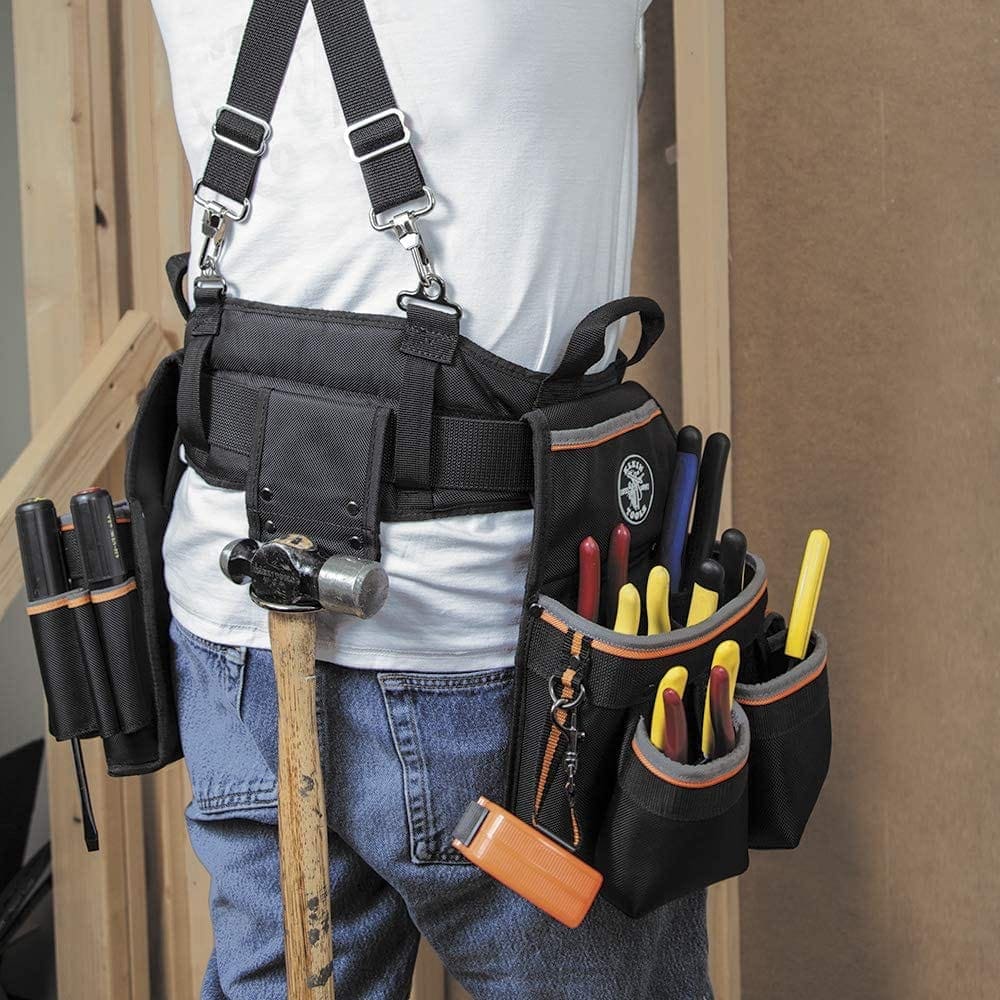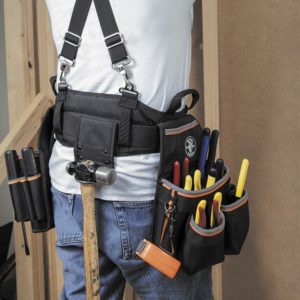 Carpenters use a ton of tools. Whether they're sawing through a workpiece or measuring out a few precise cuts to make for their fellow workers, they're always reaching for one tool or another from the time they clock in until they punch out.
But it's irritating to have to set tools down on a table or workbench and constantly go back and forth from a workpiece to that storage area. Craftsmen solved this problem a long time ago by developing tool belts that can carry all the tools you need for a working day right around your hips.
However, carpenter's tool belts are often designed with pockets for marking utensils like pencils and markers and slots for hand saws, X-Acto knives, and more. Today, we'll break down the best carpenter's tool belts of the year so you can carry your tools around a worksite all day with comfort and convenience.
A Quick Comparison of Our Favorites
Rating
Image
Product
Details

Best Overall

Gatorback B145 Carpenters Triple Combo Belt

Made of durable nylon
Pockets have plastic lining
Material is breathable and comfortable
CHECK PRICE

Best Value

CLC Custom Leathercraft I823X Nail and Tool Bag

Made of good quality leather
Feels super comfortable
Works with a variety of belt sizes
CHECK PRICE

Premium Choice

Occidental Leather 9855 Adjust-to-Fit Fat Lip Tool Bag

Comes for right or left-handed users
Very durable pockets
Good
comfortable material
CHECK PRICE

Bucket Boss 8503 Camo Tool Belt

Very easy to adjust
Comes with suspenders for added support
All pockets are high-capacity
CHECK PRICE

Dickies Work Gear 57023 Tool B Leather Suspenders

Very comfortable
Has a durable steel buckle to secure the belt
Tons of pockets for tools and accessories
CHECK PRICE
The 8 Best Carpenter's Tool Belts – Reviews 2023
1.

Gatorback B145 Carpenters Triple Combo Belt – Best Overall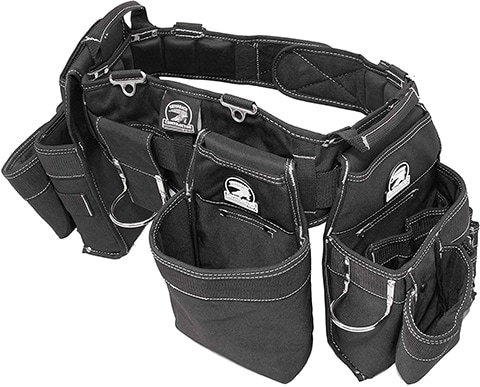 There's a ton to like about this Gatorback B145 tool belt, first and foremost is its variable sizes. Choose from belt sizes ranging from Small to 3 XL depending on your comfort level and waist size. Regardless of the size you choose, you'll benefit from DuraTek nylon that combines good durability with a reasonable price. It's not necessarily as fancy as leather, but any carpenter interested more in results than aesthetics won't be too concerned.
The belt is also bolstered thanks to a patented air channel design. This alters the shape and comfort of the nylon fabric so that you won't become too sweaty around the waist. The belt has a foam backing for added padding and comfort, too.
The pouches themselves all have an interior plastic lining. This helps the pockets keep their original shapes over time.  As you can see, a lot about this belt is designed to keep it functional and comfortable over the long haul. The pouches will also prevent any sharper tools from poking through the bottom. OVerall this is the best carpenters tool belt on the market this year.
Pick this belt up and you likely won't need another one for many years to come.
Pros
Made of durable nylon
Pockets have plastic lining
Material is breathable and comfortable
Comes with suspender rings and carrying handles
Many sizes to choose from
Cons
Only a bit of leather added at tips
---
2.

CLC Custom Leathercraft Nail and Tool Bag – Best Value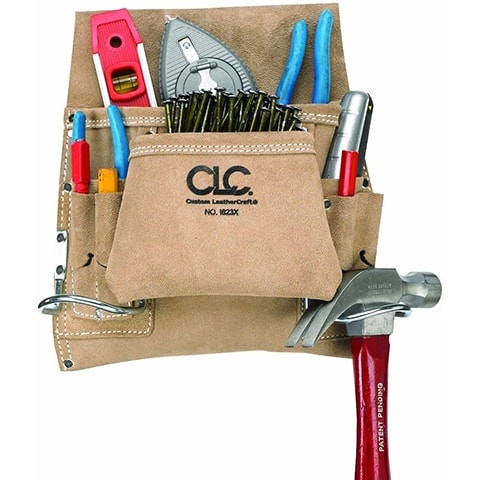 It's hard to get a better carpenter's tool belt with more value than the CLC Custom bag seen here. It's actually not a full-on belt but instead fits on a selection of belts as large as 2 ¾ inches wide.
It's incredibly affordable even though it's made with heavy-duty suede leather. This isn't the strongest leather on the market, but it will ensure that the belt is comfortable to wear over the long-term and looks great, to boot.
The biggest downside is that it doesn't have as many pockets as other tool belts on the market. You still get two main pockets and a bunch of smaller pockets for writing utensils and the like. There's also a pair of hammer loops. More importantly, the belt is perfect for ambidextrous users – pick it up if you're a left-handed carpenter and you'll be fine.
Ultimately, it's a fantastic budget-friendly choice for a carpenter's bag and one of the best carpenter's tool belts for the money. You can pair it with any comfortable belt you already have in your kit and be set for a long while. All in all, this is the best carpenters tool belt for the money available this year.
Pros
Made of good quality leather
Feels super comfortable
Works with a variety of belt sizes
Very affordable
Cons
Doesn't come with a dedicated belt of its own
---
3.

Occidental Leather Adjust-to-Fit Lip Tool Bag – Premium Choice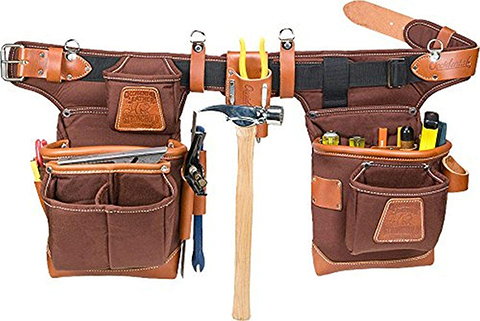 The Occidental Leather 9855 belt is pricey, but very much worth your while. For starters, carpenters will notice the extremely high-quality industrial nylon bags around the main belt. The bags aren't made of full-on leather, but instead, utilize leather strips to reinforce the bottoms in the corners of each pocket. This ensures premium durability that's combined with a phenomenal aesthetic. The rest of the nylon is also pretty durable.
All in all, it comes with a wide range of pockets, hooks, loops, and smaller compartments that are perfect for storing a variety of tools in writing utensils. It can be purchased for either right or left-handed users. It's not very adjustable, though, so be sure to pick the side you are most comfortable with if you are ambidextrous.
We'd recommend it for carpenters who want a super durable and long-lasting belt and don't mind paying a little extra to get it.
Pros
Comes for right or left-handed users
Very durable pockets
Good, comfortable material
Tons of carrying capacity
Excellent aesthetic
Cons
Pretty pricey
Not well adjusted for ambidextrous users
---
4.

Bucket Boss 8503 Camo Tool Belt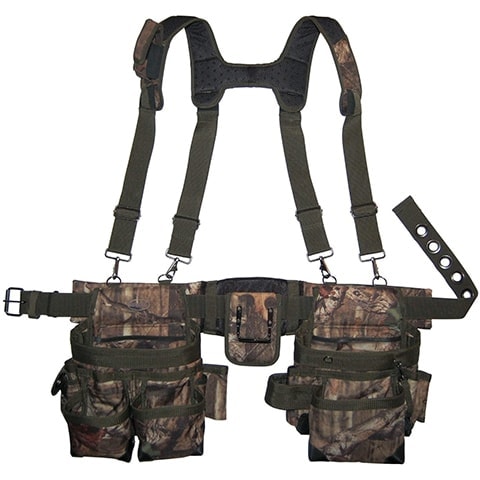 This Bucket Boss 8503 belt comes with suspenders that wrap around your shoulders. It's a bit of an unorthodox design, but it's actually quite comfortable if you have to carry a bunch of heavy tools around all day since all that weight doesn't rest on your hips alone.
The pouches are also fairly durable, with reinforced bottoms. The overall belt can extend up to 52 inches in waist width, making it suitable for a variety of carpenters. The entire suspender and pouch system can be adjusted, so feel free to purchase this if you are a right or left-handed user.
We also like the variety of pockets. The entire set up even comes with a cell phone pocket for guys who like to check their smartphones throughout the day. The rest of the pockets are really high-capacity, making it easy to fit tons of nails and smaller pieces in your belt without running out of space.
It's about middling in terms of price, but we think it does a good job of offering decent value without being too pricey. It's an excellent pick for carpenters that like to adjust their belts for different jobs and different tool weights.
Pros
Very easy to adjust
Comes with suspenders for added support
All pockets are high-capacity
Pockets are reinforced for durability
Cons
Belt loops could be a bit more secure
Pocket sometimes fall off
---
5.

Dickies Work Gear 57023 Tool B Leather Suspenders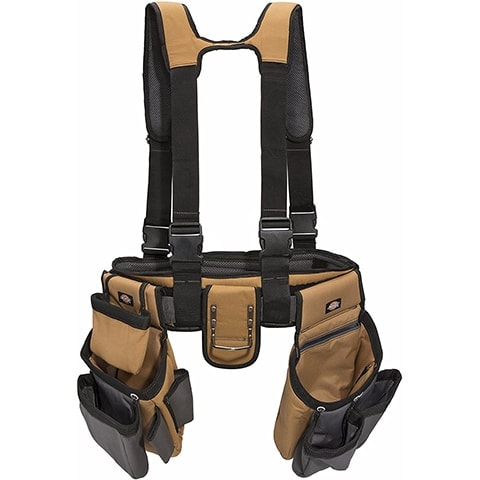 Here's another quality carpenter's tool belt from Dickies that utilizes suspenders to excellent effect. The suspenders are padded with moisture-wicking mesh. They aren't made with the most durable materials, as a result, but it does mean that they are exceptionally comfortable and can help distribute your weight more evenly when you carry tons of tools.
The rest of the belt is made with heavy-duty canvas. This isn't incredibly durable compared to something like nylon or leather, but it's enough to get the job done and allows the belt to be purchased for a pretty affordable asking price. The belt around the waist also comes with moisture-wicking mesh.
This belt comes with plenty of pockets: 7  on the right and 6 on the left, with an additional 2 tool loops. There's even a phone pocket near the suspenders. In total, there's plenty of space for all the tools you could need for any carpenter's job.
Is it worthwhile? We think so, at least for budget-minded carpenters who prioritize comfort more than belt durability. It could be a good fit if your tools aren't particularly sharp or damaging to your belt overall.
Pros
Very comfortable
Tons of pockets for tools and accessories
Has a durable steel buckle to secure the belt
Mesh prevents excessive sweating
Cons
Canvas isn't super durable
Belt pockets might not last too long
---
6.

Jackson Palmer Professional Comfort-Rig Tool Belt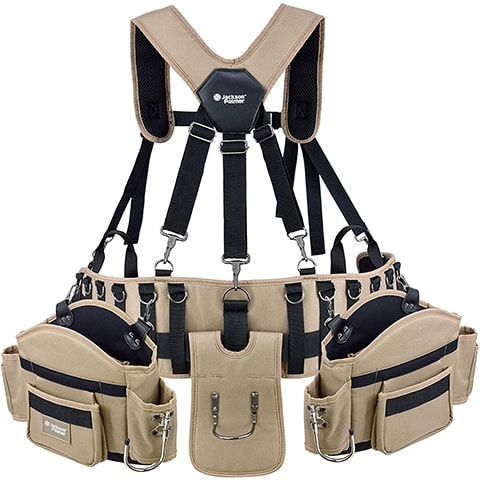 Jackson Palmer Professional Comfort-Rig Tool Belt is another excellent carpenter's tool belt that has a lot of comfort to offer. The belt features tons of padding on the chest and back straps, so you won't need to worry about your muscles being sore at the end of the day. A special five-point connection system ensures weight distribution that's more equal compared to most other belts on the market. The padding also comes with mesh to make things a little more breathable.
It's fairly adjustable, both in terms of the main belt and the shoulder straps. The belt also comes with plenty of pockets, the two largest of which are detachable. They come with built-in dividers to make organizing your tools, nails, and other accessories a little easier.
Of course, it's far from the most durable tool belt on the market. It does come with durable iron buckles and special stitching, but the material itself can rip after a few months of heavy use. Still, it's a solid choice if you want a decent tool belt that you can get for a budget-friendly price.
Pros
Very comfortable padding on the interior
Has detachable pockets
Pockets come with dividers
Easy to adjust
Cons
Belt material isn't very durable
---
7.

Klein Tools Tradesman Pro Electrician's Tool Belt

This belt from Klein Tools is suitable for carpenters and electricians, especially since it comes in 3 sizes and comes with several removable pouches that you can stick with or remove depending on your current tool needs. The pockets are pretty spacious, but they don't come with any interior dividers, so it's easy for your stuff to get mixed up.
It does come with a special drill bit pocket, which may or may not be useful depending on your work goals. The belt itself comes with a mesh interior – this prevents excessive sweating around your waist. It is made with a fairly durable ballistic weave material that should last for at least a few years of solid work: this is important since it's not the most affordable belt on the market.
All in all, it's a decent carpenter's accessory but doesn't have a whole lot that makes it stand out compared to the other belts on our list.
Pros
Has removable pockets
Comes in three sizes
Made with durable material
Has mesh padding interior
Cons
Pockets' interiors are a bit disorganized
---
8.

Carhartt Legacy Tool Belt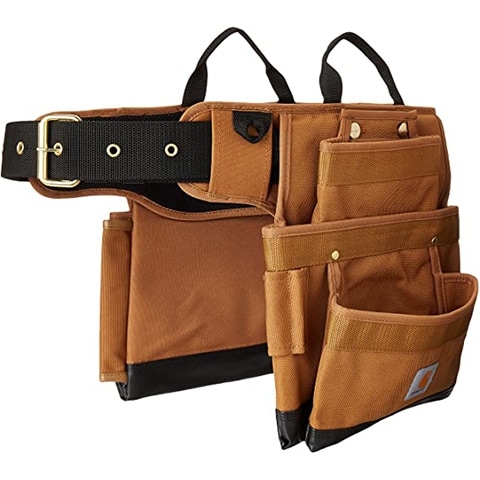 This Carhartt Legacy Tool Belt is made with 100% polyester. This does mean that it's not particularly durable compared to the other options. But it is fairly affordable overall, so that might be a good trade-off depending on your needs. The polyester is bolstered with a durable water repellent, so it shouldn't degrade in quality if it gets wet.
It comes with 9 pockets in total, 2 of which are removable. Special hooks for additional tools are added as well. It does have a padded waist belt specially contoured for added comfort, so it won't make your waist ache by the end of the day.
Ultimately, it's a solid, budget-friendly choice suitable for hobbyists rather than full-on professional carpenters.
Pros
Made with comfortable material
Has water-repellant treatment
Has good pocket variety
Reasonably affordable
Cons
Polyester isn't super durable
Not super adjustable
---
Buyer's Guide – Purchasing the Best Carpenters Tool Belt
There's a lot to think about when buying a carpenter's tool belt. Here's what you need to focus on as you browse and buy.
What to Consider When Buying a Carpenter's Tool Belt
No two belts are made alike. It's important to consider all the different factors that make up a belt when determining whether it'll be right for your needs.
Material
Material is arguably the most important factor. You can find cheaper belts that are better for budget-minded carpenters. Canvas is one such cheap option, and it tends to be pretty comfortable. But nylon is usually a little better since it's more elastic and should last a bit longer because of this. Nylon is quite durable, particularly when bolstered with leather trimmings or reinforcements.
Yet there's no doubt that the best material for a carpenter's tool belt is leather, by far. But you don't just want to stick with the first leather tool belt you find.
Indeed, there are different types of leather to consider. Pay attention to the stitching and the grain of a given leather belt. Softer leather that features heavier rivets and double stitching is pretty tough, but may not last as much as overall heavier belts.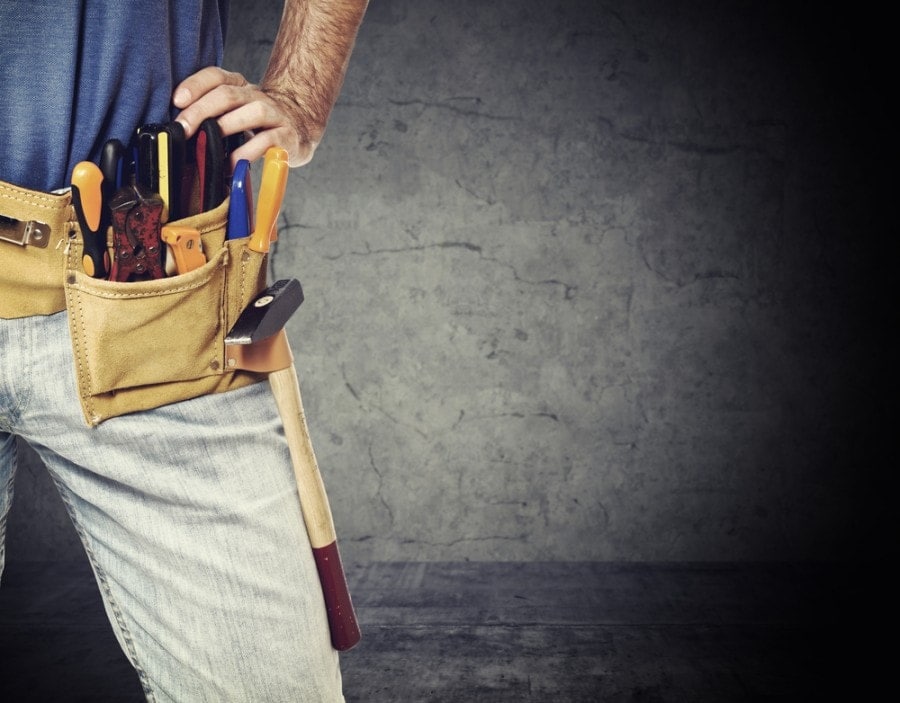 Comfort and Fit
Speaking of which, be sure to prioritize comfort and fit. Comfortable materials might be king if you have sharp hip bones that almost poke out through your jeans. Sometimes you can find durable leather belts with softer interiors, like certain types of padding or mesh, to cushion your hips when the belt is laden with carpenter's tools all day.
Fit matters a lot as well. We'd recommend looking into an adjustable belt instead of a single size belt for most carpenters. The fact is we tend to get a little thicker around the waist as we get older, and if you want your belt to last for years on end, it should be able to accommodate any weight fluctuations.
Pay attention to the rivets as well. Good belt rivets will be low-profile and won't have a bunch of sharp corners. This is important for your comfort as well as for safety – you don't want one of your tools to be caught on a rivet as you pull it out, only for you to drop it by accident.
Space and Pockets
Don't get saddled with a belt that doesn't have pockets for all the tools you want to include. Make sure it has compartments or pouches for all of your staple tools like small saws, pencils, and markers (super important for carpenters), measuring squares, measuring tapes, and so on.
Some of the best belts even have customizable pouches that can be swapped in and out. These are usually a little less durable, but not always.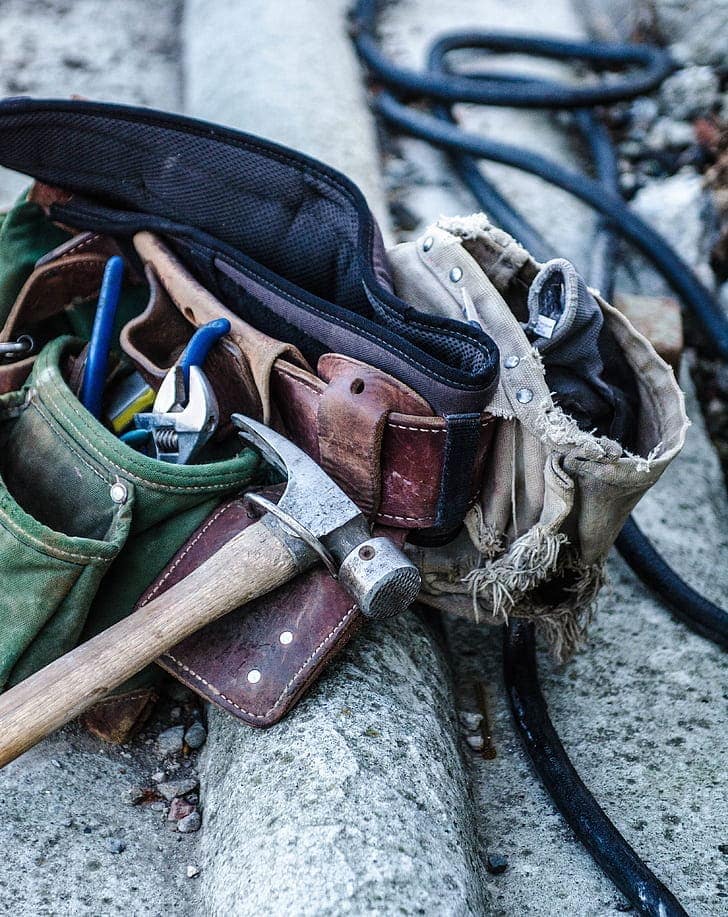 Ambidexterity
Most carpenters, like most people, are right-handed. But for the lefties among us, make sure to look into a tool belt that can at least accommodate your left-handedness if not work for ambidextrous carpenters.
We talk again about the adjustable belts, which may have movable pouches to work for either right or left-handed carpenters. Make certain that a belt is perfect for your handedness before buying; otherwise, you'll be in for a bad surprise.
Take Care of Your Belt(s)
Even the most durable belt will only last for a while before falling apart, usually at the pockets or pocket seams. This is especially true if you tend to be rough with your belt, like most carpenters.
This isn't a bad thing in and of itself. There's something to be said for the comfort and speed you get when developing muscle memory to reach for your tools and slam them back into place without a second thought.
But remember to store your belt well and occasionally give it a clean. Specifically, we'd recommend taking care of any sharp tools you store in the belt. For instance, if you have a cutting knife of some kind and tend to leave the tip open or out for speed's sake, consider getting a plastic guard for the pocket's bottom to prevent it from being sliced open so quickly.
More buying guides like this:

Conclusion
At the end of the day, most carpenters will appreciate the Gatorback B145 Carpenters Triple Combo Belt if they want something that checks all the boxes. It's durable, comes with plenty of adjustable pockets, and supremely comfortable thanks to the foam backing that runs the length of the belt.
The CLC Custom Leathercraft I823X Nail and Tool Bag, on the other hand, is a perfect choice if you want something super affordable, and that works with your existing belts. It's better for hobbyists than it is for professionals, though.
Regardless, at least one of the above belts ought to be perfect for your needs. Double-check the above reviews, your requirements, and your budget, then take the plunge – we think you'll be happy with these excellent options!
See Also: