10 Best Blenders For Juicing 2023 – Top Picks & Reviews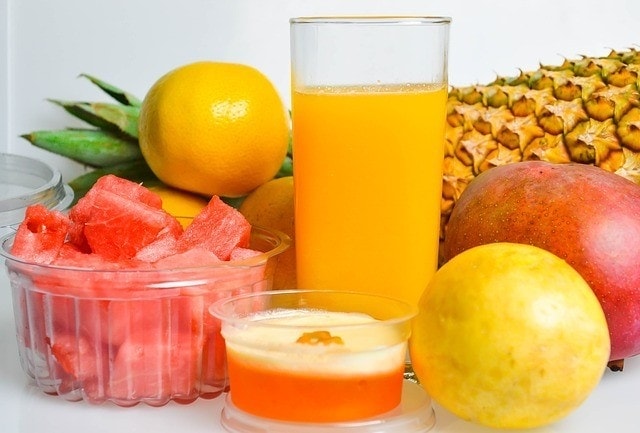 10 Best Juicers for Beets in 2023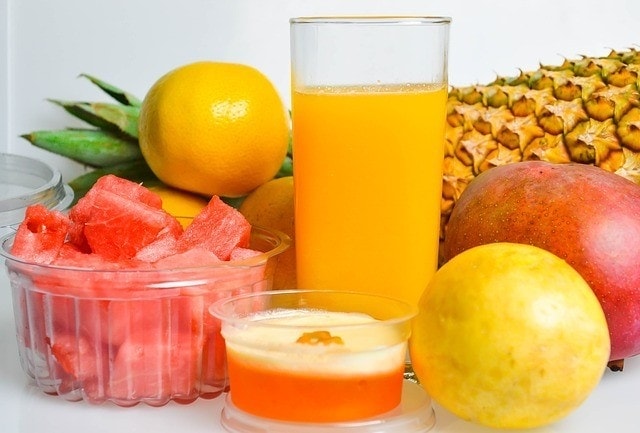 Juicing can be a great way to add extra nutrients to your diet or simply enjoy your fruits and vegetables. Luckily, you don't need a juicer to make delicious, healthy juice at home. If you pick the right blender, you can juice to your heart's content.
But how do you find a model that will work well as a juicer? We're here to help with this guide to the 10 best blenders for juicing. We tested all of the biggest blenders and compiled this list of detailed reviews, comparing design, price, durability, juice quality, and warranty to help you shop.
Keep reading for our ranking of the 10 best models, and stick around for the buyer's guide if you're wondering which features will matter the most to you.
A Quick Glance at our Favorites of 2023:
Rating
Image
Product
Details

Best Overall

Ninja BL770

Simple interface
Several blending containers
Powerful motor and blades
CHECK PRICE

Best Value

Oster Pro 1200

Intuitive interface
High-quality
Works well on greens and seeds
CHECK PRICE

Premium Choice

Vitamix 1782 TurboBlend

Stainless steel blades
Strong motor
Overheat protection
CHECK PRICE

Blendtec Total Classic

Smooth blending and juicing
Self-cleaning button
Lightweight
CHECK PRICE

Breville BBL620

Attractive container
Several presets
Includes juicing cone
CHECK PRICE
The 10 Best Blenders for Juicing:
1.

Ninja BL770 Blender For Juicing – Best Overall
Our favorite blender for juicing is the Ninja BL770 Mega Kitchen System, a reasonably-priced, powerful blender with blending, chopping, and single-serve capabilities. This 9.2-pound blender has an impressive 1,500-watt motor that can handle juicing any fruit or vegetable you throw at it. The package includes a 72-ounce plastic pitcher, a 64-ounce food processing bowl, and two 16-ounce cups with travel lids.
It also includes several blade assemblies for blending, chopping, and single-serve blending. The five-button interface is straightforward and modern, and we liked the single-serve button. You can juice right into a travel cup, which is convenient for an on-the-go juice-lover. The stainless steel blades are very sharp, making them more difficult to clean.
In testing, we found that the plastic containers aren't especially durable and may crack with heavy use. Ninja offers a 1-year warranty, but it only covers the motor, and the company charges shipping fees even under warranty. All in all, we think this is the overall best juicer for blending available this year.
Pros
Reasonably priced and relatively lightweight
Stylish with a simple interface
Includes several blending containers and blade assemblies
Well-designed for single-serve juicing
Powerful motor and blades
One-year warranty
Cons
Warranty only covers the motor and charges shipping fees
Less durable containers may crack
More difficult to clean
---
2.

Oster Pro 1200 Juice Blender – Best Value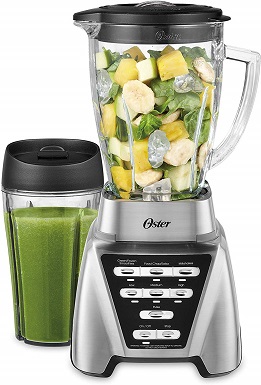 Are you looking to stretch your dollars? The Oster BLSTMB-CBG-000 Blender could be for you, and it's the best blender for juicing for the money of all of the models we tested. This light seven-pound machine is very sensibly-priced and has a well-designed, feature-heavy body. The intuitive interface offers three manual speeds and three smart presets, including a dedicated green and frozen smoothie button.
The motor tops out at an impressive 1,200 watts, meaning you won't have trouble fully juicing your produce. This blender comes with a 48-ounce glass blending container and a 24-ounce blend-in smoothie cup. In testing, we found that this model worked exceptionally well on green produce and seeds. Unfortunately, the dual-direction blades aren't as durable, and the blending noise is quite loud. We also found reports of replacement accessories being difficult to find. Oster has a 10-year all-metal drive warranty and a 3-year satisfaction guarantee.
Pros
Inexpensive and lightweight
Attractive with an intuitive interface
Seven speeds, including smart presets
Power 1,200-watt motor
High-quality, dishwasher-safe glass jar and smoothie cup
Works especially well on greens and seeds
10-year metal drive warranty and three-year satisfaction guarantee
Cons
Replacement parts can be hard to find
Less durable blades
Very loud
---
3.

Vitamix 1782 Blender – Premium Choice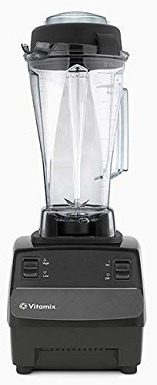 If you're in the market for a high-end model, you may want to look at the Vitamix 1782 TurboBlend Two Speed Blender, a pricey model that offers exceptionally smooth blending and juicing, durable blades, and a simple interface.
This heavier 10-pound blender has a 64-ounce Tritan blending pitcher and tough laser-cut stainless steel blades. The straightforward interface has only two buttons and two speeds, though the blender can be used for various cooking methods and can handle hot liquids. The two-horsepower motor has a radial cooling fan and built-in thermal protection, so you can be sure it won't overheat even when juicing hard produce.
Our favorite feature is the tamper, which can be used through the lid while juicing and has a collar to keep it from hitting the blades. We found that this machine does a good job blending and juicing, though it's fairly loud and doesn't offer many speeds or any presets. Ultimately, we didn't feel this model seemed as high-end or durable as its price calls for. Vitamix backs the TurboBlend up with a 5-year warranty, which covers all accessories.
To conclude, this is the top premium option for the best blenders for juicing.
Pros
Durable stainless steel blades
Very smooth juicing and blending
Simple interface
Strong motor with cooling fan and overheat protection
Five-year warranty that includes accessories
Cons
More expensive and heavier
Not many speeds and no presets or smart features
Less durable plastic pitcher
---
4.

Blendtec Total Classic Blender
The Blendtec TB-621-20 Total Classic Original Blender is another costly blender that offers more features but isn't as durable or stylish as we'd like.
At 7.28 pounds, this blender is surprisingly lightweight, given all of its features. The easy-to-use interface offers six pre-programmed cycles, 10 variable speeds, and a pulse option. The two-tip stainless steel blade is dull by design, making it safer and easier to clean, and the 1,560-watt motor is strong enough for the toughest ingredients. The BPA-free jar has a 32-ounce blending capacity and a fifth wall designed to pull ingredients into the blade without a tamper.
This blender doesn't have a strong visual presence,  but we liked its self-cleaning button and powerful motor, which crushed ice easily. Unfortunately, it's very loud, and the gaskets and plastic components aren't durable enough for frequent use. Blendtec offers an excellent 8-year warranty with acceptable customer service.
Pros
Lightweight
Many speeds and presets
Powerful motor and strong, dull blades
Self-cleaning button
Smooth blending and juicing
Good eight-year warranty
Cons
More expensive
Not very stylish
Very loud
Less durable gaskets and plastic components
---
5.

Breville BBL620 Juicer Blender
The Breville BBL620 Fresh & Furious Blender offers several convenient features but is expensive and not very durable, with a less powerful motor. This heavy 11.35-pound machine has durable stainless steel blades, a 50-ounce Tritan pitcher, and automatic overload protection. Though the blending container has an interesting design, the complicated interface and cheap-feeling silver plastic body make this model feel less high-end than its price.
The interface includes a timer and three presets, including smoothie and green smoothie programs. In testing, we liked the self-cleaning button and the juicing cone. Our least favorite feature was the lid, which was sealed so tightly that it was hard to get off, even using the attached ring pull. We also think the Breville is too loud, with less durable plastic components and a motor that seized up frequently. Breville offers a basic 1-year warranty.
Pros
Attractive blending container and durable blades
Several presets, a timer, and a dedicated self-cleaning button
Includes juicing cone
One-year warranty
Cons
More expensive and heavier
Complicated interface
Very loud
Less durable plastic components
Motor may seize up frequently
---
6.

Cuisinart CPB-380 Hurricane Juicing Blender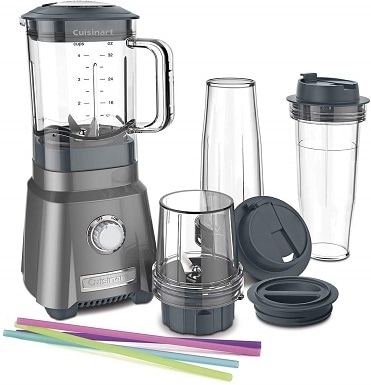 Cuisinart's CPB-380 Hurricane Compact Juicing Blender is a lightweight, low-cost option with a straightforward interface and a streamlined design. Unfortunately, it's also not very powerful or durable.
This compact 6.5-pound model has a less powerful 600-watt motor and simple rotary dial controls with two speeds. The package includes a 32-ounce Tritan pitcher, an 8-ounce chopper cup, four reusable silicone straws, and two 16-ounce travel cups, single and double-walled, that you can blend in.
The motor is strong enough for basic juicing but won't work as well on frozen fruit or harder vegetables. We found the machine's plastic components less durable, and the small capacity isn't ideal for larger-scale juicing. Cuisinart has a 3-year extendable warranty, but you'll have to pay high shipping fees.
Pros
Lightweight and low cost
Simple rotary dial controls
Includes a range of juicing containers
Attractive, streamlined design
Three-year extendable warranty
Cons
Must pay shipping fees under warranty
Small capacity
Less durable plastic components
Less powerful motor
---
7.

SharkNinja Auto-iQ Blender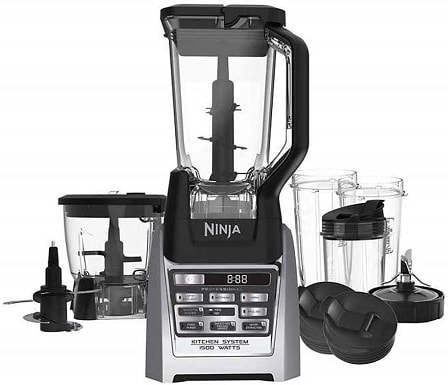 The SharkNinja BL687C0 Ninja Auto-iQ Blender is a smart blender with many features and a high price to match. This heavy 19.6-pound machine isn't much to look at and has a complicated interface, so you'll have to spend some time with the manual.
It offers smart blending, with presets that sense the load and adjust automatically. The package includes a 64-ounce pitcher and a 64-ounce food processor bowl, plus 18- and 24-ounce blend-in travel cups with lids. We liked the extract button and well-designed extractor blades. The 1,500-watt motor is strong enough to juice any produce.
We didn't like how loud and heavy this machine was, and we found that the travel lids were prone to breaking. Ultimately, this model is too expensive and heavy to be practical for home juicing. SharkNinja offers a basic one-year warranty.
Pros
Smart presets
Large pitcher and food processor bowl
Two sizes of travel cups with lids
Strong 1,500-watt motor
Dedicated extract button and blades
One-year warranty
Cons
Very expensive and heavy
Complicated interface and unattractive design
Less durable travel lids
Very loud
---
8.

Ninja BL660WM Blenders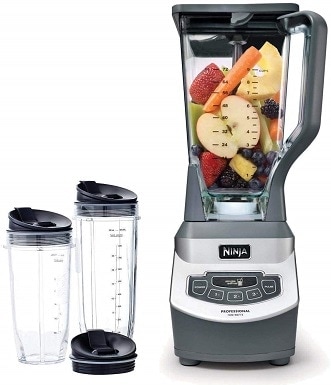 Ninja's BL660WM Blender is a lower-cost option with multiple speeds and single-serve features, but it also feels somewhat cheap.
This loud model weighs 10.45 pounds. It has a strong 1,200-watt motor that can produce three speeds, plus pulse and single-serve settings. The package includes a 72-ounce pitcher and two 16-ounce travel cups with lids, along with a single-serve blade assembly.
The BL660WM is reasonably attractive but has a cheaper, less durable feel. In testing, we found that it worked well on greens. Ninja offers a basic 1-year warranty that covers only the motor and charges shipping fees.
Pros
Less expensive
Three speeds, pulse, and single-serve settings
Includes large pitcher and two blend-in cups
Fairly powerful motor works well on greens
One-year warranty
Cons
Fairly heavy
Feels cheaper and less durable
Warranty only covers the motor and charges shipping fees
Very loud
---
9.

GERMIX 1800W Blenders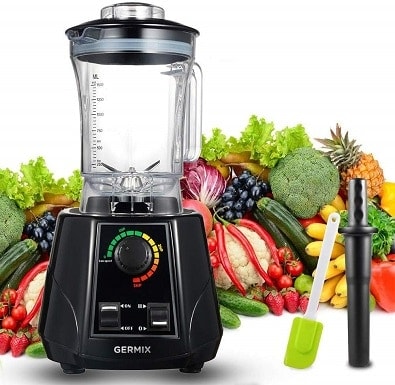 The GERMIX 1800 W Professional Blender is a heavy midrange model with a tamper and a range of manual speeds, but the motor isn't durable enough for heavy juicing.
This heavy 14.9-pound blender has a basic switch and dial interface with 10 manual speeds but no presets or smart programming. The eight-tip stainless steel blade is strong and effective, and the 64-ounce BPA-free plastic blending pitcher has an ergonomic rubber handle and a lid with a filler cap. The package also includes a travel mug and a plastic scraper.
The motor has an impressive 1,800 watts but gets overloaded easily and doesn't run well when blending smaller amounts. In testing, we liked the tamper, which can be used through the lid while blending, but the black plastic body feels cheap and isn't very attractive, and the plastic pitcher doesn't feel very durable. GERMIX offers a good 2-year warranty with 24-hour customer service.
Pros
1,800-watt motor with overload protection
Included tamper
10 manual speeds through a simple interface
Strong stainless steel blade
Two-year warranty with 24-hour customer service
Cons
Heavy and somewhat expensive
Motor overloads easily
No presets or smart features
Doesn't work well with smaller amounts
Less durable blending pitcher
Less attractive black plastic body
---
10.

FORTON Mixer Blender
Less expensive but relatively heavy, the FORTON Mixer Blender is our least favorite model. This blender has a vacuum design meant to prevent your juice from oxidizing, but it doesn't work well and isn't durable enough for frequent use.
Though it weighs a heavy 11.82 pounds, this model operates quietly. The vacuum feature works and produces better-tasting juice that will last longer, but we found that it fails quickly. The less-powerful 500-watt motor can't run for more than 3 minutes at a time and overloads easily. The package includes a 50-ounce glass pitcher and a 27-ounce storage container, plus a hexagonal stainless steel blade assembly.
This model has features like dual safety locks and overheating and overload protection. It's a very tall blender, and it won't fit on all counters, and we found that the pitcher is prone to leaking while blending. FORTON offers a 30-day money-back guarantee, a 1-year warranty, and a very generous lifetime blade replacement guarantee.
Pros
Glass pitcher and hexagonal blades
Vacuum design prevents juice oxidation
30-day money-back guarantee, one-year warranty, and lifetime blade replacement
Several safety features
Fairly quiet
Cons
Motor overloads easily
Vacuum feature is prone to failure
Less powerful motor
Too tall to fit on some counters
---
Buyer's Guide: Finding the Best Blenders for Juicing
What's the difference between a blender and a juicer?
Using a blender to juice will produce a slightly different drink. Blenders are grinders with high-speed blades that chop anything they encounter. There are several types of juicers, but many operate more like squeezers, applying pressure to your fruits and vegetables to extract the juice.
Because blenders don't have pulp strainers or peeling features, your finished juice will still have everything you put into it, including pulp, seeds, and peels. A great blender will fully pulverize the seeds and peels, though the juice will be heavier and less clear. This may also mean that your juice is a bit more nutritious, because it will contain vitamins and fibers from these extra ingredients.
Power
You may want to consider what types of produce you like to juice. If you primarily use softer fruits, you may be fine with a lower-wattage motor, below 1,000 watts. If you juice harder vegetables like carrots, you may prefer a stronger motor with up to 1,500 watts of power.
Blades
The blades are one of the blender's most important features because they do all the blending and juicing work. Some models come with multiple blade assemblies that are specifically designed for different purposes like extracting, blending, or chopping. If you want to do a lot of juicing, you may want to look for a model with high-quality extractor blades, preferably made of durable, non-rusting stainless steel.
You may also want to remember that you may need to replace your blade assembly if you use your blender frequently. Some manufacturers offer low-cost replacement blades or even free lifetime blade replacements.
Capacity
How much do you juice at a time? If you like to juice large quantities, you may need a model with a higher-capacity pitcher. If you prefer to juice in single servings, you may want to look for a blender that works with small amounts. The best blenders for single servings come with blend-in travel cups and smaller blade assemblies that are specifically designed to blend small quantities.
Note: you can our guide about the 10 best single-serve blenders here.
Interface and Features
Are you willing to learn how to use a complicated interface? If not, you may want to choose a model with a simple switch and dial or button interface. If you like to have a range of blending speeds or presets, you may need to purchase a model with a more complicated interface.
You may want to consider how much effort you'd like to put into your juicing process. Some blenders come with smart programming that will sense your ingredients and adjust your settings. Some also have timers that can count up for manual speeds and down for presets. If you just want to push a button and walk away, you'll probably want a model with presets. If you're willing to monitor the process, you may be okay with a more streamlined, less feature-heavy model.
Cleaning
As with all kitchen appliances, you'll want to clean your blender frequently. But you may not have the patience or time to spend on this process, so you may want to look for a blender with specific cleaning features. Most blenders have dishwasher-safe components like pitchers, blades, and travel cups. Some also have self-cleaning features that will help you keep the blades clean.
Whichever model you buy, you can always clean it by running it for a few seconds on the lowest speed with warm water and dishwashing soap or a piece of lemon.
Safety
If you're a safety-conscious juicer, you may want to look for features like safety locks, which will prevent the machine from turning on by accident, and automatic overheating protection, which will shut off the motor to prevent it from burning out. You may also prefer a machine with dull blades, which will be safer to clean.
Warranty
Would you like your investment to be protected? You may want to purchase a model with a good warranty. Warranties can range from the standard 1 year up to 8 or even 10. You may also want to pay attention to what the warranty covers, as some apply only to the motor or charge expensive shipping fees.
Conclusion:
The bottom line? Our top pick is the Ninja BL770 Mega Kitchen System, which is reasonably priced, powerful, and works well for juicing single servings. If your budget is smaller, we recommend the Oster BLSTMB-CBG-000 Blender, which is an excellent value with a surprising amount of power and a good warranty. If you're shopping for a premium blender, you may be interested in the Vitamix 1782 TurboBlend Two Speed Blender, a very smooth model that's easy to use and includes a great tamper.
There are several blenders on the market, but it can be tricky to find one that will work well for juicing. We hope this list of the 10 best blenders for juicing, complete with in-depth reviews and a buyer's guide, help you sort through your options and pick a great model. Juicing doesn't have to be difficult, and neither does shopping.
You might also like: