10 Best Chainsaw Chains for Cutting Hardwood & Firewood – Reviews & Top Picks 2023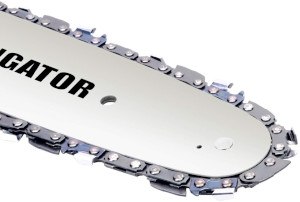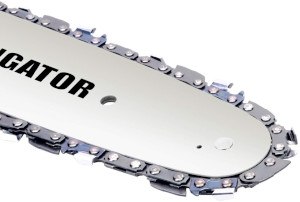 A chainsaw can make light work of branches, tree stumps, and logs. Whether you're planning backyard renovations, need to clear some trees for a new project, or you like to be prepared, a good quality chainsaw is an important addition to your toolbox. And it's equally as important that you have a good quality chain.
The best chainsaw chains not only ensure clean and quick cuts, but they can help prevent user fatigue, prevent vibration and kickback, and offer easy maintenance. You should never overlook the importance of having a good chain and keeping a replacement or two in preparation.
Unfortunately, because they use standard sizes and most chains can fit a range of different saws, choosing the right chain for your needs can be challenging. We've compiled a list of the 10 best chainsaw chains, including reviews, to help you find the best replacement chain for your saw.
---
A Quick Glance at our Favorites in 2023
Rating
Image
Product
Details

Best Overall

Oregon S56 AdvanceCut Chainsaw Chain

Hardened rivets
Chrome-plated
Low vibration
CHECK PRICE

Oregon S52 AdvanceCut Chainsaw Chain

Hard-chromed finish
LubriTec lubrication system
Vibration damping
CHECK PRICE

Best Value

Trilink 18″ S62 Chainsaw Chain

Low kickback
Self-lubricating
Easy to sharpen
CHECK PRICE

Oregon R34 AdvanceCut Chainsaw Chain

Works with some pole saws
Lubritec oiling system
Great customer service
CHECK PRICE

Oregon D72 AdvanceCut Chainsaw Chain

Chrome-plated chain
LubriTec oil system
Easy to fit and adjust
CHECK PRICE
The 10 Best Chainsaw Chains
1.

Oregon S56 AdvanceCut Chainsaw Chain – Best Overall
Compatible with
Craftsman, Echo, Homelite, Poulan, Remington
Oregon is well known for manufacturing high-quality saws, blades, and chains. The S56 AdvanceCut is our pick of the best chainsaw chain because the 16-inch chain is durable, reduces vibrations, and even has its own oiling system to ensure that oil is spread properly across the blade. The LubriTec oiling mechanism ensures that oil gets into and around all the rivets, making it easier to maintain and enabling a longer-lasting chain. It is compatible with chainsaws up to 42cc power.
The cutter chain is hard chromed, which means that it has been strengthened to provide smoother cuts for longer before it wears out. Vibration is a major problem when using a chainsaw for any period of time. By separating the guide bar and chain, Oregon has reduced the vibration that passes through the chain and into the saw. Meanwhile, kickback protection means that you can saw with confidence without fear of being hit.
This chain is classified as a moderate-duty chain, which means that it isn't considered suitable for heavy-duty sawing. You can, however, take advantage of Oregon's US based Customer Care service to help make sure you buy the right model for your chainsaw.
Pros
Hardened rivets
Chrome-plated
Low vibration
LubriTec oiling system
---
2.

Oregon S52 AdvanceCut Chainsaw Chain
Compatible with
Craftsman, Echo, Homelite, Poulan
The Oregon S52 AdvanceCut 14-Inch Chainsaw Chain is another high-quality chain from one of the biggest names in the chainsaw world. It fits 14-inch saws, is compatible with most of the big chainsaw names, and it is designed to offer clean cuts quickly and safely. It has 52 links, is 1.3mm thick and it has a ⅜-inch profile.
Like the S56, it is not rated for heavy-duty use, but also like the S56 it has a hard-chromed finish, Oregon's oil lubrication system, and it dampens vibrations to provide you with a more comfortable sawing experience. The LubriTec oiling system makes it easier to properly maintain your chain. It has a series of guides and ridges which channel oil behind the rivets and into the mechanism, ensuring that you can keep the chain properly lubricated. You can also call Oregon's US-based call center to ensure that you're buying the right model number for your saw.
A well lubricated chain cuts more smoothly, makes easier work even of tough jobs, and it will last for years so you don't have to keep buying replacements. There have been some complaints over the chain's performance when cutting hardwood, and this model seems to dull quicker than its bigger brother, the S56. Overall, though, this is another excellent chain from Oregon.
Pros
Low kickback
Hard-chromed finish
LubriTec lubrication system
Vibration damping
Cons
Dulls quicker than the bigger S56
Not great for cutting hardwood
---
3.

Trilink 18″ S62 Chainsaw Chain – Best Value
Compatible with
Craftsman, Echo, Homelite, Husqvarna, McCulloch, Poulan, Shindaiwa
The Trilink Saw Chain CL15062X2TL2 18″ Twin Pack S62 has many features that make for a great chainsaw chain, at a price that can't be ignored. It's designed for low kickback, which is one of the first things to look for when shopping for a new chain. It has self-lubricating technology, so it will work to keep itself in good shape, just like the Oregons higher on the list. This chain is also exceptionally easy to sharpen.
What we like best is that it can be had for a great price. Chains of similar size often retail for significantly more than this one, and that means you're getting a great deal when you purchase this chain. However, it has mixed performance. Some units last, and others underperform. If that were sorted out, we would easily rank this chain higher.
Pros
Low kickback
Great price
Self-lubricating
Easy to sharpen
---
4.

Oregon R34 AdvanceCut Chainsaw Chain
Compatible with
Craftsman, Black & Decker, Oregon, Poulan, Remington, Ryobi, Troy-Bilt
The Oregon R34 AdvanceCut 8-Inch Micro Lite Chainsaw Chain has 34 links with a 0.043mm gauge and a ⅜-inch recess. This short, lightweight chain can be used on pole saws and is compatible with Poulan and Remington saws. What's more, if you're unsure of the part you need, you can ring Oregon's US call center to check compatibility and avoid buying the wrong replacement part. The chain also benefits from Oregon's LubriTec oil system which ensures that gears and rivets are as well-lubricated as the exterior of the chain.
Oregon claims that this chain reduces vibrations by as much as 25% when compared to other brands and is fairly priced for the size and type of saw. However, there are some reports that while this is an easy chain to fit pole saws, it is quite a challenge to fit it to a chainsaw. It also has limited use as it is only an 8-inch chain.
Pros
Works with some pole saws
Lubritec oiling system
Great customer service
Cons
Burring issues
Not as strong or sharp as other Oregon chains
8″ length has limited use
---
5.

Oregon D72 AdvanceCut Chainsaw Chain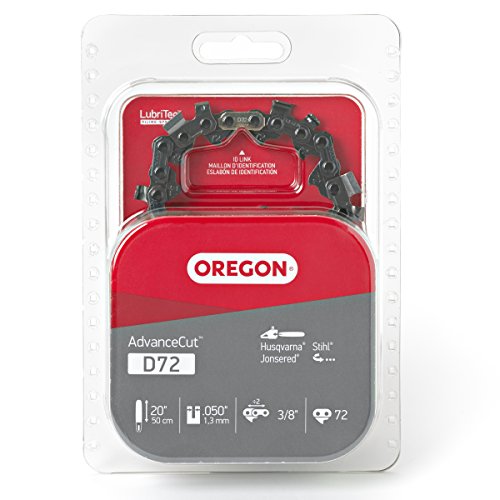 Compatible with
Dolmar, Husqvarna, Jonsered, Makita, Remington, Stihl
The Oregon D72 AdvanceCut 20-Inch Chainsaw Chain is another high quality chain from Oregon, and is another that is great for beginners, prevents kickback, minimizes vibration, and includes Oregon's LubriTec oil system as well as access to the company's US call center so that you can call and check that you're buying the right part for your saw.
Chainsaw blades can quickly dull, and without proper maintenance, they can rust, and the teeth lose their edge. Oregon has used chrome-plated teeth, which means that this chain retains its sharpness and won't rust. The D72, which is a 20-inch chain featuring 72 links, also features the company's LubriTec oiling system which ensures that the rivets and other components are fully lubricated when you oil. The chain rivets are tightly wound, which prevents them from sagging and stretching and ensures greater longevity for your chain.
Pros
Chrome-plated chain
LubriTec oil system
Easy to fit and adjust
Cons
Stretching issues
Slow
Not really suitable for professional work
---
6.

Husqvarna 18″ Chainsaw Chains
Compatible with
Husqvarna 435c, 440c, 445c, 450, 450c, 450 Rancher, 543 XP, 545, 545 XP
The Husqvarna 531300439 18-inch chain has a 0.05-inch gauge, a 0.325 pitch, and it is designed for cutting across the grain while leaving a larger cut than most other models. It is possible to use the chain for ripping with the grain, but this will require filing the teeth to the appropriate angle.
Users are recommended to sharpen the teeth before every use and there are reports that the chain can dull quite quickly even used sparingly. The Husqvarna has been designed for low kickback as well as low vibration levels, however, which reduces user fatigue and increases safety during use. This model can be used for heavy duty tasks, as well as by novice home users, making it a great all-rounder for the price.
.
Pros
Low kickback
Holds edge well
Works well with hardwood
Cons
Oregons last longer
Lightweight
---
7.

Husqvarna 24″ Chainsaw Replacement Chain
Compatible with
Husqvarna 24″ chainsaws
Compatible with Husqvarna chainsaws that have a 24-inch guide, the Husqvarna replacement chain has a 0.05-inch gauge and a ⅜-inch pitch. It also has 84 links and, like other chains from this manufacturer, it has been well designed to minimize the risk of kickback and reduce vibrations.
Chainsaw vibrations can make sawing uncomfortable work, especially if you are an infrequent user and need to use the saw for anything longer than a few minutes.
The Husqvarna offers precision cutting and is suitable for professional and heavy-duty use, as well as for use by home users. Unfortunately, there have been reports of the chain becoming loose after a few uses, which means that it will need regular readjusting for continued precision and reliability.
Pros
Made for clam shelled chainsaws
Minimal vibration
Almost no kickback threat
Heavy duty chain will handle most tasks
Cons
Expensive
Needs cleaning for best performance
---
8.

Stihl 2-Pack 18″ Chainsaw Chains
Compatible with
Stihl 18″ chainsaws
The  Stihl 2 Pack 26RM3 is a professional grade chainsaw chain. It has been designed for professional users and, as such, it cuts hard and deep and is not considered suitable for beginners or novices.
There is no kickback reduction so expect major chunks of splintered wood to fly back and only consider using this chain if you have experience.
The professional use of the chain also means that these packs are more expensive than other models, but they are also designed to last and to make rapid work of even the most challenging wood. The 18-inch chain has a 0.063" gauge and a 0.325" pitch. It fits saws with a 20% guide and has 81 links, but it isn't for the faint-hearted.
Pros
Makes quick work of difficult cuts
Very powerful bite
Chain stays sharp
Cons
No kickback reduction
Not for beginners
Expensive
Slow
---
9.

8TEN Chain Saw Chain (18-inch)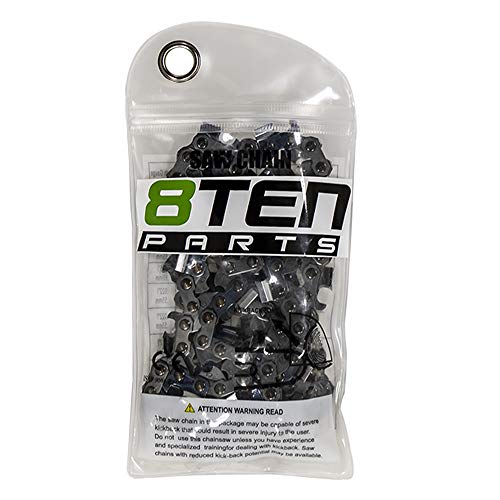 Compatible with
Poulan, Echo, Husqvarna Rancher
Some brands position themselves as lower-priced, but equally good, alternatives to name-brand chains. The 8TEN Chainsaw Chain 18" is one of those chains, but it doesn't live up to those claims. It's a semi-chisel design, so it won't have as much kickback as other full-chisel chains. That makes it a little safer and much easier to handle. It does have kickback prevention, but the 8TEN doesn't have much else going for it. Even if you are on a really tight budget, we would suggest looking at alternative models.
There have been multiple reports of these chains dulling really quickly and several complaints of the chain being damaged or misshapen on arrival. They also tend to wear out quickly, which means that while they aren't expensive, they will work out pricey when you have to keep replacing them.
Cons
Dulls quickly
Quality control issues
Durability concerns
---
10.

SUNGATOR 18-Inch Chain
Compatible with
Craftsman, Homelite, McCulloch, Remington, Kobalt
Sometimes the price is just so good that it overwhelms common sense. That seems to be SUNGATOR's marketing strategy, and it may just work. The SUNGATOR 18-Inch Chainsaw Chain (SG-S62) is a discount chain, and while it does some things right, you're gambling when you purchase it. On the plus side, it's a low kickback chain, and it's also chrome-plated for superior edge retention, in theory.
It is compatible with saws from a number of major manufacturers and it claims to be chrome-plated so it should last longer than a standard chain. However, a lot of buyers have claimed that this chain has dulled almost as soon as they've started using it.
It does offer reduced kickback so it should be safer than some other chains, and this gives you the confidence to saw. However, buyers have also complained that it struggles cutting through hardwood with any purpose. Other than the price, this model doesn't have much going for it.
Pros
Low kickback
Chrome-plated
Cons
Struggles with hardwood
Discount brand
No customer support
Dulls quickly
Poor quality, even for the price
---
Buying Guide – Purchasing the Best Chainsaw Chains
How do I know which chain will be compatible?
Something to note when shopping for chains is that many "brands" are owned by the same company. Since it saves money to reuse parts across multiple sub-brands, many chains will work with multiple models across a family of brands. For example, many Poulan chains will fit on Husqvarna saws, and vice versa. Most third-party chains designed for one will fit the other as well.
It's always important to double-check what specific models are supported by a chain before you buy. The list of supported saws is long, but if you have an 18-inch model, not all 18-inch chains will fit. The height of the guide bar influences how long a chain needs to be, in addition to the length.
If you're unsure which chain to get, most manufacturer's websites have tools to help you find compatible chains for your specific chainsaw.
Which chainsaw chain is best for hardwood?
In general, the best chains for cutting hardwood are those from Oregon. They're almost always self-lubricating, and they have the durability to work with hardwood day in and day out without dulling rapidly.
These chains tend to be expensive, but they last a long time, which makes them well worth the money.
Which chainsaw chain is best for cutting firewood?
Firewood is often similar to hardwood, so you'd be fine using an Oregon, but if you're looking for a lower-priced alternative with good durability, Trilink is a good brand to consider. Since it costs less, it doesn't matter as much if you wear it out on a cord or two of firewood. Plus, it's easy to sharpen, which means it's easy to make your chains last longer.
RELATED READS: An overview of the 5 top chainsaws for cutting fire wood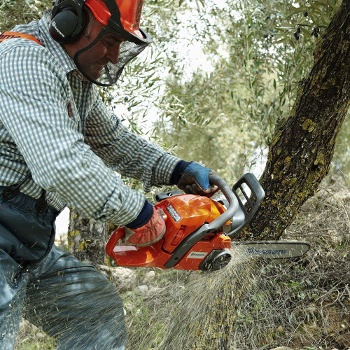 How long does a chain last?
There is no one answer to how long a chain lasts, due to the sheer number of factors involved. Beyond the quality of the initial chain, the type of wood you're cutting has a big effect, as do other actions you take. If you're felling a large tree, it's a good idea to strip the bark from the spots you'll be cutting with an axe beforehand, as cutting bark can dull a chain.
Be careful and extend its lifespan
Hitting things that aren't wood, such as dirt, rocks, or metal fencing, can dull your chain quickly and dramatically. Being careful can greatly extend your chain's life.
Sharpen wisely
You can resharpen a chain many times before it needs to be retired. While some people resharpen their chain for every tank or every other tank of gas their chainsaw consumes, this may be too often and may shorten your chain's lifespan.
Instead, look for the following two signs as the appropriate time to sharpen:
If your chain stops creating chips and starts creating sawdust, it needs to be sharpened.
Likewise, if it stops pulling itself through the wood and forces you to start pushing it, it needs sharpening.
Sharpening when these events occur will help keep your chain at a high level of average sharpness, while also extending its life by eliminating unnecessary sharpening.
How to understand the numbers on a chainsaw chain
Pitch
Pitch is the distance between links and is given in some fraction of an inch. Common pitch sizes are 1/4", .325", 3/8", .404", and low-profile variants of these pitches. Smaller pitches mean slower cutting, while larger pitches mean faster cutting.
Gauge
Gauge refers to how thick the links are. The gauge is typically .043", .050", .058" or .063". Like pitch, you'll typically find this number stamped on your guide bar, or in the chainsaw's user manual.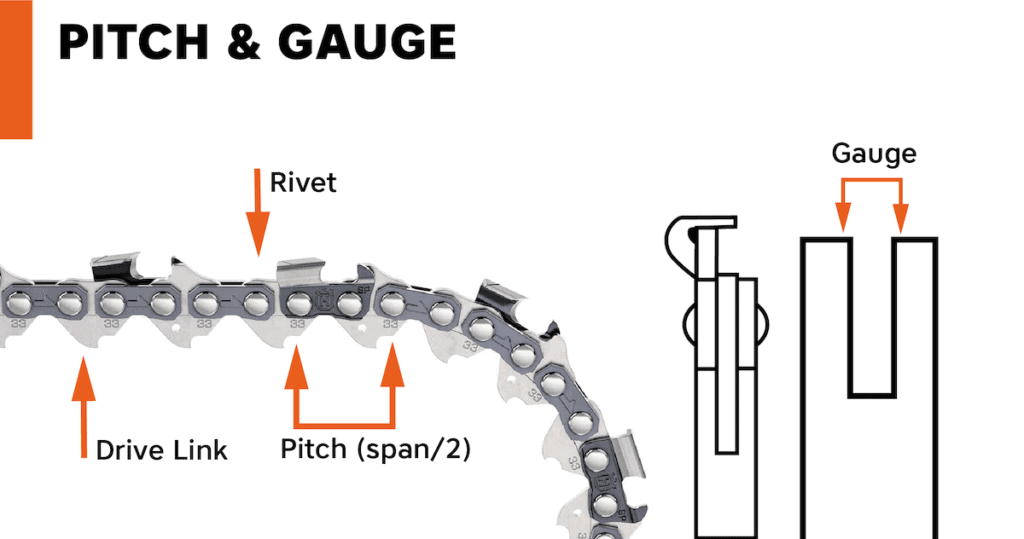 Drive links
Since guide bars differ not just in length, but in height as well, the number of links required will vary. Two chains of equal length with different pitches will have different numbers of drive links. While this number is usually stamped on the guide bar or in the user manual, you can find out what kinds of chains you'll need by counting the number of links on your old chain.
Conclusion:
The Oregon S56 AdvanceCut 16-Inch Chainsaw Chain is our favorite model due to its hardened rivets, chrome-plated links, and low vibration. The Oregon S52 AdvanceCut 14-Inch Chainsaw Chain is another favorite. It has a low-vibration operation, low kickback, and the great LubriTec oiling system. Its quick dulling keeps it out of the top spot. In third is the Trilink Saw Chain CL15062X2TL2 18″ Twin Pack S62, which has low kickback and easy sharpening. Its low price makes it the best overall value for the money.
Hopefully, our reviews and buyer's guide can help you find the right chains for your chainsaw at a price your wallet will love.
Our other chainsaw guides: