Best Echo Chainsaw Reviews 2023 – Reviews & Top Picks
Whether you're out felling trees or trimming branches at home, one thing is certain. You need to trust your gear.
And that's why we love Echo chainsaws. They're a trusted brand that provides peak performance for when you need it most. And we're quick to recommend them to anyone looking to do saw work. From heavy-duty cutting to simple trimming, there's an Echo just right for the occasion.
But which Echo model is right for you? And how do you determine that?
That's why we've put together this list of Echo chainsaw reviews. We'll help you decide which Echo chainsaw is right for you and what you should be looking for when shopping for a new chainsaw.
---
A Quick Comparison of Our Favorites in 2023
Rating
Image
Product
Details

Best Overall

Echo CS-590 Timber Wolf 20″ Chainsaw

Easy to start
G-Force air cleaner
Good weight distribution
CHECK PRICE

Echo CS-400 18″ Chainsaw

Reliable
Easy to use
Ergonomic design
CHECK PRICE

Best Value

Echo CS-271T 12" Chainsaw

Great for-dollar value
Lightweight
Designed for smaller jobs
CHECK PRICE

Echo CS-310 14″ Chainsaw

Lightweight
Anti-vibration handle
Can be used for medium-duty limbing
CHECK PRICE

Echo CS-590 Timber Wolf 24″ Chainsaw

Powerful
Easy to start
G-Force air cleaner
CHECK PRICE
The 5 Best Echo Chainsaws
1.

Echo CS-590 Timber Wolf 20″ Chainsaw – Best Overall
If you're looking to really chew through some wood, you may want to consider the Echo CS-590 20" Timber Wolf chainsaw. As our best overall pick, this model comes with a 59.8cc 2-stroke engine that provides enough power to cut through even the toughest of hardwoods with ease. And even cold, the saw will start up with only just a couple of pulls.
The CS-590 Timber Wolf comes in two available bar lengths—the 18-inch and 20-inch—and has a dry weight of 13.2 pounds. We recommend the 20-inch as it may very well have the best weight-to-power ratio of any chainsaw in its class.
Echo's also tacked on some neat filter features to make the CS-590 Timber Wolf an even better choice. They've incorporated their G-Force Engine Air Pre-Cleaner to minimize all filter maintenance ensuring your saw maintains an optimum performance. And the two-piece heavy-duty air filter is set up for easy access and removal for when cleaning is required.
There's literally only one thing we would change up on this chainsaw – the sprocket cover made out of plastic. And while that may keep the overall weight down, we'd like to see a lightweight metal instead. This guard has the potential to be easily cracked or broken—especially if performing heavy-duty jobs. Despite this, we thin this is the best Echo chainsaw on the market today.
Pros
Powerful
Easy to start
Good weight distribution
G-Force air cleaner
Cons
Expensive
Plastic sprocket cover
---
2.

Echo CS-400 18″ Chainsaw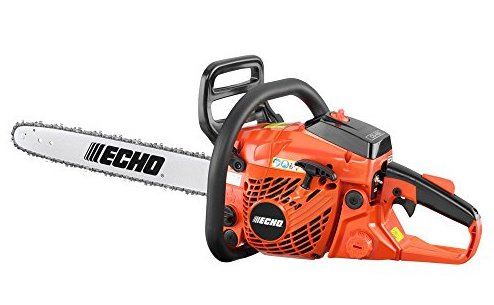 For a lighter work, you don't need a full-on heavy-duty chainsaw. Sometimes, less is actually more. And that statement rings true when talking about Echo's CS-400 18" gas-powered chainsaw. This saw comes equipped with a 40.2cc 2-stroke engine and weighs in at 10.1 pounds dry. The CS-400 does sacrifice a bit of power from the Timber Wolf above, but that's not necessarily a bad thing.
And that because the overall weight of the saw is lighter. Heavy saws will tire out even the most robust of operators much more quickly than lighter ones. And if you're a beginner to wood-cutting or require a lighter saw, you'll find this much easier and safer to operate.
It does come in two different bar lengths. We prefer the 18-inch in order to maximize the value you'll get from this saw. Just like the Timber Wolf above, the CS-400 is super simple to start up and makes use of Echo's i-30 starting system. You'll be up and eating wood in just a pull or two.
Just keep note. If you plan on tearing through large diameter hardwood all day, this might not be the best option for you. It'll do as a quick backup in that situation, but the CS-400 is best for smaller trees, limbs, and branches or breaking down larger cuts made from a bigger saw.
Pros
Reliable
Lightweight
Easy to use
Ergonomic design
---
3.

Echo CS-271T 12" Chainsaw – Best Value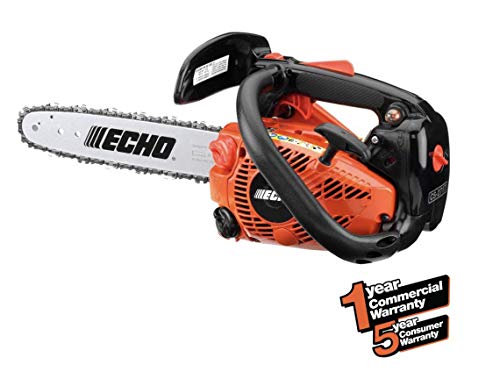 Hauling a full-sized chainsaw up into a tree isn't ideal. And even for trained professionals, it's downright dangerous. So, if you're looking to cut through some tree branches or limbs at home, we recommend picking up the right tool for the job. And that means opting for something like the Echo CS-271T. It's smaller, lighter weight, and perfect for cutting through dead branches or limbs that need trimmed.
And it's also the best Echo chainsaw for the money in its class. It's equipped with a 26.9cc 2-stroke and a 12-inch bar. The CS-271T also comes with the same i-30 starting technology as the CS-400 for an effortless startup. And with a dry weight of just 6.6 pounds, you'll feel comfortable handling it in just about any situation that requires the utmost dexterity.
The Echo CS-271T also has some great extra features. The rear-mounted air filter cover is easily accessible via tool-less access for quick cleaning. There's also a side-access chain tensioner for quick tightening and release functions.
However, you'll want to be vigilant when it comes to keeping your chain tight. If it does jump, there's a good chance some parts on your saw are
Pros
Lightweight
Designed for smaller jobs
Great for-dollar value
Cons
Chain tension must be monitored
Jumpy chain could damage the saw's motor
---
4.

Echo CS-310 14″ Chainsaw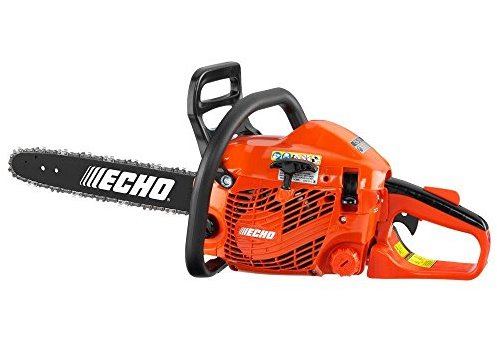 If you're looking for another great lightweight option, you should consider checking out the Echo CS-310. Weighing in at 8.8 pounds dry weight (10.3 pounds with a full tank of fuel), it's light enough to maintain your dexterity. But with its 30.5cc engine, the CS-310 packs a bit more of a punch than our value pick—the CS-271T.
This saw is absolutely perfect for clearing brush and limbing standing or downed trees. You wouldn't necessarily use this to fell a tree or block cords of hardwood firewood. You'll need a bigger saw for that. But for what it's worth, this is a damn good saw.
Another sweet feature of the CS-310 is its anti-vibration handle. This helps to minimize operator fatigue during use. However, there's still room for improvement with this model. We really wish it was just as easy to access the air filter and sparkplugs on the CS-310 as other models such as the CS-400. Don't get us wrong, they aren't impossible to access. They're just more of a pain than could be.
Pros
Lightweight
Anti-vibration handle
Can be used for medium-duty limbing
Cons
Air filter and spark plugs are hard to reach
Uneven weight distribution
---
5.

Echo CS-590 Timber Wolf 24″ Chainsaw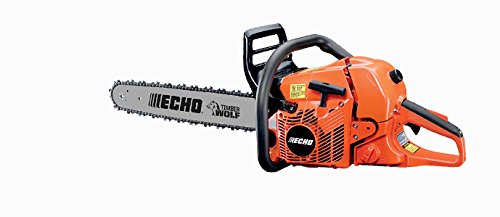 This is the exact same model as our top pick above but with a different bar length. So why is the 24" bar Timber Wolf further down this list?
We feel like this saw is at its peak performance with a slightly shorter bar. The 20-inch is more maneuverable and cuts like a champ. The extra four inches on this model adds an unwieldiness that we just can't justify having.
However, there's nothing majorly wrong with this saw. It's still powerful and cuts through hardwood like a hot knife through butter.
Pros
Powerful
Easy to start
G-Force air cleaner
Cons
Hard to maneuver with longer bar
---

Buyer's Guide – Choosing the Best Echo Chainsaw
If you've never purchased a chainsaw before, you might not be familiar with what you'll need to look for when getting your first one. But that's ok, we all have to start somewhere.
Before selecting your saw, ask yourself these questions to help determine which are the best for your needs.
What do you need to use your chainsaw for?
Let's face it. Not all of us are professional loggers. And that means you don't need to have the biggest and baddest chainsaw around. Sure, it might seem cool at first. But you'll quickly find out just how exhausting it can be to limb small trees with a full-sized saw.
Instead, determine what you'll really use this saw for. If you are going to be cutting cords of oak firewood, by all means, go with one of the Echo Timber Wolf options. That's what they're made for. But if you need a chainsaw for smaller tasks, don't feel ashamed to use the right tool for the job.
Lighter chainsaws offer a tighter level of control that heavier-duty ones just can't.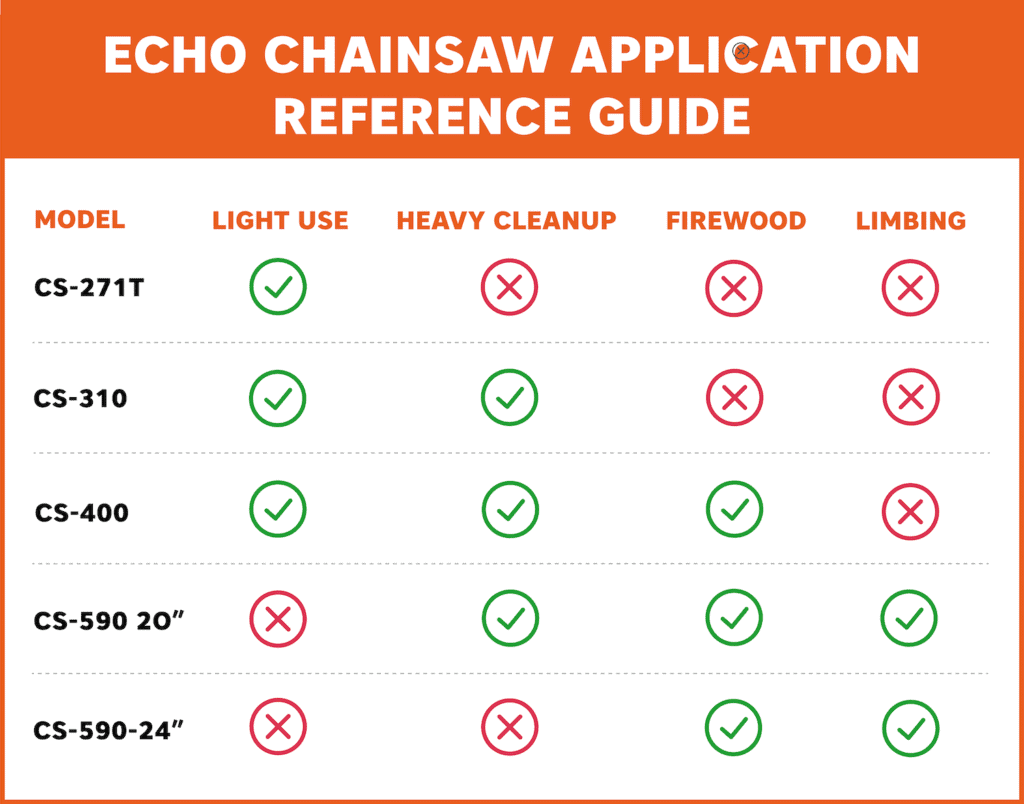 How long does the chainsaw bar need to be?
In our reviews, we mention the bar length for each saw. This is the length of the saw where the chain actually wraps around. No matter how powerful your saw is, you're just not going to be able to safely fell a larger tree with a shorter bar.
The same can be said about doing some light pruning work with a 24-inch bar. That's more than just ridiculous, it's completely unsafe and inefficient. Longer is NOT always better when it comes to chainsaws. Sometimes you'll want something with less length.
Top-handle or rear-handle: which is best?
Your work needs will also drive your choice of where the handle is located.
All of the Echo chainsaws we've reviewed are top-handle
. If you're working up in a tree, a top handle is the best way to get the blade where it needs to be. If you work close to the ground, get one with a rear handle, because that permits you to control the blade so that you don't wind up putting the blade into the ground. That not only dulls it, but it's also incredibly dangerous.
What safety features should you consider?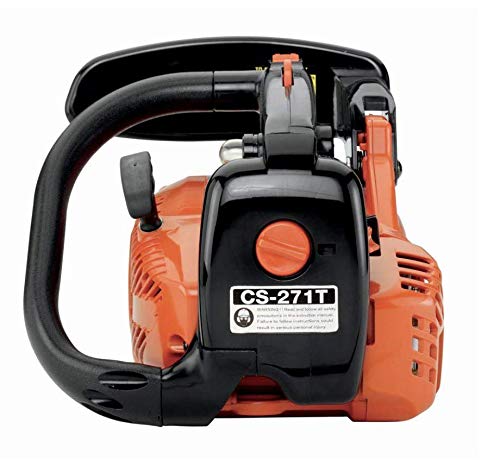 Chainsaws—like every other power tool—are inherently dangerous. It's a bladed chain attached to a gas-powered engine specifically designed to make mincemeat out of hardwoods. But that doesn't mean they can't be operated safely or have installed features that minimize the danger of operation.
Here's just a few that you should be on the lookout for when selecting your next chainsaw:
Clearly marked on/off switches- This may seem trivial, but clearly marked switches prevent accidental shutoffs. While a chainsaw is in operation, it will vibrate making some of the switches on the saw difficult to read. Clearly marked on/off switches will help to ensure you're using the right switch even under heavy load.
Front handguards- These prevent your hands from slipping forward and falling on to the saw blade.
Safety throttles- This prevents the saw chain from operation if the trigger has become accidentally stuck by an obstruction.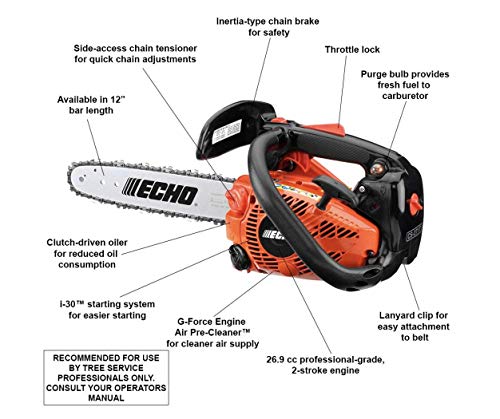 Chain brakes- These are automatic kill-switches that immediately stop the chain's movement in the event of kickback or improper operation.
Chain Catcher- If you don't keep an eye on your chainsaw's chain tension, there's a good chance to could derail—or jump. Chain catchers are in place to protect the user in case of this happening.
Mufflers- These actually serve two purposes. First, they redirect the hot exhaust gases produced by the chainsaw away from the operator. And secondly, they decrease noise level of the chainsaw.
Scabbards- A scabbard is used when storing or transporting a chainsaw. It's normally a plastic guard that covers the chain/bar of the saw to prevent accidental damage to the chain itself or people who may brush up against a sharpened chain.
User safety tips
Not everyone will be able to operate larger chainsaws. As a matter of fact, larger chainsaws often take years of practice and expertise to operate just right—not to mention a more built physique. There's no shame in getting only what you can handle.
Reaching outside of your comfort zone can be very dangerous. Losing control of a chainsaw could literally mean the difference between life and death or serious injury.
How much do you want to spend on a chainsaw?
If you've got two chainsaws that are just about equal in everything: same power, same bar, same safety features, same user comfort features, same ease of maintenance. Look for the one with the lower price. Or, look at the features and decide whether it's all that critical to pay for them.
Conclusion
When you're in the market for your next chainsaw, you should definitely check out Echo for your next purchase. They make some seriously nice chainsaws. As you can see, there are none on this list that aren't really worth it. That being said, however, there are a few that outshine the others:
The Echo CS-590 20″ Timber Wolf Chainsaw is our absolute favorite of the bunch and the best pound-for-pound chainsaw of this class available on the market today. The Echo CS-400 18″ Gas Chainsaw is not as beefy as the CS-590, but it's a great intermediate chainsaw. It's powerful enough to take care of most needs while still being manageable for smaller tasks. When it comes to smaller chainsaws, there's no doubt in our minds that the Echo CS-271T 12" Chainsaw is the best value Echo has to offer. It's super lightweight, easy-to-operate and clean, and the best bang for your buck.
Hopefully, these Echo chainsaw reviews and buyer's guides have helped you to cut through all the deadwood surrounding your next chainsaw purchase.
Just remember, when operating power tools of any sort—especially chainsaws—to follow best safety practices and wear all necessary PPE.
Related Reads: