4 Best Commercial Cold Press Juicers in 2023 – Reviews & Buying Guide
Commercial cold press juicers are pricey and take up a lot of space. Therefore, it's essential to investigate the different juicers, comparing them and looking at all the features and parameters. This process is not made easier by there being hundreds of models from dozens of brands to choose from. It's a tedious and time-intensive process to find the right commercial juicer for your business.
This is why I've written this page for you. In my lifetime, I've personally had my hands on, tested, and measured over 100 juicers. Below the top picks, I've also written a buyer's guide. In this guide, I review the most critical factors and parameters when choosing the right juicer for your business.
Let's get started!
A Comparison of Our Winners in 2023
Rating
Image
Product
Details

Best Overall

Norwalk Model 290

Vortex cutter
Removable parts
Food grade stainless steel
CHECK PRICE

Tribest Greenstar Pro

Easy to clean
Stainless steel gears
Produces higher yield of juice
CHECK PRICE

Best Value

Champion Commercial

Easy to operate
Heavy-duty parts
Stainless steel shaft
CHECK PRICE

Kuvings CS600

Quiet
Wide feeding chute
Can process very fibrous foods
CHECK PRICE
The 4 Best Commercial Cold Press Juicers
1.

Norwalk 290 Cold Press Juicer – Best Overall

The Norwalk Model 290 Cold Press Juicer is our favorite because it has the newest technology and does a wonderful job getting the most juice possible out of your produce.
It is made of food-grade stainless steel, and it has a vortex cutter that cuts through food fibers down to the cellular level. The hydraulic press extracts every nutrient possible out of the food and gives it to you in 100% pure juice.
The company says that the parts are removable for quick cleaning, and we agree that they are removable, but there are many parts, an elbow, and tiny holes to clean. There is nothing quick about it.
The biggest issue with this juicer is that the feeding tube is offset and has an elbow in it. Food gets caught in that elbow before it ever even hits the vortex. You have to stop it, take it apart, and manually remove the stuck product, so there isn't so much waste.
Pros
Food-grade stainless steel
Vortex cutter
Hydraulic press extracts nutrients
Removable parts for quick cleaning
Cons
Feeder is offset and has elbow where produce gets caught
Difficult to clean
---
2.

Tribest Greenstar Pro 502 Cold-Press Juicer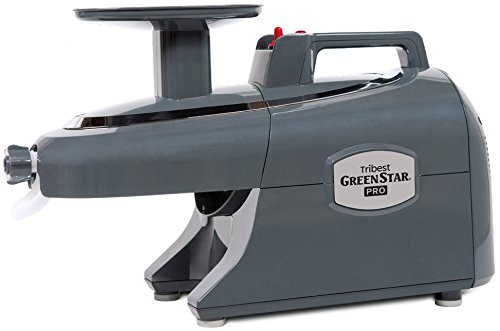 The Tribest GS-P502 Greenstar Pro Coldpress Masticating Juicer is our runner-up because it's a good juicer but has a couple more issues than the Norwalk. One of its pluses is that it can operate on 120 or 220 volts.
This juicer has two stainless steel gears that grind up your food to produce the largest amount of juice possible. Tribest has also combined some parts on this new model, so there are fewer parts to clean. It takes no time at all to clean it once you figure out the most efficient way to do it.
There are a few problems with this juicer, however. When you are juicing softer food items, your juice tends to get foamy. There is also a little screen that the juice is pushed through to get into the collection bin. This screen sometimes allows some pulp to slide through it, in the foam, that shouldn't. There shouldn't be any pulp in your juice whatsoever.
You almost need to juice one soft food and then follow it with a hard one to push the rest of the soft through. The order you put your food in really shouldn't matter, but for some reason, it does with this juicer. You'll have to clean it out often.
Pros
Twin stainless steel gears
Easy to clean
Produces higher yield of juice
Operates on 120 and 220 volts
Cons
Gets foamy when juicing softer produce
Screen lets pulp get through
Needs cleaning often
---
3.

Champion Cold Press Juicer – Best Value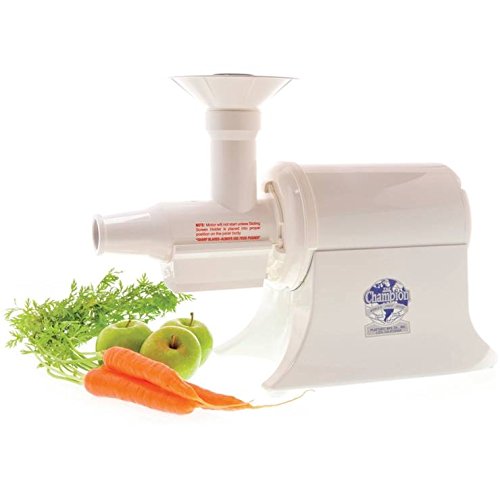 We have chosen the Champion Commercial Heavy Duty Juicer to be the best juicer on the market for the amount of money that it costs. It's straightforward enough for anyone of any age to operate, and it's made of heavy-duty parts that will last a while, such as the stainless steel shaft.
There are a few drawbacks to this juicer, though. The machine gets hot while it is juicing. The juice that you end up with has been warmed by the hot engine and isn't as tasty cold as it should be. The juicer also takes up a lot of space in both size and weight, and it's loud when operating.
The Champion G5-PG710 is also very difficult to clean. You'll likely need an old toothbrush to clean all the tiny holes in the mesh. It would be so much nicer if these parts were made dishwasher safe. Once you do finally get it clean, it's incredibly hard to reattach the bottom screen attachment. The metal screen fits in the holder just fine, but the holder doesn't want to go into place at the bottom of the tube when the screen is in place.
Pros
Easy to operate
Heavy-duty parts
Stainless steel shaft
Cons
Machine gets hot while juicing
Bottom screen attachment very difficult to attach
Hard to clean
Loud, heavy, and takes up a lot of space
---
4.

Kuvings CS600 Cold-Press Juicers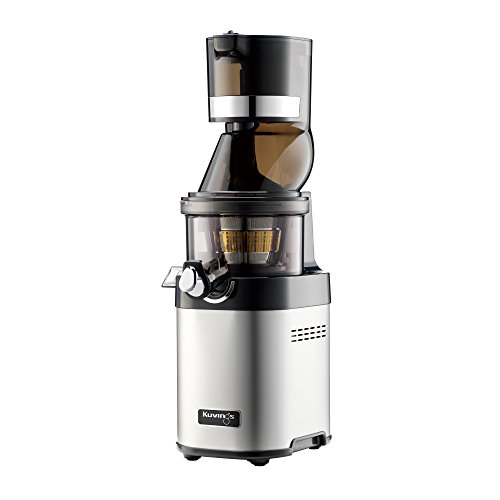 The Kuvings Whole Slow Juicer Chef CS600 is a decent juicer if you have more patience than you have money. This quiet juicer has a wide feeding chute to put your food into, and it can process very fibrous foods. However, the food has to be cut up into pretty small pieces, especially for stringy food like celery, or it gets clogged up really easily.
Good juicers give you pure juice at the end of the juicing procedure. This juicer allows a great deal of pulp to get through, so you'll have actually to strain the liquid that you get at the end.
We also found this machine to be very finicky. There are certain ways that you need to do certain things, and if they aren't done correctly, the device won't operate as it should. The locking mechanism may not work correctly, so you won't be able to take the top off the machine. We had this issue, but have also read that many others have had the same trouble.
Pros
Wide feeding chute
Quiet
Can process very fibrous foods
Cons
Foods need to be chopped into small pieces (esp stringy foods)
Clogs easily
Lots of pulp; have to strain the juice
Finicky
Locking mechanism problems not allowing top to be removed
---
Buyer's Guide: How to Buy the Best Commercial Cold Press Juicers
Here are some things you should consider when choosing a juicer:
1.

Type of juicers:
Cold Press (also known as masticating)
Masticating juicers have either one or two augers that grind your produce up to break it down and release all the juices from every part of your fruit or veggie. These juicers do cost a little more than centrifugal ones, but they get 10 to 20 percent more juice out of your produce. This means that you get more juice for less produce, which saves you money in the long run.
One great thing about cold press juicers is that since they grind up all parts of your produce, you don't have to peel anything. Just wash it, and you are good to go. This saves you a lot of time and money.
They are also great for making things like nut milk and butter, sorbet, and baby food.
Centrifugal
Centrifugal juicers have a blade at the bottom of the strainer that spins very fast. Your produce must first be washed, peeled, and cut into reasonable-sized pieces to fit through the feeding tube. When put into the juicer, your cut produce is pushed forcefully against the strainer. This is the force that separates the juice from the pulp through the small holes in the strainer.
2.

Usability:
Questions to ask:
How easy is it to use? Can everyone in my family, including children, make their own juice effectively?
Does it have a reverse function if it gets clogged up?
Do I have to peel all my fruits and veggies before juicing them, taking up more of my time?
Will it handle all the different products I want to juice? Some juicers can't handle things like wheatgrass, hard produce or nuts.
3.

Pulp collection:
Having a pulp collection cup large enough to hold all the pulp from the juice is much more convenient than having a small one that you have to empty constantly.
4.

Juice quality:
High-quality masticating juicers will not have any pulp left in the juice and will have little to no foam.
5.

Size of juicer:
If you're going to be storing your juicer on your counter, make sure that it will fit underneath your cupboards. Some of them are rather tall and won't fit. If that is the case, you'll need to have room for at least part of it inside your cabinets.
6.

Feeding chute:
The wider the feeding chute, the larger the pieces of produce you can put through it. This can save you quite a bit of preparation time. You'll also want to make sure the juicer comes with a plunger to push your produce down, so that there is no chance of getting your fingers stuck.
7.

Speed:
You'll want to be able to extract your juice quickly, but the slower the juicer's speed, the more quality nutrients will be in your juice. A good juicer only takes about five minutes to give you one cup of juice.
8.

Noise level:
Some juicers can be loud. If the amount of noise yours makes is significant to you, make sure you read the box thoroughly, as well as reviews from other owners.
9.

Ease of cleaning:
Always read precisely what it takes to clean a juicer before you purchase it. It can be the easiest juicer in the world to use, but if it's a royal pain in the rear to clean, it will just become another towel rack.
10.

Durability:
You want your juicer to last as long as possible. The ones that are made from steel are more durable than the ones made of plastic. They will have a longer shelf life.
---
Conclusion
Now that you know what you want to be aware of when researching which cold press juicer is best for you, let's go over the list of our top four picks.
1. Norwalk Model 290 Cold Press Juicer – Top Pick
2. Tribest GS-P502 Greenstar Pro Coldpress Masticating Juicer – The Runner-Up
3. Champion Commercial Heavy Duty Juicer (G5-PG710) – Best for the Money
4. Kuvings Whole Slow Juicer Chef CS600
Hopefully, we have given you enough information to begin figuring out what juicer will best meet your needs. Now the decision is yours. We are confident that you'll make the right choice and start your journey down the healthy road soon.