5 Best Juicers For Beginners 2023 – Reviews & Buying Guide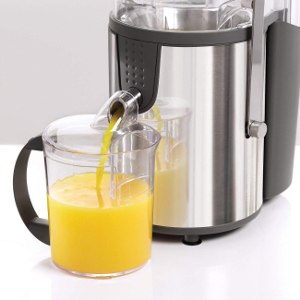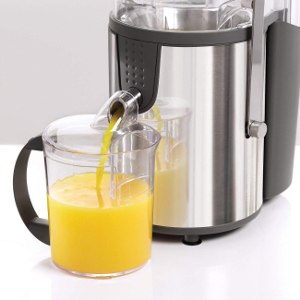 Looking for the "perfect" juicer?  You've come to the right place.  You could spend $2,000 – $3,000 (yes, that's three zeros on those figures and it's called a Norwalk Hydraulic Press), but for that amount of money, you could practically purchase your own juice bar franchise.  Or you could try juicing without a juicer at all if you have a blender, a sieve, and hours to kill.
But you're ready to buy the right tool for the job.  You'll want a juicer that's fast and easy enough to operate so that you'll use it regularly.  A juicer collecting dust on the counter offers few health benefits.  And you probably don't want to spend an arm and a leg, just in case you decide this health craze isn't going to last (Thighmaster, anyone?).  Read our reviews and buyer's guide so you can decide which machine is best for you.
A Quick Comparison of our Favorites for 2023
Rating
Image
Product
Details

Best Overall

Breville JE98XL

Fast
Easy setup
Good at extraction
CHECK PRICE

Omega J8006

Quiet
Lots of juice
Great at leafy greens
CHECK PRICE

Best Value

Hamilton Beach 67601A

Super affordable
Fast and easy to use
Dishwasher-safe pieces
CHECK PRICE

BELLA BLA13694

Affordable
2-speed
No chopping
CHECK PRICE

BLACK+DECKER JE2200B

Light
Inexpensive
Stainless Strainer
CHECK PRICE
The 5 Best Juicers For Beginners
1.

Breville JE98XL Fountain Juicer – Best Overall
If you're looking for your very first juicer, look no further than the Breville JE98XL Fountain.  A leader in the world of juicers, Breville delivers everything the newbie could possibly want with this model.  Its two speeds free you to effectively juice both hard and soft produce and it even makes short work of leafy greens, a frequent stumbling block for juicers.  Easy setup and clean up – most of the pieces go in the dishwasher – means you'll use it more often.  This model will save you from your own errors, too – the safety locking arm will keep you from accidentally turning it on without the lid and the overload protection feature will prevent you from burning out the motor by overworking it.  Short of having a butler to hand you freshly-squeezed juice every morning, this is the best juicer for beginners but will also be suitable for anyone.
All in all, this is definitely one of the best juicers for starters and we think it's the overall best first juicer to buy if you're a beginner.
Pros
Good at extraction
Easy setup and clean up
No pre-chopping
2-speed
Handles leafy greens
Fast
---
2.

Omega J8006 Juicer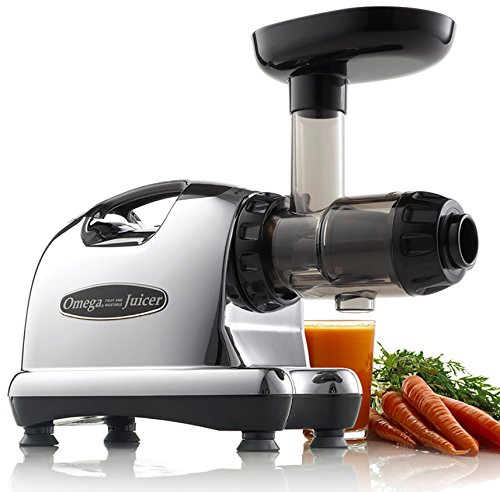 The Omega J8006 is a great machine for anyone ready to take their juicing seriously and doesn't mind paying a higher price for it.  Unlike the other models on this list, the Omega J8006 is a masticating juicer, meaning it offers superior extraction, low oxidation, and arguably greater nutrient retention.  This tank of a machine – it weighs a whopping 18 lbs. – can also handle jobs totally unrelated to juicing, like nut butters, baby food, coffee grinding, sorbet, and even pasta.  It's terrific at pulverizing produce like leafy greens, herbs, and wheatgrass – stuff that's super healthy but clogs up most juicers – but you will have to chop everything into little pieces (no tossing in an entire apple) and you'll wait longer to get your juice (which is why this wasn't our Top Pick).  Do you need a machine with all these features when you first start juicing?  Not necessarily, but you'll never be unhappy with the performance of this machine.
Pros
Lots of juice
Does other jobs, too, like make nut butter and grind coffee
Great at leafy greens
Quiet
Cons
Not cheap
You have to dice anything you put in
Takes longer
Heavy
---
3.

Hamilton Beach 67601A Beginner Juicer – Best Value
If you're worried about spending a ton of money on your first juicer, you'll want to look at the Hamilton Beach 67601A.  At a fraction of the cost of our more favored juicers, it still offers you fast and easy juicing.  No chopping ahead is necessary, plus it's easy to set up as well as clean up.  It's light, so you don't need to dedicate a permanent spot on your counter for it.  Is it the best juicer money can buy?  No.  It doesn't do a bang-up job at extracting, it doesn't do well with leafy greens, and it's loud.  But if you're wondering what this whole juicing thing is all about, this machine will give you all the introduction you need without making you feel bad about the money you've spent if you decide juicing isn't for you.
Pros
Super affordable
Dishwasher-safe pieces
Fast and easy to use
Cons
Doesn't extract as much juice as it could
Doesn't do well with the leafy greens
Might wake the neighbors
---
4.

BELLA BLA13694 Beginner Juicer
The Bella Bla13694 is another affordable juicer on the market.  With two speeds, its 1000-watt motor does a good job at extraction, and you can throw in whole pieces of produce without pre-chopping.  It's lightweight, so it can be tucked away and pulled out only when needed.  But despite being top-rack dishwasher-safe, many users complain about how hard it is to clean, requiring contortions and diligence about nooks and crannies.  Leafy greens are an absolute no-no in this model and you risk killing the machine altogether if you attempt them.  Lacking any sense of durability, it feels more like a toy than a kitchen appliance.  It will make juice, but you can probably find another juicer at this price point that does so with less hassle.
Pros
Inexpensive
2-speed
No chopping
Light
Cons
Very hard to clean
Flimsy
Don't even think about using leafy greens
---
5.

BLACK+DECKER JE2200B Juice Extractor
Despite being a leader in the hobbyist power tool market, Black + Decker has really dropped the ball with this JE2200B juicer.  It's very light, small, and inexpensive, and if you merely wanted to prove you owned a juicer, this would be a good choice.  Otherwise, you'll be disappointed.  Its 400-watt, one-speed motor is far too weak to effectively extract much juice, and despite it being a centrifugal juicer, you still need to pre-chop anything you put in.  Its poor design means it's hard to assemble, disassemble, and clean, and is so finicky that leaking and mess are nearly inevitable.  If you can get it to work, you risk burning out the motor, which happens with alarming frequency.  It's rare that an appliance has so little to recommend it.
Cons
You have to pre-chop produce
Difficult to set up, operate, and clean
Finicky
Motors burn out regularly
Bad at juice extraction
---
Buyer's Guide – Choosing the Best Juicer for Beginners
Changing out your junk food habit for juicing is a terrific idea.  But if you buy the wrong juicer, you might derail your new habit before you've barely begun.  Here's a quick run-down on what you need to know.
Centrifugal or masticating?
Masticating juicers extract a higher percentage of juice, allow you to store the juice for a few days, might preserve more nutrients, and are relatively quiet.  Masticators require you to dice produce before sending it through the machine and take longer to do their job, but they do take more juice out of your produce.  A masticator also slows oxidation, that tendency of produce (think apples) to turn brown when exposed to air, allowing you to juice and store in the refrigerator for a day or two.
Centrifugals are faster, usually cheaper, and less labor-intensive with both prepping and cleaning up.  You can toss in entire apples or cucumbers without dicing and have juice in seconds, plus clean up is usually simpler.  You will have to drink your juice right away – you won't want to store the juice from your centrifugal because it begins to oxidize immediately.  Unless you approach new habits with a fervor, you will probably find a centrifugal less overwhelming to deal with as a beginning juicer.
Speeds
This isn't so much the speed with which your juice is ready as it is the speed at which the motor attacks the produce.  Hard fruits and veggies are more effectively processed at a high setting and softer ones at a slower setting.  Masticators only come with one speed – really slow – but centrifugal might come with two.  A two-speed centrifugal will provide better extraction than a one-speed centrifugal, although remember that any masticator will out-juice any centrifugal.
Clean up
Juicing can be messy.  Just know going in that you're going to have to do some clean up every time you use your juicer.  Many models tout their parts as dishwasher-safe, so you might want to look for that.  But some models are described as hard-to-clean, so if you know that's a deal-breaker for you, steer away from those.
Noise
Juicers can get very loud.  Masticators tend to be quieter, but regardless, you probably won't be able to juice in a household of sleepers without incurring their wrath.
Leafy greens
You can't read about juicers without hearing people applaud or lament their juicer's ability to handle things like kale, spinach, parsley, mint, and wheatgrass.  Masticating juicers are almost always better at these, but you can definitely find a centrifugal style juicer that can handle some, too.  If you know before you buy that you'd never in a thousand years drink kale juice, this won't matter, but if your spouse is all about the morning wheatgrass, you'll want to be sure to get a machine that can handle these.
---
Conclusion:
The Breville JE98XL Fountain is our hands-down favorite for beginning juicers.  Fast, easy, and effective, we highly recommend this machine for beginners and experienced juicers alike.
If you want to try juicing without the implied commitment of a heftier price tag, take a look at the Hamilton Beach 67601A.  This is an ideal juicer to get you started, offering maximum juicing fun with minimum effort.
Establishing a new healthy habit can be challenging and juicing is no exception.  Once you've committed to juicing, you're likely to see and feel the benefits almost immediately.  We hope our reviews take you one step closer to a healthier you.
Popular entries in the blog: