10 Best Cordless Jigsaws – Reviews & Buyer's Guide 2023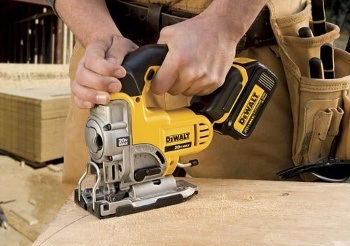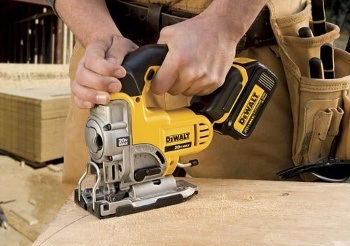 If you've spent any time around power tools, you'll know that they're not all built the same. And that's especially true when it comes to cordless jigsaws.
Cordless jigsaws provide practical freedom when it comes to sawing. They can be used just about anywhere you can think of without having to be tied down to an electrical socket or extension cord.
But are they going to be able to get the job done all on battery power?
While they might not pump out as much power as a corded Bosch, some cordless jigsaws can handily accomplish any task put before them. Hopefully, our reviews of the best cordless jigsaws can help you cut through the competition and determine which one is right for you.
---
A Quick Summary of the Winners (updated in 2023):
Rating
Image
Product
Details

Best Overall

DeWalt DCS331B Cordless Jigsaw

4-position orbital action
Comfortable to hold
Keyless shoe bevel
CHECK PRICE

Makita XVJ03Z Cordless Jigsaw

Fast and efficient
Cuts very well
Good construction
CHECK PRICE

Best Value

BLACK+DECKER BDCJS20C JigSaw

Price is good
Comes with battery and charger
Good construction
CHECK PRICE

Ryobi P523 Cordless Jigsaw

Powerful
Blade-saving feature
Locking mechanism
CHECK PRICE

Milwaukee M12 2445-20 Jigsaw

Lightweight
Good grip
LED light
CHECK PRICE
The 10 Best Cordless Jigsaws:
1.

DeWalt DCS331B Cordless Jigsaw – Best Overall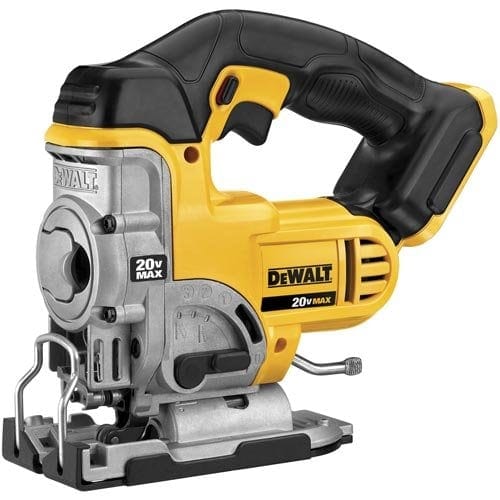 When it comes to power tools, there are few other brands trusted like DeWalt. And their 20V Max Jigsaw does an excellent job at carrying the DeWalt name to our number one spot.
This battery-powered jigsaw comes with all of the cutting power you'd expect out of a plug-in saw without any of the restrictions that comes with a cord with speeds up to 3000 SPM.  And it's got a bunch of nifty features to go along with it.
First, the DeWalt comes with a keyless blade change system for ease of operation when your blades dull or break. Next, the entire saw is made primarily out of metal. Sure, it's heavier than some others, but it's more rugged against knocks and bumps.
Another great thing about the DeWalt jigsaw is that it combines a variable speed trigger with 4-position orbital blade action to ensure the cleanest cut without blade sticking. And on top of all that, the saw is equipped with an easy-to-operate keyless shoe bevel for angled cuts and a dust blower to ensure you can properly track your cut line.
Honestly, the biggest turn-off about this saw is that the battery and charger aren't included with the base model. But that's not too much of a problem if you own other battery-powered DeWalt tools. The saw readily accepts other DeWalt 20V batteries.
All in all, we think that this is the best cordless jigsaw for the year.
Pros
4-position orbital action
Comfortable to hold
Keyless shoe bevel
Well-built
3000 SPM
Good price
Cons
Battery and charger sold separately
Uses T-shank blades only
---
2.

Makita XVJ03Z Cordless Jigsaw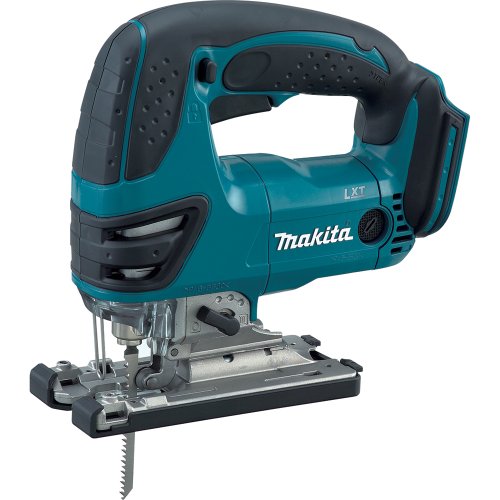 Taking our runner's-up position is the Makita 18V LXT Cordless Jigsaw. Like the DeWalt above, Makita has established itself as the premier Japanese brand when it comes to power tools. They're known for their ability to maximize power output while maintaining the utmost quality.
This jigsaw is part of Makita's 18V cordless platform meaning that the battery can be swapped out among any of the other related tools. But just like our top pick, the battery and charger are not sold with the base tool. You'll need to pick those up separately.
The Makita cuts at speeds up to 2600 SPM for fast, efficient sawing. And all of this power is housed in a lightweight 6.1-pound frame (battery included). However, its light weight isn't the only ergonomic design feature. It comes with a large two-finger trigger for optimal comfort.
One of our favorite things about the Makita is its Star Protection Computer Controls. These prevent and protect the saw from overloading and overheating. And let's not forget about the built-in LED that helps illuminate your cutting path. All-in-all, the Makita 18V LXT jigsaw is a great choice and the best budget jigsaw we have reviewed this year.
Pros
Fast and efficient
Cuts very well
Good construction
3-year limited warranty
30-day money back guarantee
Cons
No battery or charger
Blades can be hard to position at first
---
3.

BLACK+DECKER BDCJS20C JigSaw – Best Value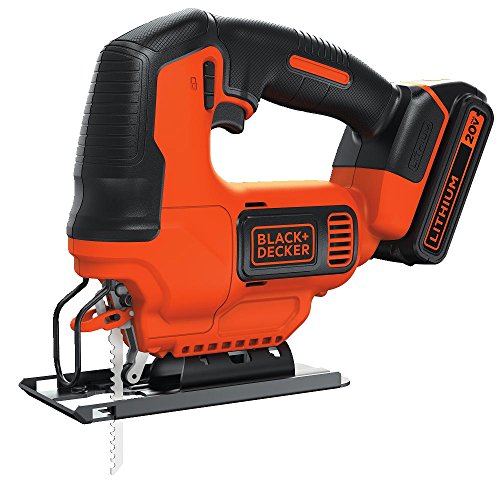 Our best value pick has to go to the BLACK+DECKER 20V jigsaw. It's an extremely affordable option for those on tighter budgets and the best cordless jigsaw for the money. And while it's part of a family of power tools with interchangeable batteries, you don't have to buy them separately. The battery and charger come with the saw without breaking the bank!
Not only is the B+D jigsaw a bargain value, but it's also a pretty decent little jigsaw. This particular saw is geared towards simple projects. It doesn't have the highest max speed around (only 2500 SPM), but it does have a bevy of useful features.
The saw is equipped with a variable speed trigger to allow for more precision cutting and bevel adjustment for angled or mitered cuts. We also appreciate the installed wire guard for the blade and dust-blower to keep your cuts clean.
However, the battery isn't the strongest available and can drain quickly depending on age, speed used, and material being cut. But for a budget saw for small projects, this is definitely useful and worth the money.
Pros
Price is good
Comes with battery and charger
Good construction
2-year limited warranty
Cons
Low max speed
Battery drains quickly
Very basic features
No built-in lighting
---
4.

Ryobi P523 Cordless Jigsaw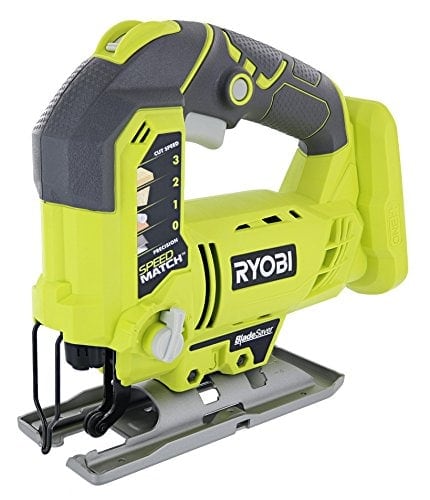 The Ryobi One+ P523 is another relatively affordable pick—provided you already have the battery and charger to go with it. Like many other jigsaws, this belongs to the 18V Ryobi lineup which all share the same battery system.
But if you're looking for cutting power, this Ryobi's got it. With speeds up to 3000 strokes per minute, you'll be able to cut your way through just about anything quickly and efficiently. Instead of a pressure-controlled variable speed trigger, this saw has a trigger lock system. It works by you selecting the speed level desired for whatever material you're cutting. Then you can squeeze the trigger without fear of going too fast or slow.
Another unique feature for the Ryobi is its adjustable foot. As your blade begins to wear out, you can adjust the height of the saw's foot in order for the blades to cut deeper into the wood. This allows different, sharper teeth to cut the wood and lengthen the life of your cutting blades.
Along with these features, the Ryobi has a built in LED and dust blower to maximize the cleanliness of your cuts. However, there are a few things we'd love to see changed. It's kind of a battery hog. You'll find yourself charging this a bit more often than other brands. Also, while the trigger lock is great for some aspects, it doesn't give us that full control we'd like.
Pros
Powerful
4 orbital settings
Blade-saving feature
LED lighting
Dust Blower
Locking mechanism
Cons
Not all standard blades fit
Changing blades takes some getting used to
Poor trigger lock
Battery drains quickly
---
5.

Milwaukee M12 2445-20 Jigsaw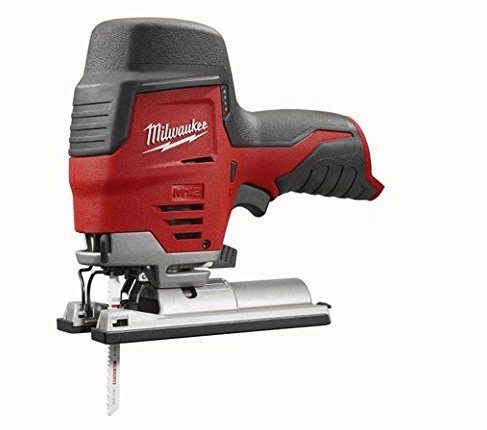 If you're looking for the most compact jigsaw that can actually get the job done, this Milwaukee M12 is definitely a solid choice. Weighing in at just 3.8 pounds., this saw is easy to handle and maneuver. And it clocks speeds of up to 2800 SPM which is pretty decent considering its size.
To fit its compact nature, Milwaukee had to introduce an innovative hybrid grip design to ensure proper balance and control of the tool while using. And they did a great job with that. However, although the tool is engineered in the USA, it's actually manufactured in China. So if you're looking for American-made, the M12 isn't for you.
And while the saw comes with an LED light and "fuel gauge" that shows remaining run-time, it's missing a few key elements. We really wish it had a dust blower. Also, this saw just doesn't have what it takes to really work through thick cuts of lumber. It tends to get bogged down and really eats up the battery.
But if you're using the M12 series tools at home, this jigsaw could definitely be a viable option. We just wouldn't recommend it for any real heavy-duty work. For that, go with the DeWalt above.
Pros
Lightweight
Good grip
LED light
Cons
Slow max speed
Underpowered
No blower
---
6.

PORTER-CABLE PCC650B Cordless Jigsaw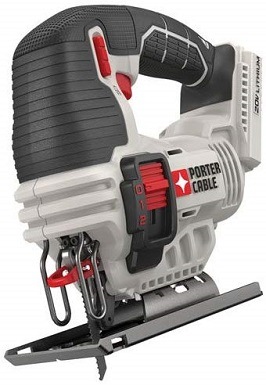 The PORTER-CABLE PCC650B is part of the company's 20V Max system meaning there's the capability for battery interchangeability. Unfortunately, the battery and charging system is sold separately. But that's not too terrible considering that this saw is a bargain buy.
Similar to other bargain buys, this isn't the most powerful saw out there clocking in at 2500 SPM maxed. But it does have a variable speed trigger with 3 different orbital settings. The Porter-Cable will be able to tackle most home repair or DIY jobs you're planning.
The saw also comes with a tool-free blade release system, dust blower, and a bevel shoe that allows angled cuts up to 45 degrees. However, that being said, we've got some reservations. The battery life isn't as great as it could be on this tool. And although we haven't personally experienced it, there have been reports of instability and wobbliness of the saw's base.
---
7.

TECCPO Jigsaw (cordless version)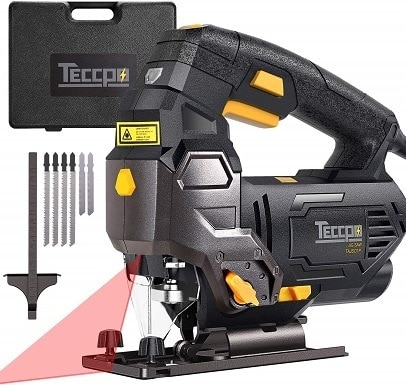 For the low price, this TECCPO jigsaw is priced at, we didn't expect a whole lot. Surprisingly, it turned out to be a pretty decent saw. Not one of the best, but still worth mentioning. It features a laser guide, but we found that it was inaccurate and not trustworthy. The blade holding mechanism was also difficult to use, and the blades had too much movement when cutting, making it difficult to get an accurate cut. The entire saw was jumping around and vibrating.
For the price, the specs are pretty decent. You get 6.5 amps of power from the motor, with 3,000 SPM capabilities, and six speeds to choose from. It can bevel 45 degrees both directions and offers a max cut of 2.75 inches. Despite the good features and decent specs, this saw just doesn't have the performance of many of its competitors.
Cons
Too much blade movement
Jumped and vibrated
---
8.

Ridgid R8832B Jigsaw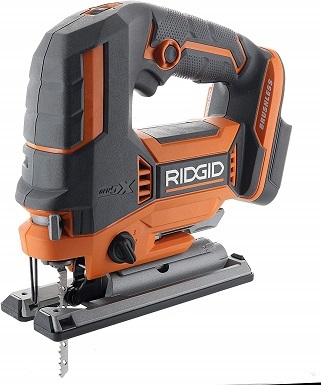 Ridgid is known for their robust tools that are protected by a lifetime warranty. Unfortunately, the warranty is only honored if you purchase the tool from Home Depot, which is a definite drawback to this line of tools. When you hold this saw, it feels pretty solid. The brushless motor is efficient and should have a long lifespan.
When we held the saw straight, our cut was off. After examination, we determined that the blade holder wasn't quite square. This means you have to hold the saw at an angle to get a straight cut. This is more of an annoyance than a deal-breaker, but for the price, we hoped for higher quality. Combined with the lack of warranty from third party dealers, these two blows keep this tool from rising higher up this list.
Cons
Warranty isn't honored unless purchased from Home Depot
Saw blade holder isn't square
---
9.

WORX WX543L Jigsaw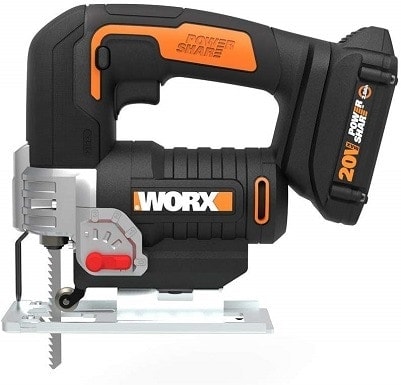 Affordably priced for any hobbyist, the WORX jigsaw uses a 20V battery that's included in the price. It does offer several orbital patterns as well as variable speed and a tool-free blade changing system. An LED light on the front allows you to see your work, a nice touch. It's a bit heavier than other jigsaws, but it's not unworkable. The biggest drawback is that this saw doesn't use standard-sized blades! This is a serious downfall that stops this saw from being very usable. If it weren't for this terrible oversight, this saw would definitely place much higher on this list since it actually performs pretty well.
Cons
Won't fit standard sized blades
Overweight
---
10.

Prostormer Jigsaw (cordless)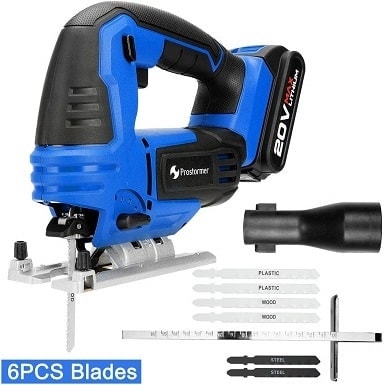 When we first pulled the PROSTORMER 20V cordless jigsaw from its packaging, it was hard not to notice one thing. This saw is significantly heavier than its competitors. At just about 7 pounds, it gets hefty after a few cuts. It does offer bevel cuts up to 45 degrees on both sides. The max speed of 3,000 RPM is respectable. Where this saw goes wrong is the blade holder. It's very difficult to get the blades in and out. We thought the blade was secure at one point, but it actually flew out during use. It's priced very modestly, but this is another example of getting what you pay for.
---
Buyer's Guide: Choosing the Best Cordless Jigsaw
Okay, so what factors should you be considering when buying a jigsaw?
Brand Loyalty
This is actually extremely important when choosing a new cordless jigsaw. Most reputable manufacturers have their saws as part of a family of power tools—all of which share the same battery and charging system.
This is why many of the saws on this list do not come included with battery or charger. You're not buying a battery for just one tool, but all of them in that grouping. So, if you're currently using Makita 18V tools, it wouldn't make much sense to go and purchase a single DeWalt.
What Type of Blade Does it Use?
There are two basic shapes when it comes to jigsaw blades – T-shank and U-shaped. The former is becoming more commonly used because it tends to be easier to change out.
What is more important, though, is the material that they are made out of. If you don't use the right blade, you won't get very far on your project, and you risk damage to the machine.
If you are going to cut ceramics, you will need a tungsten carbide blade. If you are cutting a light metal or wood, steel blades are best. For hardwood or metal, you will have to use a bimetallic blade.
Also of importance to note is the TPI number. This means the number of teeth per inch on the blade. With softer materials, the TPI is lower so that the blade doesn't rip them. For harder materials, more teeth are needed, so the TPI is higher.
Does Speed Matter?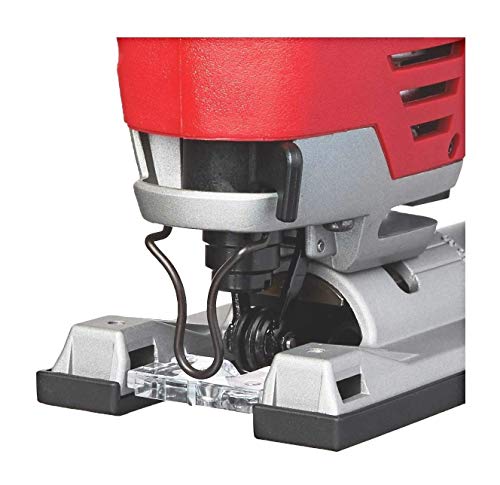 This actually refers to the speed of the motor that powers your jigsaw and is measured in how many strokes the machine makes in a minute. I.e., how many times the blade moves up and down in a minute.
Generally speaking, the higher the SPM, the wider, the larger the number of projects that you will be able to take on. But not all projects require top speeds and not all benefit from the use of high speed.
Say, for example, that you want to cut an intricate design or curves, you want the blades to move more slowly so that you are able to work more accurately. When you are using a harder material, it is more taxing on the jigsaw, and so you will again want to reduce the speed.
Variable speed triggers, often built into the handle, help you manage the speed settings quickly, without having to stop the project to change the settings.
What Are Orbital Settings?
To understand the orbital settings, it is useful to understand the action of a pendulum.  It sways backward and forward at an angle. So too does the blade of the jigsaw. You will need to change the angle of the blade when dealing with different types of materials.
If you do not, the blade will overheat and will become damaged. Changing the orbital setting helps to reduce the friction and so reduce the chances of the blade overheating.
What is a Good Price Point?
What is the Grip Like?
Is There a Line of Visibility?
What Kind of Warranty is Offered?
This is usually a good indication of how well the product has been made. A good company is going to guarantee the parts and that the item is free of manufacturer's defects for a minimum of a year. The better companies extend this to two or three years.
Check what the warranty conditions are upfront to make sure that you really are fully covered.
Have Realistic Expectations
Finally, it is important that you understand that jigsaws do have limitations. The better the quality jigsaw, the more materials it will be able to cut, but even then there is only so much that it can do.
Jigsaws are fast, easy to use, and made for quick and simple projects, not for extremely thick or dense materials.
---
Conclusion
Right, now that we have boiled it down to two main choices. The overall winner in these reviews of Cordless Jigsaws is the DeWalt DCS331B. It is the best-made model and offers a great mix of raw cutting power and speed.
You can power through board easily or slow down for a more accurate cut.
The prize for the best value for money option goes to the BLACK+DECKER 20V jigsaw. Though not quite as powerful as our main contender, it is still able to turn heads and produce clean cuts at a decent speed. There are some added benefits like the blade-saver that add a lot of extra value.
We hope that our article helps you find the best cordless jigsaw for your workshop. Good luck in your search!
Related Reads: