5 Best Corded Jigsaws – Reviews & Buyer's Guide 2023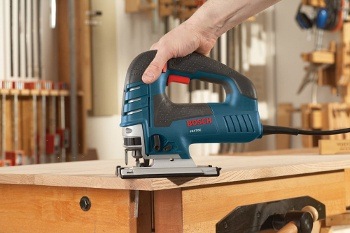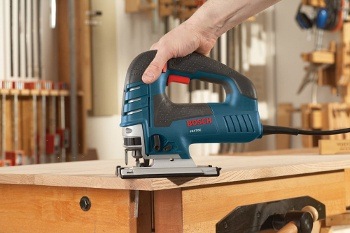 Jigsaws are incredibly useful tools that deserve a place in any workshop: way cheaper than a miter saw, more portable than a band saw, and able to make curved and squared cuts that a circular saw can't. We guarantee any jigsaw you buy will become your go-to cutting tool overnight.
Corded jigsaws offer even more convenience to anybody who's tired of endlessly charging or changing batteries. Yes, they're limited to the reach of an extension cord – but you'll be using it in workshops, not the woods, so that's less of a problem than you might think.
We've written up some reviews of our favorite corded jigsaws, along with some others you should know about. Whether you're buying your first or your fifth jigsaw, keeping this list handy will make the search much easier.
---
A Quick Comparison of Our Favorites for 2023
Rating
Image
Product
Details

Best Overall

Bosch JS470E

Extremely accurate cuts
Deep cutting capacity
Fast
powerful motor
CHECK PRICE

The Runner-up

DeWalt DW317K

45-degree bevel range
Comfortable handle
User-friendly speed controls
CHECK PRICE

Best Value

PORTER-CABLE PCE345

Super-affordable
No rattle
Four orbital settings
CHECK PRICE

Hitachi CJ90VST

Affordable
Onboard dust blower
Well-calibrated metal guide
CHECK PRICE

BLACK+DECKER BDEJS600C Smart Select

Lightweight and portable
Easy blade release
Can be ordered with 24 blades
CHECK PRICE
The 5 Best Corded Jigsaws
1.

Bosch JS470E Corded Jigsaw – Best Overall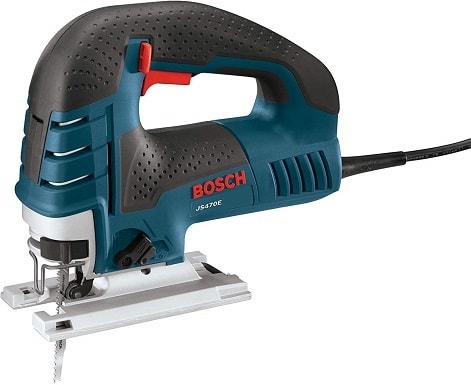 When ranking the best saws, it's almost always Bosch battling it out with DeWalt for the top spot. This time, Bosch takes the crown with the JS470E, our favorite corded jigsaw.
First, the specs: the JS470E has a 120-volt, 7-amp motor, capable of 3100 RPM unloaded. Its top handle has a comfortable soft-rubber grip and a conveniently placed trigger. The trigger itself is variable-speed, but you can also control the blade speed through a precision dial, so it's easy to project exactly as much force as you need. The blade has a maximum cutting capacity of 5⅞ inches on wood, but it can also handle up to ⅜ of an inch of steel plate.
What really makes the Bosch JS470E a #1 pick, though, is its performance. This saw glides through softer wood like it's nothing, and cuts harder wood along smooth, accurate lines. The factory-installed blade is powerful enough that even an amateur can cut graceful curves into almost any stock.
With four orbital settings, you've got a huge degree of freedom to move this saw around. The only things we can find to complain about are the price and the lack of a laser guide. Despite this, we still think this is the best corded jigsaw on the market this year.
Pros
Variable cutting speeds with precise control
Extremely accurate cuts
Deep cutting capacity
Fast, powerful motor
Four orbital settings
Comfortable handle
Cons
Expensive due to limited supply
No laser guide
---
2.

DeWalt DW317K Jigsaw – The Runner-up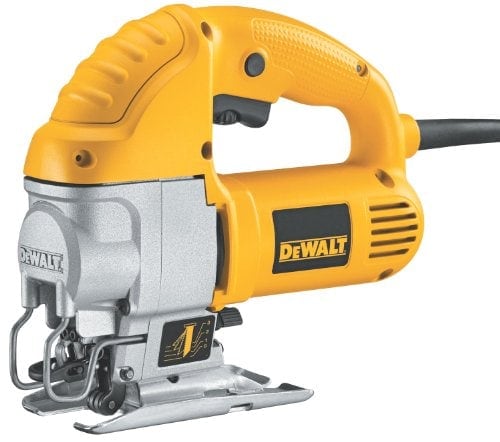 The DeWalt DW317K is a very well-built corded jigsaw that can often be gotten for a much better price than the Bosch JS470E. The only things keeping it back from the top spot are its slightly less powerful engine, and a few other drawbacks we'll go over below.
Like the Bosch, the DeWalt DW317K's motor can reach 3100 RPM without a load, but at only 5.5 amps of current, it won't get up to quite the same speeds while you're actually using it. Other than that, though, it's hard to find fault with this jigsaw. Its variable-speed control is precise and user-friendly, its handle feels great in your hand, and its 0-45 degree bevel tilt adds a ton to its versatility.
Another feature we love is the blade clamp that allows for tool-free changes. If you don't like the factory-installed blade (though you probably will), DeWalt makes it incredibly simple to change it out. It also comes with a handy carrying case.
Apart from the motor, our only issue with the DW317K is its tendency to leave rougher edges on curved cuts, which means you're in for more sanding than you might like.
Pros
45-degree bevel range
Comfortable handle
User-friendly speed controls
Tool-free blade replacement
Cons
No LED guide light
Less powerful motor
Curved cuts require a lot of sanding
---
3.

PORTER-CABLE PCE345 Corded Jigsaw – Best Value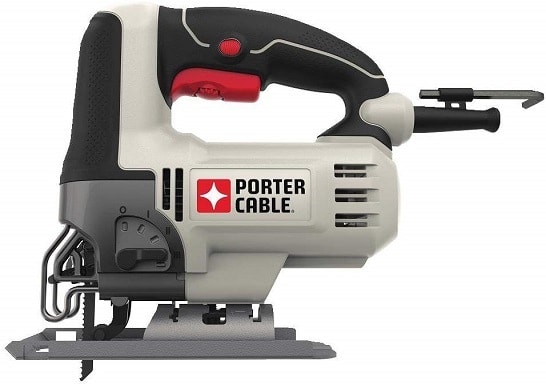 To get the best-value orbital jigsaw for your money, look no further than the Porter-Cable PCE345. Porter-Cable has a bit of a spotty record, but they hit a home run with this budget-friendly corded jigsaw.
The PCE345 has a 6-amp motor and a variable-speed blade with seven different settings. It's not a true precision dial, but seven speeds offer plenty of flexibility. Other convenient features include a keyless blade change and a lock-on button that lets you use the saw for extended periods without squeezing the trigger the whole time.
Like our picks for #1 and #2, the Porter-Cable PCE345 is an orbital saw — you can set the blade to face in any of four directions. At 110V and 6 amps, the motor is reasonably powerful, offering a good cutting speed on softer wood. Unlike other budget saws, it doesn't rattle as you cut; in fact, it purrs so smoothly that it feels a lot more expensive than it is.
That isn't to say there aren't a few "get what you pay for" moments. 110V isn't enough motor to cut through anything besides wood, and it'll cut slowly on harder stock. It's also difficult to steer around curves.
Pros
Super-affordable
No rattle
Four orbital settings
Convenient lock-on button
Cons
Doesn't cut curves well
Less user-friendly than competitors
Underpowered motor can't handle harder materials
---
4.

Hitachi CJ90VST Jigsaw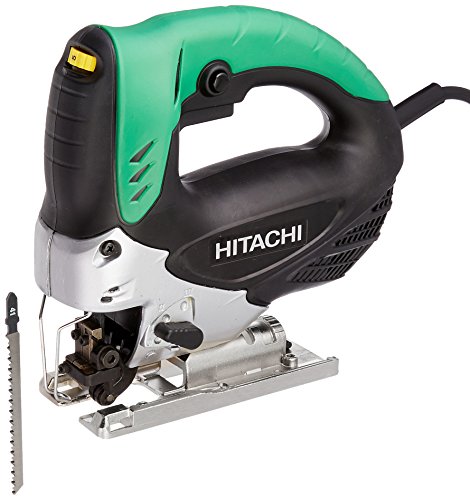 Hitachi is a reliable brand, so we expected a lot from the CJ90VST. We got most of it. One quick note: Hitachi is currently renaming its power tools brand to Metabo HPT, so all Hitachi-labeled tools are now outdated and thus more expensive. Getting the Metabo HPT model will save you about 20 percent, making it one of our most budget-friendly picks.
Onto the saw itself. The CJ90VST has four orbital settings, a speed lock for fatigue-free cutting, and a tool-free blade changing system. So far, so good, but the first feature that truly shines is the built-in dust-blower, which does wonders for clearing debris out of your cutting path. While it doesn't have a laser guide, its attached metal guide is perfectly calibrated — you won't have any trouble cutting straight.
It might seem entitled to complain about a saw you can get for such a good price, but there are a few drawbacks that keep the CJ90VST from being the best corded jigsaw for the money. The no-tool blade changer requires a huge amount of pressure to use, and the cutting capacity is middling, at only 3½ inches. It's also restricted to T-shank blades only.
Pros
Affordable
Onboard dust blower
Well-calibrated metal guide
Decent engine power
Cons
Small cutting capacity
Tool-free blade changer is a pain to use
Only accepts T-shank blades
---
5.

BLACK+DECKER BDEJS600C Smart Select Jigsaw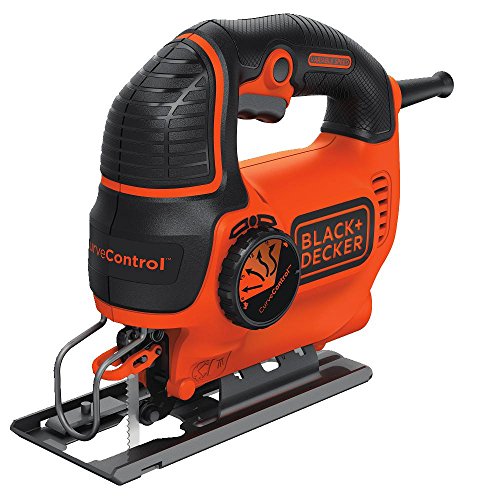 Rounding out the list, we've got the insanely cheap Black+Decker SmartSelect, a nimble corded jigsaw that's ideal for plywood. For pocket change compared to some of our other picks, you can get not only the jigsaw but also a 24-pack of blades.
The specs on the saw itself are about what you'd expect for a tool this small. The SmartSelect has a 5-amp motor that reaches 3,000 RPM unloaded, though it's a lot lower when the blade meets the wood. It also boasts a 45-degree bevel range.
Weighing in at only 4.6 pounds, it's a breeze to carry to job sites and maneuver through materials. The comfortable grip really helps. The quick blade release is exactly as helpful as advertised, and the blade speed adjustment dial is easy to read and use.
So why is Black+Decker only sitting at #5? One word: safety. This saw has an alarming tendency to throw its blades. It's also got no trigger safety, and the trigger is right where you're likely to put your index finger — which sharply increases the chance that you'll activate the blade with your other hand in the way.
Pros
Low price
Lightweight and portable
Easy blade release
Can be ordered with 24 blades
Cons
Weak motor
Low cutting capacity
No trigger safety
Blade lock comes loose over time
Flimsy bevel plate
---
Buyer's Guide: How to Pick the Best Corded Jigsaw For Your Needs
Not all jigsaws are made the same. Every project comes with different requirements. When shopping for a new corded jigsaw, start by making sure you know what you'll be using it for.
It's possible you don't know your exact requirements yet. Maybe you take on a wide variety of jobs, or maybe you're a newbie just getting started in the DIY hobby. If that describes you, don't despair – our handy buyer's guide can still help you make sure you get the best-quality jigsaw in exchange for your hard-earned cash.
We'll keep it simple: don't buy any corded jigsaw until you can answer the following questions in at least a little detail.
What kind of blade do you need?
We're assuming you're buying a saw because you want to cut things, so let's start with the blade.
Before we get into the weeds, don't forget that on a jigsaw, you'll be changing out the blade far more frequently than you might with a circular or miter saw. It's less important to get a corded jigsaw that comes with a perfect blade than to get one where you can easily replace the blade many times over.
With that in mind, here are the most important specs of a jigsaw blade.
Length: All jigsaws have a maximum cutting capacity. It's best to leave some wiggle room here: if you know the dimensions of the material you want to cut, purchase a jigsaw with a blade that is roughly one inch longer. Take care not to overshoot, since blades that are too long can adversely affect the accuracy of your cuts.
Width: Thicker blades are less flexible, and vice versa. Thinner blades are perfect for curved, circular, or irregularly shaped cuts, while thicker blades are sturdier and will provide more accuracy on straight and square cuts.
Material: Corded jigsaw blades come in a variety of different materials, the most common being steel and tungsten. High-carbon steel is cheap and flexible and is great for high-volume woodcutting where you'll be breaking a lot of blades. High-speed and bi-metal steels are stronger and better for harder stock, while tungsten, the hardest and most durable of all, is also the most expensive.
Teeth per inch (TPI): Jigsaw blades have small teeth, at least 20 per square inch. Lower TPI blades (20 – 30) are ideal for softer wood and plywood, while harder wood, steel, and ceramic require a TPI of at least 35. Higher TPI blades cut slower than lower TPI blades, but leave less debris to clean up.
What blade speed do you need?
Blade speed refers to the number of strokes (times the blade moves up and down) per minute, written as SPM. The SPM of corded jigsaws tends to range from 500 to 3,200. The higher a saw's SPM, the faster and harder it's able to cut, though 500 SPM is plenty for most home DIY projects.
Which handle style do you prefer?
What do you want the sole plate to be made of?
The sole plate steadies the jigsaw against the workpiece. It's almost always made of either steel or aluminum. Steel sole plates are cheaper and lighter, but break more easily — sometimes on a single drop. Cast aluminum is premium-priced and heavier, but can take a lot more abuse.
---
Conclusion
Our reviews came down to a pitched battle between the Bosch JS470E and the DeWalt DW317K, but in the end, the Bosch came out on top. It has the most powerful motor on the list, and while that doesn't always translate to the best saw, it absolutely does here. Whenever we start a new project, we can't wait until we get to put the Bosch jigsaw to work.
If you're on a tighter budget, or can't find a Bosch, the Porter-Cable is ideal is almost as good. Though its motor isn't as powerful, it has a huge range of features that we love, at a much more reasonable cost.
Hopefully, we've been able to point you toward a corded jigsaw that you love. If you've got a favorite that we forgot to mention, let us know in the comments!
Related Reads: