15 Kitchen Hardware Trends In 2023 – Design Ideas for a Modern Home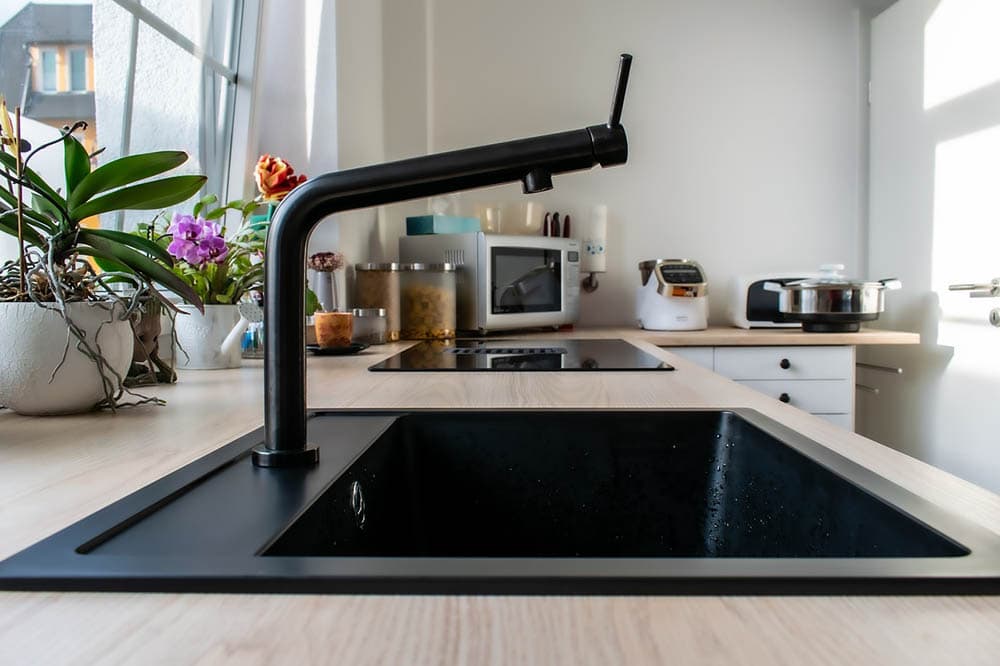 If you want to start 2022 by renovating your kitchen, investing in top-notch hardware should be a top priority. You can turn an outdated kitchen into a work of art with the right sink, faucet, or even a proper set of handles and pulls. Materials and finishes also have the power of breathing new life into things.
So, let's look at the biggest kitchen hardware trends that are about to become popular today. We'll start with the next big things in kitchen sinks, check out the best ideas for faucets, and see what the market has to offer in terms of door pulls and knobs this year.

Kitchen Sink Trends
What's the first thing that grabs your attention when you step into the kitchen? Most likely, it's the sink. If you're into practical, helpful hardware, 2022 has some awesome offers, including multifunctional sinks! As for the colors, back in the day, stainless steel used to be the color for sinks. These days, we've got cast iron, solid copper, matte black, and composite granite.
1.

Drop-In Workstation Bars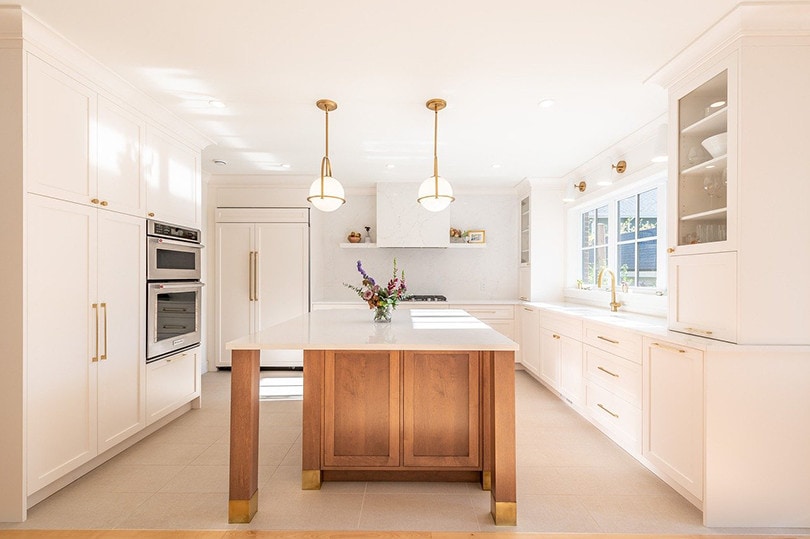 Are you tired of having to switch between the counter and the sink all the time? Well, with a drop-in workstation bar, you won't have to go back and forth anymore! This hardware can make your kitchen cooking and cleaning duties a hundred times easier (and more enjoyable). Essentially, it's a standard sink but with a cutting board that fits in perfectly.
For smaller kitchens with limited countertop space, this will be appreciated. You can both cut and clean veggies and fruits without having to fly around the kitchen like a busy bee. Mahogany is the color to go with here, as it goes along with a wide range of kitchen styles and comes at a reasonable price.
---
2.

All-in-One Workstation Sinks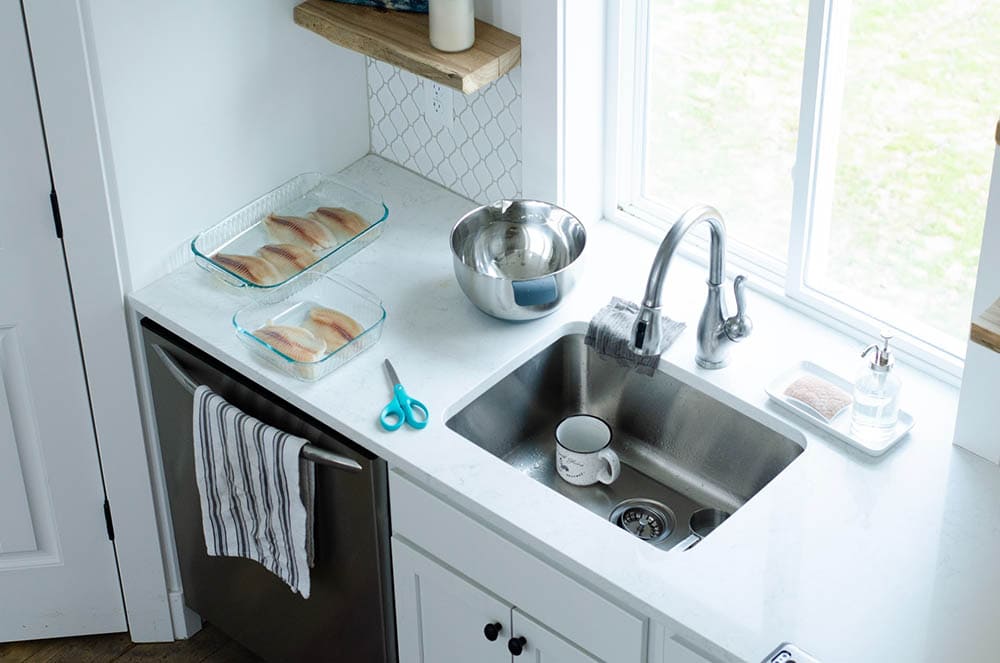 Wait, what's the difference between workstation bars and sinks? It's quite big, actually: with a bar, you get a fitted cutting board and a sink. An all-in-one sink, in turn, also includes a dish rack and a colander. So, if you have very little space on the kitchen counter but still want to make it work, this 2022 trend should be of interest. Just like the bar, it has a "universal" design and goes well with both modern and vintage kitchen styles.
No need to fill a congested countertop with racks full of dirty dishes anymore! Do keep in mind, though, that workstation sinks aren't particularly cheap, and you'll probably have to pay a professional to handle the installation.
---
3.

Double Basin Sinks
Folks that have more than enough space in the kitchen but still want to update their counters should pay extra attention to double basin sinks. Crafted from 80% natural quartz, they are practically immune to scuffs, scratches, and food/liquid stains. For the finish, we recommend matte black as it adds a retro yet trendy effect.
Double basin sinks are quite elegant and fit perfectly with black or white kitchen cabinets and walls. More importantly, they make dishwashing a lot easier: you can fill the left bowl with soapy water for cleaning and the right one with clear water to rinse the dishes. This hardware has an extended lifespan.
---
4.

Farmhouse Sinks (With Strainer)
You've probably seen fireclay sinks on TV commercials. Well, they're a dominant theme in 2022. Their biggest pros include unmatched durability, reliability, and strong resistance not only to stain but heat as well. These sinks are also very hard to scratch or chip. The so-called "farmhouse" sinks don't fade or lose their appeal even after years of extensive usage.
If you're not planning on moving out from your home/apartment any time soon, a farmhouse sink will, undoubtedly, be worth it. The strainer, in turn, is great at collecting food debris and preventing clogging in the tubes.
---
5.

Metallic and Composite Sinks
Are you going for a farmhouse style in the kitchen? Then a copper sink (say, hammer copper) will be a great touch. It's a big trend right now and adds a timeless look, not to mention it's easy to maintain. Natural materials have gained in popularity in recent years, and they're about to "blow up" in 2022. If the goal is to make the sink stand out instead of blending in, go with cast iron—another trendy metal.
It is rather heavy, though. Next, matte black is always a can't-go-wrong-with choice. And don't forget about composite sinks. Composite granite, for example, is hygienic, nonporous, and chip resistant.
---
Kitchen Faucet Trends
Alright, with the sinks out of the way, let's see what options we have with faucets. Finish-wise, the trend is eclecticism. You're free to mix whatever colors you see fit! For one, black matte faucets look incredible with green cabinets and a copper sink. As for the design, touchless, single-handle, and larger-than-average styles are leading the show in 2022.
6.

Single-Handle Faucets
It doesn't really matter what your kitchen looks like, vintage or modern. Single-handle faucets will be an appropriate addition to any design or style. Thanks to the high-arc spout, these faucets instantly grab attention. Enhanced ergonomics are a part of the deal as well. So, if you're tired of the short faucets with poor flexibility, this could be it for you.
---
7.

Touchless Kitchen Faucets
What can be better than a fancy single-handle faucet? A touchless one, of course! It will only take a day or two to get addicted to this brand-new thing. It's so refreshing to start/stop the water without ever touching the faucet. Just place your hand under the spout, and that will "trigger" it. Remove your hand, and the water flow will stop.
But that's not even the biggest selling point here. This hardware is healthier and more hygienic than any other options in the market. And during the pandemic, this is more than just a nice bonus. Finally, touchless faucets do a great job of not wasting water when you don't need it, which makes them an eco-friendly purchase.
---
8.

Large and Bridge-Style Faucets
Bigger-than-average faucets are gaining momentum in 2022 by combining a unique style with usability. Bridge-style faucets, in turn, come directly from US farmhouses. These have been in large demand for several years now and are still trending. Despite the old-world design, they are very much advanced and turn even something as tedious as dishwashing into a game.
---
9.

Matte Black and Bronze Faucets
The biggest finish trend for faucets this year is matte black. It's got a premium look, keeps bad smells away, and doesn't scratch easily. As an alternative, you could choose chrome, polished nickel, or satin. Brushed nickel isn't as popular as it used to be. It's still a safe choice if you're into a traditional design with warm tones, though.
Venetian bronze is another rising trend for faucets. It goes great with wood cabinets and can completely change the way the kitchen looks and feels. Bronze also does a decent job of complementing hardwood floors, warm tones on the walls, and stainless-steel appliances.
Cabinets, Handles, And Pulls
If you're worried that your color and finish choices won't look trendy this year, don't be! Just like with faucets, the name of the game in 2022 is mixing it up and finding new combos. Blue and green hues are becoming a trend. Matte black is more popular than ever, along with satin brass. As for the hardware, we've got oversized pulls, old-school latches, and a 50/50 mix of knobs and pulls.
10.

Painted Cabinetry
White cabinets are in large demand every year. They're beautiful, sleek, and go with whatever new ideas you might have for the rest of the hardware. At the same time, if you want to be in sync with the latest trend, keep two-tone cabinets in mind. Tired of the oh-so-common colors? Then go blue or green. These colors will be huge in 2022.
And it can either be a rich, saturated color, or something more subtle; it's up to you. Natural wood is another undying trend, with oak being the go-to pick for many US households. So, yes, painted cabinetry is an all-conquering trend. It's been growing since 2020 and is predicted to reign over 2022 as well.
---
11.

Latches for Cabinets
To spice things up a bit further, consider using latches: this is already a trend in Europe. Latches instantly add a vintage vibe to the kitchen, no matter how techy the appliances and the rest of the hardware are. We do have to say, however, that for everyday cabinets, latches will probably not be the best choice.
In contrast, cabinets filled with items that you rarely use could greatly benefit from this vibrant trend. Chrome and polished nickel add an exquisite, head-turning quality to latches. Champagne brass also works. It all depends on what kind of theme you're going with here.
---
12.

Cup-Shaped Pull Handles
If latches are too extreme for you, cup-shaped handles deserve your attention. Again, they give off a retro, farmhouse look. Traditional, warm, and refreshing—that's the best way to describe these pulls. Thanks to the streamlined yet bold design, they will blend in with a modern-style kitchen and add just the right accents. Available in golden champagne, matte black, and polished chrome, cup handles are probably the most unusual 2022 trend.
They are equally great for lower and upper cabinets and are very easy to use.
---
13.

Oversized Bar Pulls
Very few things look more elegant than the center-to-center bar pulls. The actual length of the pulls will, of course, depend on how big or small your cabinets are and can reach 21 inches. Cheap and easy to install, they come in various sizes, shapes, and finishes. Brushed brass is the bigger trend these days, but don't forget about the good old stainless steel. Regardless of the material and finish, bar pulls will be an ongoing trend soon.
This is important: most people struggle when they have to choose between pulls, knobs, and handles. That's why we recommend buying a couple of samples and testing them in your kitchen. That way, it will be much easier to see whether they fit the style of your kitchen, or not, without having to spend a fortune on complete sets.
---
14.

Tiny Round Knobs
Geometric in shape, round knobs don't look like much on their own. However, if you add a dozen of these, they will, most certainly, make a difference. Round knobs are much cheaper than cup-shaped handles, by the way. What about the finish, though? The answer is black matte. Yes, it is running the show in 2022, and for a good reason. First, matte looks incredibly sleek and smooth. Secondly, as mentioned, it's highly resistant to scratches.
A quick note: if you want to be truly up to date with the latest trends, try mixing knobs with pulls. For example, put pulls on kitchen cabinets and knobs on drawers, or vice versa. And while you're at it, why not go with horizontal knobs? These look awesome and, again, create just the right contrast.
---
15.

Touch-To-Open Cabinets/Drawers
We talked about touchless faucets earlier, but what if you could open and close all the cabinets and drawers in the kitchen without a single touch? Well, this is one of the biggest kitchen hardware trends in 2022. It won't be particularly cheap, of course, but if you're ready to commit, in the long run, it will be a great investment. Besides, the touch-to-open technology can protect you from constantly bumping into handles and pulls.
With the external hardware "hiding" in the background, it will be much easier to put the focus on premium cabinets, trendy kitchen appliances, and other elements of the design.

Conclusion
When picking new hardware for the kitchen, you need to keep two things in mind: functionality and aesthetics. To be in sync with the "cool kids" this year, choose trendy, popular designs from the list. As for the material and coating/finish, matte black, bronze, iron, and chrome are just some of the available options. They will not only protect the hardware but make it stand out.
The same rules apply to faucets, sinks, cabinets, and everything else in between. Today, we checked out 15 market-leading trends that make our lives easier and more enjoyable with style. So, check back with us more often to stay on top of the latest in kitchen hardware and more!
---
Featured Image Credit: Coernl, Pixabay