Dolphin Nautilus CC Plus Pool Cleaner Review 2023 – Pros, Cons & Verdict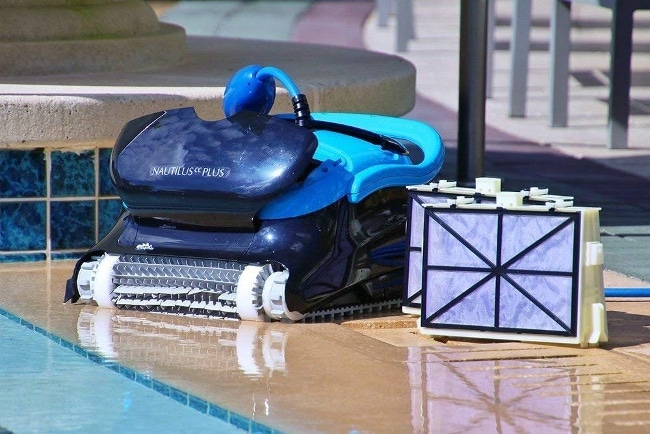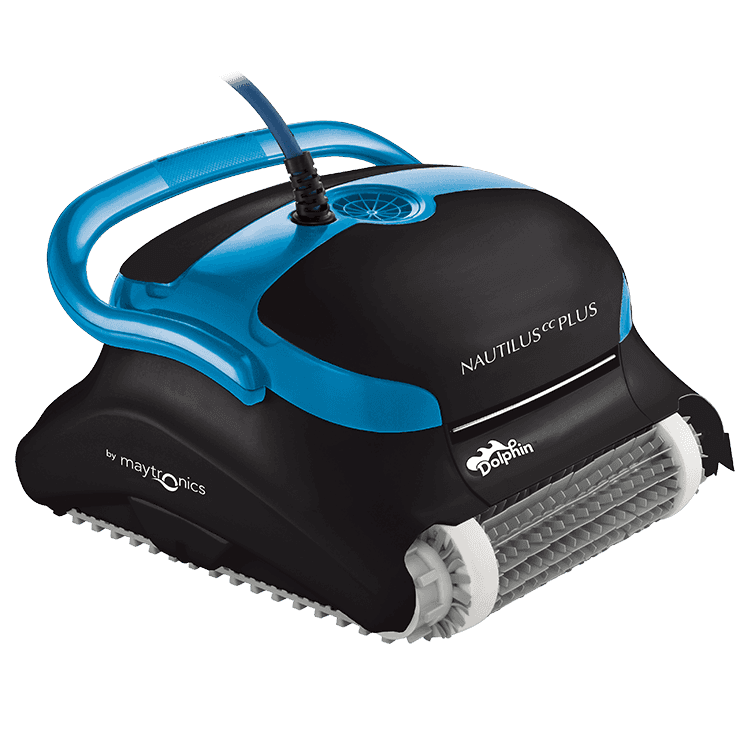 We give the Dolphin Nautilus CC Plus Pool Cleaner a rating of 4.4 out of 5 stars. 
Build Quality: 4.5/5
Power: 4.5/5
Features: 4/5
Price: 4.5/5
Review Summary
The Dolphin Nautilus CC Plus is a pool-cleaning machine. Literally. A robotic pool cleaner, you set it up and set it loose. The Clever Clean system uses onboard sensors to map an optimal path through your pool to maximize its own efficiency. It can clean an average pool in about two hours. Once in operation, the sensors can also detect obstacles in the bottom of your pool, avoid them and return to the charted path without very little interruption in its schedule. Some robotic pool cleaners would cost you an arm-and-a-leg to do this, but the Dolphin Nautilus CC Plus does this at the price of a top-end pressure-side pool cleaner, without the few hundred dollars' extra expense for a booster pump.
–> We recently compared the top pool cleaners on the market. You can see our findings here.

Dolphin Nautilus CC Plus – A Quick Look
Pros
Fast
Aggressive
Affordable
Smart cleaning
Specifications
Brand name: Dolphin

Model: Nautilus CC plus

Type:

Pool type: Inground

Dimensions:

Weight: 19 lbs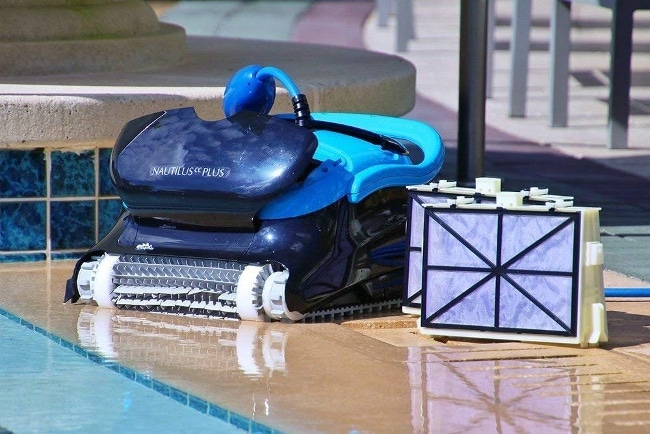 ---
Clever Clean
The Dolphin Nautilus CC Plus comes with the Clever Clean scanning system. It will use onboard sensors to scan your pool and figure out the fastest way to clean the entire pool and will get it done in about two hours. What's more, Clever Clean can sense obstacles in the bottom of your pool and avoid them, returning the cleaner to its optimized path after getting around them without input from a person.
Water Release for Easy Portability
At 16 pounds, the Dolphin Nautilus CC Plus is already pretty light for a robotic pool cleaner. But, it will evacuate its own water before you try to wrestle it out of the water to make for a much easier task of that. This maximizes portability in a line of pool cleaners legendary for combining weight and bulky design into a headache to move around.
Dual-layered Filtration
A lot of pool cleaners deposit debris into a bag without separating out the large from the small. This can lead to headaches in cleaning them off and longer downtime. The Dolphin Nautilus CC Plus has dual-layered filtration, where large debris is caught by one filter and small by another layer. This allows for better-directed cleaning and a faster return to cleaning. For a pool cleaner already designed to make fast work of cleaning your pool, this is a significant feature.

FAQ
How good is the warranty that comes with this model?

The Dolphin Nautilus CC plus comes with a one-year warranty.

What kind of debris can the Dolphin Nautilus CC Plus handle?

The CC Plus has an easy-to-empty basket that has four filters in it that are designed to handle fine and large debris.

Does this require an attachment to the pool's circulation system?

No. The Dolphin Nautilus CC Plus is a robotic pool cleaner, one of the three basic kinds of pool cleaners. A suction-side pool cleaner attaches to the side of the pool's circulation system that is drawing water to the filter. A pressure-side pool cleaner attaches to the side of the pool's circulation system that is pushing water into the pool. Both of those require a connection between a cleaner and the circulation system. Robotic pool cleaners are completely autonomous.
---
What the Users Say
Pool cleaners, in general, are prone to give their owners fits. They are expensive and for the price, people tend to have pretty high expectations in what they will do. This is a good context to have in mind, because at first blush a product that appears to be widely hated might, in fact, be doing pretty well.

The Dolphin Nautilus CC Plus is one of these pool cleaners. Most people report being pleased with its performance. It does the job it needs to and does it quickly. They plop it down into the water and a couple of hours later they spend a few minutes cleaning out the filters for a few minutes before putting it away. Done, done, and done. There were even people who reported that it does a good job scrubbing the stairs, which for a robotic pool cleaner is something of a rarity. Reviews commonly call it one of the best investments of pool-cleaning dollars that the owner has made.

Strangely enough, this praise stretched from the top-level of reviews down to some of the poorest levels. It's a great pool cleaner. The place where those negative reviews start to separate from the good ones is when it comes to contacting customer service. That was a different story, with lots of unhappy experiences.

Overall, however, the Dolphin Nautilus CC Plus was a very positive experience for people who bought it and left online reviews. People liked it for its value-based performance. If only customer service could catch up, this might be a top-rated product.

Some of the other products we've compared & reviewed:

Final Verdict
The Dolphin Nautilus CC Plus is a lightweight robotic pool cleaner equipped with features to speed its work. The Clever Clean scans your pool and charts its own path and sets itself to work. It can even dodge around obstacles in your pool and return to its original course. It will also empty itself of water, making an already lightweight pool cleaner even easier to move around. The dual-layered filtration system is easy and fast to clean to minimize downtime for maintenance. For price conscious pool owners, it won't break the bank. In fact, it's not more expensive than top-shelf pressure-side cleaners that come with the added expense of a separate booster pump. What it won't do is scrub the waterline. If you can get around that, it's a reasonably priced investment that can clean the pool quickly while you attend to other things.