Bosch vs Milwaukee: Which Power Tool Brand is Better in 2023?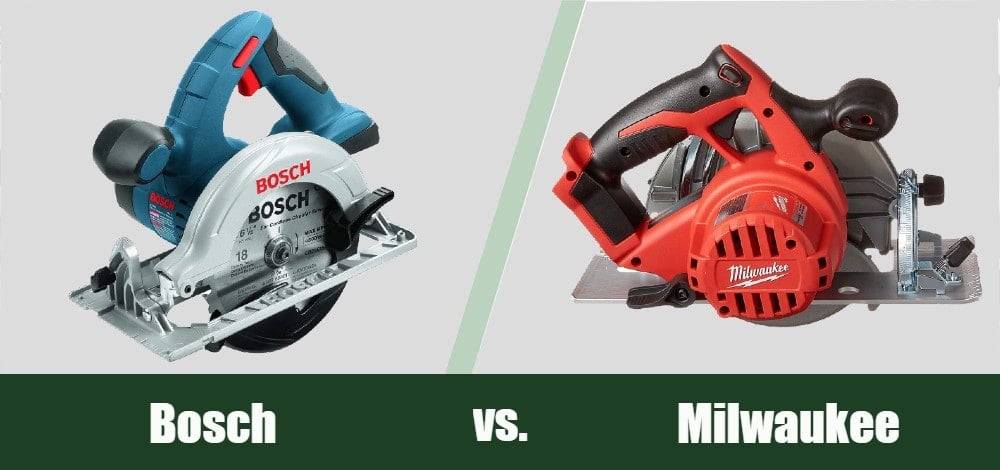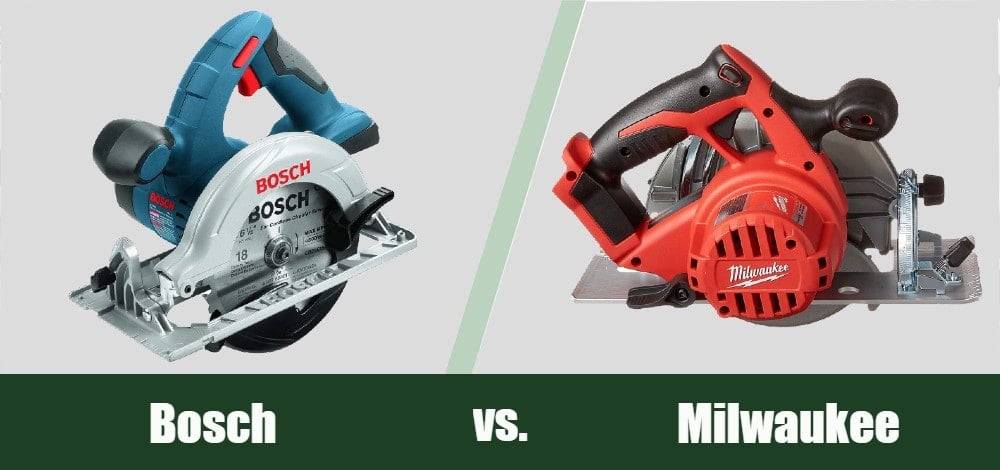 If you find yourself in the position of having to choose between Bosch and Milwaukee brand power tools, you are in luck, because both of these power tool brands are top-notch. They each offer all the essential tools in their product line that any typical workshop needs, and are both backed by years of experience in the industry.
Though they each have different strengths and weak points, at the end of the day, you can't really go wrong with either one. But the fact is, you cannot buy two of every power tool—unless of course you don't have to worry about space or money, in which case, you probably wouldn't be reading this article. We've compiled the research necessary to help you distinguish which brand you want to go with. Whether you care more about product performance, price, or the latest technology, we have all the information you need right here.

A Quick Comparison
Image
Product
Details

Bosch

Established: 1886
Headquarters: Gerlingin
Germany
Product Line: Automotive parts
power tools
security systems
and more
Parent company/ major Subsidiaries: Robert Bosch LLC
BSH Hausgeräte
Bosch Rexroth
CHECK PRICE

Milwaukee

Established: 1924
Headquarters: Brookfield
Wisconsin
Product Line: Power Tools
Parent company/ major Subsidiaries: Techtronic Industries (China)
CHECK PRICE
Brief History of Bosch

The Bosch corporation started in the backyard of a German engineer named Robert Bosch. Back then, he was working on how to make the most efficient car ignition. He succeeded and began manufacturing them in a factory. His magneto ignition was the only reliable one on the market at the time.
The company has a long history of excellence that they display through all their technological advances. These days, Bosch is a global engineering company, established in over 60 countries. They offer many technological services, especially in the surveillance and automotive industries. It's a source of German pride that the Bosch name is 135 years old, but the North American division of Bosch Power Tools was only just formed in 2003, the same year they invented the cordless screwdriver with a lithium-ion battery.
Today, the Robert Bosch Tool Corporation creates and manufactures all kinds of power tools, accessories, levels, and more. They have no parent brand, but do have hundreds of subsidiaries under their brand name.
---
Brief History of Milwaukee
Milwaukee Electric Tool Corporation was rebranded as such in 1924. Before this, it was called A. H. Peterson Tool Company. In 1918, the company's namesake invented the most lightweight and portable ¼ inch capacity drill for that time. They named this tool the "Hole Shooter."
After a man named Albert Seibert acquired the company in 1924, the company's goal was to improve their invention and create longer-lasting tools on the market.
Though the company has been sold four times since its beginning, their mission has been the same. They have improved the design of useful tools and invented some new ones. Most notable is their invention of the reciprocating element in the hacksaw, and a variety of blades to cut different materials included.
The company was sold to Techtronic Industries Co Ltd in 2005. This company also owns RYOBI, Dirt Devil, and Hoover, among others.

Bosch vs Milwaukee: Manufacturing
Bosch
The days of finding a locally manufactured product in any industry are long gone, but that doesn't have to mean that the quality goes down. Bosch manufactures its power tools in mainly Malaysia, Taiwan, and China, but some of their tools and accessories are made in Germany and Switzerland.
Milwaukee
As a Chinese-owned company, most Milwaukee power tools are manufactured in China. Chinese factories dominate all industries in terms of quality in relation to cost.
They have, however, made efforts to bring some manufacturing back to some American facilities. The company opened a new facility in Mississippi back in 2017, creating more than 600 new jobs.
---
Bosch vs Milwaukee: Product Line
Bosch
The entire Bosch conglomerate is responsible for manufacturing a wide array of products—from radio surveillance to windshield wiper blades and everything in between. They've definitely got high-quality engineering experience under their belt.
Professional-grade Tools
When it comes to power tools, they have a reputation for professionalism. In fact, their website mostly focuses on providing the professional builder with professional tools.
Affordability
Bosch has a great line of power tools that come at mid-range prices. The technology in these tools is top-notch for the prices they can be bought for.
Great Batteries
For their line of cordless power tools, Bosch has a good reputation for excellent batteries. Their cordless combo kit comes with 4-amp batteries, which last a long time while on the job.
Milwaukee
Milwaukee is not as broad of a company as Bosch, but this can be a strength because its only focus is on power tools.
Cordless Options
When it comes to cordless power tools, Milwaukee has a wider variety of options available. With Milwaukee batteries already in hand, you could purchase things like a leaf blower and a nail gun while using the same batteries.
"Fuel" Brushless Motors
Whenever a Milwaukee tool has the word "fuel" next to the model name, this means that it comes with a brushless motor. These motors are excellent because they are efficient, break down less easily, and are lighter-weight. They also make the tool more expensive—so be mindful of this if you are looking for a budget option.
Variety of Driver/Drills
Milwaukee offers 12 different driver/drills in its M18 line, which is the widest selection you can get on the market right now.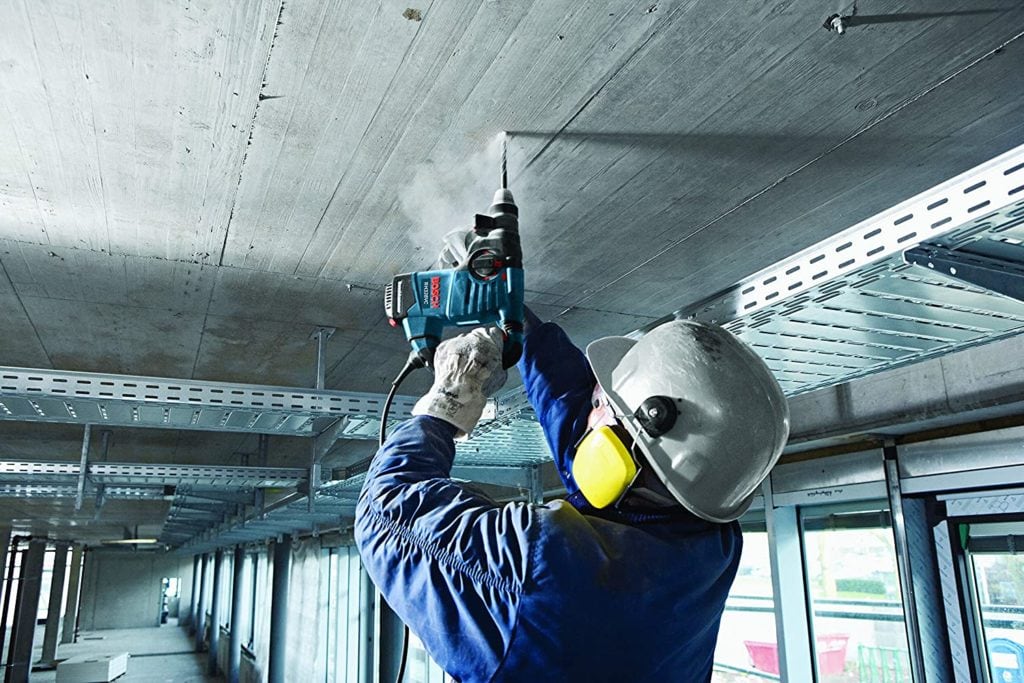 Bosch vs Milwaukee: Price
The prices between these two brands are generally the same, overall. Milwaukee has some cheaper power tools, while Bosch has some cheaper other options.
Bosch
Bosch has a drill/driver and impact driver that's a popular budget option for the person looking for a versatile setup.
Their highest-quality premium products include a laser level for patio and deck builders.
Milwaukee
Milwaukee's impact and driver cordless drills are all highly rated products. They sell a more affordable set of batteries than competing brands that are compatible with all of their cordless power tools.
Like we mentioned before, Milwaukee often offers brushless motor options under the add-on model name "fuel." These can get expensive, but can be worth it in the long run.
---
Bosch vs Milwaukee: Warranty
Bosch
Bosch's warranty is a flat 1-year limited for all of their power tools, additionally covering any electrical, safety and performance checks with a service protection plan. The customer is responsible for shipping the defunct product to and from the service center.
Milwaukee
Milwaukee's warranty varies depending on the product. Most of their portable power tools come with up to 5 years of a limited warranty. Check the specific product warranty before you buy, as replacement parts aren't always covered in a limited warranty.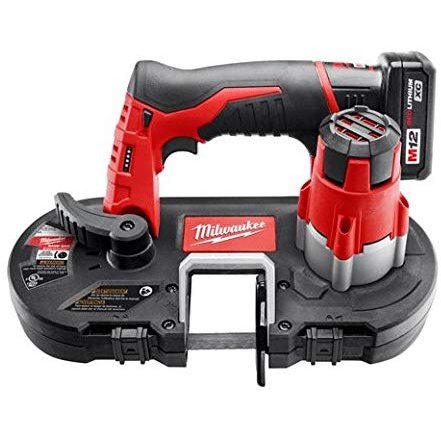 Bosch vs Milwaukee: Customer Service
For power tools, you can expect at least a year-long warranty to cover some basic things like quality control, malfunctions, and certain other checks concerning the working condition of the power tool. There is always a company number that you can call to talk to someone about what's going wrong with your product.
Because most tools are an investment and you tend to stick with one brand, it's important to choose a brand that has customer service up to your standards.
Bosch
Bosch has a customer service line just like all the other power tool brands, but can be not so helpful if something goes wrong with your tool, according to customer reviews. For people who have received less than ideal products from Bosch, they have had little or no help from customer service. Plus, if something goes wrong, you are responsible for paying shipping to and from a service center.
Milwaukee
When your Milwaukee tool is under warranty, they guarantee free repairs and replacements. You can reach them online through their website or through their customer service line. Milwaukee has more of a loyal following, and customers seem mostly satisfied; if their Milwaukee tool fails, they tend to get the help they need most of the time.

Head-to-Head:
Bosch vs Milwaukee Power Tool Combo Kits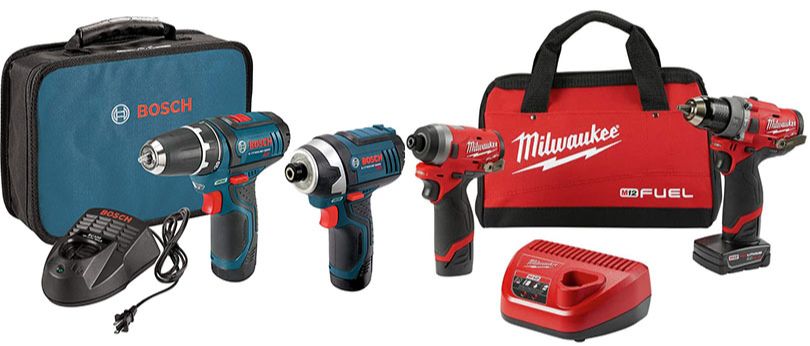 First up is Bosch and Milwaukee's versions of power tool combo kits. When you are a beginner DIY'er, you want to find a tool combo kit that will suit your needs and last you a long time. These two brands offer their own versions of combo kits. Both combo kits have near 5-star ratings, with the Milwaukee coming in just slightly higher
The Bosch CLPK22-120 12-Volt Cordless Combo Kit includes a drill driver, impact driver, two batteries and a battery charger. The carrying case is hard and, therefore, probably difficult to fill all the pieces back into. The design of the tools in this kit are more compact, therefore, they more easily fit into compact spaces.
The Milwaukee 2598-22 M12 Fuel 2 Piece Kit comes with a hammer drill, hex impact driver, two batteries, and a charger. This kit comes with a cloth carrying case, which is much easier to put tools back into. This kit, for just a little bit more money, offers brushless motors for both tools.
Our Verdict
Go for Milwaukee here. Their kit is more high quality for a little more expense.

Head-to-Head:
Bosch vs Milwaukee Reciprocating Saw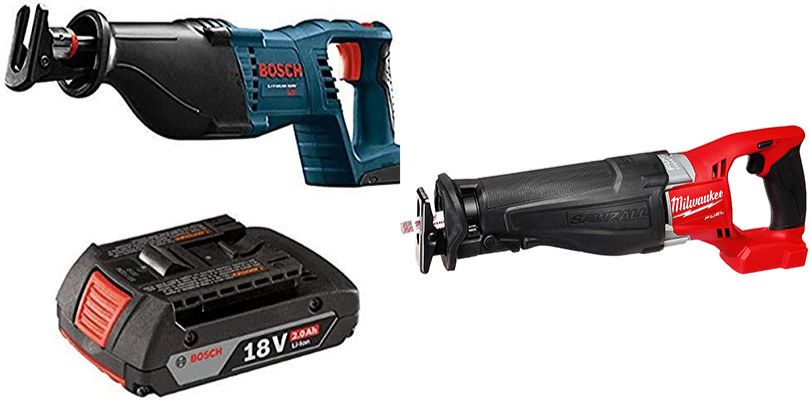 When it comes to cordless power tools, most people tend to stick with the brand they already have batteries for, as they are usually interchangeable within the brand. The same goes for these reciprocating saws.
Both saws are mid-range in price. They have plastic parts which make them lightweight, but also mean they are not quite as durable.
The Bosch CRS180B reciprocating saw is lighter and cheaper. However, it does not have as many 5-star reviews as the Milwaukee saw. It has variable speeds within two select speeds. This saw has no LED light, and users complain about vibration.
The Milwaukee Sawzall saw doesn't vibrate as much as many other saws. This specific reciprocating saw has an amazing reputation as one of the best saws around. It's got lots of power and limited kickback, a work light, and 90% 5-star ratings.
Our Verdict
Though it has plastic parts, you can't go wrong with a Milwaukee reciprocating saw. Its reputation precedes it as the best kind on the market.

Head-to-Head:
Bosch vs Milwaukee Corded Circular Saw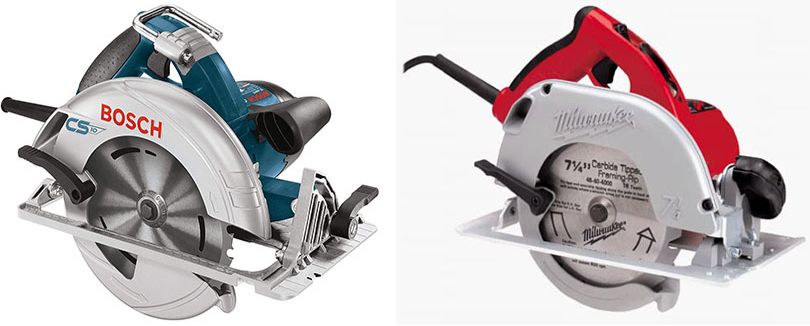 For the final face off of products, we chose a product that neither brand is completely well-known for and compared their features. Though cordless power tools are the newest and most hyped-up power tools, a lot of people prefer corded tools for consistent power through all projects. Here, we have a Bosch and Milwaukee model of the classic corded circular saw.
Both saws are corded and around 10 pounds. They have a conveniently placed hex wrench right on the saw.
The Bosch CS10 is the more affordable option and is slightly higher rated. Though it's a little slower in RPMs than the Milwaukee equivalent, its motor is similar to a powerful worm drive saw.
The Milwaukee Circular Saw, Tilt Lock has more ripping power at 5800 RPMs. Purchasers complain about the included rip fence having poor quality, or that it had been forgotten in the packaging altogether.
Our Verdict
For this category, Bosch comes out on top for best quality for the money.

Overall Brand Reputation
Performance
Edge: Milwaukee
Milwaukee gets our pick for performance due to their sole focus on power tools. They have a lot of good reputation based on consistent and positive customer reviews. People who buy Milwaukee rarely switch over to other brands, and it's because the brand consistently performs well over all the power tools they manufacture.
That's not to say Bosch doesn't perform well—but Milwaukee seems to be more consistent with good performance over a variety of tools.
---
Price
Edge: Bosch
We know that not everyone can afford top of the line power tools. Though these two brands have super similar prices, Bosch gets our pick for best price. Bosch consistently has a slightly lower price than Milwaukee across all power tools, without sacrificing much quality.
---
Durability
Edge: Milwaukee
Pros and weekend warriors praise Milwaukee time and time again for lasting for a very long time. You definitely get what you pay for in this area. Milwaukee tools are built to last, and their loyal fan base are always talking about it in the customer reviews.
If you're concerned with having the latest technology and most specific tool for your project needs, Milwaukee takes the prize. The Milwaukee brand is constantly coming out with new and improved products, and they have a wider variety of drill drivers than anyone else in the business. Also, for saws, you get a large pool of products to select your next purchase.

Conclusion
For overall best quality of product and better customer service, our winner between this duel is Milwaukee. Perhaps because they don't have as many "irons in the fire," Milwaukee delivers some of the best power tools on the market.
Bosch, on the other hand, is a great choice as well. As we learned earlier, the strong engineering background means that Bosch can create the same great power tools as any other brand, but at a more affordable rate.
Whatever you choose, we hope we have helped you on the way towards your decision! Keep calm and construct on.
You may also be interested in: Hilti vs Milwaukee: Which Power Tools Brand is Better?