3 Best Pool Cleaners for Fiberglass Pools in 2023 – Reviews & Buying Guide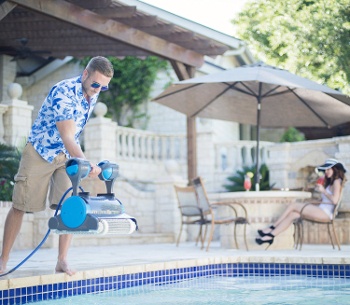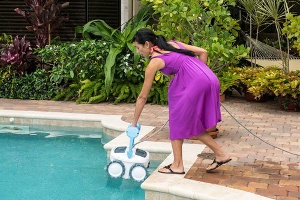 If you are the proud owner of a fiberglass pool, it should come as no surprise that you lucked out when it comes to pool maintenance. Fiberglass pools are durable, easy to maintain, and require fewer chemicals. Unfortunately, they still need to be cleaned.
Choosing the perfect pool cleaner for your fiberglass pool can be a lengthy process. There are hundreds of models to choose from, and they all have their advantages and disadvantages. We made things a bit easier for you and put together a list of our favorite pool cleaners for a fiberglass pool. Let's dive in!

Comparison of Our Favorites for 2023
Rating
Image
Product
Details

Best Overall

Dolphin Premier

Very reliable
Fast cleaning
Easy to set up
CHECK PRICE

Polaris F9550

Fine cleaner
Great traction
Works great without supervision
CHECK PRICE

Best Value

Polaris Vac-Sweep 360

Affordable
Great at cleaning large debris
Adequate at cleaning particulate
CHECK PRICE
The 3 Best Robotic Fiberglass Pool Cleaners
1.

Dolphin Premier Robotic Pool Cleaner – Best Overall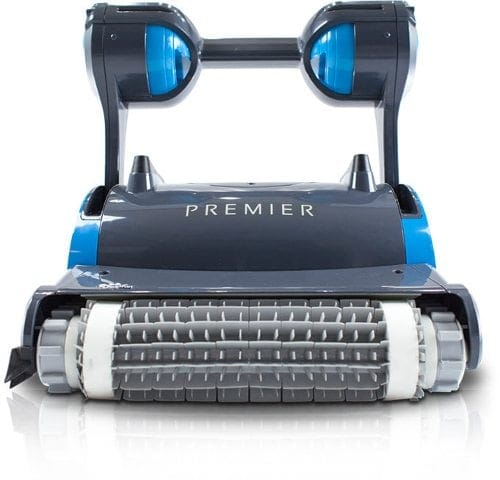 This. Does. Everything. If you're looking for the short review, that's it.
If you're looking for a better explanation…this thing arrived, we got it out of the box and almost immediately rolled it into the pool. It was super simple to set up, and it cleaned our pool within a couple of hours.
We know a lot of people who own this pool cleaner, and we've never anyone complain about it getting stuck, which in itself is pretty amazing. There's nothing worse than setting up your pool cleaner, getting your hopes up, and then coming home to a pool that's still dirty and a cleaner that's stuck. If you want to avoid that scenario, you should go with this one.
It's also up to 87% more energy efficient than older models on the market. That's quite revolutionary, and something that your wallet will enjoy.
Our only beef with this model was its price. This kind of cleaning does not come cheap. However, with the 3-year warranty, and a pool cleaner that never gets stuck, this investment is definitely worth considering.
Pros
Fast cleaning
Very reliable (we've never seen it get stuck)
Cleans everything
Easy to set up
---
2.

Polaris F9550 Pool Vacuum (Robotic)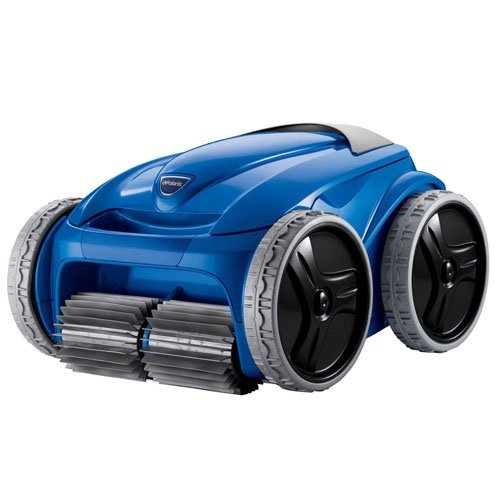 The F9550 is a great all-around cleaner. It'll pick up any size debris and do it quietly. If you want to be able to read the newspaper and sip coffee while your pool is cleaned and then take a dip in clean water, you won't be disappointed. It's also cheaper than the Dolphin Premier Robotic, so the reasonable question is why we didn't rank it ahead of that one based purely on value.
It's much slower for starters. And it doesn't always clean the entire pool, and if you try to get it to via the remote it might take what feels like an eternity for it to respond. Plus, it won't clean stairs. So, while we feel the basic clean is a better value than that for the Dolphin, for these reasons we would advise that you invest more money in a superior piece of equipment.
Pros
Fine cleaner
Great traction
Works great without supervision
Cons
Slow
Remote a pain in the neck
Doesn't clean stairs
---
3.

Polaris Vac-Sweep 360 Pool Cleaner – Best Value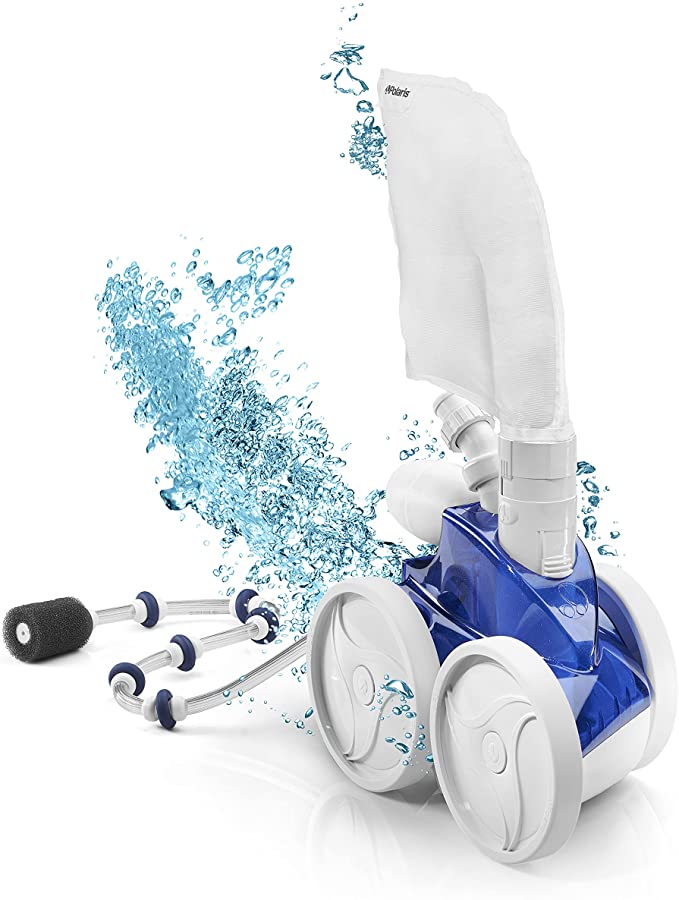 Unlike the other two, the Polaris Vac-Sweep 360 is a pressure side pool cleaner, which means that it is powered using the water in your pool on a pressure line. We chose it because it has a great reputation among consumers, and our tests show that reputation is pretty well deserved. It picked up large debris like leaves and twigs like a champ, and it did an adequate job on small particulate like sand. At the price, it's a small thing.
What it has against it was difficulty gaining traction on a fiberglass finish. It can still get the job done. Just don't watch it, because you'll come away frustrated. It also is clearly not intended for an above-ground fiberglass pool. If you have one of those, you'll need to find a different option. But, still, the cleaning it delivers at the sticker price makes it the best for-dollar value of the models we tested.
Pros
Great at cleaning large debris
Adequate at cleaning particulate
Affordable compared to other models
Cons
Doesn't work on above-ground pools
Has difficulty gaining traction on fiberglass

Buyer's Guide – Purchasing the Best Fibreglass Pool Cleaner
Our tests left us impressed that the most expensive model is the best one available at cleaning fiberglass pools.
That doesn't mean that it's the best one for you. Ultimately, your purchase shouldn't just be a matter of throwing dollars at a problem but finding the right choice. This is especially the case for fiberglass pools, which tend to be easier to clean and tend to be less of a grime magnet than concrete pools.
It's just that in this case, if you have a gob of money lying around, you would probably be happy throwing it at the pool debris issue. If not, or if you came to have a gob of money by being very careful in how you used it, there are some issues you'll want to take into account in knowing which one is right for you.
Above or in-ground, that is the question
The first thing to factor into a fiberglass pool cleaner will be whether you have an above-ground pool or an in-ground one. That would immediately push you away from our bargain model, the Polaris Vac-Sweep 360, which isn't suitable for above ground pools. But because those pools tend to be much smaller than in-ground pools, you might want to avoid the other two we tested, too. Buying one of them would be a lot like buying a car specifically to drive around the block to buy a gallon of milk. There are great alternatives on the market that can clean a much smaller above-ground pool for a lot less money.
Big debris versus small
If your pool tends to get cluttered with branches and leaves, you'll want to find a pool cleaner better suited for large debris than one that can clean up small. Or one that can exchange bags for filters. That's one of the things we really liked about the Dolphin Premier Robotic. With just a quick swap out of a filter for a bag, you can get everything cleaned up in your pool with little hassle. The issue of big debris in your pool can vary depending on which part of the country you live in. If you live in the desert Southwest, you'll want something that can handle sand. If you live in Michigan on the other hand, you'll probably get a lot more pine needles and maple leaves.
Traction matters
Fiberglass pools are less grime prone than concrete pools because the floors are much less porous. That means particulates and dirt accumulate rather than stick, but it also means more difficulty for pool cleaners to gain traction on them. We really liked the Polaris F9550's floor-gripping wheels for this reason. It's also something to keep in mind if you look at other models. Something might be lights-out when it comes to picking up leaves and grit, but that will make very little difference if a lack of traction has it spinning its wheels.
Robotic vs. pressure side vs. suction side
There are three basic kinds of pool cleaners: robotic, pressure-side, and suction-side. Each has distinct advantages and disadvantages that you'll want to consider in deciding what cleaner is right for your fiberglass pool.
Robotic cleaners are the most expensive, the most autonomous and generally deliver a superior cleaning performance. A pressure-side cleaner runs on water pressure and does a great job of picking up larger debris. If your pool isn't equipped to handle a pressure pump, you may have to purchase a separate booster pump. Suction side cleaners are the most affordable, but because they run on the power of your pool's main pump it strains on them.

Conclusion
More expensive doesn't always translate into a better investment. In this case, it did. We looked at three different pool cleaners for their ability to handle fiberglass pools, and the one that cost the most money — far and away the most money — just simply outperformed the competition. It cleaned everything and cleaned it quickly. If you follow up and buy the Dolphin Premier Robotic, we'd recommend investing in both filter cartridges and a bag. If it's too much money, the Polaris F9550 is a good second choice. It does a great job cleaning and can go anywhere, but you'll want to clean the stairs yourself or at least pay a teenager to do it for you. A great value alternative is the Polaris Vac-Sweep 360, the highly vaunted pressure side cleaner, just as long as you have an in-ground pool. If none of those options appeals to you, we hope you find our buyer's guide helpful in making an informed purchase.