Milwaukee 2890-20 M18 Jobsite Radio Review 2023 – Pros, Cons & Final Verdict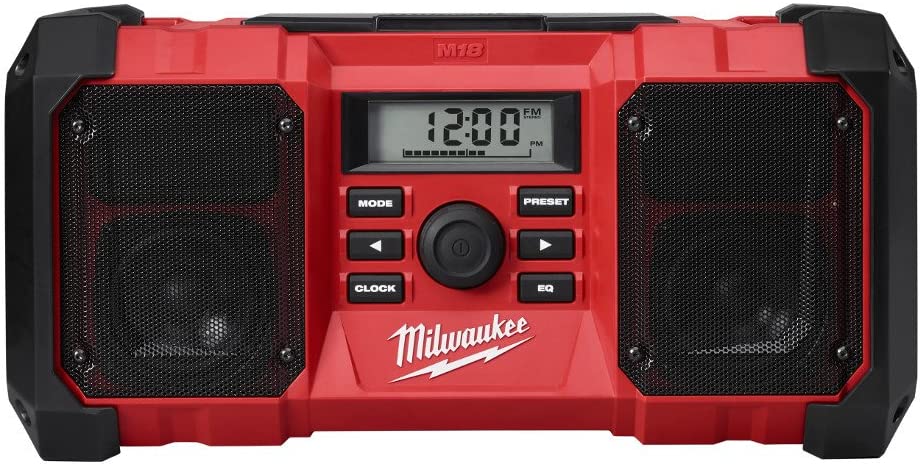 Review Summary
Our Final Verdict
We give Milwaukee 2890-20 M18 Jobsite Radio a rating of 4.3 out of 5 stars.
Build Quality: 4.5/5
Power: 4/5
Features: 3.5/5
Price: 4.2/5

Milwaukee 2890-20 M18 Jobsite Radio – A Quick Look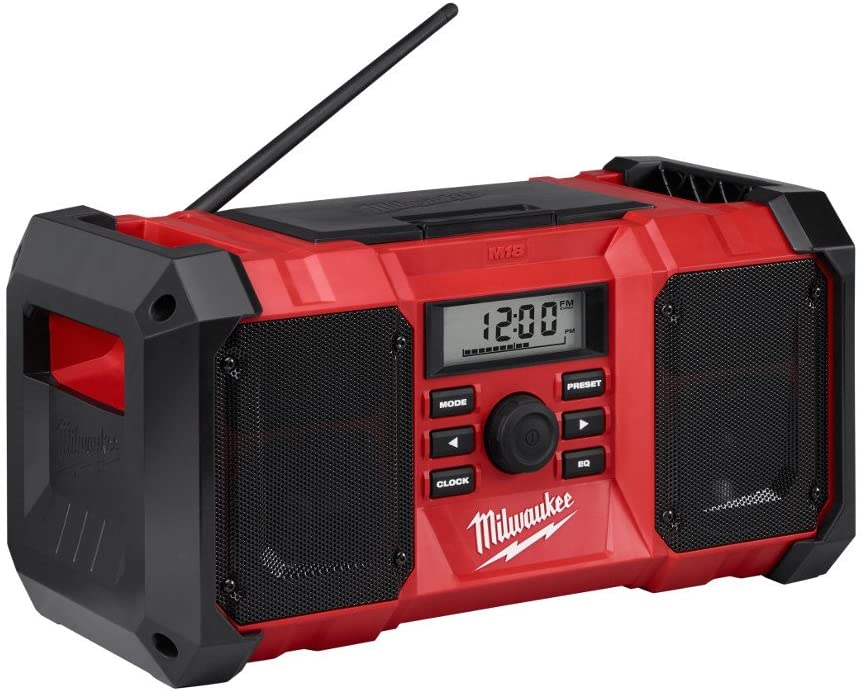 Specifications
Brand: Milwaukee
Model: 2890-20 M18 Jobsite Radio
Weight: 10.3 pounds
Power: 18V
Dimensions: 18"L x 8"W x 8"H
Battery Type: M18
Modes: AM/FM / USB
Milwaukee's 2890-20 M18 Jobsite Radio is an excellent option for someone who has M18 batteries kicking around already. It's ideal for garage use or a small job site. This radio won't take up a lot of space, and it's well built. It's worth noting that it won't be suitable for a large job site where high volume may be needed because of its size.
It does lack Bluetooth connectivity which is common on many radios nowadays. However, in addition to the AM/FM radio, it has a USB port and a 3.5mm AUX jack. This enables you to charge your phone off the radio and listen to music from your phone.
Milwaukee is not a new player in the power tool industry. It's backed by many years of high-quality tools and accessories. By stripping back some of the more advanced features like Bluetooth or battery charging, it can offer the 2890-20 Jobsite Radio at an affordable price. The excellent ratings it has received demonstrate that the quality was not sacrificed with the price.
Pros
Reasonably small and portable
Durable with high-quality material
Good sound quality
Part of a broad line of tools
Weather-proof components
Cons
It does not charge batteries
Only AM/FM—no Bluetooth
Not suitable for loud listening due to its size

Milwaukee 2890-20 M18 Jobsite Radio Details
High-Quality Craftsmanship and Durability
Milwaukee is one of the leading brands in power tools on the market today. It didn't get its trusted name by producing bad products. Even though it's on the more reasonably priced end of the spectrum, the 2890-20 M18 radio maintains this high quality.
---
Compact and Portable
This particular model of jobsite radio by Milwaukee is one of its most compact. Not only will it not take up a lot of space in the work truck, but while you're on the job, you won't be tripping over it or working around it.
---
Good Battery Life
The M18 Milwaukee batteries have been around for a while, and they have proven themselves dependable. There are rugged and durable, but they also have various amp hour battery models available to suit your particular needs. Many customers report that they are getting all-day performance out of their radio on a single battery.
No Bluetooth or Battery Charging
There are other jobsite radios on the market—made by Milwaukee and its competitors—that have a charging feature. When many of the tools that workers use are battery-operated, it can be beneficial to have extra chargers. Another common feature that the 2890-20 Radio lacks is Bluetooth

FAQ
1.

Does this model work with the Milwaukee PACKOUT system?
Yes, the 2890-20 Radio is compatible.
---
2.

Are there any options other than AM/FM radio?
It has a USB port and a 3.5mm AUX jack. So, you can hook up a phone to it via USB or AUX, for example
---
3.

Where do I take it for the warranty?
You contact Milwaukee directly. They will direct you to the closest repair center or instruct you on mailing the product directly to them.
---
4.

Is this the best Milwaukee radio available?
"Best radio" is relative to your needs. If you need a portable and inexpensive yet high-quality radio, then this is a superb option.

What the Users Say
Don't just take our word for it, though. We've read many online reviews and forum posts. While many people have purchased this radio and loved it, there have also been complaints. Below we will highlight a few points of conversation that other users are mentioning about their experience with this particular radio.
"For such a small radio, the radio reception is reasonably good. Plus, you can have up to ten stations saved."
"Great addition to the Milwaukee M18 collection, super convenient that it takes the same batteries. It would be nice if it charged the batteries, though."
"There are companies that make Bluetooth receivers that connect with USB. This is a possible way around this jobsite radio not having integral Bluetooth if that is a dealbreaker for you."
"The sound quality is not the greatest when attempting to crank it up. It also lacks easy controls when using the AUX or USB to play music because you have to manually control it with your device instead of using the buttons on the radio."

Conclusion
There are many options available for jobsite radios. In our opinion, for anyone who already has M18 batteries and is looking for an inexpensive yet reliable addition to their tool collection, the 2890-20 jobsite radio is a great option.
As we mentioned, there are a couple of negatives to keep in mind. Still, some of those even have workarounds, like an aftermarket Bluetooth receiver. Overall, even with the few negatives—unless they are dealbreakers for you personally—the cons certainly don't seem to outweigh the pros.
---
Featured Image Credit: Amazon