10 Best Epoxy for Plastics in 2023 – Reviews, Guide & Comparisons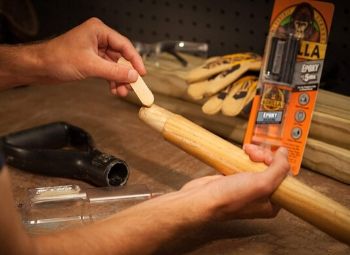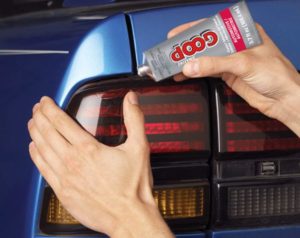 The main difference between epoxy and standard glue is that the former is more versatile. Moreover, epoxy is a stronger adhesive. Since it also acts as a gap-filler, epoxy is one of the best for DIY projects.
If you are looking for the best epoxy to use on plastic, you have come to the right place, as we will be reviewing the top-rated epoxy products on the market today. These reviews should bring you a step closer to your ideal product.
---
A Quick Comparison of Our Favorites in 2023
Rating
Image
Product
Details

Best Overall

Gorilla 2 Part Epoxy

Ultra-strong adhesive
Solvent-resistant
Can be used on numerous other materials
CHECK PRICE

Best Value

PC Products 70147 PC-Clear Epoxy Adhesive Liquid

Resilient to temperature extremes
Provides effective bonds to a wide range of materials
2
920-PSI breaking strength
CHECK PRICE

Premium Choice

Rhino Glue Pro Kit

Contains three different adhesives for versatility
Super strong
Weatherproof
CHECK PRICE

Amazing GOOP Automotive Adhesive

Multipurpose
Weatherproof
Resistant to temperature extremes
CHECK PRICE

Yanyi Epoxy Putty Stick

Easy to use
Multipurpose
Incredibly strong and durable
CHECK PRICE
The 10 Best Epoxy for Plastics
1.

Gorilla 2 Part Epoxy – Best Overall
If you are looking for the ultimate epoxy, it will be hard to beat this glue by Gorilla.
For starters, this epoxy is resistant to water and other solvents, making it ideal for fixing parts that are continuously exposed to the elements. It is no wonder that it is a favorite among the DIY community. Moreover, in addition to bonding plastic, the Gorilla 2-Part epoxy can also be used to bond aluminum, steel, ceramic, glass, tiles, and wood effectively.
Like other epoxies, you need to mix the resin and hardener to use this product. Fortunately, it comes with an easy-to-use syringe that dispenses the solvents evenly to avoid creating a mess.
Once you apply the epoxy, it allows you five minutes to position your items before it dries. This allows you to organize your pieces meticulously for a professional finish. Additionally, since the Gorilla 2 Part Epoxy has a clear dry, it does not leave any telltale signs.
The Gorilla 2 Part Epoxy's ultra-strong bond, durability, anti-solvent nature, and versatility make it our go-to epoxy when we need one. We highly recommend this product if you are looking for a safe epoxy to use on your plastic wares.
Unfortunately, this product is designed for one-time use. This means that you cannot save some to use for another time.
Pros
Ultra-strong adhesive
Solvent-resistant
Can be used on numerous other materials
Durable bond
Competitive pricing
---
2.

PC Products PC-Clear Epoxy Adhesive Liquid – Best Value
If you are looking for a quality adhesive to use on your art projects, then this might be the product for you. The 70147 epoxy by PC Products is excellent for making repairs or bonds on detailed projects, as it does not leave any traces behind.
With a continuous service temperature range of between -20ºF and 200ºF, the 70147 is an incredibly resilient adhesive, thus allowing you to use it on materials that are routinely exposed to extreme conditions.
This epoxy also facilitates high-quality work, as it allows you four minutes of work time before it begins to dry. And, with a breaking strength of up to 2,920 pounds per square inch (PSI), it is one of the strongest adhesives in the game.
This epoxy is quite versatile as well. In addition to plastic, it also binds metal, wood, glass, fabric, ceramic, and even concrete.
The only drawback to this product is that it takes 24 hours to cure completely. This means that you should not use the material you are bonding for a full day. Nonetheless, once it cures, it forms a nearly irreversible bond.
If you are on budget, this is the product for you. It is the best epoxy for plastics for the money.
Pros
Resilient to temperature extremes
2,920-PSI breaking strength
Provides effective bonds to a wide range of materials
Great value
Cons
It takes 24 hours to cure
---
3.

Rhino Glue Pro Kit – Premium Choice
If you are willing to go all in and get what might possibly the best adhesive product on the market, look no further than the Rhino Glue Pro Kit.
The Rhino Glue Pro Kit has three different types of adhesives to ensure that your gluing needs are met regardless of the situation. These adhesives consist of the Rhino Glue, Rhino Glue Gel, and the Brush-on Glue for applications that require precision.
Thanks to its commercial-grade quality and versatility, the Rhino Glue is an effective solution for bonding plastics, especially those used in cars. This is because it is resistant to vibrations, shock, and impact. In addition, it is completely weatherproof.
The Rhino Gel, on the other hand, is much easier to work with even though it is thicker than the Rhino Glue. Due to its nature, it is ideal for interior plastics.
The only downside to this glue kit is that it can be quite messy to work with. Therefore, you cannot apply it in a hurry. Nonetheless, the Rhino Glue Kit is a premium product that will serve every gluing need that you might have.
---
4.

  Amazing GOOP Automotive Adhesive
While the Amazing Goop is marketed as the best adhesive for automotive plastic, this product is just as effective for all other types of plastics.
This product is a multipurpose adhesive that not only excellent for securing plastic but also rubber and fabric as well. Additionally, it also happens to be one of the most budget-friendly options when you consider its quality.
One of the things that you will love about Amazing Goop is its incredible ability to withstand high temperatures. Moreover, it is also waterproof, in addition to allowing for sanding. Those properties make it an effective adhesive for car plastic.
A unique characteristic of this adhesive is its ability to remain flexible, even when exposed to direct sunlight. In addition, it also remarkably resilient, as it can withstand continuous shocks and vibrations without having its structural integrity compromised.
For all its remarkable properties, however, this product does not come with an applicator, thus making it challenging to use.
Pros
Multipurpose
Weatherproof
Resistant to temperature extremes
Durable
Retains flexibility
Affordable
---
5.

Yanyi Epoxy Putty Stick
This putty epoxy by Yanyi is a favorite among DIYers due to its ease of use. Just as with regular patty, this product allows you to knead it into your preferred shape before applying to the area you are looking to fix.
Don't worry about time. It only takes less than 10 minutes for the epoxy patty to achieve the consistency it requires for application. In addition to plastic, the Yanyi epoxy patty also bonds a wide range of materials, including metal, marble, ceramic, wood, stone, fiberglass, and glass.
This epoxy, however, can take up to 24 hours for it to cure completely. The good news is that once it hardens, it becomes a permanent fixture. As a result, it is a great adhesive to use when looking to fix leaking tanks and drains, repair appliances, or to seal pipes. You can also use it to fill cracks in concrete.
This is a great product, but you will have to contend with its off-putting smell.
Pros
Easy to use
Incredibly strong and durable
Multipurpose
---
6.

J-B Weld 50139 Plastic Bonder
J-B Weld is renowned for its excellent adhesives, which is why some of their epoxies had to make this list. The 50139 Plastic Bonder is a two-part urethane adhesive that provides long-lasting bonds to plastics. It is also an effective gap filler.
Since it is a two-part epoxy, this product comes with a resin and hardener that you have to mix to create the bonding solution. While it is not a difficult feat to accomplish, you must be keen during mixing, as the mixing ratio must be 1:1 to create an effective solution.
The 50139 allows you a generous 15 minutes to position your workpieces before it starts drying, thus ensuring a tidy finish. However, it can take up to 30 hours for it to cure completely. Nonetheless, once it does, it forms an unbreakable bond with a tensile strength of 3,770 PSI.
Moreover, it allows for multiple uses. Once you mix the solvents, simply wipe the syringe using a dry cloth and return it to its cap.
Pros
3,770-PSI tensile strength
15-minute work time before its starts hardening
Allows for multiple uses
Cons
Takes a long time to cure
---
7.

J-B Weld PlasticWeld Repair Epoxy Putty
This is another stellar adhesive from J-B Weld that is designed for plastics specifically. The 8237 comes in the form of an epoxy putty.
This epoxy is not ready to use, as you must first knead the two-part formula together. Once it attains the right consistency, it is ready for action. Fortunately, this epoxy putty takes about 25 minutes for it to set. This allows you enough time to adequately apply the adhesive.
You will also love that this epoxy putty takes only three hours to cure. Once it cures, the resulting bond has an impressive tensile strength of 600 PSI. Moreover, it can withstand temperatures of up to 250F.
The J-B Weld 8237 PlasticWeld is ideal for most DIY plastic repairs. However, it comes with a slightly pungent odor that can be off-putting to some people.
Pros
600-PSI tensile strength
Does not take long to cure
Maintains a small degree of flexibility
---
8.

Loctite 1363118 Epoxy Plastic Bonder
Loctite is another manufacturer that is renowned for their high-quality adhesive solutions. The 1363118 Epoxy consists of an acrylic formula that is specially formulated to enhance the structural integrity of plastic projects.
This two-part epoxy is also easy to use. Thanks to its double syringe that dispenses equal volumes of each solvent, it ensures that you get your ratios right.
After application, it takes this epoxy only 25 minutes to form a tough and rigid bond that is resistant to high impact, most solvents, and shop fluids. Its ability to withstand high impact allows it to accept sanding and drilling.
Some of the downsides to this epoxy is that it can be messy to work with and produces fumes during the mixing process.
Pros
Sets fast
Allows for sanding and drilling
Easy to mix
Cons
Releases pungent fumes when mixing
Can be messy
---
9.

Loctite 2-Gram Super Glue Plastics with Activator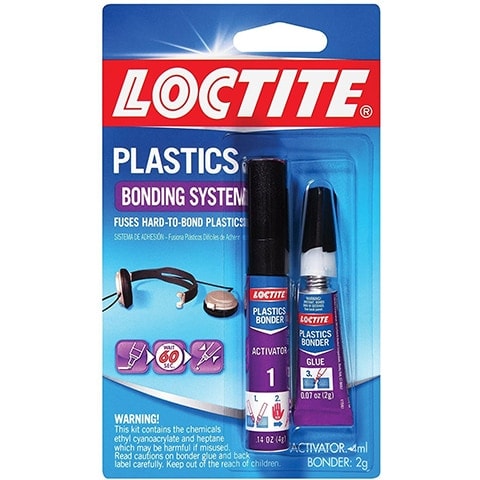 If your projects involve plastics that are hard to glue, such as polyethylene and polypropylene, you might want to give the Loctite 681925 a shot as it has been formulated for that specific purpose.
This epoxy is also remarkably versatile, as it also bonds materials such as metal, ceramic, fabric, leather, and rubber.
However, it takes time to learn how to prime the surface you are looking to bond. But, once you get used to it, it becomes a remarkably simple process.
Pros
Effective for hard to bond plastics
Instant bond
Can bond a host of materials
Cons
Surface must be primed prior to application
Takes time to learn how to use properly
---
10.

Devcon 62345 Plastic Steel Epoxy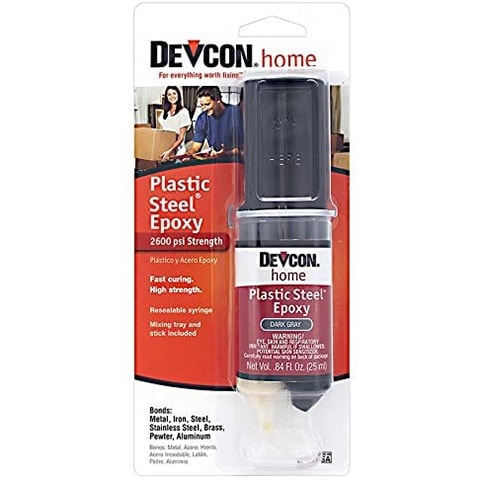 The Devcon 62345 is a multipurpose epoxy that provides effective bonds to a wide range of materials.
One of the standout features of this product is its bond strength. With a tensile strength of up to 2,500 PSI, its bonds are some of the strongest in the game. As a result, it can handle drilling and threading without its structural integrity being compromised.
While it allows you a generous 60 minutes of a handling time, it can take up to six hours to set and 24 hours to cure.
Pros
Incredible tensile strength
Not Flammable
Water-resistant
Has a steel allow that prevents rusting
Cons
Takes a long time to set and cure
Cannot withstand long-term exposure to solvents

Buyer's Guide – How to Choose the Best Epoxy for Plastics
Epoxy adhesives for bonding plastic are excellent solutions for many reasons. For starters, while being easy to use and fast to apply, they form bonds that are tremendously strong, with some epoxies achieving tensile strengths of up to 5,000 PSI.
Additionally, epoxies tend to form bonds that are flexible and weather resistant, thus making them a great seam-sealing solution.
And then, epoxies are incredibly cheap products. However, it is not every epoxy that will be right for your needs.
The following are some of the things to consider when comparing different epoxies for plastic. These factors will allow you to find the best product.
Tensile Strength
Tensile strength refers to how strong the resulting bond is. Naturally, your ideal product should have a higher tensile strength as it ensures that your bonds are firm and long-lasting. Tensile strength is usually measured in pounds per square inch (PSI).
As a rule of thumb, only consider epoxy products that clearly indicate the tensile strength of their adhesive bonds, as they leave no room for doubt.
Resilience
Even though an epoxy might create bonds with high tensile strengths, it does not necessarily mean that those bonds can withstand extreme conditions. If you are looking to use the adhesive on plastics that are being exposed to such conditions routinely, it is important to ensure that the epoxy is durable.
Manufacturers will often indicate the extremes that their products are capable of withstanding.
Flexibility
Plastic fixtures require some degree of flexibility between joints for longevity. This is because a rigid or stiff connection breaks easily when the plastic pieces shake or bend. Despite forming firm bonds, the best epoxies for plastics are designed to allow their bonds to retain a small degree of flexibility so that they can absorb shock better.
Container Size
The size of a container is especially important when it comes to epoxy products that only allow for one time use. If you only need to fix a small area, it would be counterintuitive to buy a large-sized one-time use epoxy, as the rest of the product will go to waste.
Conversely, you could end up with a bad finish if you run out of adhesive while in the middle of a job. Therefore, ensure that you estimate the amount of adhesive your project needs before you set out to buy one.
Brand
While there are many great, less known products, you can never go wrong with a reputable brand name. Some of the brands with a reputation for creating high-quality epoxy include J-B Weld, Gorilla Glue, and Loctite.
Price
The price of these products can differ significantly depending on their properties. Stronger glues are usually more expensive. Nonetheless, not all your needs will require an epoxy with industrial strength.

Conclusion
While there are numerous types of effective glues out there, few are plastic-friendly. Therefore, if you are looking to create firm, safe, and long-lasting bonds between your plastic wares, you must use an adhesive that has been designed for that purpose.
Epoxy adhesives are some of the best glues to use on plastics. This is because they enhance the structural integrity of the plastic while retaining a fair amount of flexibility within the bond.
However, even among epoxies, there are some products that will suit your needs better than others. This is why it is crucial to do your homework well. In the meanwhile, we recommend that you check out the Gorilla 2-Part Epoxy. It is a versatile, strong, and reliable product from a renowned brand. And it comes at a reasonable price.
The PC Products 70147 epoxy is remarkably resilient and great for bonds on detailed projects. It's easy to use and doesn't make a mess, which is why we've chosen it our pick for best value.
Now that you've read our reviews, you should be ready to buy the best epoxy for plastics that meets your needs.
Other Guides: