9 Best Heated Car Seat Covers of 2023 – Reviews & Guide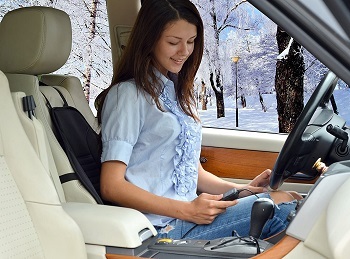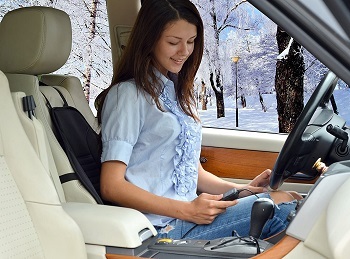 Nowadays, most luxury cars have heated seats. Why? Because they're so darn comfortable. But are there good options available for those who don't have them pre-installed?
Fortunately, there are some really good options out there. The hard part is figuring out which are actually worth it. That's why we've put together a list of reviews for our favorite heated car seat covers!
In this article, you will discover some great picks for heated car seat covers and what you should be looking for when shopping for one. Each of our picks can be used with a standard 12V receptacle, such as the cigarette lighter/accessory port in your car.

A Comparison of our Favorite Picks in 2023:
Rating
Image
Product
Details

Best Overall

KINGLETING 13 Heated Seat Cushion

Ultra-thin and lightweight
Smart heat cycling
Fast to heat
CHECK PRICE

Best Value

HealthMate IN9438 Velour Heated Seat Cushion

Great for long drives
Extremely comfortable
Lumbar support
CHECK PRICE

Premium Choice

Snailax SL26A8 Heated Seat Cover

Seat warmer and cooler
Can bring anywhere with dual adapters
Non-slip backing
CHECK PRICE

Sojoy SJ154A Heated Smart Multifunctional Car Seat

Sleek look
Three temperature settings
45-minute timer
CHECK PRICE

Zento Deals SE19 Heated Car Seat

Bargain
Specific temperature control
CHECK PRICE
The 9 Best Heated Car Seat Covers:
1.

KINGLETING 13 Heated Seat Cushion – Best Overall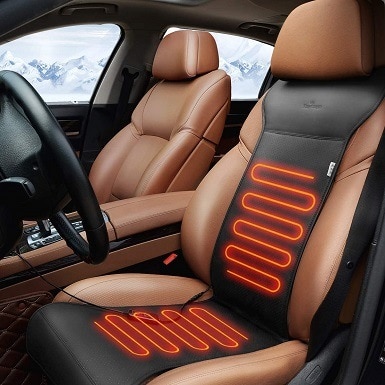 When it comes to the best heated car seat cover, our overall winner goes to the KINGLETING 13. The very first thing you'll notice is its sleek clean design that fits in just about anywhere. The KINGLETING is far from bulky as well. And even though it's super thin, it has an anti-slip grip that prevents it from sliding when entering and exiting the vehicle. And, its special wiring harness allows you to use two at once.
It's also super easy to install. There's no need to drape it completely over the headrest or follow the contour of the seat. Just simply slip in underneath the headrest, attach the clips, and you're on your way. It's cut so that the KINGLETING fits within the seat and is not overlapping.
And we haven't even started talking about how it heats! The cover is created with an extremely breathable airflow design that allows the KINGLETING to reach heated temperatures in under a minute. So, there's no more long waiting around for your seat to warm up. The cover also utilizes an intelligent heating control system. You can fully adjust the temperature from 86℉ to 140℉ at 5-degree increments.
The built-in overheating function prevents overheating by dialing things down once the desired temperature is reached. If the thermostat drops too low, it will start cycling to heat again. All in all, we think this is the best heated car seat cover available this year.
Pros
Ultra-thin and lightweight
Smart heat cycling
Fast to heat
Easy to Install
Stylish
Can use two at once
Cons
Could use more cushioning
---
2.

HealthMate IN9438 Velour Heated Seat Cushion – Best Value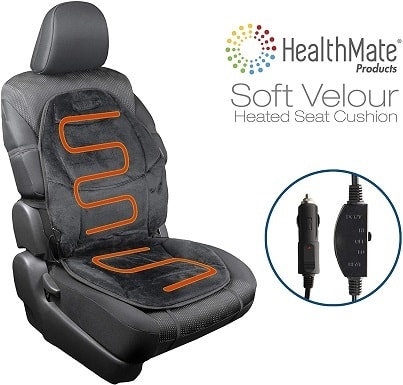 If you're looking for the best heated car seat cover for the money, look no further than the HealthMate IN9438 Velour Heated Seat Cushion. This cover makes you feel like you've spent a lot more for the value it provides. It's not just a seat cover, either—it's a seat cushion. You'll notice right away its thick comforting velour to provide you with that extra comfort. It's also got lumbar support for those who need it.
The heating element is reliable enough and can heat up to a maximum of 114°F. You can't dial in the temperature to an exact degree, however. The temperature control only comes with three settings: Lo, High, and Off. Nevertheless, it still heats up nice to keep your tushy nice and toasty.
The strapping system on the HealthMate is pretty standard fare. Four cinch straps on the seat bottom and two straps behind the seat back work to hold this cushion in place—although they do tend to slide just a bit.
There are a few things we wish this could do, though. It doesn't heat as fast as we'd like, and it's not really designed for heavy-duty usage. But if you're going on long drives with minimal entering and exiting the vehicle, this heated cushion is exactly what you want.
Pros
Great for long drives
Extremely comfortable
Lumbar support
Inexpensive
Cons
Lack of exact temperature control
Not heavy duty
Heating speed could be improved
---
3.

Snailax SL26A8 Heated Seat Cover – Premium Choice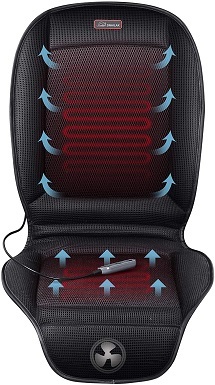 If you're looking for the best premium option available, the Snailax SL26A8 should be your go-to selection. This seat cover isn't just a warmer, it's also a seat cooler! Its dual function is perfect for those places where seasons tend to float from one extreme to the other. The cover has dual heating zones to allow for uniform and rapid heating, so there's less waiting around. And, its cooling fan output flows up from the bottom of the seat to prevent sticky, sweaty backs and bottoms during the summer heat.
Both of these functions are made possible through the Snailax's 3D mesh, allowing passage of heat or cool air. It also comes in a sweet universal design, which allows you to take it anywhere—from your car, to the office, or even the boat. Two separate adapters come included—one 12V for your car's port and a wall adapter as well.
Installation can be a bit trickier than most covers, but once it's installed, the non-slip backing holds it firmly in place. And the 3D mesh design prevents your butt from sliding down. However, the abrasiveness of the mesh makes it less comfortable than other covers. And, it comes up a bit too short when dealing with larger vehicles.
Pros
Seat warmer and cooler
Can bring anywhere with dual adapters
Non-slip backing
Cons
Not as comfortable as other covers
Needs to be longer for larger seats
Pricey
---
4.

Sojoy SJ154A Heated Smart Multifunctional Car Seat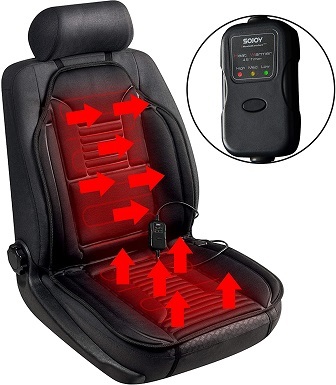 The Sojoy SJ154A is another decent option as a seat warmer. It doesn't have a flat minimalist design, nor is it overly chunky. It's got a sleek, ribbed look that serves as some extra cushion for maximum comfort. The fabric is also surprisingly breathable, although it could stand to be a bit more.
The heating element isn't anything to write home about, but it can fully heat up within three minutes. The maximum temperature it achieves is 115°F. It doesn't have a smart temperature remote like our first choice. Instead, it's equipped with low, high, and medium settings. However, it does come with a 45-minute timer. This can be very useful in minimizing power consumption, or if you only want a little bit of heat for the beginning of your drive.
It's got an anti-slip backing on the bottom of the seat, and the Sojoy's easy enough to install. But we feel that more could have been done about the strapping. The elastic bands are just too little for this cover and it does slip on occasion despite the backing grip.
Pros
Sleek look
Three temperature settings
45-minute timer
Anti-slip backing
Cons
Could be more breathable
Fully adjustable temperature would be nicer
Elastic bands should be wider
---
5.

Zento Deals SE19 Heated Car Seat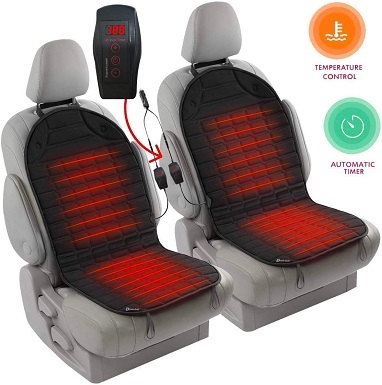 If you're looking for a two-for-one deal, opt for the Zento Deals SE19 Heated Car Seat covers. They're a great bargain buy for two covers. Each of the covers can be independently operated as well, if one person wants a little extra heat.
The seat covers' temperatures are controlled via individual remotes to specific degrees. This is definitely nice to see instead of the standard two or three heat settings, allowing for a more customizable experience. This feature does come with a price, though. The remote and cord are pretty exposed and difficult to operate. But at least, the cushions are actually pretty comfortable once you're on them.
However, making sure the cushions stay in place is a different story. They install by slipping between the headrest of your seat and the back with flimsy plastic clips to hold them in place. Also, the covers do not have a non-slip backing. They do tend to slide everywhere and that can get uncomfortable quick. If you can find a way to secure these in place, they'd be a much better deal.
Pros
Bargain
Specific temperature control
Cons
Seats are essentially free hanging and slide
Unwieldy wires
Remote confusing to operate
---
6.

Zone Tech SE0044 Car Heated Seat Cover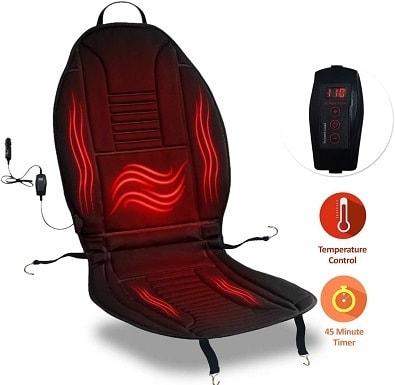 The Zone Tech SE0044 heated cover is one of the thinner selections on this list. However, instead of letting the natural contour of the seat do its thing, the cover still provides a small amount of cushion. This may seem like some pretty nice padding; however, you'll find it's not all too comfortable. The cover comes with three separate points for attaching to the seat. But it doesn't have any anti-slip grip on the back and tends to slip and slide.
Although the comfort level and installation leave you wanting more, the heating element and temperature control are very solid. The remote allows you to dial in an exact temperature up to 140°F and forgoes preset settings. The cover also comes equipped with an automatic 45-minute timer. If you want more heat after, simply turn it on again. And while the heater can get pretty hot, it does take a little while to get it up and running.
However, if you're looking to save a bit of money and pick up a hot seat cover, this is a solid option.
Pros
Cheap
Gets hotter than other covers
Automatic timer
Cons
Doesn't stay in place at all
Needs constant readjusting
Not as comfortable as other options
---
7.

Relief Expert H001B Car Seat Heater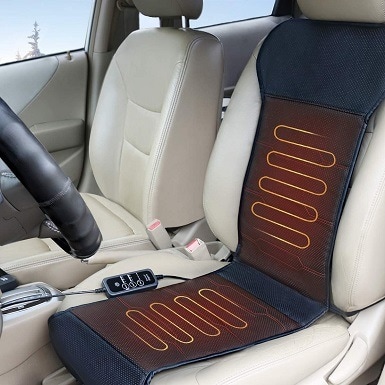 The Relief Expert H001B is one of the more practical options on this list. It's got an ultra-thin construction without any extra padding or cushioning. This makes it less comfortable than most other seat warmers. But you can't question the craftsmanship. It holds together very well and is great for those who exit and re-enter their vehicles more than others.
The heating pad also works extremely well. It gets up to temperature within three minutes of turning it on. We wish this no-frills heating pad had one embellishment: a specific temperature control. Instead, the temperature is relegated to low, medium, and high settings.
It's also designed with a rubber non-slip backing, which is nice. But the backing can be rendered useless if the bottom clips fail, which they do far more often than they should. Other than that, it's a pretty standard heating pad, and easy on the wallet.
Pros
Ultra-thin
Good craftsmanship
Heating pad works well
Cons
Not comfortable
Bottom clips fail
Prone to slipping
---
8.

Big Ant BXMY Heated Seat Cushion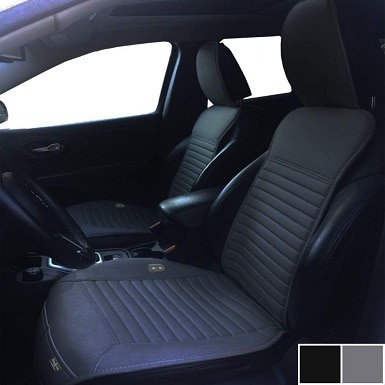 The Big Ant BXMY Heated Seat Cushion is another practical selection. Although advertised as a cushion, there just isn't too much padding. We find it more to be just a heating pad more than anything. But it's got a really great design and actually looks like they are a standard part of any vehicle.
The seat covers come with a rubberized non-slip backing and elastic straps to hold it in place. However, the seating surface is pretty grippy. So, if you scooch around too much, you find your butt dragging the cover with it.
There are only two different heat settings for this cover: high and low. However, the heating element operates quickly and efficiently, coming up to temperature in right around two minutes. This unit also has a pretty unique feature. It's got two small front pockets for storing your phone, wallet, or other small items. We just don't recommend putting a candy bar inside.
Pros
Great design look
Rubberized backing
Efficient heating element
Storage pockets
Cons
Uncomfortable
Grippy seating surface
Lack of temperature control
---
9.

Naipo MGC-2502 Car Seat Warmer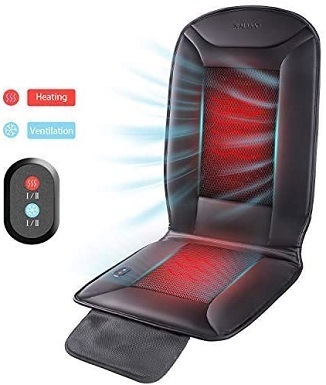 The Naipo MGC-2502 has a lot of features, but we wouldn't say they're the best at any one of them. It's got a pillow-top ventilation design to allow for more breathability, but it just makes the cover somewhat awkward to sit on. Like some other car seat covers, it has a dual mode: heating for winter and cooling for warmer seasons. And while the heating element works well, the cooling side doesn't seem to do too much. This is probably due to the awkward pillow-top arrangement. And the cooling fan is pretty noisy.
Another issue we've seen with this model is with installation. It seems as if this pad was more designed for other seating, with automotive use as an afterthought. The straps just aren't long enough or snug enough to properly secure it.
This would probably be the worst value for the money on this list. It just seems like Naipo tried to do everything at once instead of doing a few things very well.
Cons
Awkward and uncomfortable
Loud cooling fan
Doesn't install well in car

Buyer's Guide – Choosing the Best Heated Car Seat Cover
Buying a heated car seat cover goes beyond just getting something that makes your butt warm. You should definitely consider the following criteria before making your selection:
Comfort and Breathability
You don't want to buy a car seat cover that isn't pleasant to sit on. If you're purchasing a cover from an auto parts store or physical location, see if you can set them up and try them out. And it's not just a good cushion you want either. You want to make sure that the seat cover allows for proper ventilation to your back and bottom. Breathability will make for greater comfort—especially for longer drives.
Ease of Installation
Installing a seat cover into your car shouldn't be a struggle. They should be able to be put in with minimal effort. One thing to look out for is if they'll fit with your car. If you've got bigger seats, opt for a cover that's both wide enough and tall enough to fit your needs.
Non-Slip Back with Grippy Front
This is a much more important factor than you might realize. Having a non-slip seat cover is essential. The back of the cover should have a way to grip onto your car seat, whether that's through the use of textured material or rubber. This prevents the seat cover from sliding when you are entering and exiting the vehicle, or during sharp turns. You also want a seat cover that's got a bit of grip on the front side. You don't want to be sliding around in your seat.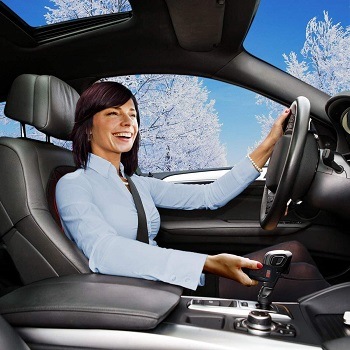 Heating Element Safety
Always check reviews on the heating element before you make any purchase. The last thing you want is for a heating element to go rogue and catch fire.
Heating Element Efficiency
This refers to how fast the heating element gets up to temperature and how well it holds it. Ideally, you're looking for something that heats up fast and can maintain that temperature for the duration of use. Often, seat covers will come with automatic timers to prevent burnout of the heating elements. Our top choice has a cyclic temperature control, which is very effective.
Temperature Control
Each car seat cover will come with a remote that controls the temperature. However, not all remotes are built alike. The best remotes are those that allow an exact temperature selection. Unfortunately, you'll mostly find vague temperature settings, such as high, medium, and low.
Also, if you don't like heated car seat covers, then portable car heaters may be another option worth considering.

Conclusion
After putting together all these reviews, we have a clear-cut winner for the best heated car seat cover: the KINGLETING Heated Car Seat Cover. It's just got so many premium features that are well done. The intelligent temperature control and cyclic heating is a very useful and rare find within a seat cover. Plus the breathability of its 3D mesh makes it easily our top pick.
But if you're on a tight budget, the HealthMate IN9438 Velour Heated Seat Cushion is just perfect. It also has some unique features all to its own, such as the velour cushioning and lumbar support. If you're a long-distance driver, we definitely recommend checking this one out. And at such a bargain, you'd be crazy not to.
Choosing the right seat cover for your situation can be a tough decision, but we hope that this guide can help you narrow it down. After all, you should never sacrifice your right to ride as comfortably as possible.