10 Best Hiking Water Bottles of 2023 – Reviews & Top Picks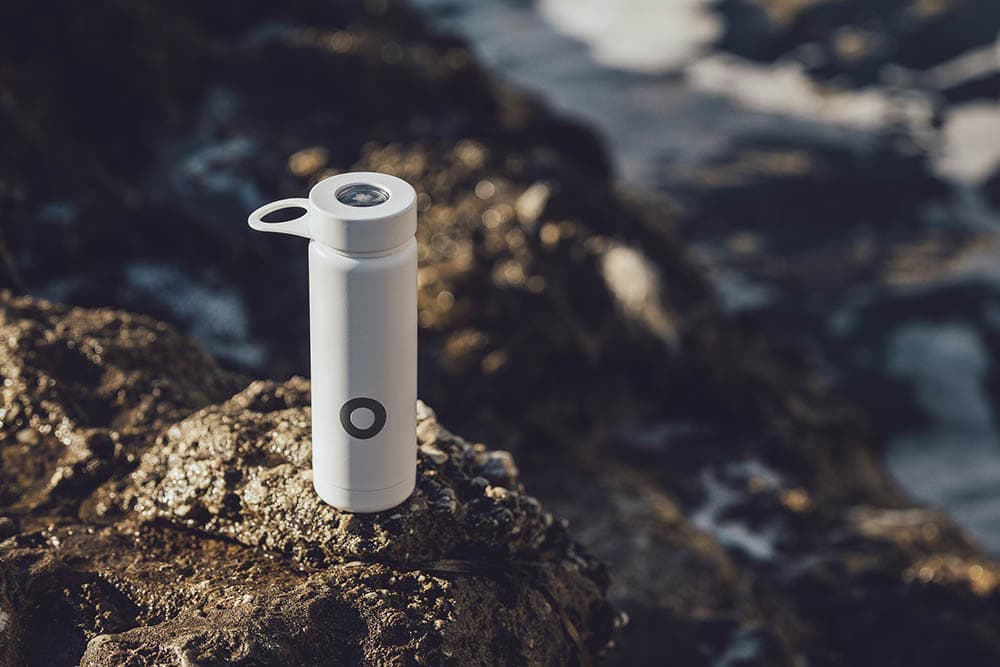 Having cold water or a hot beverage on the trail is a must-have when out on the trail. As our search revealed, not all water bottles are the same. After examining the products available, we wrote these reviews to compare design, insulation, and portability.
Our guide will explain the features of the top products, along with any downsides that can tip the scales the other way. We've also included reviews of the water bottles we researched to help you make an informed choice. You'll be surprised how far the technology has come to perfect this humble drinking vessel.

A Quick Comparison of Our Favorites in 2023
Rating
Image
Product
Details

Best Overall

HYDRO CELL Stainless Steel Water Bottle

Keeps cold liquids at the right temp for 24 hours
Versatile design
No condensation
CHECK PRICE

Best Value

Nalgene 2178-2024 Tritan Wide Mouth Water Bottle

Easy to add ice cubes
Convenient loop attachment
Made in the USA
CHECK PRICE

Premium Choice

LifeStraw LSGOV2CR45 Go Water Filter Bottles

Carabiner attachment ring
Water filtration on the go
Filters up to 1
000 gallons
CHECK PRICE

CamelBak Chute Mag Water Bottle

Lifetime warranty
Versatile design
Lightweight
CHECK PRICE

Nomader Collapsible Water Bottle

Collapsible
Lightweight
Easy to clean
CHECK PRICE
The 10 Best Hiking Water Bottles
1.

HYDRO CELL Stainless Steel Water Bottle– Best Overall
The HYDRO CELL Stainless Steel Water Bottle tops our list of favorite products for several reasons. The double-insulated walls stand out because it really does keep liquids at their proper temperature for a decent amount of time. It comes with two lids so that you can use it for other activities other than hiking. The price is right, too.
The bottle comes in 15 colors and four capacities from 18 to 40 ounces. It has a wide-mouth cap with a handy strap for carrying or attaching to a pack. We liked the fact that it was both leakproof and didn't sweat. Everything in your backpack will stay dry. Overall, this is the best hiking water bottle on the market this year.
Pros
Keeps cold liquids at the right temp for 24 hours
Versatile design
No condensation
Lifetime warranty
---
2.

Nalgene 2178-2024 Tritan Wide Mouth Water Bottle – Best Value
The Nalgene 2178-2024 Tritan Wide Mouth Water Bottle is a no-nonsense, no-frills product that gets the job done at an affordable price. That makes it the best hiking water bottle for the money. The capacity is a hefty 32 ounces. The bottle itself only weighs 6.3 ounces. It has a wide mouth with an easy-to-use looped cap. It's big enough to add ice to your beverage to keep it cold.
That's a good thing because the bottle is not insulated. There's enough material to keep liquids cold for a while, but not for a whole day of hiking. The product is well-made. It is durable and leakproof. The loop is a handy feature to tote it around easily. Best of all, the price is right.
Pros
Easy to add ice cubes
Convenient loop attachment
Made in the USA
Cons
No insulation
Size too big for some uses
---
3.

LifeStraw LSGOV2CR45 Go Water Filter Bottles – Premium Choice
If you're out in the backcountry often, then the LifeStraw Go Water Filter Bottles is worth a look. The standout feature of this product is its two-stage water filter, which can handle the nasties like giardia from surface water sources. It's also an excellent choice if you're picky about the taste of your water. The activated carbon will manage that for you.
While we like the filter, it is overkill if you don't need it. It also adds to the cost and maintenance of the product. The manufacturer suggests replacing it every three months. Even with this addition, the bottle weighs only 7.8 ounces. Instead of a loop, it has a detachable carabiner as an attachment. The dealbreaker for us was that it isn't 100-percent leakproof.
Pros
Carabiner attachment ring
Water filtration on the go
Filters up to 1,000 gallons
Cons
Expensive to buy and own
Not 100-percent leakproof
---
4.

CamelBak Chute Mag Water Bottle
The CamelBak Chute Mag Water Bottle is a redesign of a respected product. It has a universal cap that is interchangeable with other types. While it is leakproof, it is a bit difficult to use, especially one-handed. It features a magnet handle to keep from losing the cap. The bottle itself has an ergonomic shape that is comfortable to hold.
The bottle comes in 21 color choices and seven capacities, including a hug 50-ounce option. We appreciated being able to choose the size that we prefer. The Tritan plastic bottle is lightweight at only 5.1 ounces for the 20-ounce size. It comes with a lifetime warranty, which we appreciated.
Pros
Lifetime warranty
Versatile design
Lightweight
---
5.

Nomader Collapsible Water Bottle
The Nomader Collapsible Water Bottle has several features with the hiker in mind. It folds easily into a compact size if space is an issue in your pack. It also has a carrying strap. The design is ergonomically friendly. The bottle has a nice hand feel to it. We liked the fact that you can pop it into the freezer for ice-cold water or put it in the dishwasher for easy cleaning.
The bottle has a wide mouth for adding ice cubes, which we like. It has a sleeve around it, which adds to the durability of the product. However, that's the extent of the insulation. The bottle includes a lifetime warranty. It comes in seven color choices and one capacity at 22 ounces.
Pros
Collapsible
Lightweight
Easy to clean
Cons
Needs extra attachment to tote
Awkward to use the cap
---
6.

Bear Grylls BGWB20GRE Insulated Water Bottle
The Bear Grylls Triple Wall Vacuum Insulated Water Bottle is an excellent choice for long hauls where you need liquids to stay at the right temperature. The insulation is a copper layer sandwiched between two stainless steel ones. It comes in either a 20 or 32-ounce size with your choice of six colors. The wide mouth has a decent-sized handle for carrying it on the trail.
The design makes it feel more like a thermos than a water bottle. While that portion of it works well, the lid leaves something to be desired. It is leakproof but not shatterproof. The product is surprisingly lightweight, considering the materials.
Pros
Good insulation
Easy handhold
Leakproof
Lightweight for the size
---
7.

Nefeeko Collapsible Water Bottle
The Nefeeko Collapsible Water Bottle isn't the most attractive product out there, but it is functional. It has an accordion shape that folds up when not in use. Our concern is that debris could get trapped within them, making it more difficult to clean than smooth-sided ones. It has a wide mouth, which we like in these items. It also includes a carabiner attachment hold for easy transport.
The bottle comes with a two-year warranty, which is a departure for the lifetime ones we often with these products. However, it is leakproof and a definite space saver, if that's an issue. On the downside, it doesn't seem stable enough to set it down if it's full. The manufacturer recommends soaking the bottle before using it the first time, a definite red flag about taste.
Cons
Unattractive design
Hard to clean
Taste of water
---
8.

OMORC 316 Stainless Steel Water Bottle
The OMORC 316 Stainless Steel Water Bottle is one of the few products we found that included accessories. In this case, you get a spare lid, handle, two cleaning brushes, and straw with your purchase. The bottle is double-insulated and keeps liquids at the proper temperature for hours. It comes in three colors in either 20 or 34-ounce capacity.
The bottle has an attractive design and logo that we liked. While we liked the versatility of the straw, it falls out sometimes, making it kind of useless. It's also heavy, especially when filled. Some might find it a bit too big if you have smaller hands.
Pros
Cleaning brushes
Decent insulation
Leakproof
---
9.

Embrava Water Bottle
The first thing you notice about the Embrava 40oz Water Bottle is that it's big at 40 ounces. It has a wide mouth with a smaller cap. Nevertheless, it feels too bulky for practical use. It has a carrying strap that doesn't feel up to the task of holding a bottle of this size. The red flag for us was the use of the term leak-resistant, instead of leakproof.
The other thing that caught our eye was that it has no insulation. Granted that 40 ounces of water and ice may stay cold for a while. However, it definitely puts it in the dealbreaker category for us. The bottle is made of plastic and is relatively lightweight at 11.2 ounces.
Pros
Steel ring attachment
Excellent water flow
Cons
Bulky
Flimsy carrying strap
Too wide for small hands to grip
No insulation
---
10.

WaterFit Vacuum Insulated Water Bottle
The WaterFit Vacuum Insulated Water Bottle misses the mark on several scores. While it provides adequate insulation, it is not the best by any means. The design is unattractive, down to the paracord handle hanger. However, the manufacturer did try. It comes in three capacities and four color choices. It also caught our attention that the product is rust-resistant, which we found odd considering its use.
Another red flag was the fact that spare parts like the mouthpiece are unavailable. We think that the manufacturer should sell replacements of this piece at the very least. The other concern is that some come off easily and could pose a choking hazard for small children.
Cons
Inadequate insulation
Unattractive design
Hand wash only

Buyer's Guide – Choosing the Best Hiking Water Bottle
You may not give a lot of thought to buying a water bottle, but it deserves more because it's such an essential item on the trail. Some features will matter more to you than others. However, it helps to know what choices are available. As simple as it may seem, the research into the ideal water bottle continues to evolve.
Things to consider include:
Capacity
Material
Cap type
Weight
Ease of use
Other useful features
We'll delve into each one so that you can see how they will affect your hiking experience. Then, you can make an informed choice and stay hydrated on your next adventure.
Capacity
A lot of factors come into play with this feature. There is the type of hiking you do to consider. If you go on short jaunts, it's not as critical as if you're planning a whole day excursion. Then, there is access to drinking water. If you can find potable water, then you can quickly refill your bottle as needed. The best thing about it is that your water will likely stay cold.
We've seen water bottles that run anywhere from 8–32 ounces. We prefer ones that contain at least 18 ounces so that the liquid stays cold. It also makes it practical. After all, if you are thirsty, the chances are you're already dehydrated and are experiencing up to a 2 percent water loss.
That's not good if you're far from civilization.
How much water do you need? The old adage about drinking eight glasses a day is dated advice and frankly, too simplistic. When you're hiking, you'll likely need more because you're huffing and puffing. You're perspiring more because of the effort. However, there are tradeoffs to getting the biggest water bottle you can find.
Let's dig a little deeper.
Material
The material you choose plays a direct role in the durability of the water bottle. Things happen. You may drop it. It bangs around with other items in your backpack. Each type has its pros and cons that you should consider.
Plastic and Synthetic
Plastic and proprietary synthetic blends are the lightest and perhaps cheapest products you can find. Both factors make a water bottle easy to replace. You'll see both soft and hard versions. The dealbreaker traits with them are staining and taste. Even if the iced tea browning on your bottle doesn't affect the water, it still looks gross. Look for items that state specifically that it isn't an issue.
Stainless Steel
Stainless steel is another popular choice for water bottles. It's durable to handle the rigors of hiking. However, the tradeoffs include a metallic taste, which some may find offensive. There's also the weight. Strength, after all, comes at a price.
Glass
Glass water bottles don't have the problem of off-tastes or odors. They clean easily. Many products have a covering or sleeve of some type for better insulation and ergonomics to make them more comfortable to hold. On the downside, they're expensive and probably cost the most of the bunch.
Cap Type
Some people think of the cap as the most important feature of a water bottle. You'll see several options. There is the plain-old screw cap or classic type, as some manufacturers call it. It's easy to use—and lose! Many with this kind have an attachment to the bottle to prevent that from occurring. Some avoid it altogether with a half-turn style.
There is also the push-pull type. It's not our favorite unless it's easy to use with your teeth. It's a hassle if you have to stop and fight with your water bottle to get a drink. Then, there's the bite kind of cap of products like the CamelBak. It works well. Our only issue with it is cleaning. Fortunately, the company sells replacements if you don't want to deal with it.
We put this feature down to preference. Our criteria are that water flows freely and that it is leakproof.
Weight
Weight, of course, relates to the capacity and material. If you're counting ounces, it is a significant factor in your choice, too. Bear in mind that water weighs 8 pounds per gallon. That 32-ounce bottle is going to tip the scales at 2 pounds for the liquid alone. That may not sound like a lot, but it may make a difference after a few hours lugging it around on the trail.
Ease of Use
Ease of use is a general term that covers a lot of things. All are worthy of consideration. When looking for a water bottle, think about factors like how easy it is to clean, how long is it likely to last, and of course, how much it costs. Some products have specific instructions to maintain them. Others may require a particular tool or brush. If that's the case, find out if it's included with your purchase.
Other Useful Features
Many of these things fall into the nice-to-have category. If you usually camp in the remote backcountry, a filter is a must-have, no matter how clean the water looks. While we prefer an insulated bottle, we've also seen some products that carry it to the spout. No more lukewarm first sips of water!
Some manufacturers will offer a warranty with their water bottles. That typically applies to the spendy products. It's worth noting if it guaranteed not to leak or break. It always impresses us when a company stands behind what they sell.

Conclusion
As you can see, there are a lot of variations on this simple theme. However, based on our research and reviews, the HYDRO CELL Stainless Steel Water Bottle gets our vote for the best hiking water bottle. It provided excellent insulation in an attractive and functional design. We also liked the fact that it comes with a lifetime warranty, suggesting the manufacturer thinks it's a decent product, too.
---
Featured Image Credit: Bluewater Sweden, Unsplash