5 Best Budget Juicers 2023 – Top Picks & Reviews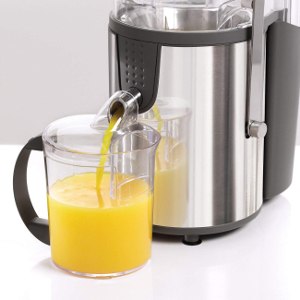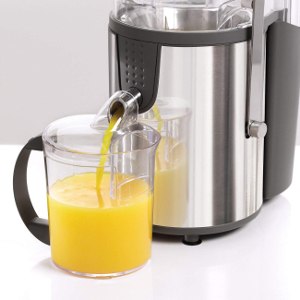 When we started testing juicers for this review, we wanted to look at them in terms of which model delivered what in terms of value. We set aside the usual question of which juicers are just better, and instead focused on which model could do what based on a limited budget. That meant also setting aside the question of whether masticating juicers are always preferable to centrifugal ones.
In fact, we went with a centrifugal juicer as our top pick, beating out a budget masticating model. It turned out to be simpler to operate and store than the single masticating unit. We also picked it despite it being a lot more expensive than other budget models. As much as we might talk about it, considering the price range, the sticker price of individual models is not that big a deal.
At the end of our reviews is a collection of tips on how to pick the right juicer for yourself. We recognize that your needs are probably different from the ones reflected in how we arrived at our decision. If nothing else, we hope you can take something of value from this in making your own purchase decision.

Comparison of Our Favorites (Updated in 2023):
Rating
Image
Product
Details

Best Overall

Breville BJE200XL

Durable
Powerful
Compact
CHECK PRICE

Doctor Hetzner 4

Quiet
Grinds up leafy greens easily
Easy to clean
CHECK PRICE

Best Value

Hamilton Beach 67601A

Great for-dollar value
Fast
Simple cleanup
CHECK PRICE

BELLA BLA13694

Affordable
Basic centrifugal juicer
CHECK PRICE

BLACK+DECKER JE2200B-220

Low price
Stainless steel strainer
Dishwasher-safe parts
CHECK PRICE
The 5 Best Budget Juicers:
1.

Breville BJE200XL Compact Juicer – Best Overall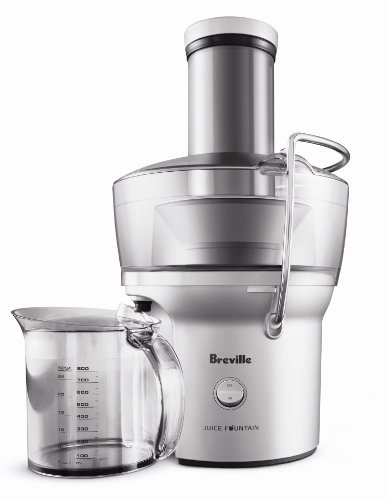 For a centrifugal juicer, Breville's BJE200XL Compact does just about everything. It's durable, fast, easy to store, and easy to clean. It does everything you want it to, and its construction is sound enough that it'll do it for years. Its compact design makes it easy to store in your pantry. There's very little mystery to why we chose it as our top pick.
There are a couple of other things about it that aren't much mystery, like why it carries a pretty hefty price tag for a budget juicer. Top-quality performance commands top quality prices. Of course, this one is designed for longevity, so you're getting more out of your original investment than you would paying less for something that can't withstand daily use.
It is also, unsurprisingly, loud. If you buy it and live with other people, you will want to take care when and where you use it, or you might find in short order that you are no longer living with other people. But that's true of all centrifugal juicers—so, by itself, it's not a good reason to drop it out of the top ranking.
All in all, this is still one of the best cheap juicers on the market right now and our pick for overall best budget juicer.
Pros
Durable
Powerful
Compact
Easy to clean
Cons
Pricey for a budget model
Only slightly less noisy than an artillery barrage
---
2.

Doctor Hetzner 4 Budget Juicer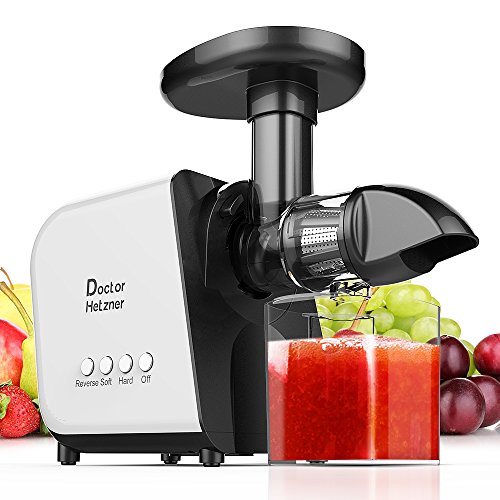 The Doctor Hetzner 4 Slow Masticating juicer was the only masticating model with a price that warranted our taking a look. Those juicers tend to deliver better quality at a much higher price, so we were excited to test it out.
The Doctor Hetzner performs as expected for a masticating juicer. It delivers great juice and is great at grinding up fibrous leafy vegetables like kale and collard greens. The masticating action means that it's quieter than a centrifugal juicer. It's also a snap to clean up.
But, by gar and by gum, is it slow. If you're waiting to start your day with a glass of fresh-squeezed juice, it's going to test your patience. In fact, it's probably better used to grind out a whole bunch of juice at once to maximize efficient use of your time. It's also trickier to set up than a centrifugal model, and you'll want to make sure your raw materials are already cut up when you start using it.
We gave this one our runner-up rank, not because it didn't deliver the quality of the top pick. It did. In fact, because it does less mixing of juice with air, it's a superior juicer for apple cider. But the quality wasn't so much greater that it overcame the headaches of set-up and cutting fruits and veggies into pieces. Plus, although it's not huge, it's also more difficult to store.
Pros
Quiet
Grinds up leafy greens easily
Easy to clean
Cons
Slow
Tricky to set up
Some assembly of raw materials necessary
---
3.

Hamilton Beach 67601A Budget Juicer – Best Value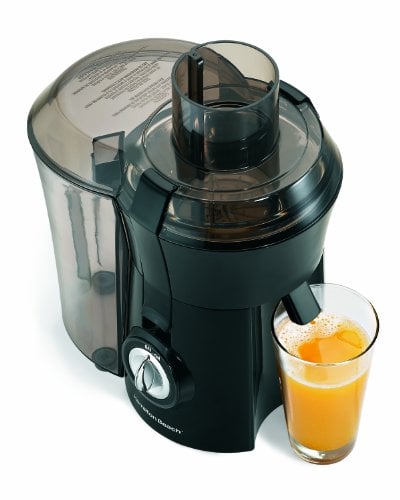 For the money, the Hamilton Beach (67601A) brings the juice. It's fast and affordable and will have you sipping your juice lickety-split. It's also a snap to clean, provided you get right on it and don't allow the leavings to dry.
We have to be clear that it is far from perfect. It doesn't extract as much juice as our top picks, and boy is it loud! But for what you pay for it, it delivers the best overall for-dollar value of the budget juicers we reviewed.
This model is a great entry into juicing. It's affordable and mostly does the job. If you try this and decide to go all-in on juicing, this is a great way to find that out. If you're looking for a model to build an entire lifestyle around, you'll probably want to look at one of our top two choices.
Pros
Great for-dollar value
Fast
Simple cleanup
---
4.

BELLA BLA13694 Juice Extractor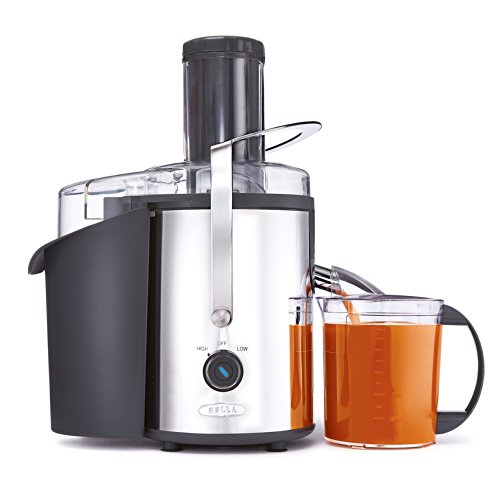 The Bella BLA13694 is a juicer. We cannot deny that. It is also pretty affordable if you're concerned primarily with cost. We also cannot deny that. What it isn't is a very good juicer.
First, the positive, which is really just the price. It doesn't do anything better, and it doesn't have any standalone features worth noting. It's a pretty basic centrifugal juicer design. It's just a lot less costly than competing models, and that includes our best for-dollar value pick.
That's about it. It doesn't juice particularly well. In fact, if you want to add fibrous greens to your juicing, this one handled those the worst of the models we tested. It also isn't designed very well. It feels like something intended to break after six months so that you have to double your investment by replacing it. It's also got a lot of moving parts to get into place. The result, if you aren't careful, is a ceiling covered in beet juice.
If it comes down to this model versus something else, you'll probably want to go with the something else. That is, unless it's between this model and the last one we looked at.
Cons
Not good for fibrous vegetables
Poor quality design
Too many moving parts
---
5.

BLACK+DECKER JE2200B-220 Juicer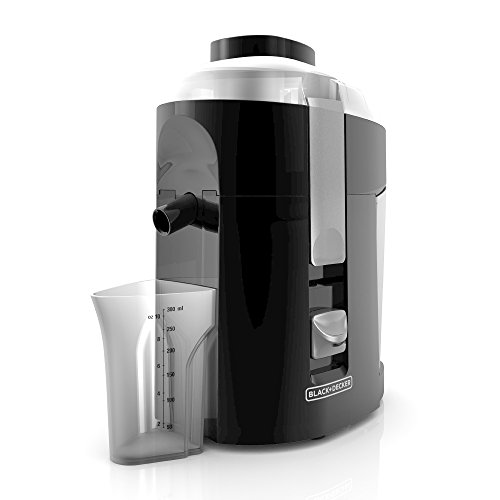 If your spouse honors your decision to get into juicing by giving you a Black+Decker JE2200B-220, our suggestion is to get a divorce. They clearly don't have a lot of respect for you or what you're trying to do.
Yes, it's cheap. It's the most affordable juicer we looked at. Ideally, it would be great for a foray into juicing, where you could try it out with something cheap before investing in quality.
We just feel like this one would, in those circumstances, drive people away from juicing. It's cheaply constructed, doesn't do a good job extracting juice from fruits and vegetables, creates a massive amount of juice-soaked pulp, and is incredibly messy and difficult to clean. You will derive no pleasure from using this, unless you want to give it to someone you don't like and watch them struggle with frustration.
Cons
Not suitable for daily juicing
Wasteful and inefficient
Messy and annoying to clean

Buyer's Guide: Selecting the Best Budget Juicers
You might be wondering what we looked at when making our rankings. It is very possible that you've read our reviews and feel they've given you a little confidence to shop around on your own. It's a great idea. There are lots of juicers on the market, and plenty that will fit your budget. To help you out, here is a short buyers' guide to get you started.
Centrifugal vs. Masticating
Normally, we advise people to match their product with their needs. We might not like a budget model, but for some people, the budget model is all they're ever going to need. It's the same way with juicers, and the best first step is figuring out the kind of juicing power you need.
Centrifugal juicers grind fruits and vegetables with tiny teeth in a spinning basket. The juice is pressed through a fine-mesh screen. The process is fast, and the juicers tend to be lighter and cost less. However, this process also creates a lot of foam that can lead to oxidation in the juice. It also works best with hard fruits and vegetables like apples and carrots, and not so well with softer, leafy vegetables like chard and spinach. These juicers also tend to be pretty loud, which could irritate loved ones if you have to satisfy an early-morning juice craving.
A masticating juicer has a rotating auger that quite literally chews up produce. It moves slowly and takes a while to make juice. This plodding work, however, has the distinct feel of inevitability, like a serial killer in a slasher film. Fruits and vegetables can run, but they aren't going to escape its grinding teeth. These models tend to be pretty quiet, so first-of-the-morning juicing won't put your family into a simmering rage. They work well on leafy greens like wheatgrass and kale. They also tend to be more expensive. This is why we like the Doctor Hetzner, because it delivered masticating juicing results on a centrifugal budget.
Raw Materials
Juicing is endlessly customizable based on what fruits and veggies you like. You'll want to tailor your juicer to suit your individual tastes. Most juicers do perfectly fine with hard vegetables like carrots and beets. If you process a lot of apples into cider, however, consider a juicer that creates less foam, which allows air and the juice to mix, which leads to oxidation. If you like leafy greens, steer clear of models that require you to run them through repeatedly to thoroughly juice them.
Ease of Cleaning
Juicing is dirty work. There's stuff sputtering out of the juicer itself, and there's no end to vegetable and fruit pulp to dispose of. And if you think it makes a mess out of your countertops (and, if you're unlucky, your clothing), the juicer itself looks a lot like a demolition zone when you're done.
Minimizing the time it takes to clean up is something that goes towards making the investment worthwhile. If it takes an hour to clean up a mess you made in five minutes, you're probably going to stop juicing pretty quickly.
Most juicers these days have all dishwasher-safe parts, but it's a pretty bad idea to rely on the dishwasher to clean up your juicer. You'll want to spend some time acquainting yourself with how easily each model of juicer is cleaned.
Ease of Storage
Most juicers are pretty specialized. There are some models that will allow you to whip up a nice batch of almond butter, but for the most part, they are designed just to pulp fruits and veggies to extract the juice. At some point, you'll want to store it someplace out of the way so you can use other kitchen appliances, or because you just don't like a cluttered kitchen. You'll want to look at models that place a premium on compact design, like our top-ranked Breville Compact. In fact, this is a feature most commonly associated with centrifugal juicers.
Noise
We already touched on noise in separating out centrifugal from masticating juicers. However, even within model types, some juicers are quieter than others. The faster the juicer, the louder it tends to be.
That might not mean much to you personally, but if you live with other people or animals, it will certainly mean something to them. You get to enjoy the benefits of juicing. They have to put up with the noise created by it.
As we noted earlier, masticating juicers are generally quieter because they are slower. Centrifugal juicers are generally loud, because they operate quickly.
Dollar Value
We looked at budget juicers, so these models are all intended to promote sound for-dollar value. The Hamilton Beach (67601A) was best for quality on a budget. It had the best features and most dependable performance for what it costs. You need to consider what features matter to you, and what level of performance is necessary in determining which juicer does the best to stretch your dollars. After all, if you're reading reviews for budget juicers, you're already viewing this purchase through the prism of getting the most from each dollar you put towards it.

Conclusion
The Breville Compact topped the competition in our reviews of budget juicers. It delivers juice quickly and does a good job of making the most of the raw materials you feed into it. The Doctor Hetzner delivered slightly better results, but delivered them at a glacial pace and was a little trickier to get going. The Hamilton Beach was our best for-dollar value. It's a great foot in the door to juicing, but of limited overall value. The Bella was cheap, all the way around. It doesn't cost much, but it also doesn't do a whole lot. Finally, the Black+Decker gives you good reason to doubt the commitment of anyone who supports your juicing interest by giving this as a gift.
We hope you find our reviews helpful, and that you were able to glean something of use from our buyers' guide. Juicing can be fun and rewarding if you get the right juicer, and we certainly hope you find the perfect one to match your needs.
Popular articles you could also read:
Are Vitamix blenders superior?
Useful Tips & Tricks for finding a powerful juicer under 100 USD
A closer look at Oster Blenders – Are they worth considering?