Branch Home & Auto Insurance Review 2023: Pros, Cons, & Verdict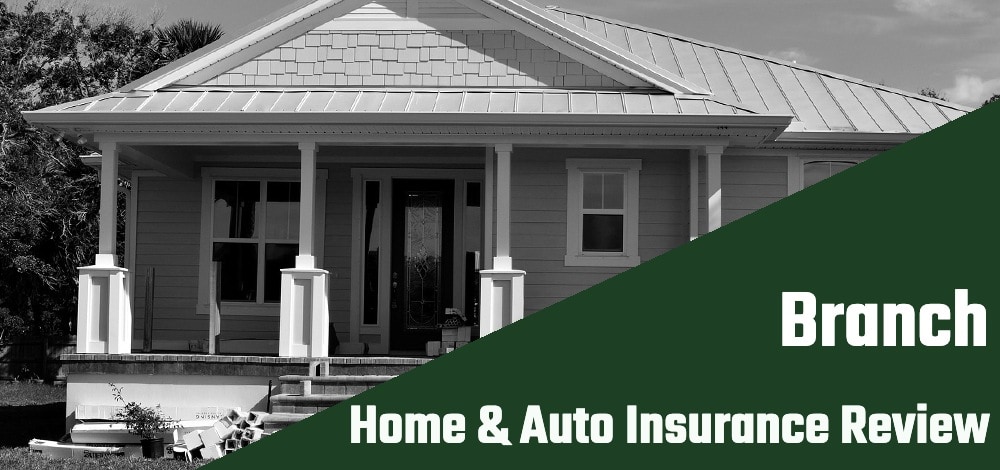 In This Review: Our Review | Pricing | Coverage | Limits & Claims | FAQ | Conclusion
If you haven't heard of Branch, don't worry They're a newer company offering relatively low home and auto insurance rates. They offer some unique coverage options, such as for rideshares. However, they don't have a very large range of coverage selections.
Mostly, Branch sells its products as a "community" effort. For instance, you get discounts if you bring friends and family members with you. Much of its advertising is built around this concept.
Currently, this company only provides insurance in a few different states. Therefore, it may or may not be available in your area.
Our Final Verdict
We give Branch Insurance a rating of 4.8 out of 5 stars.
---
Branch Insurance Review
Pros
Inexpensive
Homeshare and rideshare options
"Community" based program
Available in about half of the US
---
About Branch Home & Auto Insurance
Branch was started in 2017, making it a pretty small company. Its founders had previous experience in insurance and online data building, which fused to make Branch.
This company allows you to bundle your auto and home together quickly. You can sign up online in about 30 seconds. All you have to do is provide a little personal information and wait for a fast credit report. After a quick setup, you'll be provided with a quote.
Furthermore, this company functions solely online. Therefore, you can do everything from the comfort of your home. You don't have to worry about meeting agents or visiting offices. Many in the younger crowd prefer this company for this reason. Generally, Branch is cheaper than many other companies out there. They may not be the cheapest. However, they are competitive.
Branch offers some interesting coverage options. For instance, they cover ridesharing. Not only do they cover your vehicle while you're driving using Uber or Lyft, but they also cover the time you're driving to pick up a passenger. Therefore, their insurance may be the best option for those that do a lot of ridesharing.
Furthermore, this company also offers most usual home coverage options. They also offer extra protection for those who rent their home via Airbnb or Vrbo. They offer higher limits than most companies. However, their deductibles also seem to be higher, too.
Sometimes, Branch utilizes the General Security National Insurance Company to underwrite its policies. This company has a very positive reputation. However, Branch doesn't use this other company in every state.
Here is a list of the states where Branch is currently available:
Alabama
Arizona
Colorado
Idaho
Illinois
Indiana
Iowa
Kansas
Kentucky
Maryland
Michigan
Missouri
Nebraska
New Hampshire
New Mexico
Ohio
Pennsylvania
South Dakota
Tennessee
Texas
Utah
Virginia
West Virginia
Wisconsin
---
Pricing & Plans (Updated in 2023)
Home Insurance Cost Comparison
Home Insurance
Category A Home Insurance
This insurance covers your property's main structure. It covers anything directly attached to that main structure, such as your garage.
Category B Home Insurance
This coverage includes other structures on your property, such as sheds and detached garages.
Category C Home Insurance
This part of the home insurance plan covers all your belongings in the home. These items can cost a lot to cover, even if you don't have many valuable items. This policy has several options, so be sure to look at your options.
Category D Home Insurance
This covers the loss of use for your home. It will cover your food, hotel rooms, and other daily needs if disaster strikes.
Category E Home Insurance
This insurance protects you from lawsuits. If someone injures themselves on your property, it prevents you from needing to pay out of pocket.
Category F Home Insurance
Similarly to category E, this covers medical bills that may be incurred if someone else injures themselves on your property.
---
Car Insurance
Liability Insurance
This is the legally required minimum car insurance in many states. It covers damages that you may inflict on someone else's property in the event of an accident—but it doesn't cover any of the damage done to you.
Uninsured Motorists
This coverage provides financial compensation if you get into a collision with someone who isn't covered. While every state requires at least liability, this plan covers you if someone isn't following that law.
Personal Injury Protection
This protection helps you pay for medical bills that may result from an accident. It is only available in certain states, and the coverage may differ from zip code to zip code.
Physical Damage
This coverage extends to damages that you cause to the vehicle. Furthermore, it covers damage that occurs when you aren't driving the car, such as someone hitting your parked car.
---
Coverage Limits & Claims
As far as Home Insurance Limits go, you can expect $100,000 in liability coverage and $200,000 in personal property coverage.
For Car Insurance depending on the type of coverage you can find $100,000 per person/$300,000 per accident for Bodily injury liability, $100,000 per accident for Property damage liability and $100,000 per person/$300,000 per accident for Uninsured/underinsured motorist bodily injury.
---
State Availability
Branch is currently available in about half of the states, including Alabama, Arizona, Colorado, Idaho, Illinois, Indiana, Iowa, Kansas, Kentucky, Maryland, Michigan, Missouri, Nebraska, New Hampshire, New Mexico, Ohio, Oklahoma, Pennsylvania, South Dakota, Tennessee, Texas, Utah, Virginia, West Virginia, Wisconsin.
Branch does use other companies to underwrite their policies in some cases. In other words, these other companies may actually own the policies while Branch sells them. However, this doesn't change much about what you're actually getting.
---
Get a Quote from Branch
Branch provides quotes in a different way than other companies. The company has a database that they use to check a person's name and address. If your information lines up with their database, you don't have to enter much information (only your name and address). However, things can get a bit complicated if it doesn't line up.
Usually, in this case, you'll need to call the company to sort things out. Luckily, this doesn't happen very often. Still, be prepared to jump on the phone if necessary.
This company does require a credit score to give you a quote. However, the website checks this information itself; you don't have to input it. Therefore, while this information is required, you don't have to worry about getting it ready before applying.
---
Reviews from Customers
This company is relatively new. Therefore, there aren't many reviews. However, there is enough for us to understand their reliability and customer service quality. Most third-party ratings place them pretty high. However, this may be due to a lack of information. After all, the company hasn't been around very long, so it isn't odd that they haven't "messed up" yet.
Still, most customer reviews are positive. For instance, customers say things like, "easy to switch from my previous insurance carrier, with a ton of savings" and "great customer service and always reliable when I have questions."
Most negative reviews had to do with emails not getting answered. In some cases, it seems their customer service team might be a bit understaffed, making wait times longer than customers would like.
---
FAQ
Is Branch a reputable company?
Branch is currently accredited by the Better Business Bureau and has an A+ rating. Based on this information alone, they do seem pretty reputable. There aren't any controversies surrounding this company. While some negative reviews exist, most reviews are positive. Therefore, despite being a younger company and less well-known, there isn't anything blatantly untrustworthy about Branch.
---
How long has Branch Insurance been around?
This insurance was founded in 2017. Therefore, it has only been around for a few years and they are a newer insurance company.
---
Why is Branch Insurance so cheap?
Based on quotes, Branch insurance is one of the cheaper insurance companies out there. However, it isn't so cheap that it hints at potential issues. Their prices are competitive but typically cost similar to other low-cost insurance companies.
This company keeps its costs cheaper by structuring its company to have as little overhead as possible. They're all online, for instance, so they don't have to pay for extra employees or office buildings.
---
Our Verdict
Branch is a newer insurance company that covers both homes and vehicles. Its coverage options are pretty similar to the "normal" insurance plans. However, they also offer unique coverage for those who rent out their home or participate in rideshares. They're also cheaper than many options, as the company works to eliminate as much overhead as possible.
Based on this information, Branch may be suitable for you if its plans are available in your area.