5 Best Pool Cleaners for Leaves in 2021 – Reviews & Buying Guide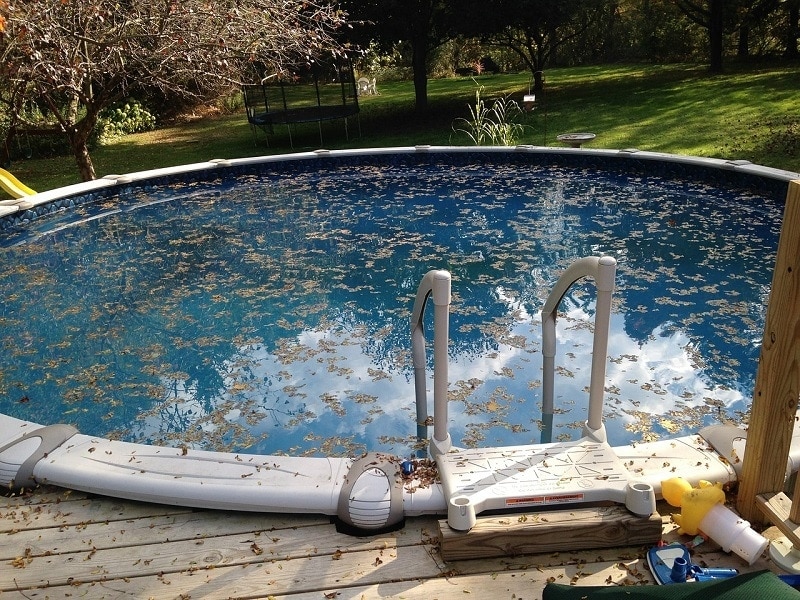 Summertime, and the livin' is easy. For everyone, oh pool owner, but you. You'd hoped you were investing in nights of barbecues filled with stimulating conversation. What you really got was one thing after another draining away your spare time. You'd fill it in and be done with it, but your backyard neighbor grills a mighty mean steak and he didn't talk to you until you invited him over to do cannonballs. The thing standing between it all are the trees around your back patio that drop leaves into your pool all the time.
In steps technology with a solution: a pool cleaner. It promises to spare you hours of dull work, and unlike that boy from the cleaning service you're pretty sure it won't try to make time with your spouse. The only question is which one can you trust to clean your pool without exploding because debris clogged its intake and caused the motor to overheat. You don't have the time or energy to test them all yourself. Fortunately for you, that's right up our alley. We tested a handful. What follows is what we found.
A Comparison of our Top 5 Picks:
Rating
Image
Product
Details

Best Overall

Dolphin Nautilus CC Plus

Easy setup
Speedy cleaner
Multiple cleaning modes
CHECK PRICE

The Runner-up

Polaris F9550

Quiet
Easy to maintain
Superior cleaning
CHECK PRICE

Best for the Money

Polaris Vac-Sweep 360

Great value
Great job cleaning
Works in all in-ground pools
CHECK PRICE

Dolphin Triton Plus

Great climbing
Tangle-free operation
CHECK PRICE

Hayward RC9740WCCUB

Cleans well
Top-access cartridge filter
Uses smart steering technology
CHECK PRICE
The 5 Best Pool Cleaners for Leaves:
1.

Dolphin Nautilus CC Plus Pool Cleaner – Best Overall
Everything about the Dolphin Nautilus CC Plus was fast. In very short order, we had it out and ready to roll. Stuck it in the water, turned it on, and let it go. A short couple of hours later our test pool was clean. It sucked up leaves, and it cleaned everything else. It even scrubbed algae off the wall. We started calling this thing The Terminator because of the way it relentlessly, remorselessly attacked debris. It did the job it was supposed to do and produced superior results, and that's about as bottom line as you can get. It was even simple to pop open and cleanout.
Our one quibble was its weight. It was heavy getting it into the pool, it was even heavier getting it out. It wasn't enough of an issue to downrank it, but if you buy this it's something you should definitely bake into your expectations.
Pros
Fast, easy setup
Speedy cleaner
Multiple cleaning modes
Easy to maintain
Cons
Heavy to get out of the water
---
2.

Polaris F9550 Pool Cleaner – The Runner-up
The Polaris F9550 cleaned leaves, if anything, better than the Dolphin Nautilus CC Plus. The process of getting into the water wasn't as quick or seamless, but when it started working it excelled at its job. This one will save you a ton of time and deliver excellent results. It was also super quiet and a snap to maintain after the fact.
That aside, we tried to adjust its path with the remote and it took what felt like a long time to respond. So, while it delivers a superior cleaning, it also requires a bit more attention while it's working to make sure it gets everything. But the real reason we couldn't slot this as our top pick is that it didn't deliver excellence in relation to price. Overall, the Dolphin delivered in terms of better for-dollar value.
Pros
Superior cleaning
Quiet
Easy to maintain
Cons
Slow response to remote
Pricey
---
3.

Polaris Vac-Sweep 360 Pool Cleaner – Best for the Money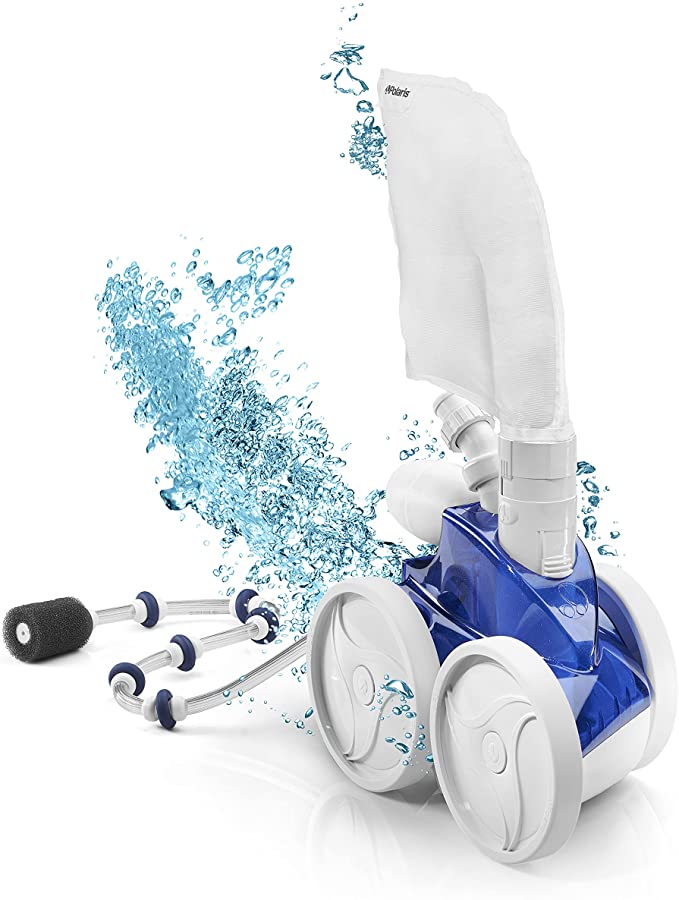 Because of its stellar reputation with consumers, the Polaris Vac-Sweep 360 is the only pressure-side pool cleaner we reviewed for its ability to remove leaves. We'll tell you up front that it's not suitable for above-ground pools, so if that's the pool you own, you'll want to pass.
For us, however, this one was the best for-dollar value of our review models. It did a great job removing leaves and pebbles from the pool; it did a lesser job catching small debris. Based on its ability to remove leaves, it keeps up with the bigger dogs in the pack. No one is buying a pool cleaner just to clean up leaves, so we downranked it accordingly.
As a result, we found the Polaris to be the best for-dollar value. Considering that pressure side cleaners tend to run more affordable than robot cleaners, that's probably a predictable outcome.
Pros
Great job cleaning
Great value
Cons
Not suitable for above ground pools
Pricey replacement parts
---
4.

Dolphin Triton Plus Pool Cleaner
The most impressive thing about the Dolphin Triton Plus is its ability to get around your pool. It can get just about anywhere and does so without getting tangled in its power cord. It climbs walls like a mountain goat and went from deep to shallow ends seamlessly.
The least impressive thing about the Dolphin Triton Plus is its ability to clean. It cleaned well where it decided to clean, and the instructions warn you that it might take a few cleaning cycles to really learn your pool. It also did a poor job cleaning the stairs despite its aforementioned ability to climb with ease. This is a steep falloff in quality from the top three models we rated, and the only reason it didn't get ranked last is that it was less stressful to use than our last-place finisher.
Pros
Tangle-free operation
Great climbing
Cons
Bad value
Considerable learning curve
Failed to clean stairs
---
5.

Hayward RC9740WCCUB Pool Vacuum
The Hayward RC9740WCCUB does its job. We'll get that out of the way right off because there's no disputing that when set loose, this pool leaf vacuum will clean and clean and clean. But, at what cost?
We'll start with lugging the thing around. It's built like a tank. It's bulky and heavy. If you are hoping to bulk up your upper body, inserting and removing it from your tool regularly would fit the bill. If not, you can consider checking with a medical professional to see if it's safe for you to lug about.
It is also lazy about climbing walls. For us, it got just a little up before it decided the floor is where it needed to be. And, when it was finished cleaning the pool, we tried to open the lid to clean it out. The lid refused to open until the button was pushed several times. People with hair-trigger tempers and high blood pressure issues should take that into account.
This was our least favorite pool vacuum.
Cons
Big, heavy cumbersome
A physical challenge to life
Button to open the lid is temperamental
Doesn't climb well
---
Buyer's Guide
The answer to the question of what to look for in a pool cleaner to get rid of leaves might seem simple — get the best one for the best price — but that really just begs the question of just what is the best one for the best price. But, the best one is the one that best meets your needs, and the best price might mean compromising the perfect for the good enough. A feature that you might think critical when you start shopping around might cost enough extra that you decide you can do without. So how can you save some time sorting what you really need from what is a luxury? Here are some ideas.
Above ground or below
A successful purchase always starts with the customer. The best on the market might not necessarily be the best for you. This is true of anything. But, if you're looking to buy a leaf vacuum for your pool, you've gone all in on owning a pool to where you'll spend some real money to cut down on maintenance time. So, it's more important to find the right one than it is to find the best value.
That choice starts with your pool. Our reviews are premised on a standard-size inground swimming pool. If you own an above ground pool or a non-standard size inground pool, you will want to look at models better equipped to clean those. One of the models we reviewed, the Polaris Vac-Sweep 360, isn't designed for an above ground pool. The good news, for you, is that pool cleaners for above ground pools are less pricey.
Not all pool grime is created equal
You have started out looking for a pool cleaner to get rid of leaves, but you will have to think bigger picture. Leaves aren't the only thing that will fall into your pool. The same oak trees that drop leaves will also drop acorns and perhaps the occasional squirrel. You're also going to get the usual stuff like dirt and pollen. So you'll want to take into account what else your leaf cleaner will need to clean.
Other things you'll want to consider is how much use the pool gets. More traffic equals more work cleaning, especially if it involves the neighborhood's children. And, of course, water plus warmth equals algae, so if it tends to be a serious problem in your pool, you'll want to look for a cleaner that can help address it.
Suction vs pressure vs robotic models
Once you know what kind of debris you'll need cleaned out and what kind of pool you have, the next issue is what kind of pool cleaner you want. Suction side pool cleaners work with your pool's suction hose to filter out particulates. They are cheap and easy to maintain, but they increase wear and tear on your pool filter to keep operational. A side pressure pool cleaner moves via a pressurized hose powered by water filtered by the cleaner. It doesn't put extra stress on your filer, but it might need a separate booster pump, especially if your pool is larger. Robotic cleaners generally do a much better, more complete job of cleaning, and tend to operate with greater autonomy, but they are usually more expensive to buy and require regular emptying of the filter bag.
You will pay for the amount of time you save
You'll want to think of a pool cleaner as an investment in saving you time. What it won't save you, however, is money. In general, the more time you want your pool cleaner to save you, the more money you'll have to spend upfront. If you don't want to make that kind of commitment, then you should look at a lesser pool cleaner and expect to spend some time doing some of the work. Also, anything with a lot of moving parts will eventually need repairing, and not all pool cleaners come with all of their parts. You will want to look at whether the cleaner you buy comes complete, or whether you'll need to buy attachments like filter bags to get it started. You'll also want to make sure that if the power cord isn't long enough, that you get appropriate extension cords to prevent a drop-off in performance.
Relevant posts:
---
Conclusion
A good pool cleaner is going to set you back a pretty penny, and we went with the Dolphin Nautilus CC Plus because it delivered the best cleaning for the best price. It cleaned almost as well as the Polaris F9550 and did so for less money. We liked the Polaris Vac-Sweep 360 as a great value, but beware that if you have an above-ground pool that you'll want to look elsewhere. Finally, we were unimpressed by the Dolphin Triton Plus because it didn't do a very good job cleaning, but ranked it higher than the Hayward RC9740WCCUB, because while that model did a good job cleaning because we imagine that its temperamental nature will lead to a shorter service span after inspiring owners to take a hammer to it out of frustration.
We hope you find some value in this review, and if you're still not convinced that one of these five models is the right one for you, please consult our buyer's guide for tips on how to get the right leaf cleaner into your pool.
RELATED READ: 5 Simple Ways To Keep Leaves Out of Your Pool