5 Best Suction Pool Cleaners of 2023 – Top Picks & Reviews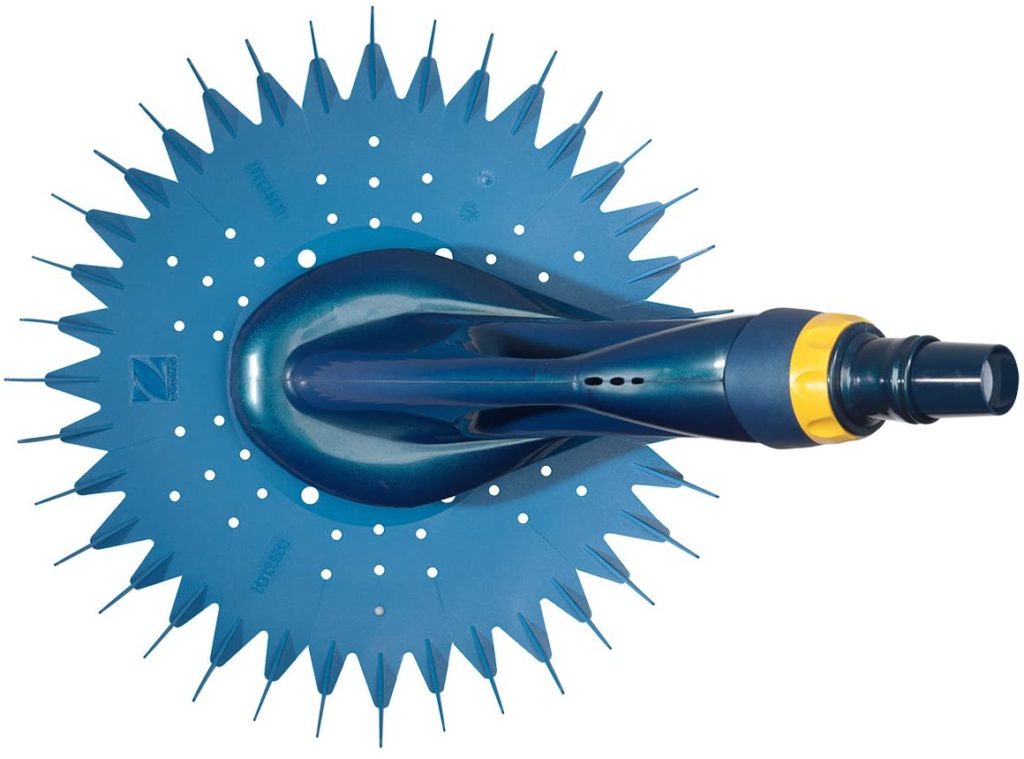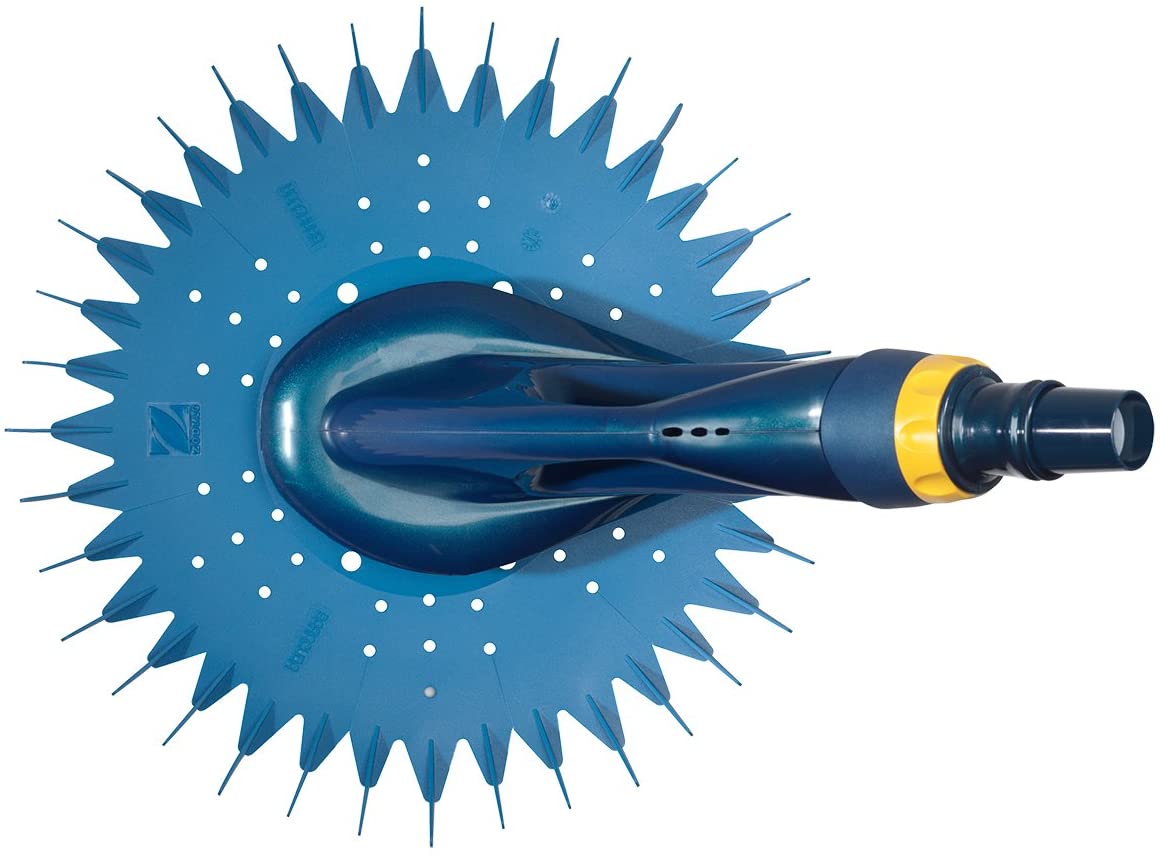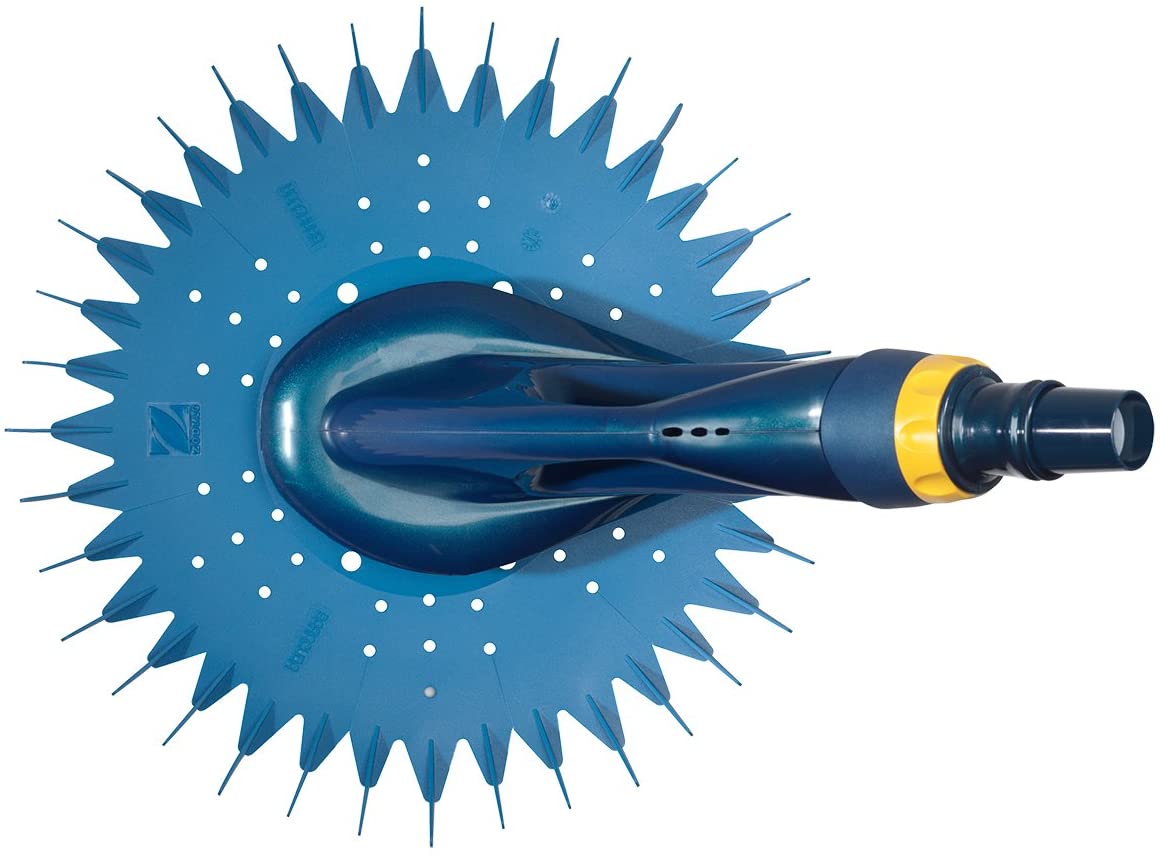 Simple, quiet, and usually among the most affordable, suction-side pool cleaners are a great option for someone with a small pool and average to minimal cleaning needs. They also are the easiest cleaners to operate, requiring nothing more than a plug-in to the intake side of your pool's pump system.
That said, there is still a great gulf of difference from model to model. We tested some of the most popular models on the market and wrote these reviews to help you figure out just which suction-side pool cleaner is the right one for you. It's a pretty crowded market with lots of options between models and features. So, if you want a little more, we included a buyers' guide to help you make to the best possible choice.
Read on for our suction side pool cleaner reviews!

Our Favorite Products of 2023
Rating
Image
Product
Details

Best Overall

Hayward AquaNaut

Versatile pool types
Good for large debris
Long connector hose
CHECK PRICE

The Runner-up

Hayward Poolvergnuegen

Good traction
Works at any suction power
Adjustable for multiple kinds of debris
CHECK PRICE

Best for the Money

BARACUDA G3

Reliable
Great value
Works at any suction power
CHECK PRICE

Pentair Kreepy Krauly

Affordable
Good suction
Can clean walls
CHECK PRICE

XtremepowerUS 75037

No tools required
Attaches to your existing filtration system
Ideal for cleaning bottom surface and wall
CHECK PRICE
The 5 Best Suction Side Pool Cleaners
1.

Hayward AquaNaut Suction Side Pool Cleaner – Best Overall
Cleaning large debris is one area where suction-side pool cleaners tend to do poorly compared to pressure-side and robotic pool cleaners. Suction-side units tend to have smaller intakes, and without a booster pump, their suction power is often lacking. Not the AquaNaut 400. It not only picks up large leaves along with the usual grit and dead bugs, but comes with an adjustable skirt so that it doesn't lose suction power while moving over obstacles on your pool floor.
This unit also comes with a long connector hose so it will cover just about any size pool. With the right set of tires, it can clean any pool surface, from gunite to vinyl. It's also quiet enough that you can run the thing while napping in a chaise lounge nearby, which you can't say about many other pool cleaners.
Price is the only drawback to the AquaNaut 400. Granted, it's a great value when compared to the cost of a pressure-side pool cleaner with a booster pump. However, it's still one of the most expensive suction-side cleaners on the market. Despite this, we think this is the best suction pool cleaner available this year.
Pros
Good for large debris
Long connector hose
Versatile pool types
---
2.

Hayward Poolvergnuegen Suction-Side Pool Cleaner – The Runner-up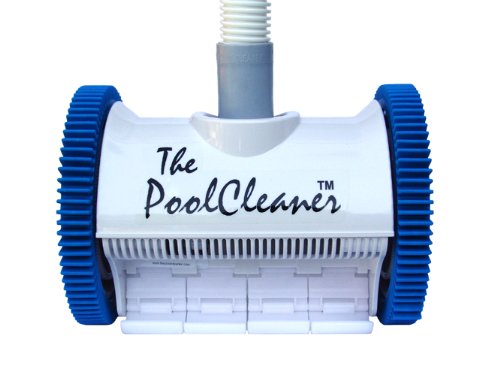 One downside to suction-side pool cleaners is the minimum threshold for a pump's operating horsepower. Not enough horsepower, they just don't work. Hayward's Poolvergnuegen has self-adjusting turbines that allow it to operate at almost any speed. Its tires are designed to facilitate ease of movement, making sharp turns to navigate tight spaces and climb over obstacles without losing suction pressure. It has an adjustable throat to suck up larger materials, with adjustments for fine grit and medium-sized debris like small leaves and twigs. It's also pretty easy to clean.
The Poolvernuegen will also cost you a lot of money for a suction-side cleaner, enough to warrant dropping it to the second rank. It just doesn't deliver the quality for the price of the AquaNaut. It isn't a poor value, though, and on a good day, it's possible that you'll find this model available for a lower price. But on an average day, it'll be a little more expensive without delivering any additional benefit to warrant the cost.
Pros
Good traction
Adjustable for multiple kinds of debris
Works at any suction power
---
3.

BARACUDA G3 Suction Pool Vacuum – Best for the Money
Even if we didn't rank it our Best for the Money, we would still like Zodiac's Barracuda G3 W03000. It's a great cleaner that can operate at any suction power level you have—a critical feature. That means it is compatible with any pool, which spares you a lot of guesswork. It also comes with fins that guide the cleaner as it moves along the floors and walls. The fins secondary function is to kick up dirt and debris for much easier suction cleaning. It's a top-tier suction cleaner that comes at a very likable price tag.
There are a couple of things that prevent it from getting a higher rank. It tends to get stuck when climbing over vents, which means you have to pay closer attention to what it's doing. Unlike our top two models, it also isn't very good at picking up large debris like leaves. In fact, leaves tend to get stuck, which also calls for extra attention. Unlike our top two models, you can't plop this in the water and go take a nap while it cleans your pool. Well, you can, but the chances are pretty good that you'll find it immobilized on a drain when you wake up.
Pros
Great value
Fins knock up debris for suction cleaning
Works at any suction power
Reliable
Cons
Gets stuck
Not good for large leaves
---
4.

Pentair 360042 Kreepy Pool Vac (Suction)
Based on its sleek design, we had a lot of hope for Pentair's Kreepy Krauly. It has the look of something that can do the job. Like other suction-side cleaners, it was easy to set up and pretty affordable for a pool cleaner. When it gets going, it does a good job cleaning and the skirt allows it to maintain enough suction power to clean walls. You couldn't ask for more from a basic pool cleaner.
Now, the bad news. Once the Kreepy Krauly reaches to the extreme end of the hose, it starts to lose suction quickly, which means it has trouble in large pools. It also has no internal controls or means to alter its route, so its movements are entirely random. That means it is prone to getting stuck, so you have to pay attention to what it's doing. Pentair's customer service also has a reputation for being not very responsive.
So, if you've got a small pool, it'll do the job. The bigger the pool, the less effective this cleaner will be. We'd also recommend that you don't put a lot of faith in contacting customer service, because that'll be a hit-or-miss experience.
Pros
Can clean walls
Good suction
Affordable
Cons
Gets stuck easily
Poor customer service
---
5.

XtremepowerUS 75037 Suction Side Pool Vac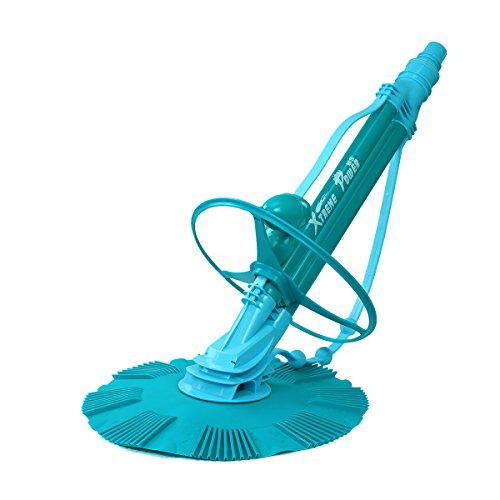 This pool cleaner doesn't cost a lot of money, which is great because for the time and energy you'll have to put towards watching it and correcting its course, you might as well clean the pool by hand. It gets stuck, frequently, and will simply stop working if it doesn't maintain appropriate movement speed. To achieve that, by the way, you'll want a pump that runs at least one horsepower. If not, you'll need to buy a booster pump, which would make this a terrible value for the money.
As we mentioned, if you can make the XtremepowerUS 75037 work, it's probably one of the cheapest pool cleaners on the market. It's just that with everything it has going against it, we wonder if that makes it a decent value or a waste of money?
Cons
Minimum of 1 horsepower pump power
Requires a lot of attention

Buyer's Guide – Choosing the Best Suction Pool Cleaner
Buying the right suction-side pool cleaner starts with knowing why you want to buy a suction-side pool cleaner. That means knowing what makes it the right choice for your pool.
The right kind of pool cleaner
There are three main types of pool cleaner: robotic, pressure-side, and suction-side
Robotic
The independent robotic pool cleaner — generally considered superior — usually has cutting edge artificial intelligence technology to chart its own path through the water, and comes with the latest features in mobility. They are also more complicated machines, heavier, and cost a lot more money. They are best suited to very large pools and pools of atypical design.
Pressure-side
Pressure-side cleaners operate on water being returned to the pool to the filter. They are usually considered better in operation than suction-side pool cleaners, but there are a couple of drawbacks.
Most designs require a booster pump to push more water through the cleaner to give it the proper power to move and vacuum up grit and dirt. Because they come with a wider intake mouth, they are better at cleaning up large objects like acorns and leaves.
They have a tremendous downside, which is their price. Pressure-side cleaners are already more expensive than suction-side cleaners. The booster pump can add a couple of hundred dollars to the price. So, while better, they are not always a better value. You'll also have to buy the booster pump separately.
Suction-side
Suction-side pool cleaners are the simplest and most affordable pool cleaner. They are pretty simple to set up and they work best on medium-sized pieces of pool debris like grass and dead bugs. Some models are good for cleaning up small particles like sand and dirt. They don't come with a lot of frills and do require regular cleaning.
You're reading reviews of suction-side pool cleaners, which means you've already decided that the pool cleaner you want should be pretty simple to operate, appropriate for small-to-medium size debris, affordable, and not loaded down with a lot of bells and whistles.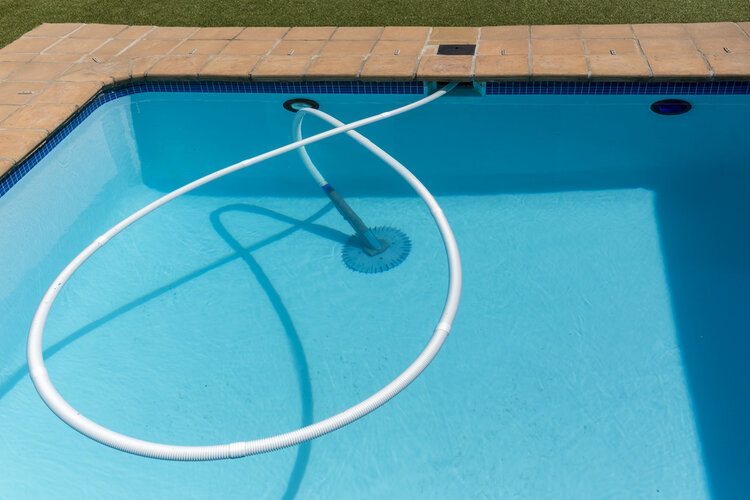 Compatible for your pool
Power
You must make sure that the cleaner you buy can meet the basic operational requirements for the job. Your pool's filter must have enough power to make your pool cleaner fulfill its purpose. It's possible to get a booster pump to pad it out, but that will add quite a bit of expense to what should be a really affordable purchase.
Hose length
You'll also want to make sure that the model you buy has enough hose to reach your entire pool. You can always buy an additional hose, but this isn't just a more added expense it also dilutes the vacuuming power of your pool cleaner. So, you'll want to make sure that you buy a pool cleaner that when it gets into the far corners of your pool still has the juice to remove dirt and small leaves.
Compatible connections
Finally, but perhaps most importantly, you'll want to find a pool cleaner that is compatible with the construction materials used for your pool. Some pool cleaners work with everything. Others don't work well with fiberglass or vinyl pools. Others work best with concrete and tile pools. Matching the pool cleaner you buy with the kind of pool you own is a good, first step to determine whether your investment is a successful one.
Type of debris
In general, suction-side pool cleaners are best for mid-sized debris like small leaves and dead insects.
You'll want to size your cleaner's intake to match the size of debris you have to clean up. Some suction-side pool cleaners can pick up dirt and sand. If you have a pool in a place where that's the biggest issue, you'll want to buy one of those. On the other hand, if you have a fenced-in pool, you might have a very light debris load. In that case, you can get away with a pool cleaner to match a much smaller collection need.
Frequency of use
Some models of suction-side cleaners are designed for light use only. If you have a fenced-in pool that doesn't get a lot of use, you probably don't have to clean it all that often. If you live where there is a lot of wind, or, you have a steady stream of people into and out of your pool, you'll need to clean it more frequently.
If you are going to get heavy use out of your suction-side pool cleaner, what you think is a really good deal might just not get the job done. If you only get a little dirt in the bottom of your pool occasionally, you don't need to spend an arm-and-a-leg on a pool cleaner.
While we're at it, make sure that you find a model that'll be easier for you to clean out. Keeping a suction-side pool cleaner running will require cleaning before you put it away. If you don't pay attention to the ease of doing that, it'll cost you time maintaining your pool cleaner.
Cost
Because they are simple machines, suction-side pool cleaners are the most affordable pool cleaners on the market. Even the basic range of their cost, however, is a fraction of the cost of building and maintaining a pool. You'll want to maximize your investment rather than just go cheap.
Even at their cheapest, suction-side pool cleaners cost a couple of hundred dollars, so it doesn't hurt to spend a little time figuring out what you require from a pool cleaner. Keep in mind that no matter the cost, you're buying a pool cleaner to support a major, major household investment so you'll want to get it right.

Conclusion:
We loved Hayward's AquaNaut 400. It's got just about everything you could want in a suction-side pool cleaner, and even though it's pretty expensive it's still a lot less money than a pressure-side cleaner and a booster pump. If not that it cost even more money, we were tempted to rank the Poolvergnuegen our top pick, but dropped it because of price. Zodiac's Barracuda G3 was our Best for the Money because it was great for-dollar value, even if it just didn't quite have the performance that more expensive cleaners did. We really wanted to like Pentair's Kreepy Krauly based on its design but found that the fall-off of performance in a large pool was unacceptable; and while we liked the price of the XtremepowerUS 75037, it was just too limiting in terms of what it could do to be a real option.
We hope you found value in our reviews, and at least could take something away from our buyer's guide. We hope that you have great luck in purchasing a suction pool cleaner and that you find hours of enjoyment in using your pool that you don't have to spend cleaning it.
Recommended reads: