14 Free DIY Sandbox Plans You Can Build Today (with Pictures)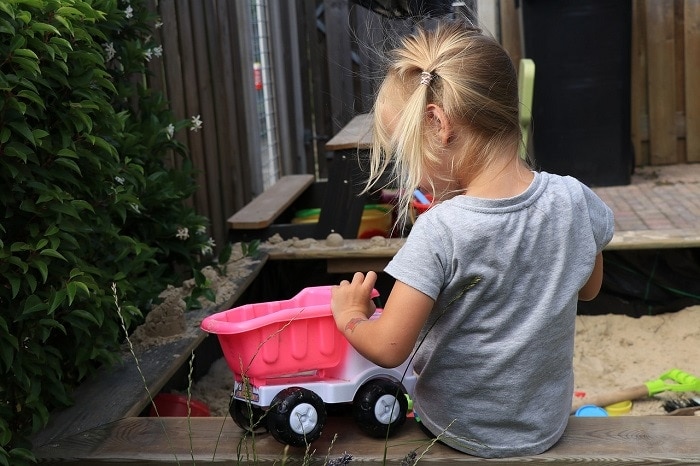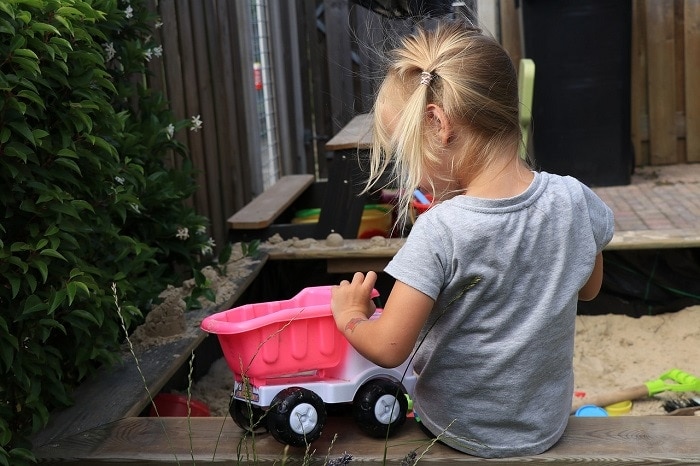 A sandbox is typically a quick and easy build, but the amount of enjoyment your children will get out of it will be well worth the effort. Most of the time, learning how to build a sandbox can be done in a few hours and for less than a hundred dollars. Certainly, as plans get more elaborate and features increase, you will spend more time and money on the project. We put together these free sandbox plans for you to choose from. Some are more complicated than others, so be sure to read our notes about who should be taking on each individual project.
The 14 DIY Sandbox Plans You Can Build
1.

Sandbox By Lowes
We start our list with this very simple and easy-to-build design offered by Lowes. This is an entirely free plan, probably because they want you to buy the supplies from them! If you are new to building and trying to make your backyard space more suitable for children, this sandbox is a perfect choice.
You can build this sandbox with the bench boards along the top or without. Lowes gives some recommendations for preparing the area where the sandbox will go and some suggestions for a cover as well. You will see as we move through our list, that a cover is an essential part of a sandbox for many reasons.
2.

Outdoor Sandbox from DIY Network
This outdoor Sandbox from DIY Network is a perfect simple sandbox for your backyard space. The DIY sandbox is a low-cost project and should take less than a half day to complete. We love that instructions are given for a cover, and the rope handles on the lid are a convenient way to keep the sandbox both clean and safe for your children. The supply list is provided, but you could modify this box to fit your space or the age of your children. If you are new to building or woodwork, this is a great first project with minimal tools needed to complete it.
3.

Sandbox from Bob Vila
We love the bright colors on the Bob Vila Sandbox design. Indeed, you can paint any sandbox model that you build, but we like the design that this one has. Also, this step-by-step plan will help any level builder complete this project. With this plan, you will also get information on how to add the corner support benches and even how to add an umbrella to your sandbox. For a backyard with little shade, the umbrella will make a big difference, and it's not a hard accessory to add.
4.

Sandbox With Folding Lid and Seats by Kaboom
If your child has a love-hate relationship with the sand, this is the perfect sandbox by Kaboom. We love the sturdy benches that will accommodate even the slightly older child. The folding lid makes this sandbox plan a complete option. The size of this box can be modified, but this project is a little more complicated than some of the others we have found for you. If this is your first attempt at a DIY project, you may want to look into a more straightforward option. However, following the guide Kaboom gives along with all of their pictures and instructions, you should end up with a sturdy and functional sandbox.
5.

Covered Sandbox from HGTV
How can you not love this sandbox from HGTV? This completely shaded sandbox is, by far, one of our favorite options. There is so much room for kids to play comfortably and safely as well. The plan itself is laid out very well with a complete supplies and tool list. We liked that HGTV used a landscape fabric as the base of this sandbox. The landscape fabric helps to ensure proper drainage in your sandbox. Even with this cover, some water will get into the sand, and if it doesn't drain properly, your sand will not last very long. The shade cover on this sandbox is just plywood painted, we do recommend adding a lid on the sand as it won't protect from animals getting into your sand.
6.

DIY Sandbox by Kenarry
Next on our list is this super simple DIY sandbox by Kenarry. The best thing about this sandbox is that you don't even need to make a cut! If you don't have a saw or don't want to get involved in cutting angles or intricate corner pieces, this is the sandbox for you. This sandbox uses landscape timbers and a weed barrier to make this a safe and quick build that your kids can help with. You can always add benches or umbrellas to this set if it helps make it more appealing, but it's hard to say no to a project that won't take you more than a few hours to complete.
7.

Easy DIY Sandbox by Creating My Happiness
When Creating My Happiness says this sandbox is an easy build, we believe them. The reasoning behind taking on this project was that those manufactured plastic sandboxes are just too small for kids to enjoy. We couldn't agree more, and something like this bright pop of color in your yard will look so much nicer as well. The picture shown on this sandbox does not show any type of landscape barrier on the bottom, but we highly recommend putting one it. It will keep the weeds from growing up and still allow the sand to drain appropriately when needed. If your kids are growing out of that plastic sandbox, now is the time to build one of these.
8.

Sandbox Rockbox from Young House Love
This is a great looking sandbox with several great features from Young House Love. For starters, this box has a great top that will keep the sand dry and keep animals out. One of the downsides to an extensive cover is that it's heavy, and storing it can be a pain. What Young House Love did here was they put the cover on a hinge so it can open and close with ease. If you think that this could be dangerous, don't worry, they thought of that too. When the cover is in the upright position, it locks to the fence.
Young House Love put a landscape barrier down in this sandbox, and they ended up filling this with rocks instead of sand. We think lots of kids would love a box full of trucks and rocks to play with. When this box is closed, the top is nice looking, and they mulched and planted around the box as well.
9.

Deluxe DIY Sandbox Tutorial from Small Friendly
Next on our list is this Deluxe Sandbox from Small and Friendly. This sandbox is nice if you want a complete option that opens and closes with its own cover. We like that when the cover is down, it can double as a seating area for the kids while they play in the sand. The only bad thing about this plan is that there are no pictures as you go through each step of the project. For experienced woodworkers, this won't be a problem at all; however, if this is your first time trying one of these things, you may want to look into something that has pictures for each step of the process.
10.

A Simple Sandbox from NonChalant Mom
You may already know what makes this Simple Sandbox from NonChalant Mom one of our favorites. Yes, it's the wheels. What a simple but ingenious idea. If you don't have a large yard and instead are working with a deck area for a sandbox, this is a perfect option. Another reason we love the wheels is that you can move your sandbox around as the sun angle changes throughout the day. Keep the kids in the shade for as long as possible by merely sliding the sandbox over. The actual construction of this sandbox is not complicated, and adding the wheels will just take a few extra minutes and a few dollars. This is one of those concepts that will make you say, why didn't I think of that!
11.

Sandbox With Bench And Wood by Construct 101
If you remember us saying that some of the sandboxes with benches and tops are more complicated, we found you one that is very user-friendly but still has these great features. The Sandbox with Bench & Lid by Construct 101 is a great option if you are new to building but want to create a more complicated sandbox. The Construct 101 plan is laid out well with simple and easy-to-follow step-by-step picture instructions.
12.

Sand Table by Mommy Needs Coffee
If you want your kids to be able to play in the sand but not have to be sitting in the sand, this Sand Table by Mommy Needs Coffee could be a good option. The construction of this table is very easy to do. You simply need to make a stand with four legs that a bin can fit inside. What we like about this sand table is that you can change the contents of the container at any time. Want to make it a rock table, water bead table, water table, it will only take you a few minutes to do so. Of course, the downside is the size as this table will be best for younger children.
13.

Sandbox with Seats by Dover Projects
This Sandbox with Seats by Dover Projects is one of our favorites when there will be more than one child playing in the sand. With a sandbox this size and the amount of seating all around the edge, this is an excellent sandbox for multiple children. In addition to this being a great design and a great size, the actual construction is not that difficult. Dover projects gives a step-by-step guide as to how to complete this project. The only thing we would add is a cover. They use a tarp to cover this one, but a matching wood one would undoubtedly be nice too.
14.

Simple Sandbox by This Old House
Last on our list is the Simple Sandbox by This Old House. We love this sandbox for bigger kids that want to create paths and designs in their sand and not just fill a bucket. This Old House knows what they are talking about when it comes to building, and this free plan is no exception. You can see the step-by-step progress as this sandbox gets completed and it is one of the simpler designs that we found. The landscape border put on the bottom will help keep the weeds in control, but there is no cover for this giant sandbox. Your best bet on something this size would be to use a tarp.
Conclusion
The majority of the free DIY sandbox plans that we came up with only require a few tools, some wood, and some screws so learning how to build a sandbox is easier than ever. Some more complicated models also had hinges or wheels but most of these should cost less than $200 and be completed in a day or less. The great thing about sandboxes is that although you will have to replace the sand from time to time, the actual box should last for quite some time.
---
Featured Image Credit: MarjonBesteman, Pixabay