6 Best Shingle Removal Tools 2023 – Top Picks & Reviews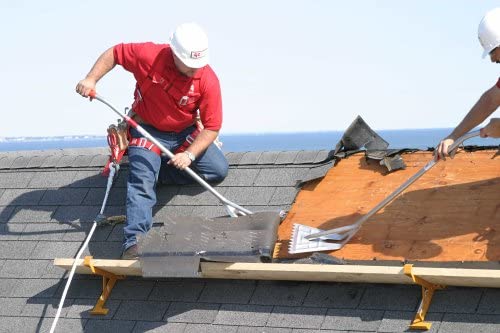 At some point, every roof needs to be reshingled. This requires a unique tool called a shingle removal tool. Most people get their roof reshingled by a professional. However, this can be costly. Some homeowners may decide to do it themselves, especially if there is only a small area that needs to be fixed.
If you want to reshingle your roof, you need a shingle removal tool. These tools are essential, so you need to purchase the best one available, or you may run into difficulties. Below, you'll find our reviews for some of the top options on the market, as well as information about choosing the best model for your purposes.
---
A Quick Comparison of Our Favorites
Rating
Image
Product
Details

Best Overall

Bully Tools 91110 10-Gauge ProShingle

Limited lifetime warranty
10-gauge steel construction
No-slip handle
CHECK PRICE

Best Value

Dasco Pro 640 Shingle Ripper

High-carbon steel
Removes shingles without causing damage
24-inches long
CHECK PRICE

Premium Choice

Malco SB48AE The Beast Roof Shingle Removal Tool

Comfortable to use
Very effective
Fiberglass handle
CHECK PRICE

Qualcraft 2560P Shingle Removal Shovel

Ergonomic handle
Lightweight
Rugged
CHECK PRICE

MBI Shingle Stripper

Lightweight
Inexpensive
Welds are solid
CHECK PRICE
The 6 Best Shingle Removal Tools – Reviews 2023
1.

Bully Tools 91110 10-Gauge ProShingle – Best Overall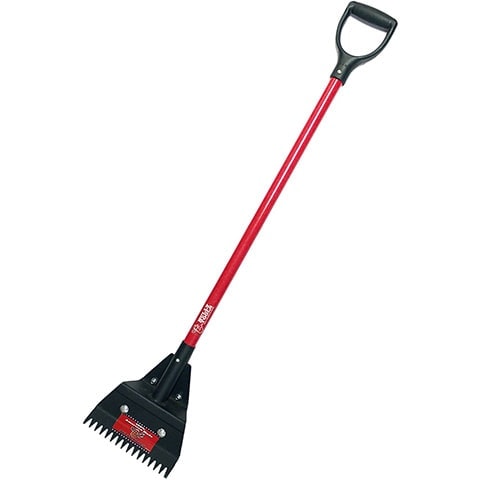 The Bully Tools 91110 10-Gauge ProShingle is by far the best option currently on the market. It is commercial grade, making it suitable for professionals, and comes with a limited lifetime warranty. It is made out of extra-thick 10-gauge steel. This material makes this tool one of the most durable on the market, which is one reason why we rated it so high.
The D-grip is not made out of weak plastic, which is common among these tools. Instead, it is made with no-break polypropylene and features an extra-wide design. The no-slip texture on the handle is also quite helpful. The handle is decently comfortable and doesn't hurt your hand after using it for a while. The handle is also reinforced and made of fiberglass, which makes it very durable.
The only main downside of this tool is that it is somewhat heavier than many other options. This is likely because it is made of thick steel. This makes it durable, but it also makes it very heavy. This is one of those features that is about give-and-take. Overall this is the best roofing shovel we have reviewed this year.
Pros
Limited lifetime warranty
10-gauge steel construction
No-slip handle
The handle is made of fiberglass
Extra-wide handle design
---
2.

Dasco Pro 640 Shingle Ripper – Best Value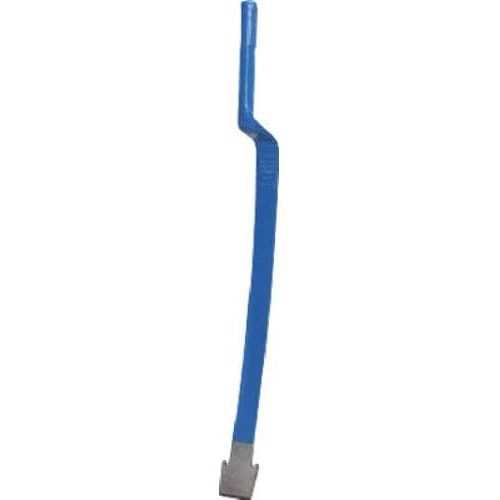 As a cheaper option, we also liked the Dasco Pro 640 Shingle Ripper. This ripper is much less expensive than much of the competition. However, it is still useful in a variety of situations. It is designed for prying, ripping, and nail pulling. Because it is made of high-carbon steel, it is quite durable as well. Despite the low price, this shingle ripper is made with high-quality materials. It is 2 feet long, which should be suitable for most purposes.
This tool is designed to remove shingles without causing damage. It works on most shingles, including wood, slate, tile, and asphalt. The versatile design makes it perfect for professionals and homeowners alike since you can use it on basically anything.
The only significant downside of this tool is that it isn't strong enough to remove roofing nails by itself. Instead, it can lift each piece of tile just enough for you to go at it with pliers. This makes the whole thing take a bit longer than it would with another shingle ripper. However, for the price, you really can't beat this tool. Overall, we still feel like this is the best shingle remover tool for the money.
Pros
Inexpensive
High-carbon steel
24-inches long
Removes shingles without causing damage
Works on a wide variety of materials
Cons
Not strong enough to completely remove shingles
---
3.

Malco SB48AE The Beast Roof Shingle Removal Tool – Premium Choice
For those with some extra money to spend, you may want to look at the Malco SB48AE The Beast Roof Shingle Removal Tool. It is a bit more expensive than most other options, but you're getting bang for your buck. It is comfortable to use and cleanly lifts off heavy loads of shingles with little effort. It can pull out nails in a single motion and makes quick work of most shingle removal jobs. The adjustable head allows you to handle different roof pitches easily, while the fiberglass handle is lightweight and robust.
The handle itself is made for balance and control. It makes a massive difference in the use of the tool. It makes the whole tool lightweight and easy to use. You won't mind spending hours using this tool, thanks to the comfortable handle. It is made in the USA as well, which typically means it will be pretty good quality. The blades are made out of 10-gauge steel and are replaceable should they break. This extends the tool's lifespan, which is always nice when you're paying so much for it.
There are no significant downsides to this tool besides its price. It is quite expensive, so it isn't exactly budget-friendly.
Pros
Comfortable to use
Very effective
Fiberglass handle
Replaceable blades
---
4.

Qualcraft 2560P Shingle Removal Shovel
With rugged, all-steel construction, the Qualcraft 2560P Shingle Removal Shovel is an excellent option for many users. It has a heat-tempered work edge and is lightweight. With a versatile design, it is suitable for most uses. The ergonomic handle allows you to use this tool for an extended period before fatiguing. You should have no issues using this removal shovel all day long if you need to. The vinyl grip handle is very comfortable – one of the most comfortable options on the market.
The shaft of this tool is so rugged that there is little chance of it breaking. It is one of the most durable tools out there.
With all these benefits, you'd think that we'd rate it higher. However, it has some significant downsides. While the handle is quite comfortable, it is oddly shaped. You can't kick it or apply much force easily to get under something. This is a small design flaw, but it can severely affect the effectiveness of the tool. The blade edge is also a little thicker than it needs to be, making it difficult to get under some shingles.
Pros
Ergonomic handle
Lightweight
Rugged
Cons
Oddly shaped handle
Thick blade edge
---
5.

MBI Shingle Stripper
The MBI Shingle Stripper is about as typical as strippers come. It is designed based on the usual shovel-shape. The head is made with lightweight steel, though it seems to be a bit lower-quality steel than many of the other options we've looked at. The handle is D-shaped and made out of plastic. It is not the most comfortable option out there, nor is it the sturdiest. However, it does seem to be decent for light work. Over time, it does bite into your hand a little bit, though.
It is designed for commercial and residential use. All the welds were made with robots for extra strength and durability. The welds seem entirely accurate and robust, so there is nothing that we can complain about there.
The tubing of this tool is not particularly strong. It will bend if you bear down on it hard enough, which can be a problem when you're trying to remove tough shingles. The gauge steel used in this tool is not on-par with the other options we have reviewed.
Pros
Lightweight
Inexpensive
Welds are solid
Cons
Low gauge steel used
So-so handle
---
6.

AJC TOOLS 022-AJCSR Shingle Slate Remover
The AJC TOOLS 022-AJCSR Shingle Slate Remover is surprisingly expensive for what it is. It is made out of carbon steel that has been hardened for an increased lifespan. The guard protects the hand while also providing a solid grip.
However, this remover is far more expensive than most other options on the market despite these upsides. It isn't incredibly awesome either, so you aren't getting much bang for your buck. There were also a few problems with this remover. The head wasn't incredibly narrow, which made it unusable for removing staples.
It is also quite long, so it is challenging to remove shingles placed close to the ground. This isn't necessarily a huge negative since some people prefer longer handles. However, it got in the way enough for us to knock it down a bit.
Pros
Guard to protect the hand
Carbon steel
Cons
Overpriced
Very long
Head is not narrow
---
Buyer's Guide – How to Choose the Best Shingle Remover
When looking for a shingle remover tool, you should keep a few different things in mind. While many of these tools may look similar, they can have many different features. You must choose the right one for your job, or you may get stuck with an almost useless tool and blistered hands.
Below, we'll help you sort through all the different available features and answer some of the most common questions regarding these tools.
Steel Strength
Practically all of these shingle remover tools are made with some steel. The strength of this steel varies widely, however. Some tools use steel that bends when you apply too much force to it, which isn't going to be suitable when you're trying to remove shingles.
The steel strength is an essential feature to consider. Despite this, though, it isn't easy to judge the strength of the steel used. A straightforward way to do this, though, is to rely on reviews like ours. If the steel is weak, it will likely show up in a review. If it bends, we know it is less durable than many of the other options out there.
Cost
The price of these tools can vary quite widely, which may come as a surprise. The quality of the steel and other materials does play a role in the cost of the tool. However, other things can factor in as well. Sometimes, you'll end up paying a bit more just for the brand name. Some cool design features may also play a role.
With that said, in a lot of cases, there isn't anything significant that goes into the tool price. There are many expensive tools on the market that are not significantly higher quality than the cheap tools. It is in your best interest to avoid these overpriced tools, even if you can afford them in these cases.
Ergonomics
When you need to remove shingles, you're often going to be up there for quite a while. You want to get your project done as quickly as possible, which means taking as few breaks as possible. If the tool you're using hurts your hands and causes fatigue after only a little use, you will likely not be able to work for as long as you could otherwise. This is a significant downside you need to look out for. The last thing you want to do is purchase a tool that hurts your hands.
Simultaneously, it isn't easy to judge a tool's comfort without testing the tool out first. You can't always do this, whether you're shopping online or in a store. It is difficult to figure out how your hand might react to a tool after using it for an extended period, even if the handle seems comfortable at first.
The only way to get this information is to rely on reviews and judgments from others. Our reviews are a great place to start, as we paid close attention to the ergonomics of each tool we reviewed.
Durability
We've already touched on this a little bit, but it deserves its own category. On top of containing steel, the shaft and handle of these removers are often made out of something different. Plastic is cheap and commonly used. However, it bows under weight and can snap. Instead, the best options are fiberglass and tempered glass. These are lightweight materials, but they are also extremely durable.
Handle Material and Design
The handle of these tools is essential. You're going to be using them for an extended period. If the handle is poorly designed and made out of bad material, you probably will hurt your hand and get fatigued quickly. A well-designed handle is essential.
The handle should be ergonomically shaped and designed to translate lots of leverage to the shingles. You don't want a handle the bends or warps when you try to use it. You should also ensure that the handle is covered with some no-slip material. Not only does this keep you from accidentally dropping it, which can be potentially dangerous when on a roof, but it can also prevent you from getting blisters. Sadly, blisters often come with the territory of removing shingles, so we should aim to avoid them as much as possible. Every little bit counts!
Nail Remover
When you remove shingles, the nails and staples holding them down have to come up as well. You can do this with a separate tool, like a pair of pliers. However, it is much easier and straightforward if the shingle remover can take care of these problems. You should look for a tool with strong teeth that are appropriately-shaped for removing nails and staples. The teeth should not be significantly far apart, or you may have difficulties in this regard.
FAQs
What is the best way to remove shingles?
The easiest and best way is to invest in a shingle remover that is high-quality. Luckily, these tools are not expensive and are easy to find. In our reviews above, we took a look at some of the best options on the market so that you could choose the best one for your purposes.
A good shingle remover should also remove the old nails and staples, which can reduce the time it takes you to clean off the roof by a lot. You'll be able to kill two birds with one stone in most cases.
How hard is it to remove shingles?
It isn't necessarily as difficult as it is tedious. It takes a lot of shingles to cover the average-sized roof. Because of this, you'll likely find yourself removing them for quite a while. This can be hot and potentially back-breaking work. Bringing along the right tool can be a considerable upside, though. A good shingle remover can be a significant benefit to the whole ordeal.
What can I do with old roof shingles?
Some shingles can be taken to the landfill for disposal. These include asphalt shingles and a few other materials. This may vary by locality, so call your local landfill to determine if they can take your shingles.
Another easy way is to rent a dumpster, which allows you to toss the shingles into it for easy disposal. This does cost a bit of money, though, and may not be suitable for smaller jobs.

Conclusion
There are many roof shingle removers currently on the market, so it can be challenging to choose the best choice for you. We highly recommend that you do your research when it comes to choosing the best model. Our reviews and guide should hopefully help you do just that!
For most people, we recommend the Bully Tools 91110 10-Gauge ProShingle. It is well made without being expensive. It is made of durable steel and also has a comfortable handle.
The Dasco Pro 640 Shingle Ripper is a quality budget-option. It isn't quite as effective as some other options, but it is durable and costs much less than most.
Related Reads: