10 Best Staple Guns of 2023 – Top Picks & Reviews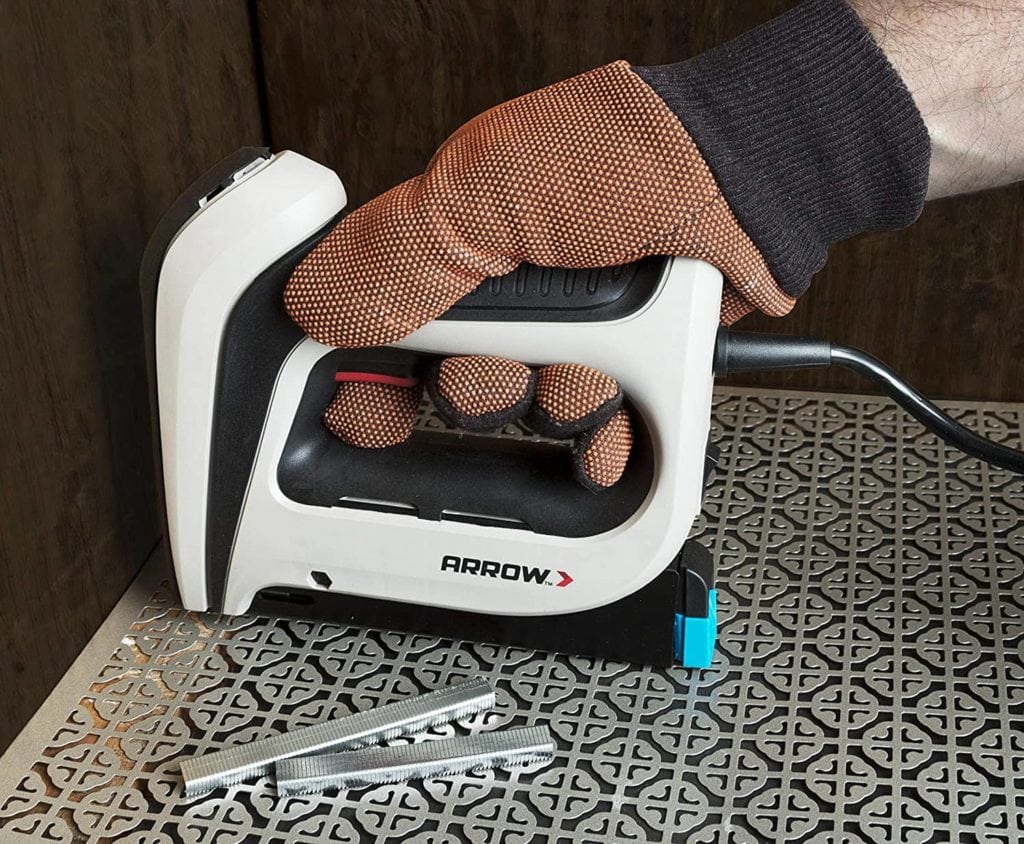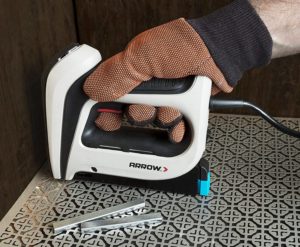 If you are regularly involved in DIY work, chances are high that a staple gun is indispensable to you. These tools come in handy when looking to handle projects that require next-level staplers, such as upholstery, woodwork, roofing, masonry, and more.
Nonetheless, staple guns differ in practicality, as well as quality. Therefore, it is important to do your research first before rushing to buy a staple gun, simply because you realized that you need one. This involves not only looking for a high-quality product but also one that suits your needs best.
To save you that hassle, we have compared numerous staple guns. The following are reviews of the 10 best staple guns on the market today.
A Quick Comparison of Our Favorites in 2023:
Rating
Image
Product
Details

Best Overall

Topec 3-in-1 Manual Heavy-Duty Staple Gun

Accommodates different types of staples
Ergonomic handle for comfort
Versatile
CHECK PRICE

Best Value

Surebonder 9600B Pneumatic Heavy Duty Standard T50 Type Stapler

Minimal effort to use
Numerous applications
Comes with safety features
CHECK PRICE

Premium Choice

Makita XTS01Z Crown Electric Staple Gun

Versatile
Ergonomic design
Easy-to-use
CHECK PRICE

Porter-Cable US58 C-Crown Pneumatic Staple Gun

Lightweight
Easy to use
Best for upholstery
CHECK PRICE

Stanley TR150HL SharpShooter Heavy-Duty Manual Staple Gun

Tough and sturdy
Great grip
Adjustable power lever
CHECK PRICE
The 10 Best Staple Guns:
1.

Topec 3-in-1 Manual Heavy-Duty Staple Gun – Best Overall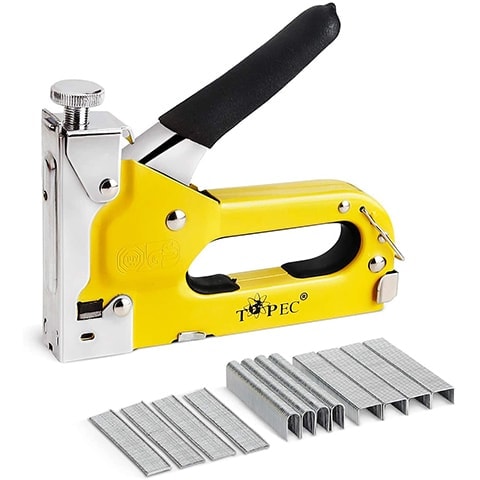 This manual unit from Topec has your back in all kinds of stapling situations.
To begin with, the Topec 3-in-1 gets its name from the fact that it supports three different types of staples, U, D, and T. This allows you to use the same gun on projects requiring different staple types. It also comes with a quick-jam mechanism that prevents staple jams from interrupting your flow.
Another key feature on the Topec 3-in-1 staple gun is the power-adjusting knob that sits on top of the gun. This knob allows you to raise or lower the pressure at which the gun releases the staples, thus, allowing you to customize your stapling needs according to the material that you are working on.
This staple gun is also remarkably versatile. It can handle stapling work across a wide array of projects, ranging from small home repairs to full-blown upholstery and carpentry.
While this unit is made of thick carbon steel, it is incredibly light, weighing only 1.54 pounds. Moreover, it comes with an ergonomic handle that has cushioning. Therefore, despite being a manual staple gun, the Topec 3-in-1 is exceptionally comfortable to handle.
One drawback that we have to point out, however, is it can give you a hard time when looking to insert or remove staples. Nonetheless, when you couple its versatility, hardiness, and its fair price point, it is not hard to see why the Topec 3-in-1 is one of the best staple guns in the game.
Pros
Accommodates different types of staples
Ergonomic handle for comfort
Versatile
Affordable
Cons
Difficult to insert or remove staples
---
2.

Surebonder Pneumatic Heavy Duty T50 Type Stapler – Best Value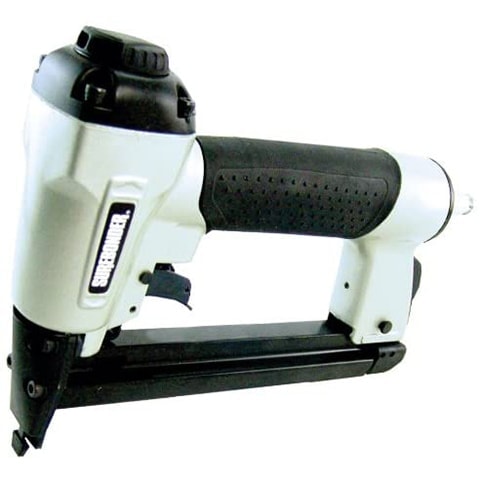 You mostly do your best work when everything in your environment seems to be working in your favor. Some people call it "the stars aligning," we call it efficiency. One of the biggest contributors to efficiency is the tools we use.
For a staple gun, efficiency means allowing you to load and fire staples with as minimal effort as possible, which is what you get with the 9600B Pneumatic staple gun from Surebonder. As a result, this unit is a great choice for both DIYers and professionals.
The Surebonder 9600B features a sturdy build to facilitate its use in heavy-duty purposes. However, it can also be used for light-duty work as it accommodates T50 staples of various lengths.
Thanks to the quick-release magazine in the 9600B, you can reload the gun in record time to prevent stalling the job. Moreover, its magazine can hold up to 100 staples, thus ensuring that you can work for a considerable period without reloading.
This gun also has your safety in mind, as it comes with the bump-action safety system that prevents the unit from firing accidentally, which is something that often occurs in pneumatic staple guns. While the overall quality of this unit might not be the best, its price is considerably low, which is why it is one of the best staple guns for the money.
Therefore, if you are looking for a great staple gun on a budget, we highly recommend that you check this product out.
Pros
Minimal effort to use
Numerous applications
Comes with safety features
Quick-reload mechanism
Low price point
---
3.

Makita XTS01Z Crown Electric Staple Gun – Premium Choice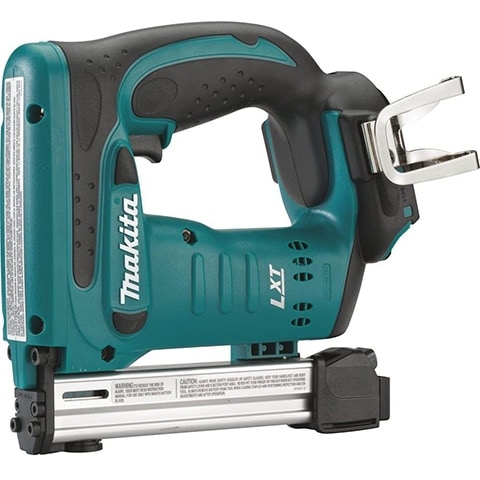 The XTS01Z by Makita is in most professionals' top 5 staple guns, and for good reason; it is easy to use, durable, and versatile.
This electric staple gun has been designed to meet the needs of most people who use staple guns. For starters, it can drive ⅜-inch staples into all sorts of surfaces and materials, ranging from drywalls and hardwoods to upholstery. Moreover, this unit works with ⅞-inch and ¼-inch staples as well, thus ensuring you can use it across a diverse array of projects.
Its ease of use is another thing you will love, thanks to features such as the depth control knob and staple-viewer window. The control knob allows you to adjust your depth settings from project to project, while the staple-viewer window allows you to keep track of the staples in the magazine as you work.
What's more, the Makita XTS01Z has an anti-jamming mechanism to ensure a hassle-free stapling experience.
The only issue we have with this staple gun is that you have to purchase its battery and charger separately, thus increasing its price considerably. Fortunately, if you have any cordless tool from Makita, there is a good chance that their batteries are compatible.
All in all, the Makita XTS01Z is an incredibly efficient, easy-to-use, and high-quality staple gun that we would recommend to anybody looking for a high-end staple gun.
Pros
Versatile
Ergonomic design
Easy-to-use
Durable
Cons
The battery is purchased separately
---
4.

Porter-Cable US58 C-Crown Pneumatic Staple Gun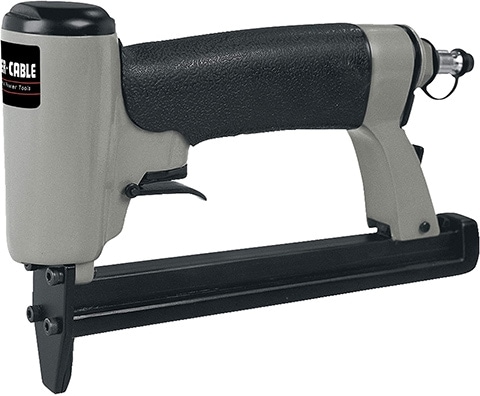 If one was to make a case for the Porter-Cable US58 being the best product on our list, we would hardly argue with them. This unit is especially convenient for upholstery projects. The US58 is light, easy to use, fires staples rapidly, goes for long without requiring reloading, and rarely jams.
Weight is an important consideration when it comes to staple guns, as they are hand-held tools. Weighing in at only 1.8 pounds, it is honestly impressive that the US58 is able to handle heavy-duty projects the way it does.
This pneumatic staple gun's design is compatible with numerous air compressors, which allows you greater control over the tool's performance.
This unit's magazine can hold an impressive 180 staples at full capacity. This enhances your efficiency, as you do not have to stop to reload frequently. Another feature on this unit that you will appreciate is the 1-inch nose extension that allows you to extend the gun's reach to help you staple hard-to-reach spaces.
Unfortunately, as it does not come with a pressure-activated safety nose, the Porter-Cable US58's safety is questionable.
This staple gun best suits professionals looking for a light staple gun to use for their upholstery projects.
Pros
Lightweight
Easy to use
Best for upholstery
The magazine holds 180 staples at a time
Cons
Lacks essential safety features
---
5.

Stanley SharpShooter Heavy-Duty Manual Staple Gun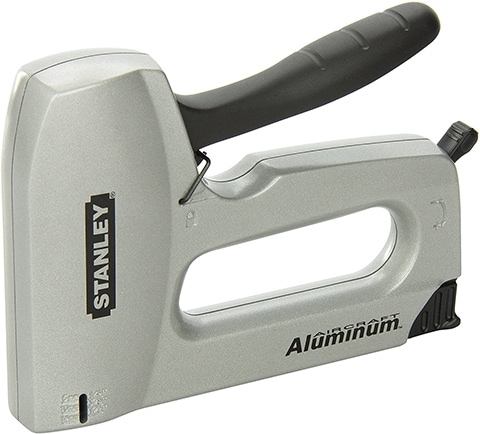 We will be honest, ranking these staple guns is difficult, as this is yet another unit that could easily find itself at the top of another person's list, and we would not complain.
Stanley is a brand that is renowned for their top-tier products, and the TR150HL is proof of that.
For starters, this manual staple gun has been designed to take a beating. It is made of aircraft-grade aluminum to ensure that it can handle the falls and tumbles that are common in heavy-duty applications.
It is not only durable but also incredibly powerful. It comes with a power-adjusting lever to ensure that you can drive in 6- to 14-mm heavy-duty staples deep into a material when you have to. Similarly, the lever allows you to use the Sharpshooter in light-duty applications as well.
The Sharpshooter also comes with an anti-jam mechanism that prevents interruptions during work.
You will also love that this bad boy only weighs 1.45 pounds, despite being so rugged. Couple that with its ergonomic handle and portability, and you have yourself a reliable companion for your stapling needs.
The only issue with the TR150HL Sharpshooter is that its large handle can make it difficult for people with smaller hands to squeeze.
Pros
Tough and sturdy
Great grip
Adjustable power lever
Lightweight
Limited lifetime warranty
Cons
Not ideal for people with smaller hands
---
6.

Arrow Fastener T50ACD Corded Electric Staple Gun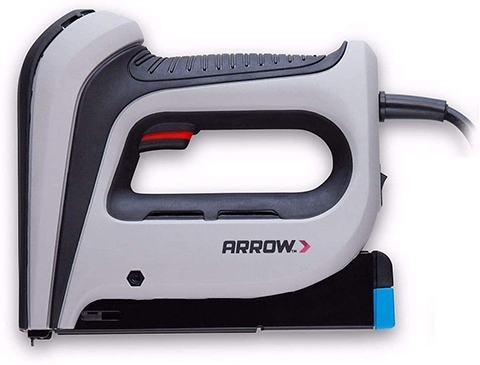 The T50 ACD by Arrow Fastener is an effective, easy to use, and sturdy electric staple gun.
Its biggest drawback is the fact that it has to be plugged into a wall socket for it to work. As such, it is not a portable gun. The good news is that it traded its portability for power, efficiency, and longevity.
First off, its magazine is equipped with a fast-release mechanism to allow you to shoot staples rapidly. It also allows for quick reloads. Additionally, it has an indicator light that turns on when you are about to empty your magazine.
What's more, it features an LED light for illumination purposes, thus ensuring that you can work even in dimly-lit areas.
The T50 ACD has a durable build as well to ensure that it can withstand falls. It is comfortable to use as it features an ergonomic slip-resistant grip.
Pros
Great design
Sturdy build
Quick-release and reload mechanism
LED lights for illumination
Indicator for staple levels
---
7.

Arrow Fastener T50 Heavy Duty Staple Gun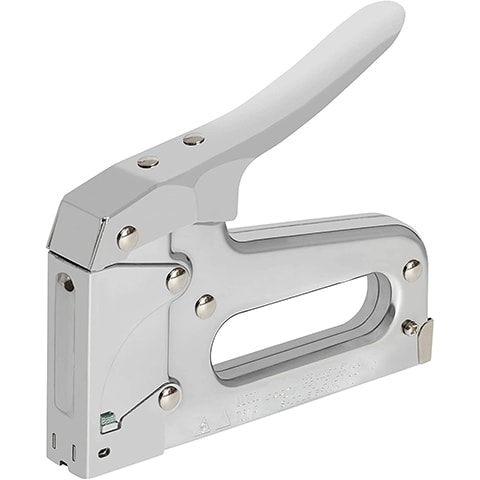 If you are looking for a cheap and reliable general-purpose staple gun, the Arrow Fastener T50 might just be what you are looking for. While the T50 might not be the best looking staple gun in the world, it is made out of solid steel. This means that it can take a beating better than any new generation staple gun can.
In addition to its durability, this unit comes with an anti-jamming system to add to its reliability. Moreover, it accommodates six different sizes of T50 staples to allow you to use it on a wider array of projects.
Nonetheless, when it comes to larger projects, the T50 might not have what it takes. This is a staple gun for general-purpose use.
Pros
Simple
Reliable
Durable
Jam-resistant
Cheap
Cons
Not ideal for high-level projects
---
8.

Stanley TRE550Z Electric Staple Gun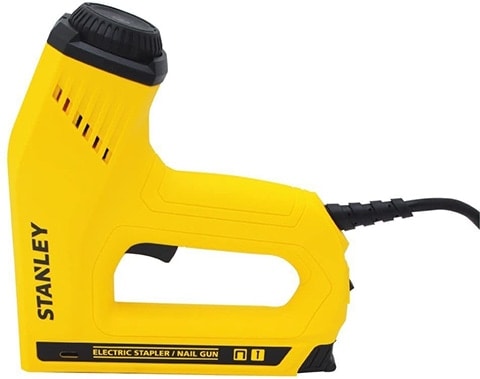 This electric unit by Stanley might be small, but it packs a decent punch to allow it to drive staples through most types of materials. Additionally, it accepts several variations of Arrow T-50 staples, as well as brad nails. This allows you to use it across a wider array of projects.
To ensure smooth sailing, the TRE550Z is fitted with an anti-jam mechanism. It also has a safety lock that ensures that the gun does not go off unless you squeeze the trigger.
This staple gun also allows you to customize depth and power using its dual selector mechanism.
Nonetheless, it has its limits, as it cannot handle projects involving hardwood or metals. Therefore, it is best suited for people looking for an affordable electric staple gun for general-purpose use.
Pros
Low cost
Decent power
Safety features
Cons
Not ideal for tough materials
---
9.

DEWALT DWFP12232 Crown Stapler Kit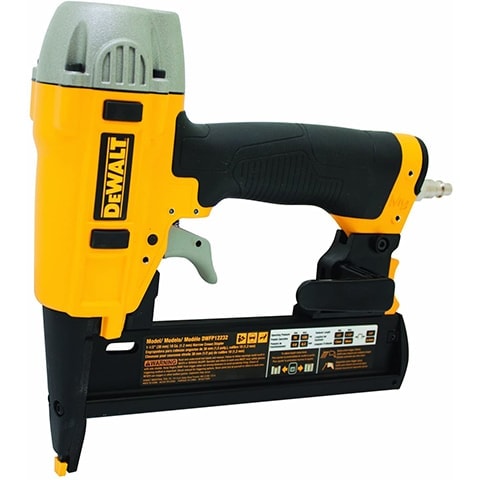 There are three things that you can be sure about in life, death, taxes, and DeWalt building reliable machinery. While this particular unit has been designed for light-duty work, it is an absolute pleasure to work with. It comes with a spring-loaded trigger to allow you to pull with ease, as well as an indicator that tells you when to reload.
To enhance its portability, it comes with a hook to use to hang the machine on your belt. It is also fitted with a safety mechanism that prevents the gun from going off accidentally.
There is no doubt that the DeWalt DWFP12232 is an excellent staple gun. However, it is not apt for heavy-duty work. Additionally, at 5 pounds, it is incredibly heavy.  It is also expensive compared to other guns in its class.
Pros
Good product from a great brand
Lifetime warranty on the motor
Cons
Expensive
Heavy
Not ideal for heavy-duty projects
---
10.

ROBERTS 10-600 Electric Stapler Gun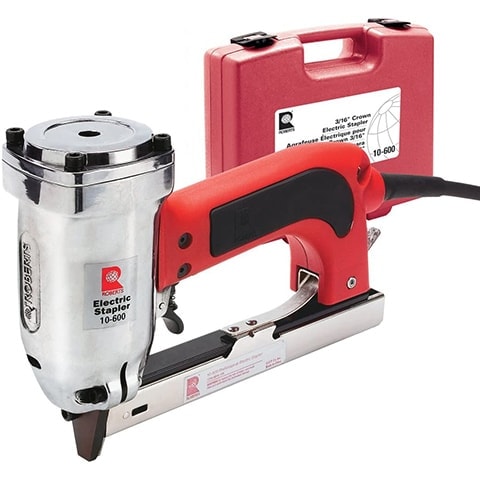 To cap off, we bring you this heavy electric staple gun by Roberts.
This staple gun is a moderately powerful unit that can help you with your carpeting and re-carpeting needs. It comes with a quick release and fast reload features for optimal performance.
For comfort and safety, the Roberts 10-600 has an ergonomic, non-slip handle to allow you to use the gun in wet situations.
However, with its limited 85-staple carrying capacity, it means that you will be reloading frequently. Additionally, its power does not allow it to handle heavy-duty projects effectively. It might also jam frequently and the plastic handle isn't chic.
Pros
No-slip grip
Decent power
Cons
Not ideal for larger projects
Jamming tendency
Limited magazine capacity
Plastic handle
---
Buyer's Guide – Choosing the Best Staple Gun
In this section, we will cover the factors that you need to consider before buying a staple gun. This will help you avoid making a bad investment. It will also help you find the best tool for your needs.
Types of Staple Gun
Staple guns are of three main types: manual, electric, and pneumatic.
Manual Staple Guns
These are what usually come into the minds of most people when they think or hear about staple guns. As you can imagine, there is not a great deal of technology used in these units, as they work in a simple, mechanical fashion.
You use your hand to generate the power needed to activate the mechanism that drives staples into a material.
Manual staple guns have a few advantages. They are light and do not require a power source, meaning that you can use them anywhere and at any time. They are also the most affordable of the three staple guns.
However, since they require your strength to operate, these guns are not ideal for labor-intensive projects. They are also not ideal for people with bone problems, such as arthritis.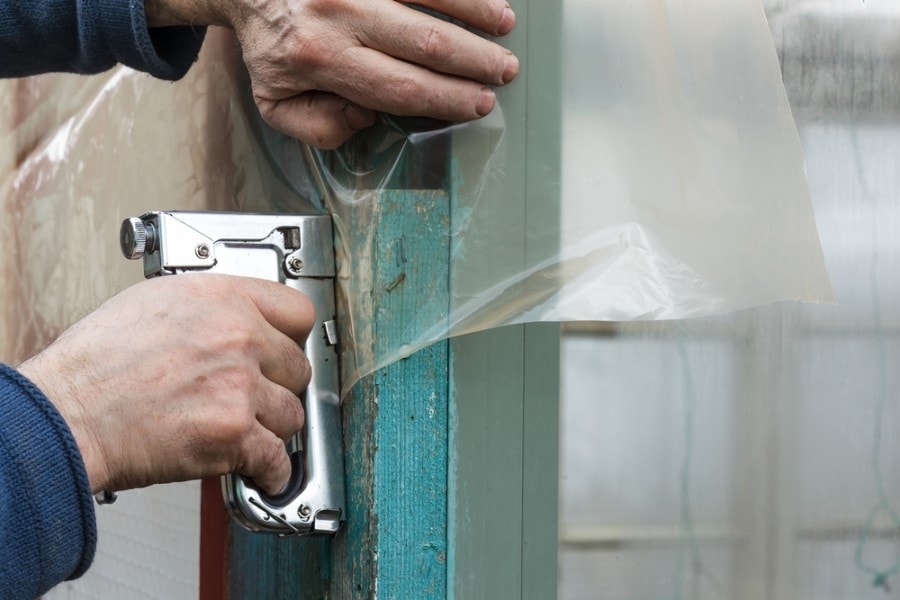 Electric Staple Guns
These staple guns have motors that use electricity to drive staples into materials at the squeeze of the trigger. They can either be corded or feature rechargeable batteries. Corded electric staple guns are more powerful than the latter. However, they are severely limited when it comes to mobility, as you must always be close to an outlet.
Electric staple guns have the advantage of power and precision, thus allowing them to tackle all kinds of projects. However, their limited portability and high price point are factors that you should weigh.
Pneumatic Staple Guns
Pneumatic staple guns are high-end tools that are considered professional-level equipment. It is very unlikely that you, an ordinary homeowner or DIYer, will need a pneumatic staple gun.
These guns utilize compressed air to drive staples, tacks, and nails into surfaces.
If you are involved in heavy-duty projects that require stapling, then these beasts are what you need. They are easy to use, in addition to being extremely durable.
Ease of Use
You want a staple gun that does its job quickly and effectively, especially considering that some projects can have you stapling away for hours.
Therefore, the gun should be light, as even a few pounds can feel like Thor's hammer after a few hours.
Additionally, it should allow you to adjust power levels as you please. This is because the force you use to drive staples into hardwood might be a little too much for simple upholstery projects, and vice versa.
The ideal gun's magazine should also have a decent staple-carrying capacity to ensure that you do not have to keep reloading the gun. Moreover, it should allow you to reload the gun as quickly and as efficiently as possible.
Size
You might find yourself needing to drive staple or nails in all sorts of awkward places, such as small or narrow corners. A bulky unit, therefore, will not do you any favors in that regard.
Bulky staple guns can also be problematic for people with smaller hands, especially women. This is because they often have large handles that give such individuals a difficult time handling the tool.
On the other hand, if you have large hands, you might have a hard time being accurate when using a unit with a small grip handle or trigger.
Anti-Jamming Mechanism
Staple guns are susceptible to jamming, especially the manual ones. These jams can be very frustrating, as they interrupt the flow of your project, in addition to wasting your time. Fortunately, most staple guns today feature anti-jamming technology or tools to prevent or remove jams. Therefore, ensure that a gun is equipped with these features before purchasing it.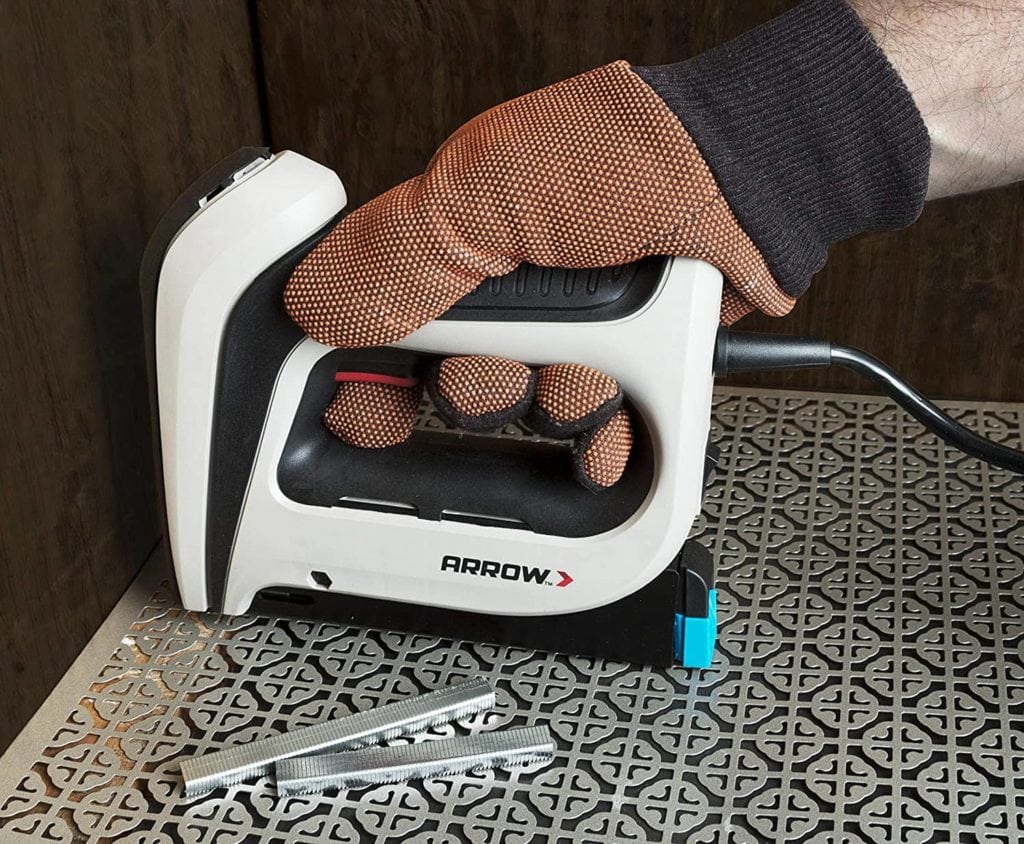 Durability
This is an incredibly important factor to consider, especially if you are going to be stapling into hard surfaces. If that is the case, go for a heavy-duty staple gun, as they typically have sturdier builds.
The price you pay for a gun is sometimes a good indicator of its quality and, therefore, its durability. Therefore, you are better off making a costly one-off investment that will guarantee you longevity.
Warranty
With their hardiness, chances are that you do not even need a warranty for a manual staple gun, as these units can survive just about anything. However, when it comes to the electric and pneumatic staple guns, there is a higher degree of risk of something going wrong as moving components are involved. Additionally, they are significantly costlier than manual staple guns. Therefore, ensure that your gun has a warranty to put your mind at ease.
More buying guides like this:

Conclusion
There you have it; that was our round-up of the best staple guns on the market today, with our best choice being the Topec 3-in-1 heavy-duty staple gun. It is powerful, reliable, efficient, and affordable.
Our best value pick is Surebonder 9600B Pneumatic Heavy Duty Standard T50 Type Stapler, which is easy to use and features a quick-reload system that saves time and effort.
The other items in these reviews are worth considering too. Ultimately, your needs are what will determine your ideal staple gun.
See Also: