Bosch CS10 Circular Saw Review 2023 – Pros, Cons, & Verdict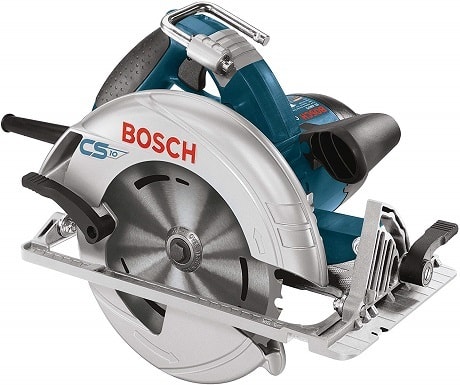 We give the Bosch CS10 Circular Saw a rating of 4.9 out of 5 stars. 
Build Quality: 4.6/5
Power: 5/5
Features: 4.9/5
Price: 5/5
Review Summary
To say Bosch has a history in power tools would be an understatement. Long after its foundation in Germany in the late 1800s, Bosch is now a common household name in the power tool industry.
The CS10 delivers a powerful 15-amp, 5,600 rotations per minute (RPM) motor while still maintaining some necessary features (like a dust blower and rafter hook) and its mid-range affordability.
It's the perfect saw for the DIYer or semi-professional just starting out. It's great for lots of big projects that require rip and cross cuts and need lots of torque.
If you're looking for a saw to last a lifetime without much breaking, and you need to make a lot of bevel cuts, this may not be the saw for you. Some parts of this saw are made of plastic (which is necessary to keep the product lightweight and affordable). This includes the bevel adjustment levers, and they have been known to break during use.
Despite this flaw, the Bosch CS10 is an all-around great saw.
Bosch CS10 Circular Saw – A Quick Look
Pros
Powerful saw with up to 5,600 RPM
Helpful features like a rafter hook and dust blower
Long, 10-foot power cord
Economical option
Easy blade-changing with onboard wrench
Cons
Plastic parts can break easily
Included saw blade underperforms
Specifications
Specifications
Brand name: Bosch
Model: CS10
Blade size: 7¼"
Blade tooth count: 24
Weight: 3 pounds
Power Source: Corded
Power chord length: 10 feet
Amps: 15
Max RPM: 5,600
Base plate material: Cast magnesium
Bevel capacity: 56 degrees
Max depth of cut: 2 – 7/16 inches
Lightweight for its power
This Bosch circular saw is incredibly powerful for its weight.
Though it's a sidewinder circular saw, inside you will find a worm drive gear train, which gives the saw its high amperage and RPMs. Most saws with this much power will usually weigh more than this saw does.
You can also be sure that the power will stay consistent through all your projects all day long with its corded power. As long as your electricity at home is consistent, so will the drive of this saw.
Durable base plate
A circular saw is as good as garbage if the base plate is broken. That's why it's so important that you search for a good material on your circular saw's base plate.
Luckily, this Bosch comes with a magnesium base plate. Magnesium is the highest quality and lightest material to go into a circular saw. It's known to be extra tough and also very smooth when you make your cuts.
Good saw for the money
For the circular saw shopper on a budget, this Bosch is a great option.
The saw is priced low to mid-range for its class. They threw in the most useful features (dust blower, high power) and left out the ones most people can do without (laser guide, cordless power).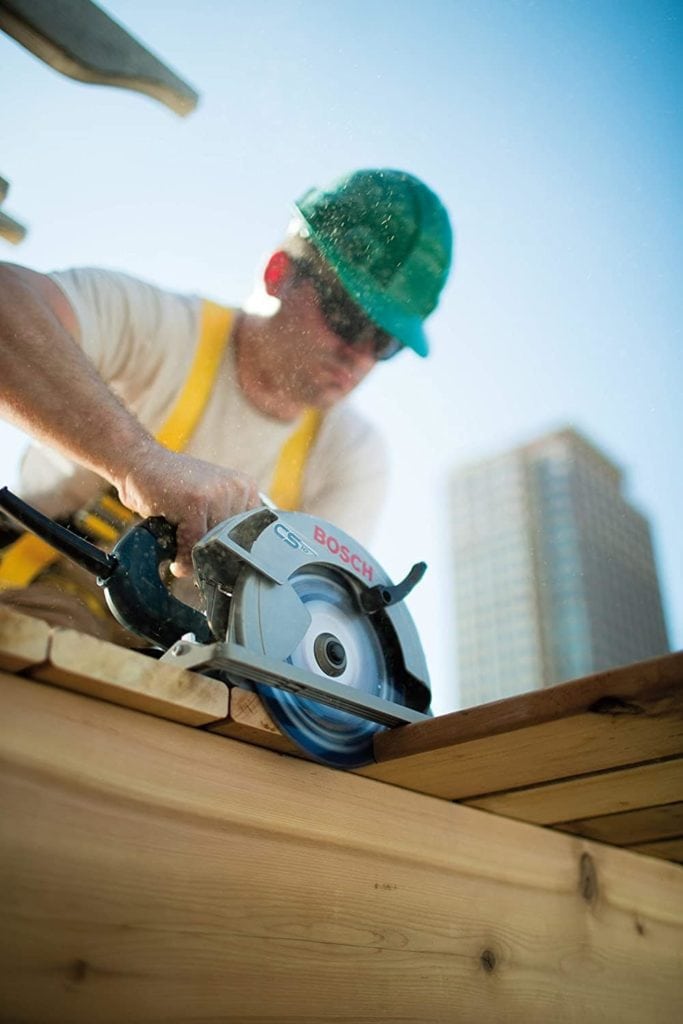 Wide bevel capacity
If you need the flexibility of a variety of bevel cuts, this saw may be the right one for you.
The Bosch CS10 has among the highest bevel capacity against the competition. You can adjust the saw to cut up to a 56-degree angle. This can be helpful for giving your wood projects a smoother look rather than severe edges.
Some parts are made of plastic
In some cases, as is true for this saw, the tradeoff for a lighter weight means you might have more of the saw made of plastic.
This can be all good and fine until you are hard on the saw during your projects.
Take extra care if you decide to purchase this saw. Though the base plate is a highly durable material, other parts of the saw (namely the lower blade guard and the bevel adjustment knobs) tend to crack and break if the user is not careful.

FAQ
How good is the warranty that comes with this model?
This saw comes with a one-year limited warranty. You have to register the saw with Bosch within eight weeks of purchase. The factory service center will run checks on the saw and replace parts due to normal wear and tear for up to one year. The consumer is responsible for shipping to the factory service center. This warranty only applies to products sold within the US, Canada, and Puerto Rico.
Is this saw for right-handed people?
This mostly depends on the user's preference. You can use both a saw with the blade positioned on the right or the left with little difficulty, no matter what your dominant hand is.
Is the Bosch CS10 good for beginners?
Yes, if you can handle the power and the weight of the saw. It's true that it is lightweight for its power, however, there are lighter and less powerful saws out there. If you are a complete beginner with no experience with a circular saw and think you might have a hard time keeping control of it, for safety reasons, you might want to consider a lighter weight and less powerful saw.

What the Users Say
After much research of customer reviews, we'd like to summarize what people who have already bought this circular saw have to say about its quality and performance.
Pretty much with all things, you have to weigh out the good things with the bad. We've honestly laid out the research for you, so you don't have to sift through customer reviews.
The good news
Customers who bought this saw talk about how they enjoy the extra features like the rafter hook, dust blower and clearly marked metrics on the base plate.
When they have cut with the saw, the users say it's very easy to see the line of sight. This is due to it's design. The base plate has perfectly designed spaces where the dust can escape, so it won't bunch up right where you need to see.
According to most reviews, the saw seems to perform as it's described: it cuts straight and is powerful, making rip and cross cuts all day long.
The bad news
The only thing that many customers who were unsatisfied with the product warn about is the plastic features of the saw. The top complaint comes from the plastic bevel adjustment handles. Some users have had these levers or other plastic parts of the saw break while using, which can cause the saw to not cut right.
If you choose to purchase this saw, also consider buying a new saw blade and changing the blade before use. Especially for a professional builder, this is a fairly standard practice with all newly purchased saws. Because the saw is made for 7¼-inch blades (the more common saw blades), you should have no problem finding a higher-quality blade at your local hardware store if you choose to switch it out.

Conclusion
The Bosch CS10 is a great circular saw to add to your workshop, especially for the budget-minded DIYer who still needs quality.
We hope we have helped you on your way to making an informed buying decision.
With its high power and practical features, the Bosch CS10 will be able to breeze through your projects time and time again.