10 Cadillac Facts and Statistics – 2023 Update
Note: This article's statistics come from third-party sources and do not represent the opinions of this website.
Cadillacs were once renowned as the American luxury automobile, with some of the most impressive innovations in the industry. Their later fall as a top car brand has made caused them to fade into relative obscurity, but Cadillac is now making a big comeback. Let's check out some of the most interesting facts there are to know about this unique automaker. We will review:

The 10 Cadillac Facts in 2023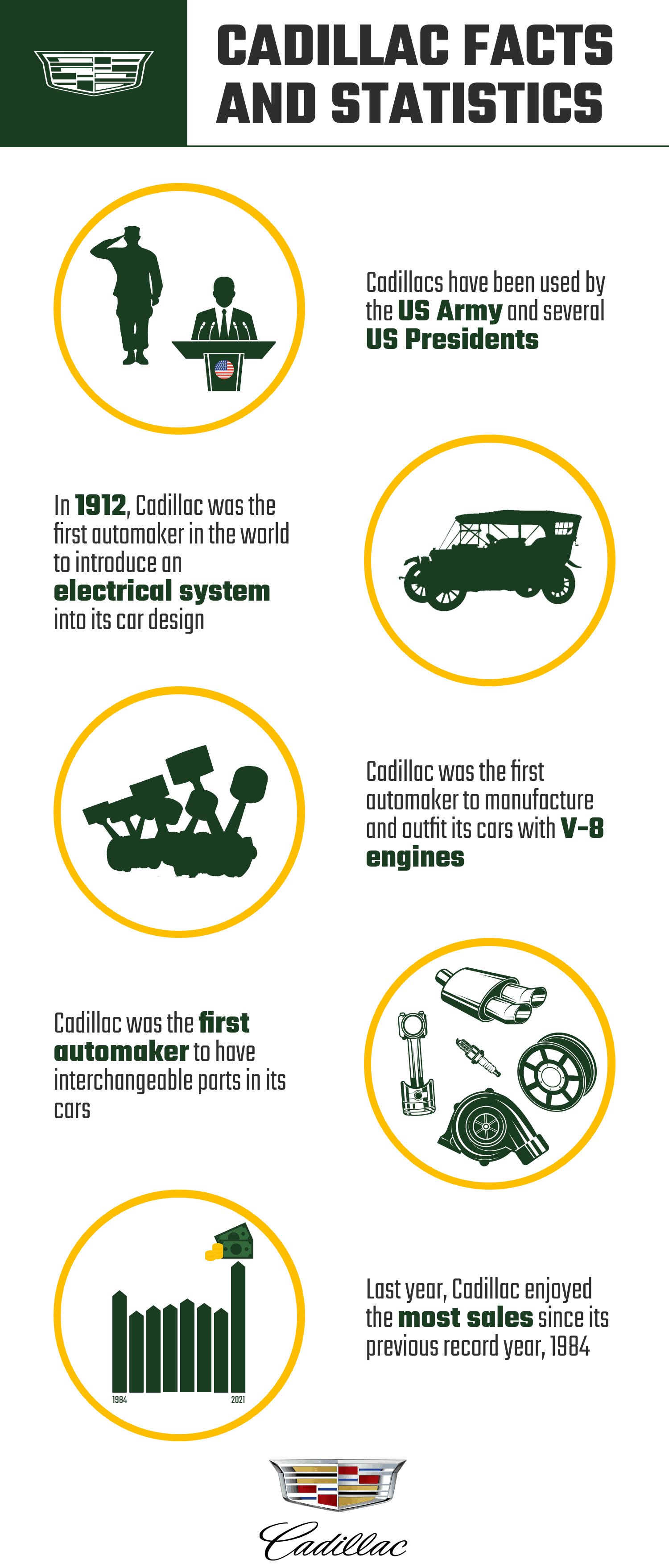 The 4 Cadillac History Statistics
1.

Al Capone's bulletproof 1928 Cadillac was converted into an armored presidential limo for President Franklin Delano Roosevelt.
(US Secret Service)
Infamous mobster Al Capone once owned a bulletproof 1928 Cadillac, which was seized by the US Treasury Department when he was arrested and sent to Alcatraz in 1932.
The Secret Service acquired the vehicle to transport President Franklin D. Roosevelt to give his famous Day of Infamy speech. This makes it the first armored presidential motorcade ever used. The car served as FDR's motorcade until Lincoln manufactured special vehicles just for the president's use a year later.
Al Capone also owned another armored Cadillac, which was used to film the iconic mobster film The Godfather and The Untouchables.
---
2.

At one time, Cadillacs were used by the US Army and several US Presidents.
(Forbes)
Cadillacs have a long history with the US government, starting when the US Army used several thousand of them to transport Army officers in WWI. Although FDR's Cadillac is perhaps the most famous, many other US presidents were driven in Caddies too.
To date, Cadillacs have been used as presidential motorcades for 13 US presidents. Most recently, President Obama was driven in a heavily armored Cadillac dubbed 'Cadillac One,' which had 8-inch-thick steel doors and 5-inch thick bulletproof glass.
---
3.

Unlike other car brands that took their founders' names, the name Cadillac came from a famous explorer.
(Plaza Cadillac)
By the turn of the century, most carmakers were named after their founders, like Ford and Dodge. Cadillac was founded by Henry Leland in 1902, who named the company after the founder of Detroit, Michigan: French explorer Antoine de la Mothe Cadillac.
The name was chosen to give the car brand a unique sense of quality and pioneering spirit. The idea behind Cadillac was that Leland wanted to create reliable cars that offered a greater sense of luxury. Even a century later, Cadillacs are known as a classy car brand that places luxury and reliability over all else while not sacrificing power.
---
4.

The founder of Cadillac learned precision craftsmanship working for the legendary gunsmith, Samuel Colt.
(America's Car Museum)
Cadillac would have never realized its potential if Henry Leland hadn't apprenticed under gunmaker Samuel Colt. Working in Colt's workshop where tools sometimes measured as finely as 1/10,000 of a millimeter, Leland learned the importance of precision engineering.
Cadillac earned its reputation for quality engineering as Leland put what he learned from Colt to work in his fledgling car company. This devotion to quality would earn Cadillac a DeWar Trophy later, the Nobel Prize for automakers back in the day.
---
The 4 Cadillac Innovation Statistics
5.

In 1912, Cadillac was the first automaker in the world to introduce an electrical system into their car design.
(GM)
Until 1912, cars were started by a laborious cranking process. After a friend of Cadillac founder Henry Leland died trying to start a car with its crank, Leland commissioned an electric starter so nobody would get injured that way again.
Phasing out hand cranks meant anyone could start and drive a car without toiling away at a crank. The electrical systems in Cadillacs also enabled electric lighting and paved the way for later innovations like air conditioning.
---
6.

Cadillac is the first automaker to manufacture and outfit its cars with V-8 engines.
(Car and Driver)
While Cadillac didn't invent V-8 engines, it was the first automaker to realize their importance and produce them en masse. The Cadillac Type 51 was the first mass-produced V-8 car, and the engine was also the first to have a coolant tank.
With greater power and reliability, these new Cadillacs sold over 13,000 units and were chosen to transport officers in WWI-era Europe. Cadillac's reputation for power and luxury has endured to this day.
---
7.

Cadillac is the first automaker to have interchangeable parts in their car models.
(New York Times)
In 1908, Cadillac made automotive history by disassembling three of their cars and jumbling up the parts. The purpose of the exercise was to prove the interchangeability of their parts, a pivotal milestone for the industry.
The cars were reassembled from the assortment of mismatched parts, and each of them was driven 500 miles without incident. The company was awarded the Dewar Trophy for the feat, which was akin to the Nobel Prize for automakers.
While Ford pioneered mass production, they had to file their parts for years. Cadillac's car part standardization caused a snowball effect where cars would become cheaper because they were easier to assemble. As a byproduct, cars became higher-quality, which was a win-win for both consumers and the industry.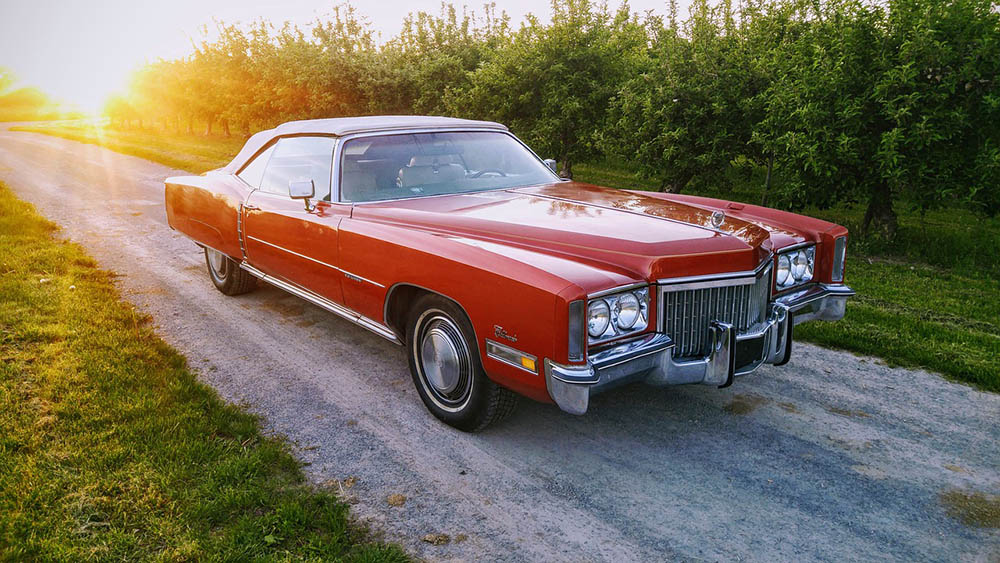 ---
8.

Cadillac was the first carmaker to produce fully enclosed car cabins.
(Concept Carz)
While Ford experimented with car roofs for their Model H, they proved to be very expensive to produce, and hefty price tags meant sales were poor.
Cadillac upped the ante with their 1906 Model M Coupe, the first automobile with a completely enclosed body and roof. This would prove to forever shape the future of car design as the industry stepped away from buggy lookalikes and prototyped designs more reminiscent of modern cars.
---
The 2 Cadillac Sales Statistics
9.

In 2021, Cadillac enjoyed the most sales since its previous record year, 1984.
(Auto Dealer Today Magazine)
While Cadillac suffered a hit to its sales starting in the 1970s, they're making a huge comeback in the affordable luxury car market. While their sales are still relatively low in the US, Cadillac enjoyed record global sales.
In fact, 2021 saw more Cadillac sales since their previous record in 1984, thanks to over 181,000 units ordered by Chinese customers. Even more impressive, this is during a year suffering a shortage in production parts.
---
10.

Cadillac has had a fierce rivalry with Lincoln ever since Cadillac founder Henry Leland split off to found (and subsequently bankrupt) Lincoln.
(Motor Trend)
When the founder of Cadillac resigned and founded Lincoln, the intention was to produce a similar brand of reliable, luxurious cars.
The company didn't last long, however, and Ford scooped up the failing automaker for $7 million to serve as their luxury car division. Urban legend has it that Henry Ford escorted the Lelands out of the building after the acquisition.
Cadillac remained stiff competition to Lincoln even as the latter company flourished with its flagship Lincoln Continental, the very model of car President Kennedy was riding in when he was assassinated.

Frequently Asked Questions About Cadillacs
Do Cadillacs Hold Their Value?
No. Like most other luxury car brands, Cadillacs depreciate very quickly. Recent data indicates that 2020 Cadillacs depreciated about 26% in just one year, down from >40% in 2017. Part of the reason they lose their value so fast is that like other luxury brands, Cadillacs are a status symbol.
Another big reason is that the type of people who buy new Cadillacs also like having new cars, so when newer models come out just a couple of years down the road, they trade in their 'old' car for the brand-new model. In turn, this saturates the used car market with Caddies that are just a couple of years old.
Finally, something else that influences depreciation is the availability and price of parts. Luxury brands like Cadillac tend to have more expensive parts, in part because they're of higher quality. Older cars don't have as many replacement parts floating around.
Are Cadillacs Expensive to Maintain and Repair?
As with most luxury cars, Cadillacs aren't the cheapest to maintain because they're built with expensive and high-quality parts. Rydell Cadillac estimates a typical Cadillac costs $12,500 to $13,500 to maintain for 10 years. That's not even counting other expenses like fuel and insurance premiums!
The tradeoff is that Caddies last longer than most cars, even if their value depreciates quickly. A responsible Cadillac owner who doesn't skimp on maintenance could have a daily driver for many years to come, while another owner who neglects it could have a rusting heap in just a few years.

Conclusion
Cadillacs are some of the most distinctly American luxury cars, with a rich history of pushing the envelope in both technological innovation and classy design. Even if they've faced some bumps in the road, Cadillac is doing better than ever as they head into the new year.
---
Featured Image Credit: emkanicepic, Pixabay