3 Different Types of Vinyl Flooring (with Pictures)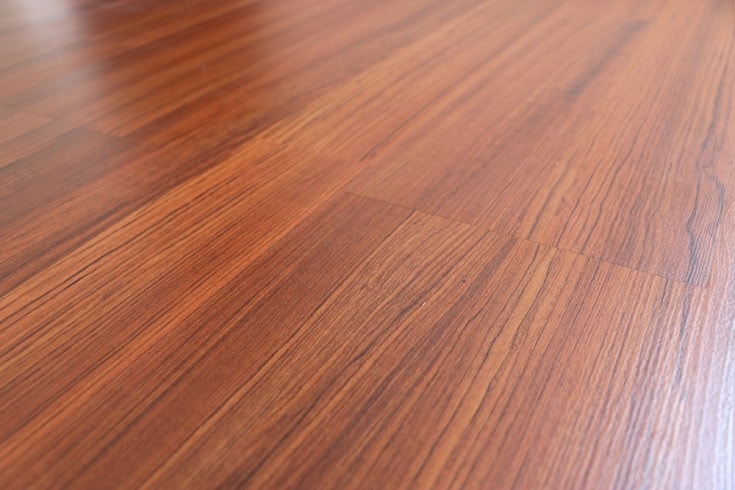 Getting the best floor for your home is important. Like any other part, (the roof, the floor, etc.) will help increase the resale value of your home. One type of flooring that many people are getting today is vinyl. There are many reasons behind this interest, including durability, ease of maintenance, and the cost factor.
When you have a home with kids and pets climbing up and down, getting the right flooring is crucial. Thankfully, vinyl flooring meets most requirements, such as longevity and aesthetics. Plus, there are different types you can choose from and see which fits your home.
Stick around, and let's learn more about vinyl flooring and the different types you can find. That way, you can check on the durability, cost, and aesthetics before buying some for your home.

The 3 Types of Vinyl Flooring
Primarily, there are three types of vinyl flooring. But, the best one depends on what you want for your home. The three types of vinyl flooring are:
1.

Luxury Vinyl Plank (LVP)
Wood flooring can be quite luxurious and gives your home a perfect finishing touch. However, this type of flooring doesn't come cheap. Instead of paying a lot of money for wood flooring, a better option would be Luxury Vinyl Plank (LVP).
LVP is vinyl flooring designed to resemble wooden flooring. Basically, you buy narrow planks of LVP that look like wood but aren't wood. LVP differs from other types of vinyl flooring like sheet vinyl.
The main difference with LVP is the thickness of the vinyl planks. LVP planks are more rigid and thicker, hence their close resemblance to wooden planks. Still, you end up with flooring that's much more durable and resistant to wear and tear.
Normally, manufacturers use PVC material to make LVP planks with a design that resembles wood flooring. There's no limit to what they can do in terms of texture and color, which is why LVP will suit you if you want flooring that resembles wood.
They don't just do one layer but multiple to make the planks durable. Thanks to the thickness of LVP flooring, you won't have to worry about scratches or tearing. It suits a busy home or areas with high traffic and furniture being moved around.
Luxury Vinyl Plank (LVP) is a favorite of many people because it's quite versatile. While some flooring only has one option for installation, LVP has two. Builders can either get the glue-option LVP or use the floating tongue and groove one.
The glue option is suitable when you want a more permanent feel in a room. The builder will glue down each plank, making it harder to peel off and more durable. This is a perfect way to add flooring to large spaces, and you have a wide variety of glue-option LVP to choose from.
On the other hand, you have the floating tongue and groove LVP option. Manufacturers create more realistic designs similar to wood that even seem like they have wood grain. It's quite easy to install, and it is ideal in areas prone to water spills like the kitchen.
Pros
Can be permanently affixed to the floor using glue
Strong and resistant to wear and tear
Versatile in terms of color and texture
Waterproof
Thick and comfortable
Resembles wood flooring but not as expensive
Well-designed
Cons
Installation takes time when using glue.
Natural light causes the floor to fade
---
2.

Luxury Vinyl Tile (LVT)
Another type of vinyl flooring you can get is LVT (Luxury Vinyl Tile). This is everything you can ever need in terms of design, cost, and durability. While LVP imitates wood flooring, LVT mimics stone, ceramic, or porcelain flooring.
LVT is made up of thick layers that create an exceptionally versatile and durable finished product. It resembles stone flooring in terms of design as well as texture. That way, you end up with a stone-resembling flooring that's actually nowhere near the real thing.
Manufacturers strive to achieve the realistic look of LVT flooring. They use the hot press method that requires heat infusion to bind the layers of vinyl material together. Adding more layers that can't easily come apart ensures the final product is quite strong.
You can choose between the glue option and the floating tongue and groove installation method. It's no secret that installing traditional tiles can take time. LVT installation is the opposite as it's not quite as time-consuming and skill demanding.
There's no grout work necessary before installing LVT flooring in a specific place. That alone cuts down the amount of time it takes to install the vinyl tiles. Another point to note is you don't have to remove existing flooring to set up LVT. You can easily install it on top of existing flooring without worrying about compromising the quality or durability.
Once in place, you notice that it not only looks good, but it is also waterproof. Many people actually like having LVT flooring in bathrooms, kitchens, or any other wet spaces in the house. Additionally, this is the perfect flooring for a home with kids or pets running around.
The thick layer of LVT withstands constant activity in the house. Plus, once set in position, it's not easy to remove or rip, unlike other flooring. So, you won't have to worry about kids reaping it apart or pets scratching your new flooring.
LVT is also quite simple to clean and maintain after you complete the installation process. There's a specific floor cleaner for vinyl flooring that you can use to keep it spotless. Or simply use regular floor cleaning detergents that you like for your home.
Pros
Not expensive to purchase or install
Waterproof
Aesthetically pleasing
Stain-resistant
Can last 10 to 15 years
Cons
Does not replace real stone, ceramic, or porcelain flooring
Consult a flooring expert
Find a flooring specialist in your area, and get free, no-commitment estimates for your project.


---
3.

Sheet Vinyl
While LVP comes in planks and LVT comes in tile form, sheet vinyl comes in sheets. Every piece is a large and continuous sheet that you install on the floor. While other types of flooring are relatively new, sheet vinyl flooring has been around for quite some time.
You can get sheet vinyl resembling real wood, ceramic, stone, or porcelain for your home. It's quite popular as it is completely waterproof. The sheets give your home that expensive look of wood or stone but still within budget.
While sheet vinyl isn't as expensive as stone or wood, it's quite durable. The sheet is quite thick and has a wear layer that keeps it looking wonderful for quite some time. It's also easy to install.
The best way to install sheet vinyl is to allow it to rest on the floor. As the sheet relaxes, you can notice areas that you need to cut or where there's some form of unevenness. It's paramount you take time to smoothen such spots before you permanently install the sheets onto the floor.
This flooring is durable and strong therefore suitable for both high and low traffic parts of the house. It's best for areas where water tends to spill on the floor often, like the basement or kitchen. These large sheets of vinyl have the right thickness to make your floor safe and comfortable.
Pros
Suitable for large spaces
Installation isn't costly
Easy to clean
Doesn't require a whole crew to set up
Requires minimal maintenance
Cons
Requires precision installation to prevent unevenness
Emits VOC (Volatile Organic Compound), which is toxic

How to Choose the Right Vinyl Flooring for your Home
Flooring makes up the aesthetics of your home. When you choose the right flooring, you end up with a lovely home. Most people want the best-looking flooring that also doesn't cost an arm and a leg. That's where vinyl flooring comes in.
In this article are three types of vinyl flooring. It's best to find out how to choose the right one before placing an order. Below are some factors to consider when choosing vinyl flooring for your home.
1.

Function of the Room
Different rooms in the house have different functions. As you consider the type of vinyl flooring to choose, think of how you intend to use the room. Places like the kitchen, bathroom, and basement that get lots of moisture are more suitable for vinyl flooring.
You can pick between the three types depending on whether you like the wood or stone look. Plus, consider the layout and design you want. Planks and tiles suit small rooms, while sheet vinyl is perfect for large spaces like the basement.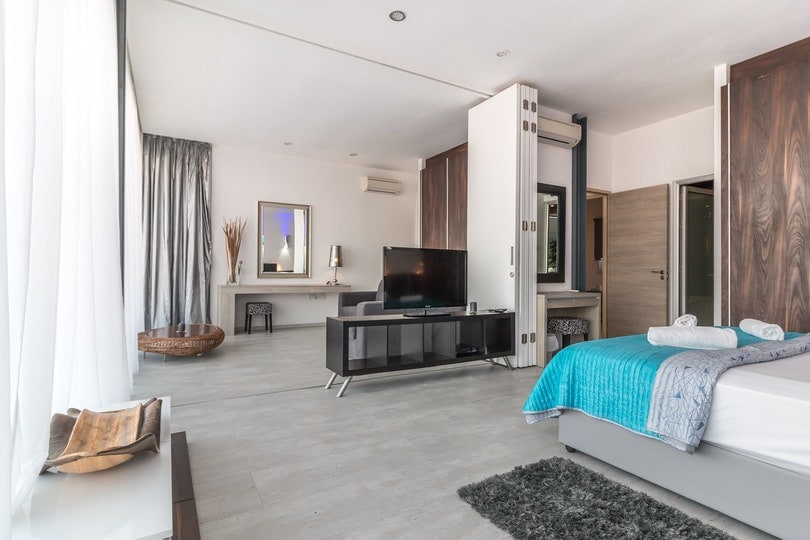 ---
2.

Appearance
Vinyl flooring can resemble wood, ceramic, stone, or porcelain. As you consider the type of vinyl flooring to get and install, keep this in mind. It's even possible to mix it up. Have some rooms with wood-resembling flooring while others seem like stone.
Having an idea of the appearance you want in each room is crucial. That way, you have the right finish and won't have any regrets once the floor is in place. It's even better to include other members of the family in the process since they also share the same space.
---
3.

Natural Light (Sunlight Exposure)
Vinyl flooring is excellent when you want a cost-effective way to decorate your home. However, it's crucial to know that this kind of flooring tends to fade when exposed to sunlight. You'll start to notice some parts fading faster than others with continuous sun exposure. This is due to oxidation that not only causes the color to fade, but the vinyl to have a dull appearance.
While it might not be possible to prevent sunlight from coming into contact with the vinyl, you can prevent this oxidation process. There are some protectant sprays that you can apply on the flooring to protect it.
---
4.

Installation Process
Do you want to use glue to install the vinyl flooring or the floating tongue method? Many builders prefer to work with the floating tongue method for sheet vinyl and glue-option for LVT or LVP. Have a conversation with the installation team before you place an order. They are in a better position to advise you about the installation process.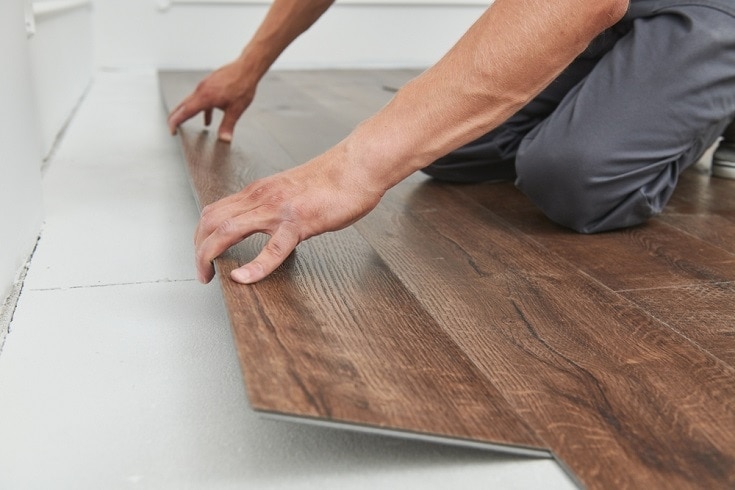 ---
5.

Colors and Textures
The best way to have your house look lovely is to consider the color and texture, even for the flooring. Thankfully, vinyl flooring comes in a wide range of colors and textures to resemble the flooring you want in your home.
While the looks might resemble wood, stone, ceramic, and porcelain, consider the colors. Check out the three types of vinyl for the best one. Some even have color and texture combinations that make you question if this is the real thing or not.
Plus, borrow some inspiration from trending styles. Check out home design magazines to see which type of vinyl suits which part of your home. That way, you have a finished look that you will like in each room.

Summing Up
Vinyl is a cheaper yet effective flooring for your home. You end up with a fantastic finish that looks expensive but won't cost you that much.
The three types of vinyl discussed in the article have their pros and cons, but all share some common characteristics. You wind up with durable and strong flooring in your home. In addition, these are waterproof thus suitable for places like the bathroom, basement, or kitchen where spillage is common.
Installation is easy for LVP, LVT, and sheet vinyl using the glue or floating groove and tongue options. All three are cost-effective, easy to install, clean, and maintain. Now that you know all about the types of vinyl flooring, the ultimate choice depends on your taste and preference. Which one would you like, or would you rather install all the three in different rooms?
---
Featured Image Credit: septian intizom armedi, Shutterstock