11 Fascinating Car Fire Statistics in Canada (Updated in 2023)
Note: This article's statistics come from third-party sources and do not represent the opinions of this website.
Canada is among the safest countries in the world for drivers. It boasts some of the best roads, infrastructure, and insurance policies. However, accidents still happen, many of which set cars on fire. We're talking about collisions, malfunctions, and human error. So, today, we want to introduce you to the most important vehicle fire statistics in the Great White North.
The data comes from Transport Canada, Statistics Canada, NFID, and other government sources. We divided the list into three categories for easy navigation. First, we'll look at general facts followed by car fire death statistics in Canada. Next, we'll share the most recent EV fire statistics. Stay tuned, and let's get to it!
These statistics have been organized into the following categories:

The 11 Fascinating Car Fire Statistics in Canada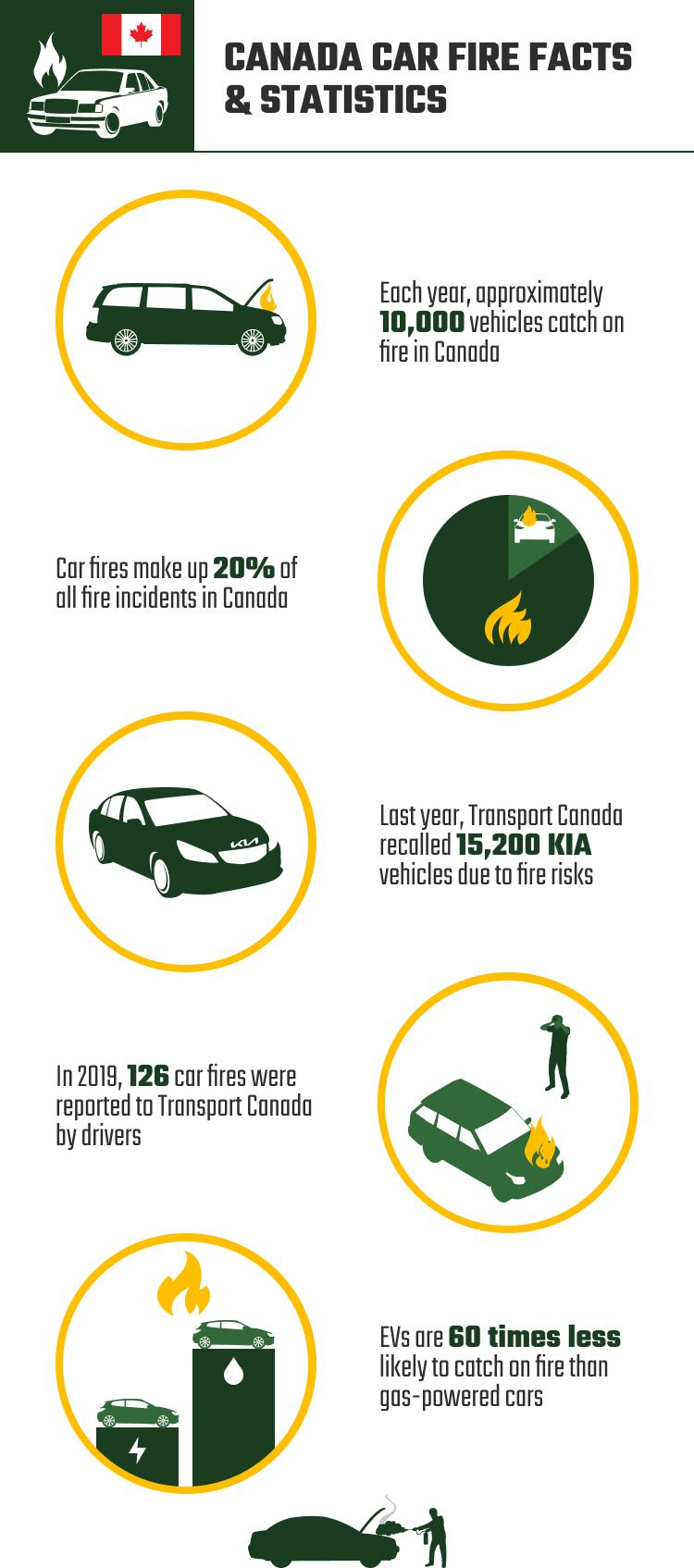 General Canada Car Fire Statistics
1.

Each year, approximately 10,000 vehicles are caught on fire in Canada
(Global News, Statistics Canada, Statista)
According to Transport Canada, the average number of vehicle fires in Canada is 10,000 cars per year. This includes arson cases, manufacturing defects, and, of course, collisions on the road. Back in 2014, the number was much lower: 6,000. However, even 10,000 is nothing compared to the US statistics. In 2021, American police officers and firefighters reported 173,000 car fires.
That means 17 times more accidents compared to our northern neighbor! Collisions on highways account for most car fires, along with malfunctioning engines (especially during the hot days), fluid leaks, and bad modifications. In northern parts of Canada, where the climate is cold and rough, slippery roads lead to an increased number of accidents.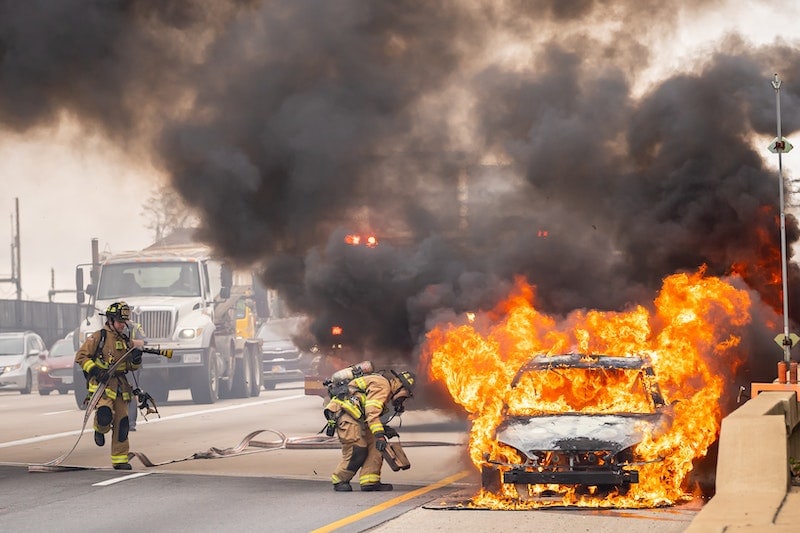 ---
2.

Safety defects are responsible for 93 vehicle fires per year
(Global News)
While 93 cases are less than 1% of the total number of cars that go up in flames, regular maintenance is still very important. True, market-leading manufacturers always put their vehicles through tough tests before hitting the dealerships. Still, safety defects can be an issue, especially if you're buying a used car. To ensure a safe, secure ride, have the safety systems checked at least once in 6–8 months.
---
3.

Car fires make up 20% of all fire incidents in Canada
(Statistics Canada)
Each year, Canadian authorities register 40,000–50,000 incident-based fires. Total structure fires make up 30–45%; outdoor fires cover 10–20%. Car fires, in turn, come in at 20%. The remaining 20–25% are unknown types of fire accidents. Going back to car fires, Saskatchewan only accounts for 10–15 cases per year. If you live there, you have very little to worry about.
On the other side of the spectrum, Ontario holds the top spot as the province with the highest number of recorded vehicle fires in Canada (2,000–4,000). It's important to mention that this list includes a wide range of vehicles, including trucks, SUVs, sedans, buses, and even planes, barges, and boats.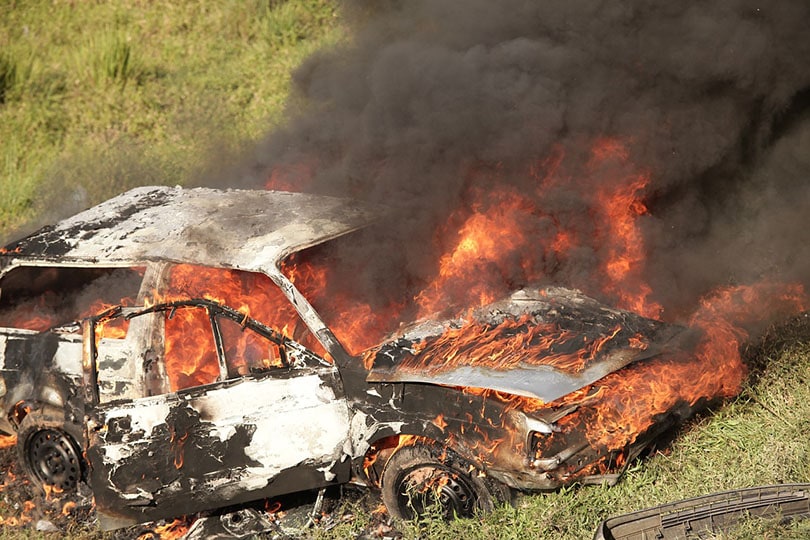 ---
4.

In 2022, Transport Canada recalled 15,200 KIA vehicles due to fire risks
(Transport Canada)
Vehicle recalls are common practice both in Canada and in the US, but they're not always caused by fire risks. In 2022, Transport Canada recalled 15,000 KIA Sorento SUVs and Sedona minivans because of a faulty HECU system. On the recalled models, there was a small probability of water ending up in the hydraulic control unit and putting the vehicle on fire by causing a short circuit. Ford vehicles were recalled as well.
As many as 4,500 Expeditions and Lincoln Navigators had a high chance of a fire starting in the engine compartment. This would happen even when the motor was off. Next, the company recalled some Rangers and Explorers, but the number of affected vehicles was very low (12 in total). Hyundai has been having some fire-related issues as well. Overall, in 2021, more than one million vehicles were recalled in Canada due to fire risks.
---
5.

In 2019, 126 car fires were reported to Transport Canada by drivers
(Transport Canada, CBC)
In the Great White North, vehicle owners, insurance companies, and car manufacturers often leave vehicle fires unreported. This is why many experts believe that the official statistics aren't an accurate representation of the actual number of fire-related accidents. For the most part, that's because most citizens don't even know that they can report such an accident.
For example, in 2019, Canadian drivers only reported 126 cases of car fires. It was a significant increase over 102 reports in 2018 and 83 reports in 2017, though. Now, if you want to report a safety defect to Transport Canada, all you have to do is fill out a form on the official website or use one of the available phone numbers.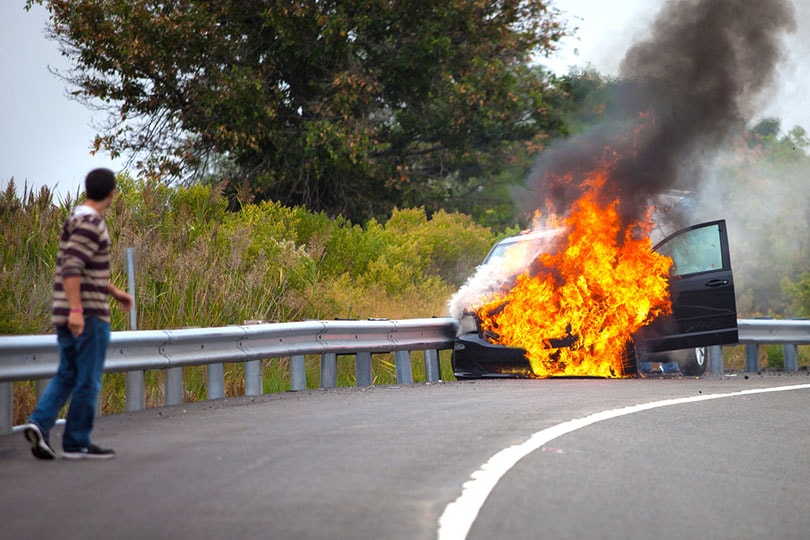 ---
6.

Almost 750 cars caught on fire in Manitoba in 2019, a 31% decrease versus 2018
(MPI, Global News)
With a total population of 1.34 million, Manitoba is the fifth-most populated province in Canada. It's one of the quietest and safest parts of the country. Still, according to Manitoba Public Insurance, three vehicles catch fire per day over there. In January and February, the company received 81 car fire-related reports, a 50% spike compared to the previous year.
However, back in 2019, MTI registered 749 car fires: a big improvement over 2018's 1095 cases (31% fewer fires).
---
7.

In 2022, 28 cars were set on fire within 36 hours in Lachine, Montreal
(SPVM, City News)
Montreal is the second-most populous city in Canada. It's home to 1.8 million people and a cultural center for the country. Generally, it's a safe city, but some of its areas can be quite dangerous, especially during the night. And unfortunately, a recent SPVM report is a clear example of that. In early November 2022, 28 vehicles were set on fire in less than 36 hours.
This is a record number of car fire cases in the city. And they all happened within a couple of days. Thankfully, nobody was injured in the fires.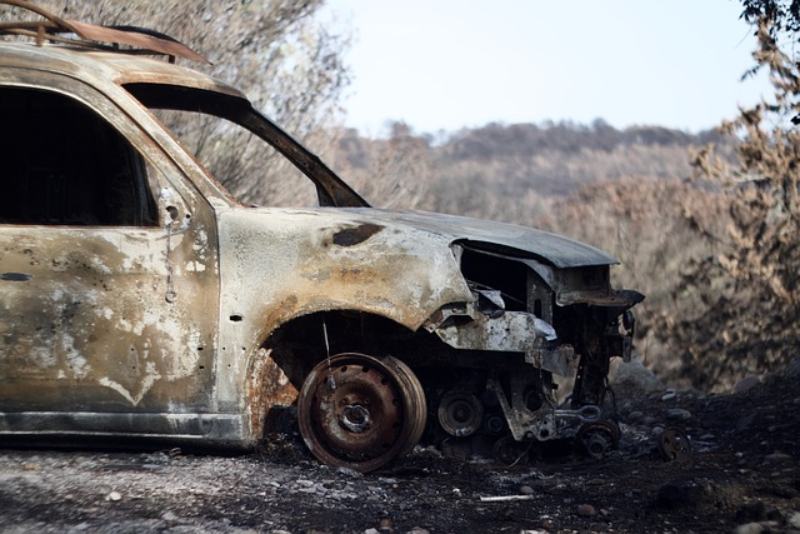 Canada Car Fire Death Statistics
(NFID Canada)
The NFID database divides fire incidents into three different categories: structural, outdoor, and vehicle. Structural fires (mostly burning buildings) account for 60–65% of incidents, and the percentage is rising steadily. As for fire-related deaths, structural fires make up 87%. Car fires take second place with 11%. That's more than one out of ten fatal outcomes.
---
9.

In 2020, 21.4% of traffic fatalities in Canada were caused by environmental factors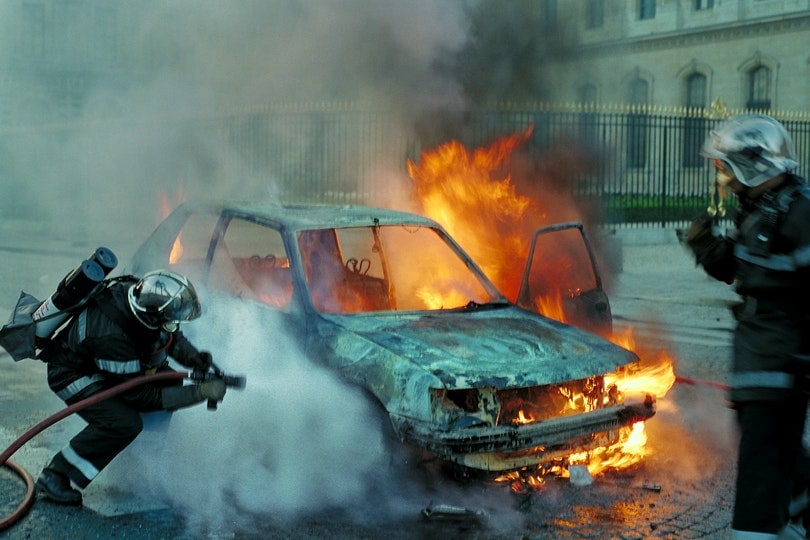 (Transport Canada)
There were 1745 fatal collisions in Canada back in 2020 and 7868 severe injuries (a 12% improvement over 2019). Transport Canada listed "Other human factors" as the main cause (41.5%). Environmental factors lead to 21.4% of deaths on the roads. Mainly, we're talking about natural disasters like debris, potholes, rain, and snow that can make the car crash and burn.
The vehicle factor only covered 4.3% of the total number of fatalities and included overheating engines and leaking fluids that set the car ablaze.

EV Car Fire Statistics
10.

EVs are 60 times less likely to be caught on fire than gas-powered cars
(NTSB)
Electric vehicles are slowly yet steadily taking over the planet. While they're not particularly cheap, this one con is strongly outweighed by big pros like safety, low emissions, cheap gas/electricity, and more. Speaking of safety, according to the NTSB, in 2021, only 25 EVs out of 100,000 caught on fire—that's quite an impressive result.
If we put this next to the number of gas-powered vehicle fires, we'll get a 6,000% difference (1,529 cases)!
---
11.

In 2020, only 152,000 EVs were recalled due to fire risks (versus a million gas-powered cars)
(Recalls.Gov, Auto Insurance EZ)
Earlier, we talked about the number of recalled KIA and Ford vehicles. Let's look at this statistic from a slightly different angle. In 2020, 152,000 electric vehicles were recalled. Is that a lot, or not? Well, compared to the number of faulty gas-powered cars in Canada (more than one million), it's almost nothing (6 times fewer recalls).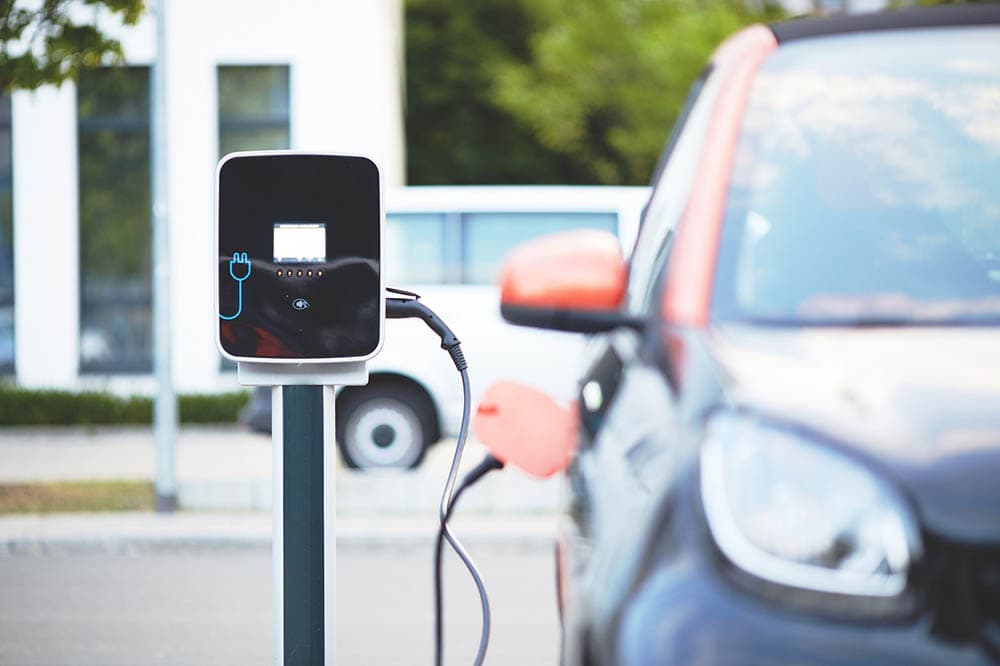 Frequently Asked Questions About Car Fires
Your Vehicle Is on Fire: What Do You Do?
The most important thing here is not to panic yet be quick. The sooner you get out of a burning vehicle, the higher your chances of survival. Here's what you should do:
The second you realize that the car has caught on fire, you need to pull over.
Shut the motor off. It's a common mistake to leave it on, but we recommend against that.
Get out of the car. Make sure every single person that was driving with you is out.
Stay as far from the burning vehicle as possible. Put at least 100 miles between you and the car.
Do NOT pop the hood. This is another common mistake that often leads to a disaster.
Do NOT go back inside to get your wallet, phone, or anything else.
Instead, get on the phone and dial 9–11. Wait for firefighters to arrive (TDI).
You See a Burning Car: How Can You Help?
If you're a courageous and selfless person, your first thought will probably be to try and save the people inside. However, experts suggest calling the fire department first. Next, create a safe zone for the survivors to avoid secondary collisions. Do you have an extinguisher in the car? Use it! Don't expect it to put out a strong fire, though. But if the flames are small, even a handful of dirt or snow can kill them.
Now, unlike what we see in the movies, cars in real life don't explode nearly as often. So, if you're up for it, find something heavy to break the glass and open the door. The door might not budge; in that case, try to pull the victim(s) out and move them away from the crash. Only do this if that person is in imminent danger because dragging an injured man or woman might make matters worse (Popular Mechanics).
Why Do Cars Catch Fire in the First Place?
Let's start with poor maintenance. Unfortunately, many drivers underestimate the significance of regular inspections, thus increasing the chances of their vehicle getting caught on fire. Worn-out, leaky seals, cracked wires, bad gaskets, and broken/malfunctioning parts can all lead to a disaster. This is important: gas-powered engines are prone to overheating. And, while a hot engine won't cause a fire, leaking coolant will.
The engine heats the oil or antifreeze, which sets the car ablaze. Fuel leaks are the main cause of car-related fires; faulty catalytic converters follow. In EVs, damaged batteries are mostly to blame. And let's not forget arson. People set cars on fire to destroy evidence, make political statements, and for vandalism. Thankfully, the arson rate in Canada has been in a steady decline since 2000, despite the 2021 spike (Statista).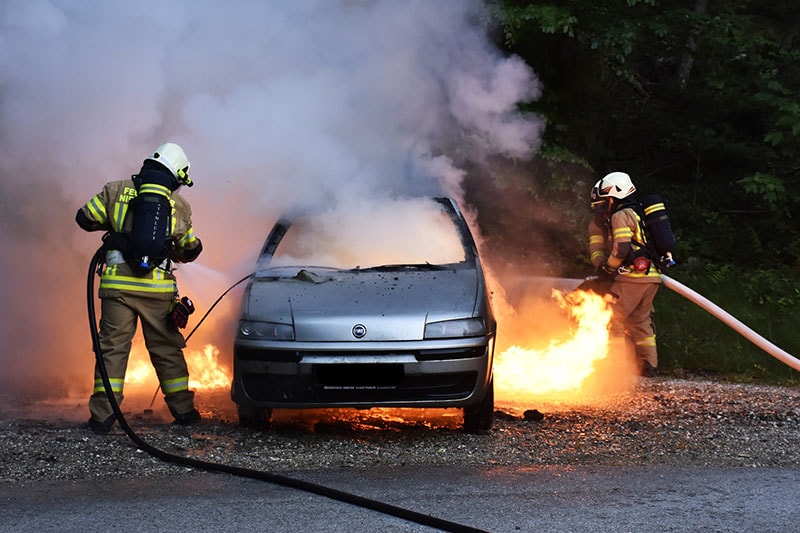 Fire-Proofing a Vehicle: A Quick Guide
Modern-day cars come packed with a wide range of safety features. Still, it's important for you as a driver to be cautious, keep your eyes on the meters, and take care of the ride. Here's what you can do to minimize the chance of your vehicle going up in flames:
Don't skip maintenance checks. Have the car checked every 5,000–10,000 miles and once a year
Never ignore misfires, leaks, or strange sounds/smells coming from the engine. Head straight to a repair shop!
Monitor engine temps, fuel and fluid levels, loose wiring, oil caps (are they secure or not), and error signs
Invest in OEM replacement parts. If you go with aftermarket parts, only pick trusted brands
Buy premium-quality gas recommended by the manufacturer. It will make the car last longer, too
Don't store any gas in the car. If you must do it, put it into a small, sealable container away from the passengers
Stay away from the tall grass. If it's too hot outside, the grass might ignite when it touches the car
Drive slowly and obey traffic rules. When parking, try to find a shady spot (NFPA, FEMA).
Are Vehicle Fires Covered By Car Insurance?
The answer is yes, but only if you have full coverage. Also, it all comes down to the nature of the accident, or, rather, what caused it. For example, if you crashed into another car or an object on the road, the damages will only be paid for by collision coverage. Other than that, to get proper compensation for fire-related damages, you'll need to have comprehensive coverage.
Just like the name suggests, this policy is quite…comprehensive. Theft, vandalism, natural disasters—it's got your back on everything. Essentially, any damages that are not caused by a direct impact (collision, to be exact) are covered by this insurance. If someone deliberately tried to burn your car or if there was a leaky pipe/worn-out wire that set it on fire, comprehensive insurance will pay for that (Car Insurance 101).

Conclusion
Compared to the US, car fire statistics in Canada aren't nearly as alarming. That's because speed limits are lower while penalties for drunk driving are more severe. With that said, you should still be very careful: Canadian roads can be quite unforgiving! Now, the best way to protect yourself from fire-related accidents is to stick to a strict maintenance routine.
And if the vehicle does get caught on fire, follow our recommendations on how to get out safely. Also, don't forget to fire-proof the car and make sure your insurance has got you governed. As for the statistical data, it should serve as motivation to be extra vigilant behind the wheel. Drive safely, and take care!
---
Featured Image Credit: Gwendal Bar, Unsplash