Concrete Stain vs Epoxy: What's the Difference?
Many business and property owners have a hard time trying to decide which flooring option best suits their needs. Epoxy flooring and concrete stains are both incredible solutions, but the fact they're designed to deliver different offerings makes the decision-making process feel like a puzzle.
If you've just installed a new concrete floor and you'd like to learn about the pros and cons of each flooring solution, we've got you covered. We'll get into the nitty-gritty details to help you fully understand the benefits and drawbacks affiliated with each product.

Overview of Concrete Stain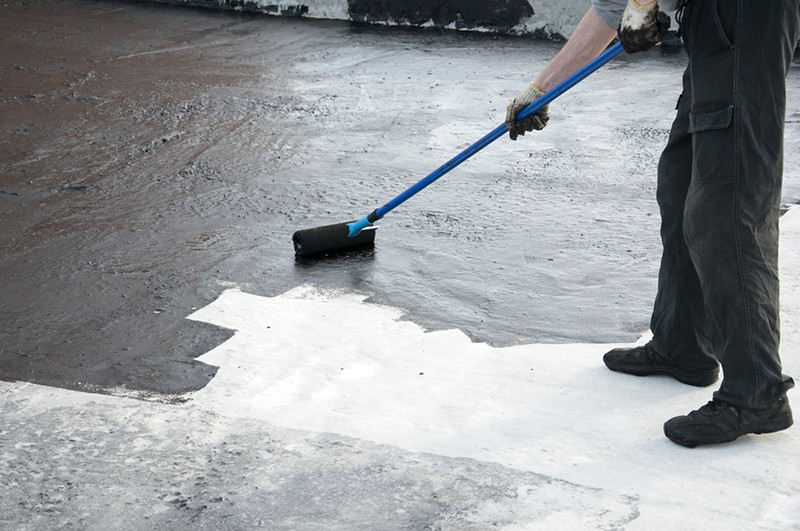 You could call it a "concrete stain" flooring option if you like, or go with the conventional brand name, which is "stained concrete." The name is an accurate description of what it actually does.
Concrete staining has grown in popularity over the past couple of years as it's cost-effective and regarded by skilled professionals as one of the easiest ways to add different pops of color to plain floors. This flooring solution can mimic virtually anything—including real stone—and promise you an end product that looks very authentic.
In other words, the concrete stain flooring option offers variety when it comes to designs. And you'll be able to engrave, pattern, score, or stencil all your colors and ideas on any concrete surface.
Types Of Concrete Stain
Concrete stain flooring solutions are often categorized into two groups: you could either work with water-based stains or opt for acid stains. The safest card for anybody who's never used a concrete stain before lies with the acid solution. It's one stain that has been tried, tested, and approved by professionals who have a vast wealth of experience in this field.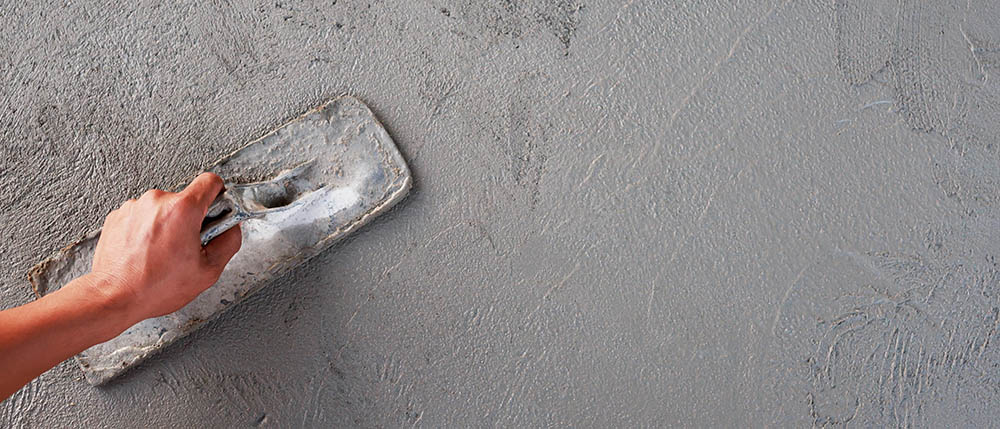 Acid Stains
These stains were the first concrete coloring solution of this nature to be used in construction and have been around for decades. Their working principle is fairly simple to explain, as they usually rely on the different properties of acids (hence the name) and salts to trigger a chemical reaction with the various compounds found in concrete.
This method of staining has always been fascinating in that it often guarantees the production of natural colors and an overall rustic appearance. The common hues provided by an acid stain are terra cotta, soft blue-green, and brown.
Water-Based Stains
So, it's a known fact that water is concrete's number one enemy. Once it seeps through the material, the concrete's overall comprehensive strength and durability get significantly reduced.
The ability to seep through such a surface is what makes water-based stains so effective. While too much moisture is bad for concrete, a limited amount is not. The stains will eventually settle within the microscopic pores, ultimately depositing the pigments.
As you can see, water-based stains don't normally trigger any form of chemical reaction, unlike acid solutions.
The other difference is that this stain always delivers an opaque and consistent finish, in addition to offering a wider assortment of colors. Colors that don't easily fade even when exposed to ultraviolet rays—that's why they are preferred on exterior surfaces.
Pros
Offers a wider assortment of colors
Colors don't easily fade
Water-based stains don't involve any chemical reaction
Delivers a rustic appearance
Colors look natural
Water-based stains are environmentally-friendly
Budget-friendly
DIY-friendly
Cons
Not ideal for heavy traffic areas
High maintenance
Floor preparation is a requirement before installation
Can only be applied once the concrete has cured
Overview of Epoxy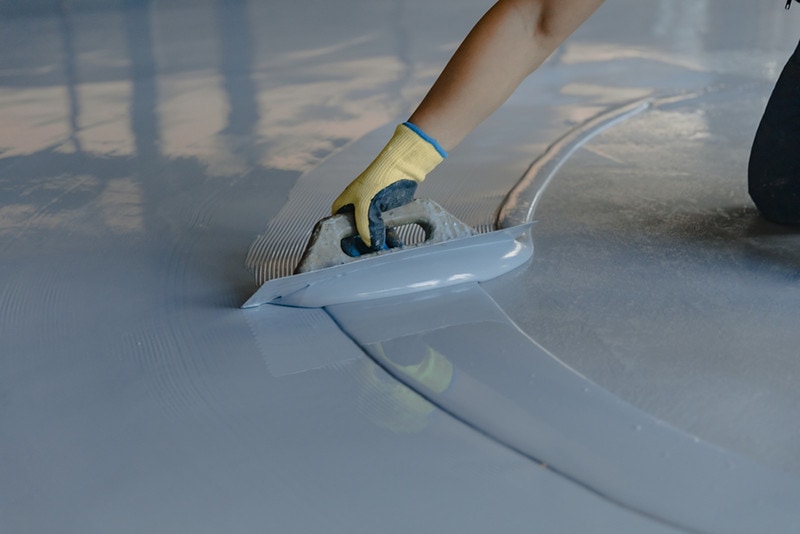 Epoxy is simply a liquid coating that's been designed to completely adhere to any shot-blasted concrete. It has been said that this type of coating is very unique in the sense that it constitutes hardeners, resins, and a few chemical compounds, notoriously known to bond really well with the elements found in concrete.
Epoxy is a durable flooring solution and that's why our construction industry has heavily relied on it for the longest time. Several commercial buildings have this type of coating applied, as it's highly favored when constructing properties that would experience high foot traffic. We're referring to hospitals, athlete facilities, production plants, industrial warehouses, etc.
Other than foot traffic, all those areas have yet another thing in common—the fact that they are home to heavy equipment and machinery that could easily damage any floor surface.
Types Of Epoxies
It's important to note that there is more than one type of epoxy coating. Their intended use or how they are designed to be applied is how you tell them apart. For example, most health facilities have floor surfaces that are coated using antimicrobial epoxy.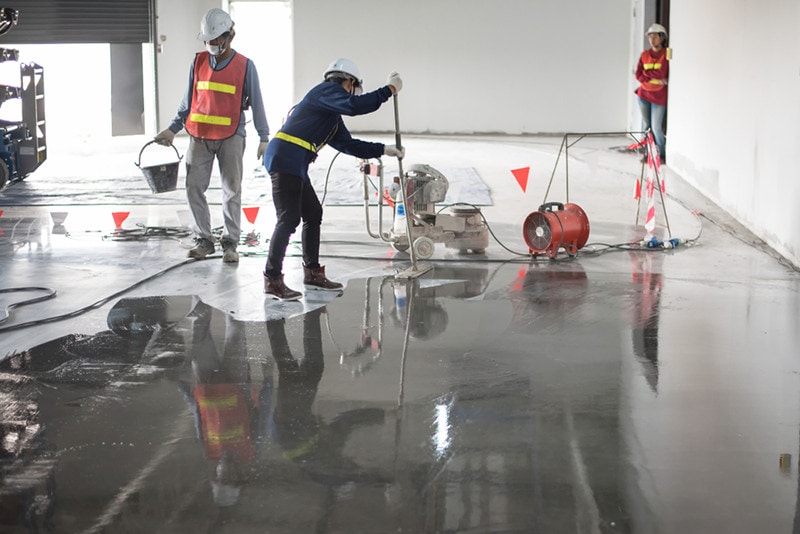 Antimicrobial Epoxy
This type of coating was intentionally designed to protect floor surfaces from microorganisms that could easily compromise our biological systems. Such organisms include fungi, parasites, viruses, and even bacteria.
We should mention that antimicrobial epoxy is also referred to as an antibacterial coating in some circles, especially in the catering industry. Most caterers have applied it on kitchen surfaces, but that shouldn't be surprising to someone who knows how optimal the kitchen conditions are for the growth of bacteria.
Metallic Epoxy
The other type is metallic flooring coating. In all honesty, this product should have been dubbed the "most flexible epoxy," seeing as it normally gives experts more room to explore their creative side. If you like to think of yourself as a coating guru, this solution will give you the option of adding extra pigments of color to your concrete space, with the goal of making it more visually appealing.
This easy-to-install solution is the type of flooring option that you're likely to find in a fancy bar, mechanic store, or gaming room. By the time you're done with the installation, the end product could look like anything, including a painting of a brewing storm, flashes of lightning, or surfable ocean waves.
If you happen to own a garage, and you're tired of damaging your floor with oil stains, epoxy is the answer to all your woes. It's known to be very resistant to such damage, including chemical spills, scuffing, and cracks.
However, being "resistant to damage" doesn't imply that it's foolproof. It's designed to take the hits, but only to a certain extent. After a while, if the abuse is becoming too much, you'll start seeing signs of wear and tear.
Is it cost-effective? Sadly, no. It usually has a high price tag. But since it's DIY-friendly, you don't have to pay more just to get it installed.
Pros
Has a high resistance to oil and chemical spills
Easy installation
Improves floor strength
Visually appealing
DIY-friendly
Ideal for high-traffic areas
Durable
Cons
Relatively pricey
The chemicals make it less environmentally friendly

Which Is the Best Flooring Solution?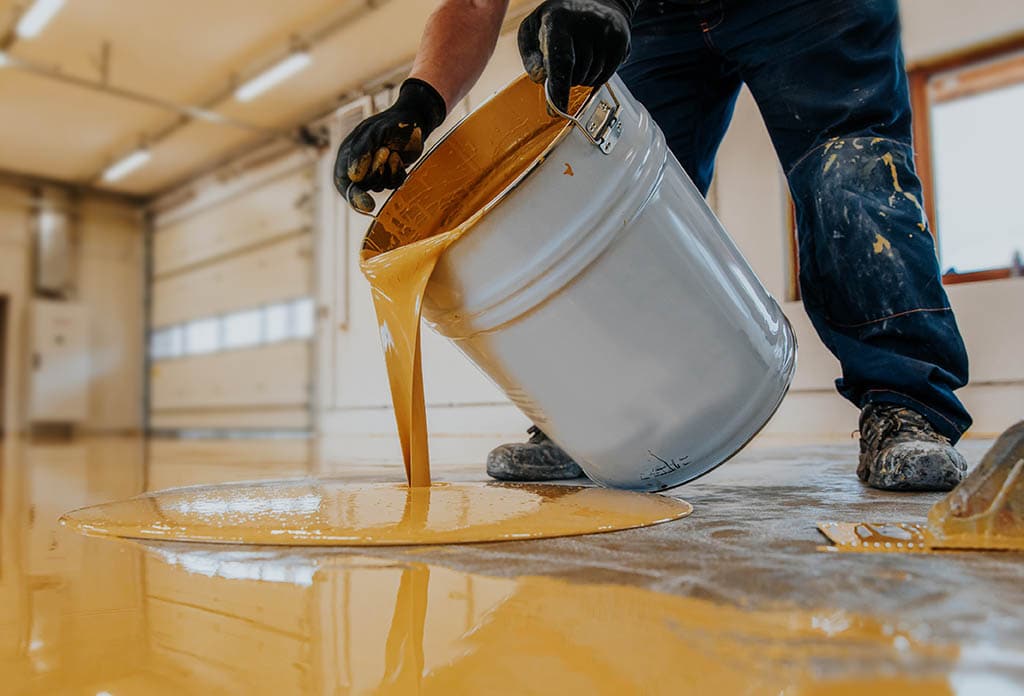 Quite frankly, it all depends on what your needs are. If you're looking for a decorative product, we say go for concrete staining. Epoxy is more of a protective solution and thus more durable. When it comes to the ease of installation, you can't take any shortcuts while working with concrete stains. Then again epoxy will also force you to apply primer before starting the installation process.
If it's all about value for money, we think it's a tie. Yes, epoxy is not cost-effective but in the long run, you get to reap a lot of rewards. Concrete stains aren't as durable as epoxy, but in that short period, you'll definitely feel like you got some bang for your buck.
Last but not least, we have coverage. Both solutions do actually cover a fair amount of space per gallon, but concrete stains have a wider coverage.
Conclusion
We'd like to wrap this up by reminding you that the same acidic stain could yield different results when applied to different surfaces. The influencing factors being the age and quality of the concrete. So, before you start installing the solution, test it on a small sample.
All in all, we believe the ideal flooring option is one that best caters to your needs—be it epoxy or stained concrete. Both are great options depending on the application.
---
Featured Image Credit: (L) Werner Spiess, Shutterstock (R) Doralin Samuel Tunas, Shutterstock