What Is the Cost to Replace a Bathtub In 2023?
Bathtubs are popular these days. They come in trendy designs and re-assuring colors and materials. But no matter what type of bathtub you choose, one thing remains constant. Bathtubs can be ridiculously expensive to buy.
Since that is the case, you probably want to consider replacing your old or worn-out bathtub before it can cause any further damage to your bathroom. You'll find this article helpful if you want to find out how much it will cost to replace your bathtub this year. Keep reading to learn more!

When Do You Need to Replace a Bathtub?
If There Are Cracks
If you have a crack in your tub, it could be a cosmetic problem; however, it can be the start of a serious structural issue.
Most home improvement stores sell repair kits to patch up such cracks. But these are usually temporary fixes.
If the crack is small and not deep, it may be worth patching it up. But, if it gets worse or deeper, you should consider an entire tub replacement.
If There Are Leaks
If you notice moisture around your bathtub, the reason could be that the caulk has come loose. It isn't a huge problem, and you can always re-caulk it yourself.
But if the moisture is coming from inside the tub, it means there is a leak in the bathtub. It might not be an easy fix either and may need the replacement of pipes or even the whole bathtub.
It might be an excellent time to get rid of your old bathtub, especially if it was damaged by cracking or chipping. A new one is always better than a leaking one.
If There Are Stubborn Stains
Stains on the bathtub can be due to mold, hard water, or soap scum. These will result in an unsightly appearance and even discoloration.
If you notice stubborn stains that won't go away no matter how much you scrub, it is best to replace the bathtub.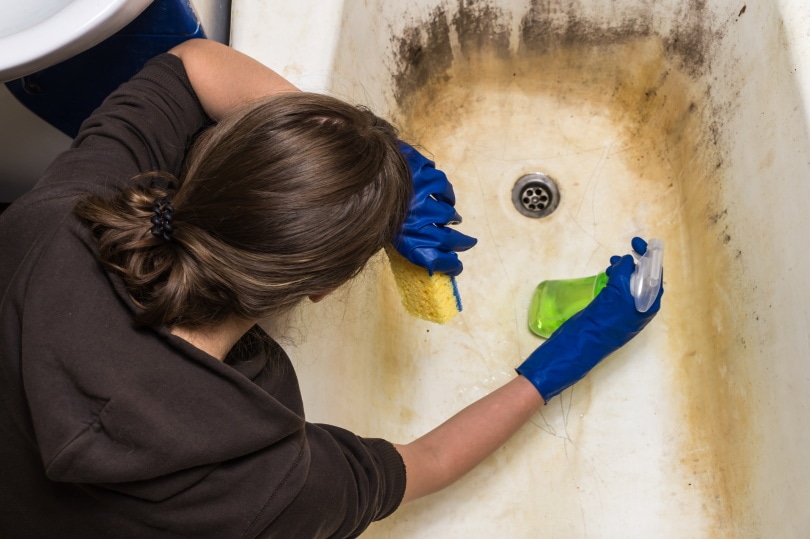 If You Have Difficulty Using the Current Bathtub
Some people find it challenging to get in and out of the tub or shower because of age. It may also be because of physical limitations such as arthritis, back or knee problems, and other issues that make movement difficult.
Replacing your bathtub with a walk-in model can help you continue living independently. It'll also reduce the risk of falls in the bathroom.
Types of Bathtub and the Cost of Replacement
The average cost of replacing a bathtub ranges between $1,435 and $7,246.
To break it down further, here are several types of bathtubs and how much it costs to replace each.
General Purpose Bathtub
These are standard tubs that come in a wide range of shapes and sizes. They are also known as alcove tubs. These tubs are ideal for smaller bathrooms because they fit into spaces with three walls around them.
They usually feature separate faucet handles for hot and cold water. Also, they may have hand-held showers mounted to the side of the tub or attached to a flexible hose. Alcove tubs may also include a fold-down seat at one end of the tub.
Usually, the replacement cost starts from $300 to $800 when fully installed.
The replacement cost can vary depending on the size of the tub and the material. The most common materials for general-purpose bathtubs are fiberglass, acrylic, and steel.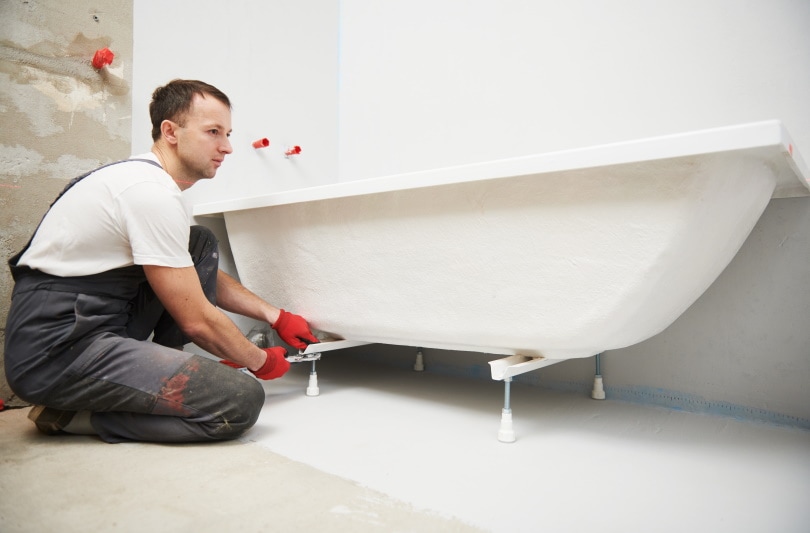 Soaking Tub
A soaking tub is deeper than a regular tub. It allows you to immerse yourself in water completely.
It's best for relaxation, but it's also great for people with limited mobility because they can get in and out conveniently without assistance.
These tubs are usually made of acrylic, cast iron, or other materials. They are rectangular or oval, but they're available in other shapes as well. Some styles have legs, while others sit directly on the ground.
So, replacement costs will vary depending on the model you choose. The least expensive models cost about $600, while more elaborate options cost $13,000 or more.
Freestanding Tub
Freestanding tubs are not attached to any wall and are installed alone in the bathroom. You can place it in any area of the bathroom. But it may need some plumbing work to accommodate the connections.
These tubs come in a wide range of designs, from contemporary to vintage. They're often oval or rectangular and offer deep bathing areas.
The cheapest cost of replacing freestanding tubs is $750, and the most expensive cost is $12,000. It depends on the material it's made from and its style.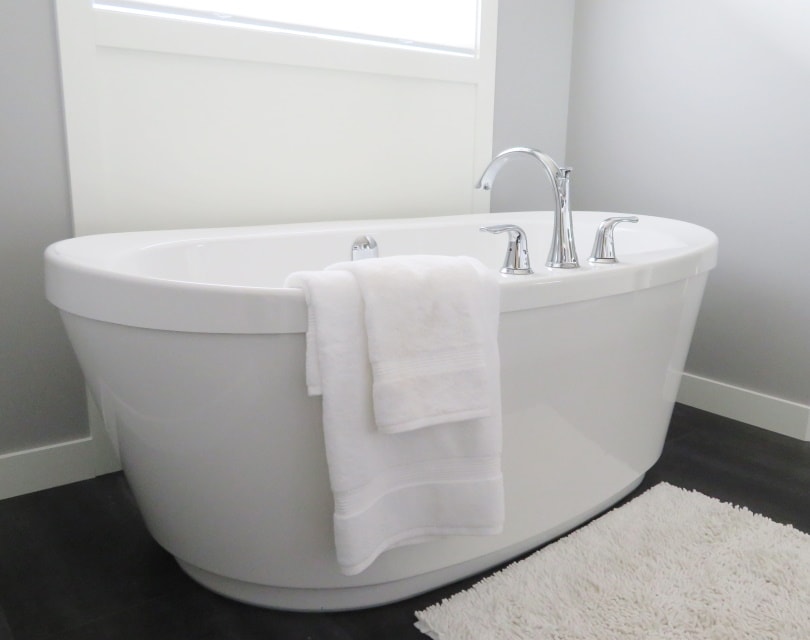 Walk-In Tub
Walk-in tubs are helpful for people with mobility issues because they have easy-entry doors that allow you to enter and exit the tub safely.
They are also helpful for those who want hydrotherapy, given their built-in features such as whirlpool jets and air baths.
The replacement cost of a walk-in bathtub ranges from $2,000 to $8,000. It's significantly more compared to other types of bathtubs.
Jet and Whirlpool Tubs
Homeowners who want a luxurious and relaxing bathtub experience can install jet or whirlpool tubs. These tubs are designed to massage the body. They use jets of water and air bubbles. Also, they are equipped with pumps that create the air and water pressure needed for the jets.
Many people choose jet and whirlpool models because of the hydrotherapy benefits. They can relieve pain caused by arthritis, sore muscles, fatigue, and headaches.
The replacement cost of a jetted bathtub is about $1,500 to $17,000, with an average total project cost of $6,500.
Air Bath Tub
An air bathtub is a jetted tub with air jets instead of water jets. These tubs can be more expensive than standard jetted tubs. But they cost less than whirlpool tubs. They use bubbles created by pressurized air to massage your body.
It's larger than your typical tub, so you will need more space. These tubs are excellent for those with muscle aches and pains or arthritis. The bubbles do not offer any therapeutic benefits, but they feel great on sore muscles.
The cost of replacing an air bathtub is $1,500. The most expensive is $10,000.
Clawfoot Tub
A clawfoot tub is a vintage-style bathtub. It sits on four feet, making it look like a claw, hence the name. These stand-alone bathtubs are a classic that never goes out of style. They are considered more luxurious, higher quality, and stylish.
They are made of cast iron or acrylic plastic. You can choose from different designs, including double-ended, slipper, and double slipper.
Clawfoot bathtub replacements can cost anywhere from $600 to $10,000 for the most expensive. If you need a new faucet, expect to pay another $100 to $300.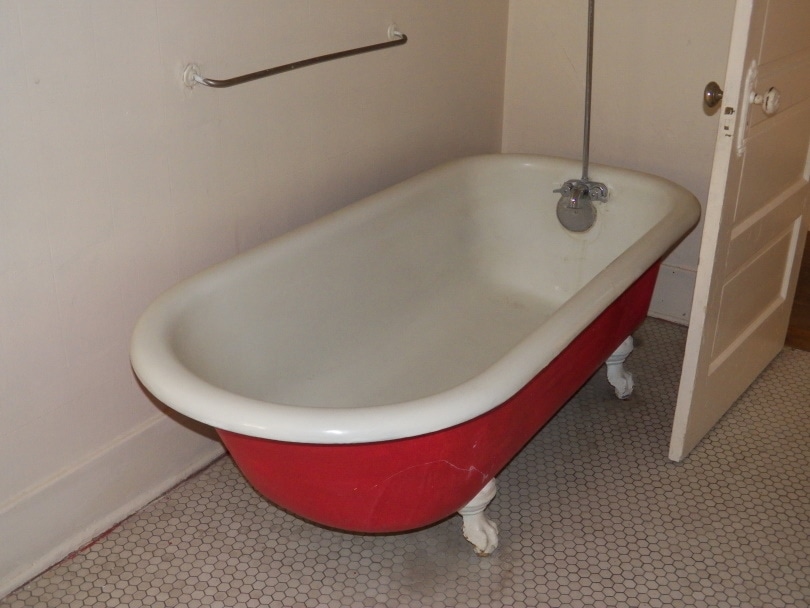 Breakdown of Bathtub Replacement and Additional Costs
The replacement cost of a bathtub can be broken down into:
Labor Costs: The labor costs for replacing a bathtub vary depending on what type of tub you choose. It also depends on how extensive the project will be. On average, expect to pay $300 to $500 for labor alone. It  includes removing your old bathtub and disposing of it responsibly if necessary. This covers any extra work needed, such as rerouting drainage pipes. There's also the connection of new fixtures such as faucets or showerheads.
Bathtub Unit: The cost of a bathtub unit is crucial on your bathtub replacement cost list. It ranges from $300 to $4,000. The cost also depends on the type and features you choose. The most expensive ones are whirlpool tubs which cost over $1,500. If you want to install a tub with jets and water heaters, the price can be as high as $7,000.
Finishes: After installing the bathtub, you may need to seal, tile, and paint. You will pay between $500 and $2,000 to finish the areas around your bathtub. It's a crucial factor in determining your bathtub replacement cost.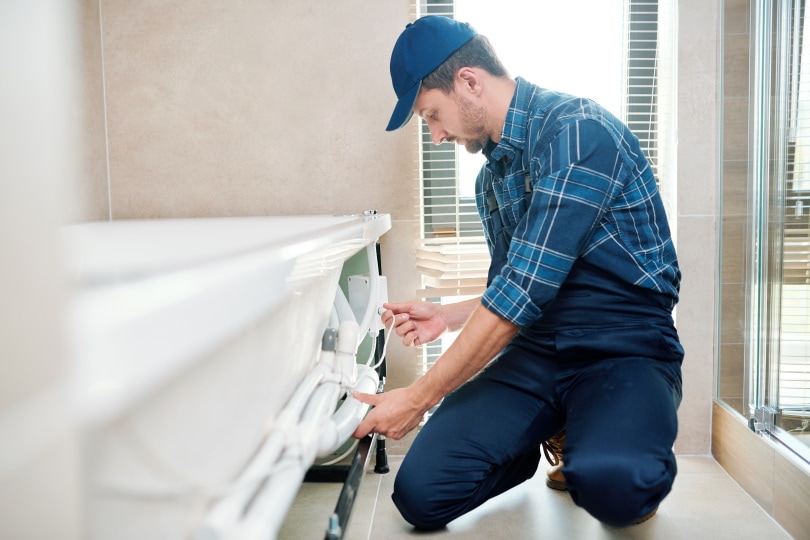 Factors to Consider When Replacing a Bathtub
Bathroom Size: Your bathroom space is crucial. If you have a large bathroom, you can install any bathtub you want. But if it's small, you need a tub that will fit into the available space. You may have to sacrifice space or comfort to get a bathtub that fits your bathroom.
Labor: Installing a new tub can be a challenging task. On the other hand, removing an old bathtub can be even more challenging.If you don't feel comfortable completing this task yourself, you could hire professionals. This expense will be included in your budget before making any decisions about replacing your bathtub.
Material and Configuration: Bathtubs come in a wide range of materials and configurations, ranging from basic to luxury. The material you choose has a massive impact on the overall cost to replace the tub. Acrylic and fiberglass bathtubs are the least expensive options. Cast-iron tubs are the most costly.

Conclusion
Bathtub replacement is a more costly undertaking than many other home remodeling options. You can talk through your bathroom remodel with a contractor to estimate of the cost to replace your bathtub. The cost of labor can vary. So, don't be afraid to ask for more than one estimate.
After getting price quotes, visit different contractors and discuss the work in detail. Shopping around for a new bathtub is worth the effort if you want to get the most for your money.
See Also: How Much Does It Cost To Replace a Shower?
---
Featured Image Credit: kurhan, Shuttestock