Hilti vs Milwaukee 2023 Comparison: Which Power Tools Brand is Better?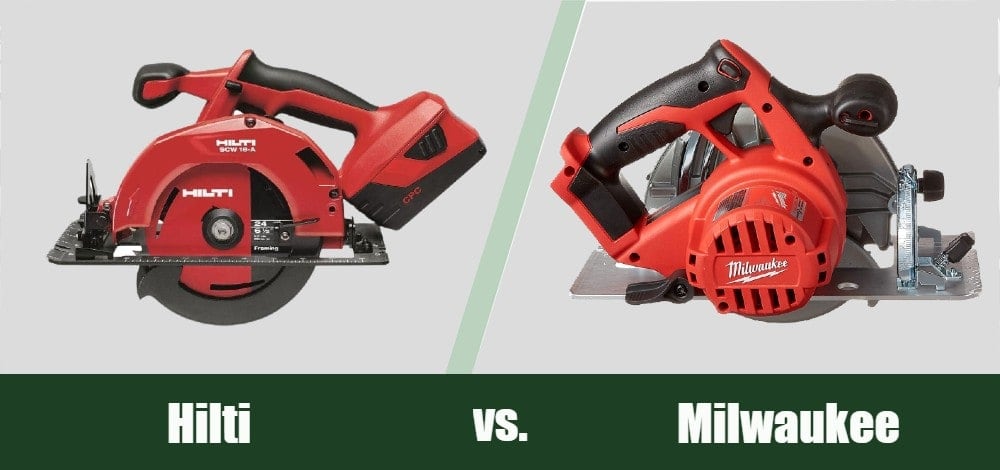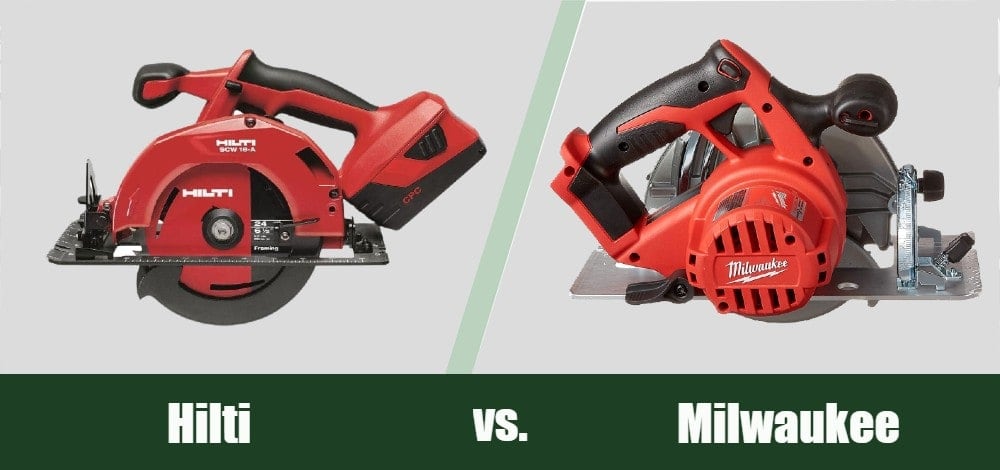 Dozens of companies make power tools for homeowners, hobbyists, and professionals. While many of these brands produce similar types of tools, there are drastic differences in quality. In fact, professionals only trust a few of the many power tool manufacturers: two of which are Milwaukee and Hilti. Both of these brands are known for making high-end tools, not tools meant for the weekend warrior. Instead, these companies make durable, powerful machines built to withstand daily professional abuse. But how do they stack up when compared head to head?
There's no doubt that both brands make effective, reliable tools, but we want to know which company is superior. So, we will compare them on the metrics that matter: price, power, durability, warranty, and lineup. By the end of this article, you'll be ready to pick a side, knowing exactly how their tools compare to the closest competition.

A Quick Comparison
Image
Product
Details

Hilti

Established: 1941
Headquarters: Schaan
Liechtenstein
Product lines: 22V cordless
Corded power tools
Major Subsidiaries: Hilti
CHECK PRICE

Milwaukee

Established: 1924
Headquarters: Brookfield
Wisconsin
Product lines: M12
M18
M18 FUEL
MX FUEL
Major Subsidiaries: Techtronic Industries
CHECK PRICE
Brief History of Hilti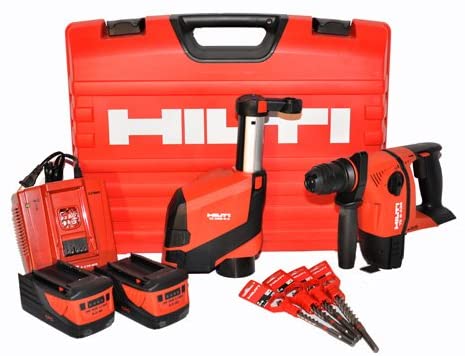 Hilti was founded in 1941 by brothers Martin and Eugen Hilti. By the end of the 1940s, Hilti had received its first patent and started to manufacture actuated nail guns and hand-drive tools. By 1952, Hilti had brokered its first international sales agreement, helping to push the brand forward. But Hilti's big breakthrough came in 1957 when they released the world's first powder-actuated tool, the DX 100.
By the time the 1960s arrived, Hilti had grown substantially and operated in approximately 30 countries. One of the founding brothers, Eugen Hilti, died in 1964, but the company continued to grow. By the end of the 1960s, Hilti had introduced the first electro-pneumatic hammer drill and the first mechanical anchor systems.
It wasn't long before Hilti started opening up manufacturing plants in companies all over the world, starting in Kaufering, Germany. An executive board was then formed in the mid-1970s. In 1980, the Martin Hilti Family Trust was established, and the brand continued to reach out, finally securing markets in America, Africa, Asia, and Europe.
The company continued its expansion, and in 1990, Michael Hilti, son of Martin Hilti, took over the position of CEO. New international markets soon followed, including Russia and South America, as Hilti continued its path toward globalization.
Founder Martin Hilti died shortly after in 1997, but the company continued its forward trajectory. By the early 2000s, the company had begun to prioritize community culture. But in 2009, an economic downturn caused the company to undergo major changes. This resulted in a change of leadership and strategy, which allowed Hilti to break the one-billion-dollar turnover threshold in North America for the first time in 2015.
---
Brief History of Milwaukee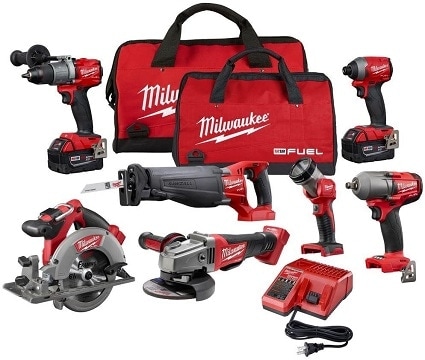 Milwaukee tools were first created in 1924, but the brand's story starts earlier. Henry Ford needed the common ¼-inch power drill to be improved, and he found a man willing to do it named A.H. Petersen. Soon, Petersen had developed the hole-shooter, a lighter and more compact version of the drill that weighed just 5 pounds. It could be operated with one hand but still had enough power for heavy-duty jobs.
Petersen soon had a new business partner, Albert F. Siebert. They founded the A.H. Petersen Company together, but it was destroyed shortly after its creation by fire. However, Siebert managed to purchase the remaining assets of the company at auction and used them to reopen as Milwaukee Electric Tool Corporation.
While the hole-shooter was very successful for Milwaukee tools, they made most of their money in the beginning by repairing tools rather than selling them. But this allowed the brand to learn about all the problems in their designs as well as determine who specifically was using their tools. With this information, they revised the tool, and it became a necessity for anyone working in automotive or metalworking.
In the 1930s, Milwaukee power tools took off. Their manufacturing improved, and they released several new tools, including electric hammers, sanders, grinders, and eventually, a lightweight electric hammer drill. During WWII, Milwaukee answered the call for manufacturing, and their hole-shooter was a necessary tool in the manufacturing of military aircraft. This resulted in multiple orders from the US Navy.
In the 1950s, Milwaukee released a reciprocating Sawzall. They continued to grow and expand through the 1960s and 70s through the 90s when they released an extensive line of 18-volt contractor-grade cordless tools that became standard for professionals in many industries.
See Also: 
---
Hilti vs Milwaukee: Manufacturing
Hilti
Hilti has a total of 11 manufacturing facilities for producing its products. These are located in countries across the globe, and each one specializes in building a specific type of part. For example, the Los Angeles, California plant in the US produces heavy-duty diamond tools. The Hilti plant in Navasari, India, manufactures cup wheels, cutting discs, core bits, and large blades.
The first Hilti manufacturing plant was in Schaan, Liechtenstein, and it's still operating today. It was originally founded in 1941, though it has undergone many expansions and modernizations. This plant specializes mainly in metal anchors and direct fastening elements like nails.
There are also Hilti manufacturing plants in Thuringen, Austria; Kaufering, Germany; Strass, Germany; Kecskemet, Hungary; Zhanjiang, China; Shanghai, China; Lanzenkirchen, Austria; and Matamoros, Mexico.
Milwaukee
Milwaukee Electric Tool Corporation was first founded in Wisconsin. However, since then, they've been purchased by an international corporation, Techtronic Industries, which is based in Hong Kong and also owns several other notable brands, such as Ryobi, Hoover, and Dirt Devil. Much of Milwaukee's manufacturing has been shipped overseas to factories in China and Europe. In fact, their most popular tools are now made in China, including many M18 and M18 FUEL cordless tools.
Still, they have a strong manufacturing base in the US. In total, Milwaukee has four US-based manufacturing plants. This includes a major manufacturing plant in Brookfield, Wisconsin, plus three more in Greenwood, Jackson, and Olive Branch, Mississippi.

Hilti vs Milwaukee: Product Lines
Hilti
Hilti produces a diverse array of tools, from standard power tools to specialty tools that are only used for very specific purposes.
Power Tools
Hilti's line of cordless power tools includes rivet tools, rotary hammers, drills, impact drivers, demolition hammers, grinders, saws, and vacuums. Plus, you'll find specialty cordless tools such as hydraulic pipe presses, hydraulic cutters and crimpers, cordless fasteners, dispensers, and more. Hilti also produces corded power tools, such as beefed-up rotary hammers, demolition hammers, diamond coring machines, and diamond cutting saws.
Direct Fastening
One of the tools that helped Hilti achieve success was their first actuated fastener, and today, they offer several direct fastening tools. They make powder-actuated, gas-actuated, and battery-actuated fastening tools.
Fasteners
Hilti has long been known for its line of fasteners, including screw anchors, wedge anchors, injectable adhesives, anchor rods, undercut anchors, sleeve anchors, nail anchors, plastic anchors, drywall anchors, construction screws, drywall screws, nails, and many more.
Specialty Tools
Hilti specializes in supplying fleets and large-scale operations. They offer specialty and oversized tools, such as modular support systems for pipes, ventilation, electrical, seismic, and sprinkler applications. They even offer software for the design and ordering of such systems.
Milwaukee
Milwaukee's main focus is cordless power tools. They produce some corded models, but mainly, they manufacture cordless power tools meant for discerning professionals.
M12
The M12 lineup is Milwaukee's most compact and affordable offering. They have a wide range of tools in the M12 family, which have a surprising amount of power for 12-volt tools. All M12 tools use the same batteries, and the family includes impact wrenches, impact drivers, crown staplers, torque wrenches, pipe press tools, and more.
M18
The M18 family is Milwaukee's main line of cordless power tools. They're 18 volts, and there are more than 150 tools in the lineup, including Sawzalls, pipe cutters, crimpers, knockout tools, drills, impact drivers, impact wrenches, press tools, table saws, and more.
M18 FUEL
M18 FUEL tools are still 18 volts, but they offer improved performance by way of brushless motors and smart integration between the tools and batteries.
MX FUEL
The largest tools that were always gas-powered are now available in cordless battery-powered versions in the Milwaukee MX FUEL line. This includes behemoths like the 14-inch cut-off saw, jackhammer, core drill, tower light, and even a 3600-watt power supply.
---
Hilti vs Milwaukee: Price
Milwaukee is already considered a high-end brand. They're one of the most expensive mainstream tool companies, outpricing other pricey competitors such as DeWalt. However, Hilti tools are so expensive that they make Milwaukee tools seem affordable by comparison.
Hilti
If you're price shopping or looking for a budget buy, you better skip Hilti. They don't offer anything even close to a budget-priced product. These tools are for professionals, and they specialize in supplying fleets and large-scale operations. All of their tools are premium products, so, in general, you can expect to spend more on Hilti tools than almost any other well-known tool brand.
Some of their cheapest products are drills and impact drivers. But even these are more expensive than similar offerings from competing brands. They've also got some very expensive large tools like jackhammers that can cost several thousand.
Milwaukee
Milwaukee is also a high-end brand, though their tools are generally more affordably-priced than Hilti. You can pick up a basic M12 or M18 drill or impact driver with batteries for a reasonable price. But they also have wildly expensive products, such as any of the massive tools in their MX FUEL lineup.

---
Hilti vs Milwaukee: Warranty
Both brands offer decent warranties compared to the average warranty you'll get from most tool manufacturers, though Hilti's warranty is definitely superior.
Hilti
The Hilti warranty is special among tool manufacturers. They offer a two-tier warranty, and it's the same for all Hilti tools. For the first 2 years, the tool is completely covered. It will be repaired at no cost if a problem occurs for any reason, including standard wear and tear. And for 20 years from the date of purchase, every Hilti tool is protected against defects in materials or workmanship.
Milwaukee
Milwaukee offers several warranties, depending on the type of tool you've purchased. For power tools, the warranty period is 5 years. During this time, the tool is warrantied for the original purchaser only, and it covers only defective materials and workmanship. Normal wear and tear is not covered under the Milwaukee warranty.
---
Hilti vs. Milwaukee: Customer Service
Unfortunately, neither Milwaukee nor Hilti is known for its outstanding customer service. Customers of both brands have reported many frustrations with both companies, particularly regarding warranties and service.
Hilti
One of the most common complaints regarding Hilti is that there are no repair or replacement parts available. This would be okay if they were good about living up to their warranty, but according to many users, that isn't the case. It seems that they often send tools back without repairing them. Other times, they repair the tool, only to have the same issue occur again shortly after. Many users reported being very disappointed at the lack of customer service when they paid such a premium for their tools.
Milwaukee
Unfortunately, the customers of Milwaukee weren't much happier with the poor customer service they received. Many people said they were constantly awaiting replies that never came, after long periods of being on hold, just to hear that they would receive a callback. There were also quite a few reports of Milwaukee refusing to repair tools and batteries that were well within the warranty period.

Head-to-Head: Impact Drivers
Hilti 4-A22 vs Milwaukee 2853-20 M18 FUEL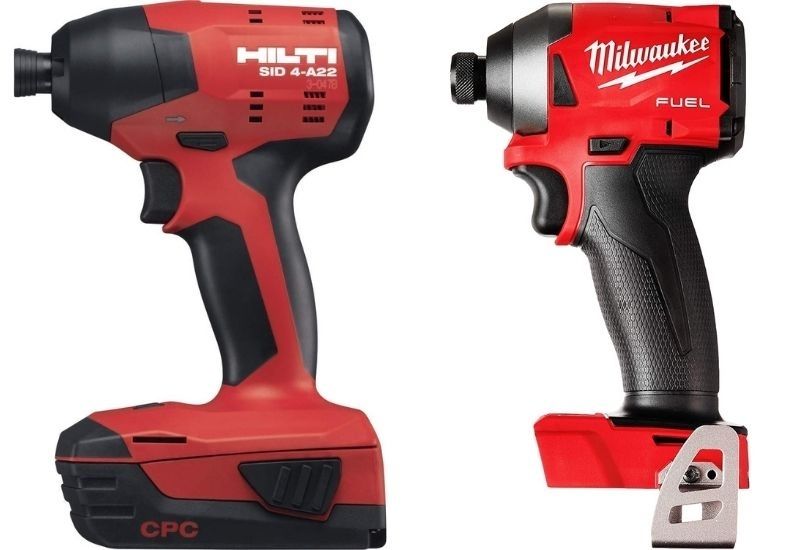 As far as impact drivers go, both of these tools are powerhouses. They both offer standard ¼-inch hex chucks for compatibility with all common bits. The Hilti model features three gears, with a max torque rating of 1,717 inch-pounds in the third gear. But the Milwaukee impact driver outperforms the Hilti in terms of sheer torque, offering an impressive 2,000 inch-pounds of max torque.
Things look about the same when we examine the speed of these two similar devices. The Milwaukee impact driver manages 3600 RPM at top speed or 4300 impacts per minute. While no slouch, the Hilti can't quite keep up with a max speed of 2700 RPM and a peak of 3500 impacts per minute.
When we compare size, the Hilti is a bit longer at 5.8 inches compared to the 4.59-inch length of the Milwaukee. They're very similar in weight; the Hilti takes the slight edge at 2.1 pounds, a mere 0.1 pounds lighter than the Milwaukee.
Neither of these impact drivers is cheap, but Milwaukee is more affordable by a fair margin, earning it yet another win.
Our Verdict
The only place where the Hilti impact driver manages to beat the Milwaukee is in weight, and only slightly. In every other category, the Milwaukee driver outperforms the Hilti. Of course, the Hilti driver comes with a better warranty, but as far as performance goes, Milwaukee wins by a landslide.

Head-to-Head: Drywall Screw Gun
Hilti SD 5000-A22 CPC vs Milwaukee 2866-22 M18 FUEL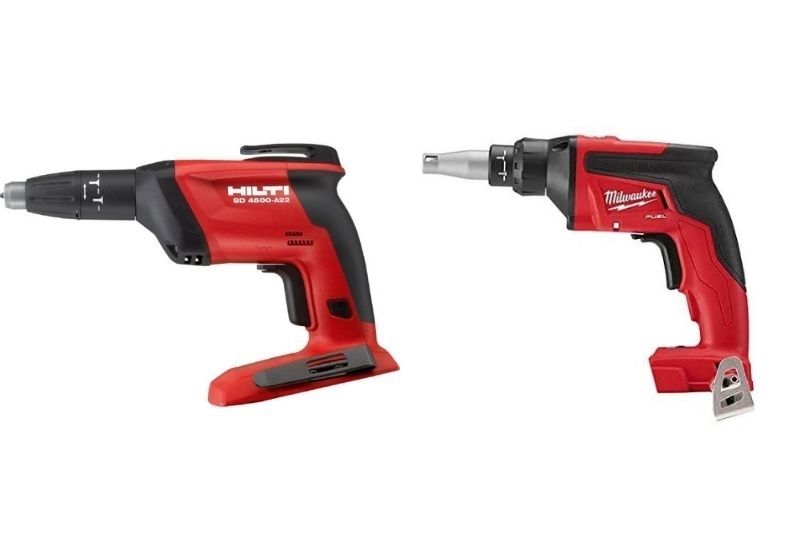 You need a dedicated drywall screw gun if you're a drywall installer. Luckily, both Hilti and Milwaukee offer similar products to fill this need, but they're not very close in terms of performance. However, these two tools are probably the closest in price of any tools of the same type between these brands. If you shop around, you might find the Hilti for cheaper. But when you compare them, it seems ridiculous that they're priced so closely.
The Hilti screwdriver has brushed motors, while the Milwaukee is equipped with more efficient and longer-lasting brushless motors. That alone should make Milwaukee far more expensive. And when it comes to performance, Milwaukee wins practically every category. The Hilti offers seven foot pounds of torque. but Milwaukee provides more than 10 foot pounds of torque.
You might expect the Hilti tool to be lighter since it's less powerful, but again, the Milwaukee wins out at a total weight of 2.5 pounds compared to the 4-pound weight of the Hilti. The Milwaukee is also a full inch shorter, making it more manageable.
Our Verdict
Once again, Milwaukee is superior to the Hilti in just about every way imaginable. The Hilti is a bit more affordable this time, but they're so close in price that you might not even count the difference. But they're worlds apart regarding performance, securing Milwaukee another win.

Head-to-Head: Rotary Hammer Drills
Hilti Max TE 50-AVR vs Milwaukee SDS-Max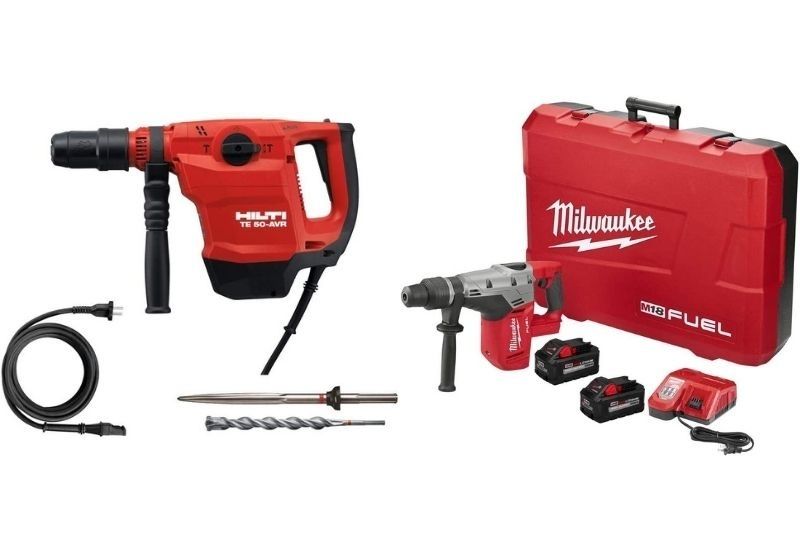 Comparing these two rotary hammer drills provides the closest competition yet. They both excel in particular ways, and they're extremely similar in performance. That said, the Hilti is nearly twice as expensive as the Milwaukee, so it will have to outperform the Milwaukee to pull out a win.
Both drills have a maximum bit capacity of 1-9/16 inches. They look very similar and are about the same size. But the Hilti machine is a bit lighter at 13.4 pounds; the Milwaukee weighs in at 15 pounds. It's a tradeoff since Milwaukee offers more power. It has a single impact energy of 5.5 foot-pounds, compared to 4.4 foot-pounds from the Hilti.
The Milwaukee also wins on speed, with the hammer drill maxing out at 450 RPM, while the Hilti tops out at 360 RPM. However, the Hilti regains some ground on hammering frequency, outpacing the Milwaukee 3510 impacts per minute to 3000.
There's one special feature on the Hilti that is missing from the Milwaukee rotary hammer drill, which is active vibration reduction. While this can reduce the impact on the user's arms, it's not a valuable enough feature in our eyes to double the value of the tool.
Our Verdict
While these two rotary hammer drills are pretty close in terms of performance, the price difference is too much for the Hilti to overcome. Milwaukee is the winner again.

Overall Brand Reputation
Performance
Edge: Milwaukee
While Hilti tools offer decent performance, Milwaukee tools outperform them every time. The Milwaukee tools consistently offered more power and higher speeds in lighter, more compact packages. Granted, in some instances, the Hilti tools have features that are missing from the Milwaukee model, but in terms of raw performance, Milwaukee tools tend to be better performers than Hilti tools.
---
Price
Edge: Milwaukee
Regarding price, there's almost no comparison between these two companies. Milwaukee tools are already known for being high-end and expensive, but Hilti tools are far and away more expensive than Milwaukee tools. When similar tools from both manufacturers are close in price, they're distant in performance, with the Milwaukee outshining the Hilti by a large amount.
---
Durability
Edge: Tie
The fact is, both of these companies make quality tools. Problems will occur in any brand, but on the whole, these manufacturers tend to produce durable tools that last beyond the lifespan of sub-par tools from other brands. This is proven by the fact that these two companies offer some of the best warranties in the power tool industry.
---
Warranty
Edge: Hilti
While both brands have great warranties, Hilti is the clear winner in this category. Their initial warranty period lasts for only 2 years, but it covers wear and tear on the tool, which Milwaukee does not cover under their warranty for any length of time. Milwaukee offers a 5-year warranty only against defects in materials or workmanship. Hilti offers a similar warranty on top of its initial two-year warranty, lasting for 20 years.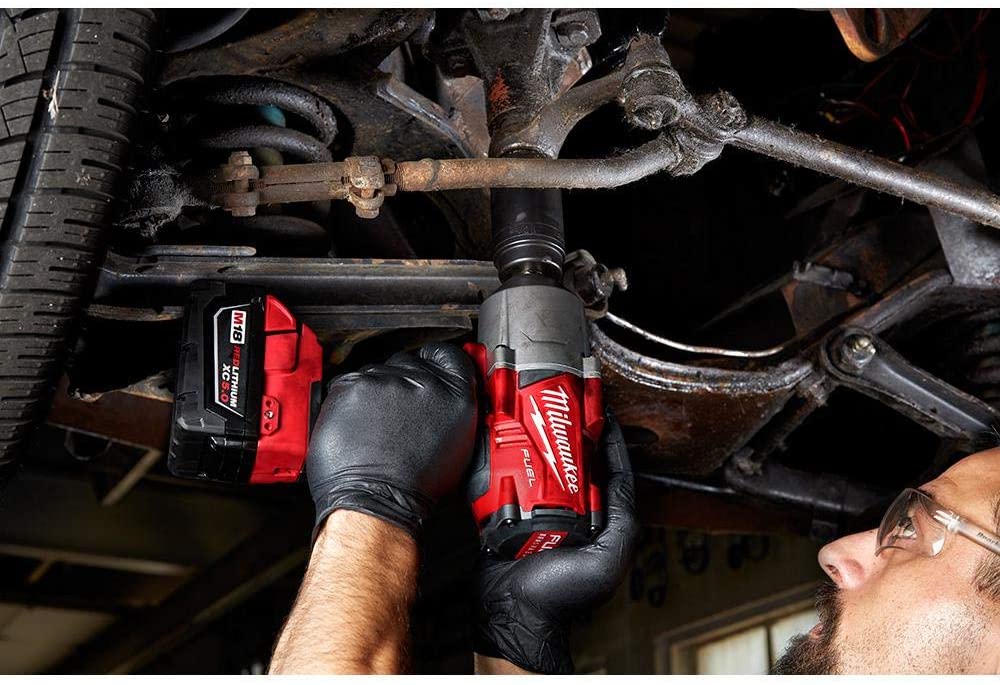 Conclusion
In a direct comparison between Hilti and Milwaukee tools, we think Milwaukee is the clear winner in just about every aspect. To be fair, Hilti has a superior warranty that's undoubtedly the best in the industry. But Milwaukee tools outperform Hilti tools by a massive margin, and they're far more affordable. For every situation, we'd choose Milwaukee tools over Hilti.