10 DIY Bamboo Wind Chime Plans You Can Make Today (with Pictures)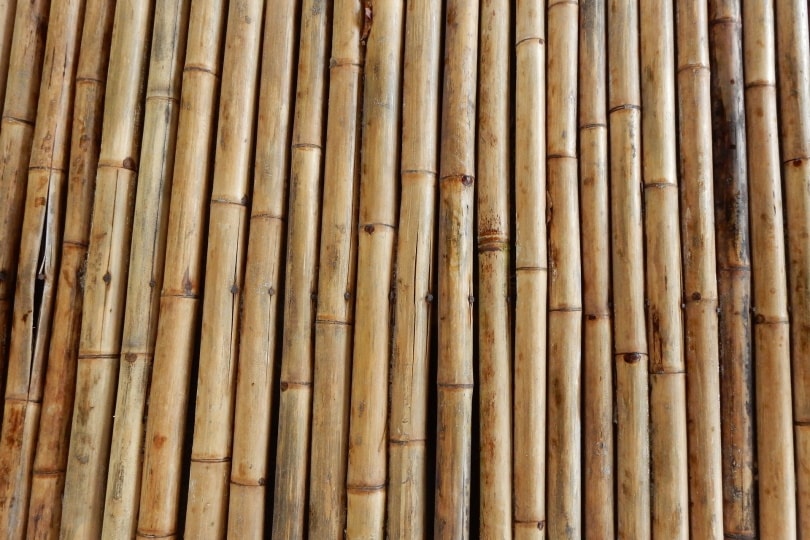 Got some leftover bamboo pieces from a recent DIY project? Turn them into a fun afternoon activity by building a wind chime for your backyard!
A bamboo wind chime is uncomplicated and inexpensive to make, a fantastic crafts project for people of all ages. Get started on an attractive addition to your porch or garden with these 10 DIY bamboo wind chime plans you can make today.

The 10 Best DIY Bamboo Wind Chime Plans
1.

Classic Circular Wind Chimes
Tools:
Materials:

Bamboo
¼" (.6cm) thick plywood, about 2 sq. ft.
String
Paint or stain sealant for the plywood disk (optional)
Create a harmonious addition to the home with these classic bamboo wind chimes. A circle of chimes hangs from the edge of a wooden disk, while another disk swings between the chimes to strike them as the wind changes. Dangling bamboo sails catch the breeze to strike up a tranquil tune.
Although it's the most complex construction on the list, building this set of chimes is easy, thanks to a detailed tutorial. Take advantage of the included template to make cutting your frame straightforward and error-free.
---
2.

Bamboo Garden Chimes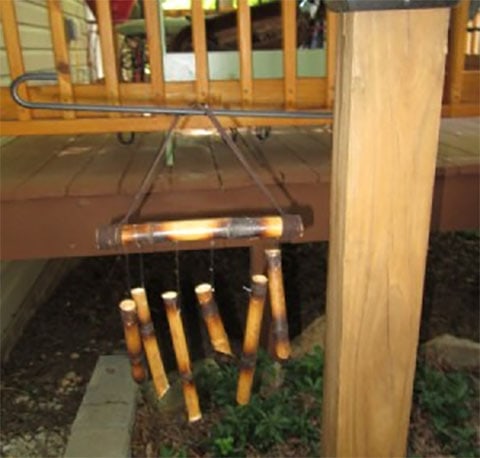 Tools:

Drill
Saw
Scissors
Large needle

Materials:

Bamboo
Bead wire
Leather trim
It doesn't get much easier than this simple set of garden chimes. Drill a few holes, thread some bead wire, and that's all you need for an aesthetic boost to your place of zen. The leather twine in the hanger provides some extra ornamentation to finish this enjoyable project.
---
3.

Chunky Wind Chimes
Tools:
Materials:

Thick bamboo stalk
Leather or nylon cord
If you're growing bamboo and looking to make way for new foliage, try your hand at making these oversized wind chimes. The plans call for more precise cuts with the miter box to achieve the shovel shape that helps the volume. A crossbar clapper is an intriguing addition to a standard line design, fitting nicely into the scoop of each chime.
---
4.

Long Bamboo Wind Chimes
Tools:
Materials:

Thick bamboo stalks
Twine
To craft a dominating patio feature, follow along with the maker of these elongated wind chimes. The noise production is impressive, with the stretched-out stalks producing a deep, soothing clacking on a quiet morning. A tight grouping and savvy arrangement of longer stalks and wind-catching tassels allow for excellent interaction between the chimes on the next breezy day.
---
6.

Triangle-Frame Wind Chime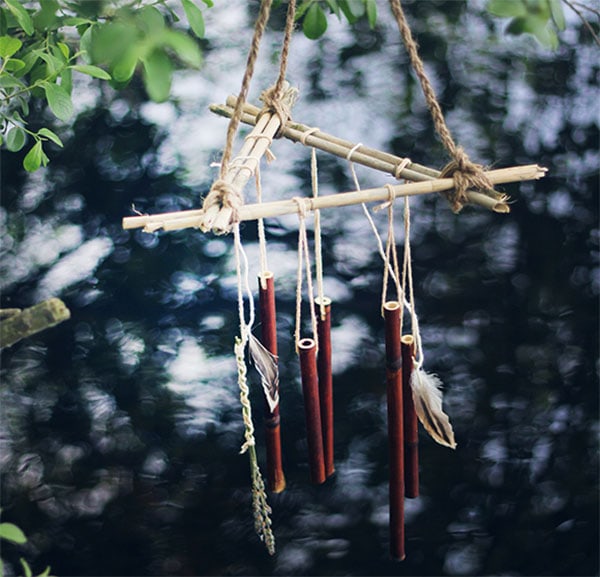 Tools:

Drill with a small bit
Saw
Glue gun

Materials:

3' bamboo pole
(6) twigs or reeds
Twine
Embellishments (plants, feathers, stones, etc.)
At their most basic, bamboo wind chimes already have enough of a natural aesthetic. With this triangle frame wind chime, you can give the traditional Zen vibe a makeover with added ornamentation and an offbeat approach to the suspension platform. Use twine to fix the corners of the frame together, and include adornments such as herbs, flowers, and feathers to give your chimes a twist of indigenous Americana.
---
7.

Large Bamboo Wind Chime
Tools:

Drill with a small bit
Needle

Materials:
The design is straightforward and incredibly effective, but this 2-row wind chime is slightly more time-consuming than some of the other plans in this lineup. It's a dense pack of chimes, with a hefty clapper consisting of eight individual pieces by itself!
With 10 chimes per row, making 20 in total, you'll need poise and patience to measure, cut, and affix each piece. But it will be 100% worth it the first time you hear the activity on the next windy day.
---
8.

Split Bamboo Wind Chimes
Another line of chimes, this alternating series adds a pleasantly soft clanging to help you relax on a gorgeous, gusty afternoon. Long sections of bamboo separate stunted pieces with attached bamboo clappers. A stiff breeze will inspire plenty of movement and play between the chimes, and you have room to try different lengths for a broader range of tones.
---
9.

Colorful Wind Chimes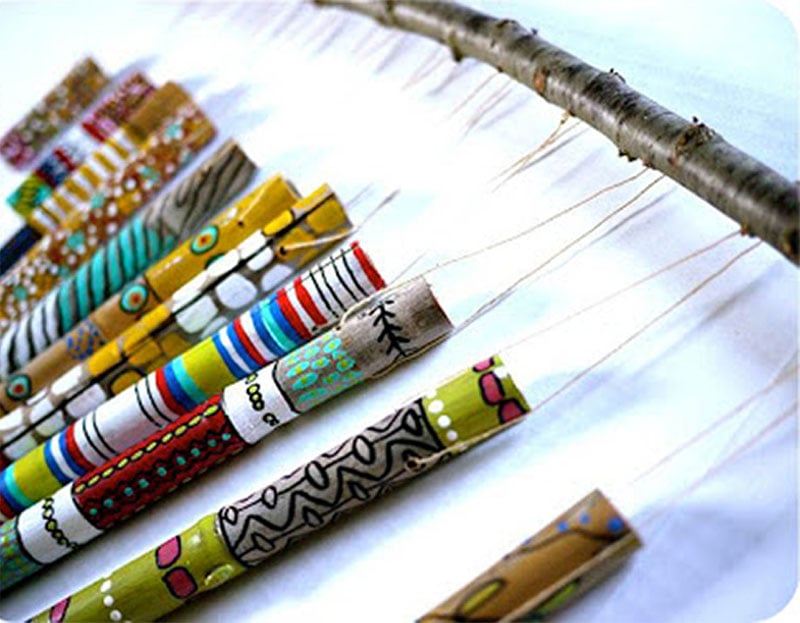 Tools:

Drill with a small bit
Saw
Needle
Sharpie
Small paintbrush

Materials:

Bamboo stake
Thread
Acrylic paint
Varnish
They aren't anything special in terms of form, but the decorative detail of these colorful bamboo wind chimes is a cool cosmetic element to incorporate into any design. Finish your bamboo stalks off with vibrant acrylic paints, Sharpie drawings, and a glossy coat of varnish for a sparkling, long-lasting work of art. After drilling the holes for hanging, turn your bamboo wind chime project into a fun family affair by letting your kids take over the creative duties.
See Also: 6 DIY Bamboo Trellis Plans You Can Make Today (with Pictures)
---
10.

Bamboo and Seashells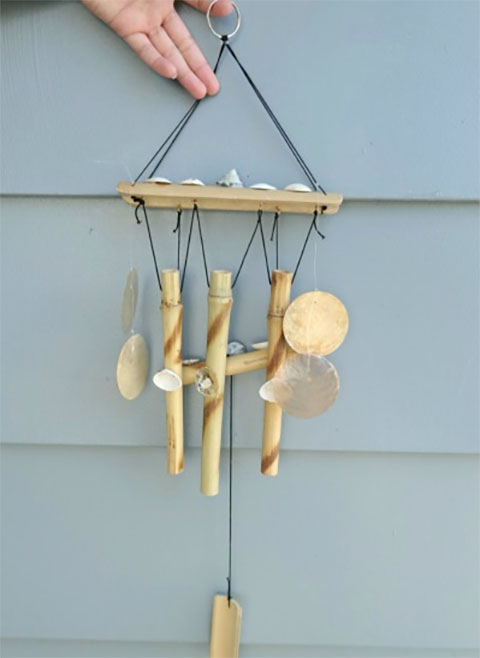 Tools:
Materials:

Bamboo stalks or pre-made bamboo chimes
Fishing line
Small seashells
Glue
Capiz shells
Have a few souvenirs leftover from your latest trip to the beach? Add seashells to a handmade or store-bought set of bamboo wind chimes to create a snazzy outdoor accessory. It's the perfect activity when you need an easy and inexpensive project to help you kill some time with the kids.
See Also: How to Make a Bee House with Bamboo in 3 Steps
Does Bamboo Make Good Wind Chimes?
When you're making a set of wind chimes from scratch, bamboo is one of the most efficient materials to use. It's naturally hollow, cylindrical, and hard, so it doesn't take much effort to turn a raw stalk into a viable chime. What little shaping it does need is easy with a saw and drill. It won't have the vibrating clang of metal, but the subtle, muted pitch will supply a more mellow, calming element to the atmosphere.
Final Thoughts
Crafting a set of bamboo wind chimes can be delightfully satisfying, a fantastic activity for parents and kids or anyone trying to get a quick DIY fix. Whether you repurpose bamboo from a past project or buy everything new, it's a cheap and convenient way to improve the atmosphere around the backyard. Flex some artistic muscle with these bamboo wind chime plans you can start today, and see where your creativity will take you!
---
Featured Image Credit: stevepb, Pixabay