7 DIY Barrel Sauna Plans (with Pictures)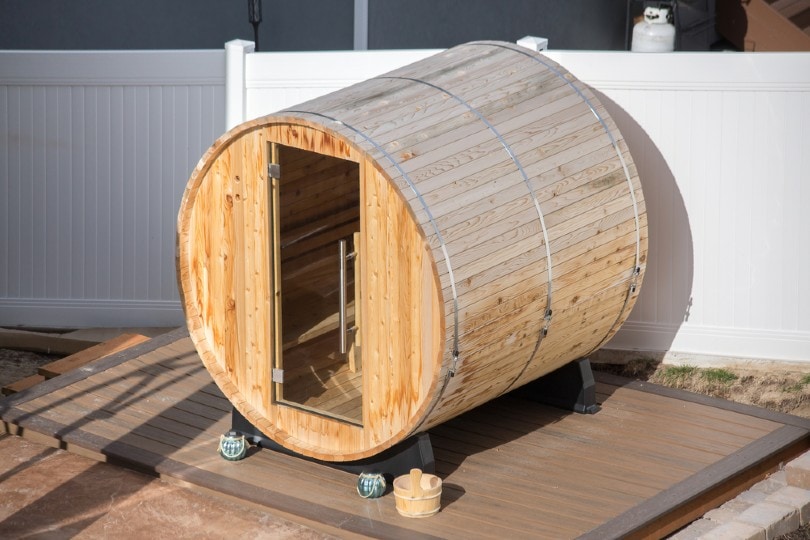 After getting your feet wet with some of our simpler woodworking activities, are you ready for a more ambitious DIY project? Test your woodworking mettle with a barrel sauna, bringing all the health benefits,1 leisure, and luxury of the spa to your own home!
These impressive yet surprisingly straightforward and space-saving construction projects are an excellent way to delight guests and give you bragging rights around the house. If you've got a free weekend and a few square feet of open area in the backyard, transform the way you relax with one of these seven DIY barrel sauna plans you can make today.

The Top 7 DIY Barrel Sauna Plans
1.

DIY Barrel Sauna Plans
It's hard to find barrel sauna instructions in their entirety online, but this basic barrel sauna template is more than enough to get you started. With details on the tools and materials you'll need, as well as appropriate wood to use, you can apply these concepts to any of the following barrel sauna plans in this list.
And with the dado and canoe joints being arguably the most complex part of any barrel sauna build, it's well worth learning how to cut the essential components with these DIY barrel sauna plans.
---
2.

Indoor Barrel Sauna
Barrel saunas are a massive relief from the chill of winter air. But going outside in the cold, snowy weather to get to your outdoor sauna is at least a few seconds of discomfort we could all do without. If you've got some extra space to spare inside, you won't have to brave the elements with this indoor barrel sauna.
Made in a workshop and on a limited budget, this undersized barrel sauna is still large enough to seat two people comfortably. The builder saved on materials and achieved a cozy, rustic look with knotty pine boards and repurposed beadboard wainscoting panels.
---
3.

Almost Heaven Barrel Sauna
You can find plenty of barrel sauna products online from various manufacturers, with kits coming complete with pre-cut wood, hardware, installation materials, and instructions. Almost Heaven is one such supplier, and they offer a helpful tutorial to accompany one of their barrel sauna kits. For a determined DIYer, it makes a fantastic template for building a minimalist modern barrel sauna.
There's room to innovate with your particular barrel sauna if you use this plan with your own supplies, but there are also clever ideas to add upgrades. The sauna incorporates a simple see-through door and an LED light strip to enhance the atmosphere as you relax.
---
4.

Panoramic Barrel Sauna
Does your home offer an incredible view worth enjoying at every possible opportunity? Treat yourself to a world-class visual experience with this panoramic barrel sauna, featuring a domed transparent wall in place of a wood panel.
While this particular panoramic sauna comes from a kit, you can follow the build instructions with your lumber and supplies. The tricky part is the acrylic dome, but you can custom-order a large acrylic dome from several online suppliers for only a few hundred dollars at most. With the kit from the manufacturer costing over $10,000, you can save a good amount of money by buying the materials yourself.
---
5.

Simple Cedar Barrel Sauna
Using fresh lumber formed in his shop, the creator of this cedar barrel sauna was able to make a professional-looking unit from scratch! The design is simple yet elegant, and there are several possibilities to add a personal touch.
Even if you plan to make another type of barrel sauna on this list, this video is worth watching because it introduces practical concepts that translate to any design. Among other things, there's information on prepping the ground for drainage, cutting and notching staves, and adding roofing to prevent random leakage. With so few comprehensive DIY barrel sauna plans available online, this plan helps fill in some critical knowledge gaps.
---
6.

Outdoor Cedar Sauna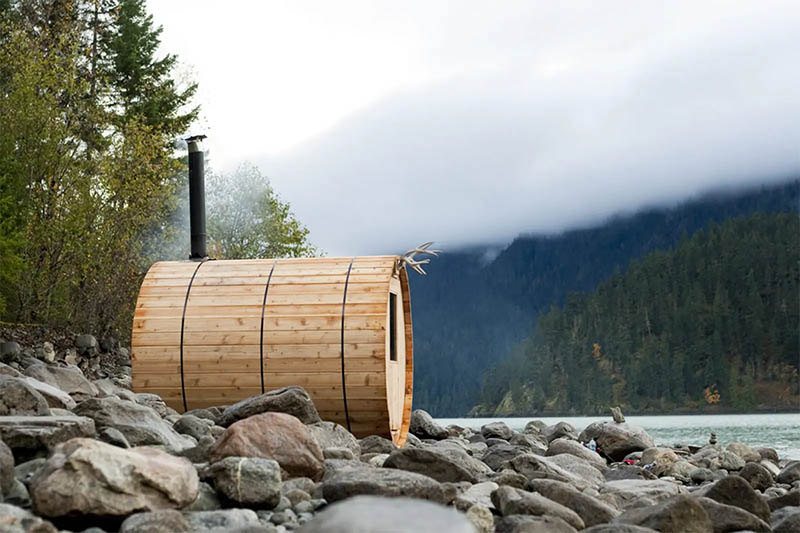 Another cedar sauna, this portable DIY wood-fired unit was made by a media group as part of a marketing campaign. They made the simple setup for easy transport by helicopter for video shoots, and they later sat down to discuss some of their experience in building it.
While there are no plans per se for this sauna, there are some valuable design principles and perspectives on the right tools to use. There's even a link for insights into the custom-weld job they did on the wood-fired heater.
---
7.

2-Seater Barrel Sauna
Need a compact sauna to squeeze into limited backyard space? The builder handmade this 2-seater barrel sauna to beat the frigid cold, as shown in this instructional time-lapse tutorial. Although there's no material list, the video gives a helpful view on cutting the staves with a router, along with some innovative lighting ideas in a simple design.

What Is the Best Wood to Use for a Barrel Sauna?
Western red cedar is the best wood for any sauna build, whether it's barrel-shaped or not. Despite the heat and humidity, it won't get hot to the touch, rot, or decay—exactly what you need for a functional sauna. Since you generally won't use an insulating layer with a barrel design, you also benefit from cedar's ability to insulate better than most woods.
While not as ideal as cedar, there are several softwoods to choose from if you need a less expensive option:
Hemlock
Aspen
Pine
Spruce
Watch out for overly knotty woods and those prone to high sap contents. Discoloration, warping, and breakage are common with woods that can't handle the heat changes and moisture levels in a barrel sauna.

Final Thoughts
With little need to add insulating layers, complex ventilation systems, or electrical installations, you can make a simple DIY barrel sauna with relative ease. The most complicated aspect is forming the staves—so it's understandable to opt for an expensive kit to avoid routing the wood yourself.
With these tutorials and insights into making a functional design, you may be surprised by how simple (and inexpensive) it can be to enjoy a personal spa experience whenever you please!
---
Featured Image Credit: Aaron Finn, Shutterstock