18 Free DIY Bat Box Plans You Can Make Today (With Pictures)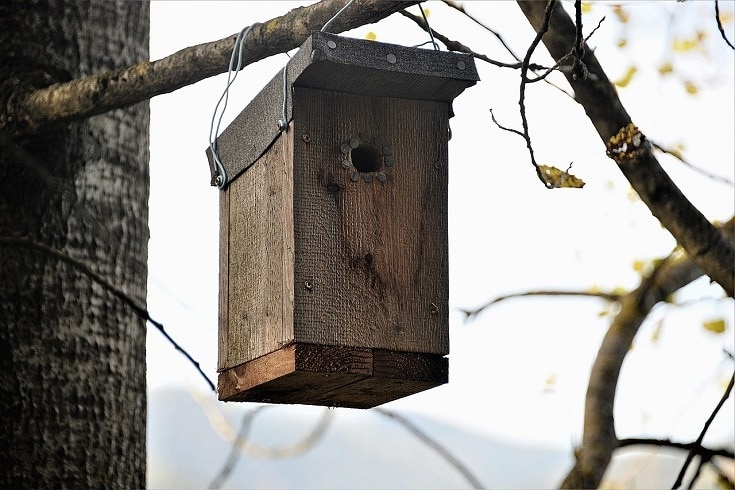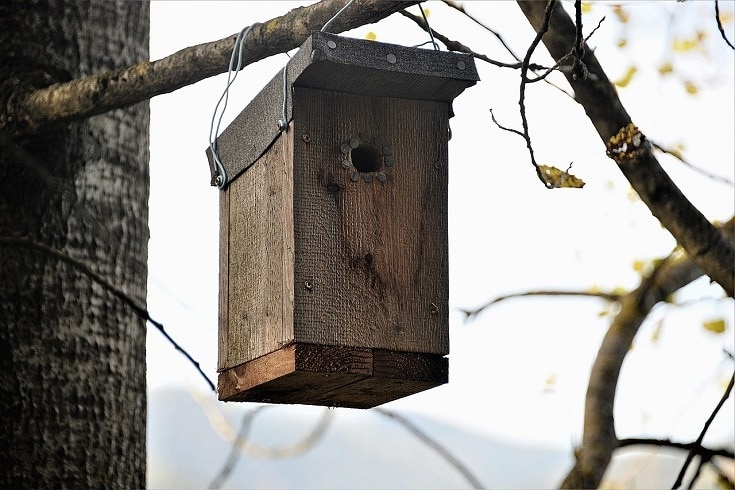 Bats have voracious appetites, eating up to 8,000 insects a night. They eat mosquitos, midges, moths, and other potential garden pests, and they produce guano, which is an excellent phosphorous and nitrogen-rich fertilizer. Unfortunately, their numbers have dwindled in recent years, but by learning how to build a bat box for your garden, you can provide them with a protective home and help keep them away from the loft or eaves spaces of your home.
Below, you will find details of free DIY bat box plans that you can use to attract these natural pest controllers to your garden and provide them a haven. Many of the bat boxes can be placed on the exterior wall of a property, but some need to be fitted to trees.
You should ensure that the box is at least 12 feet above the ground, ideally 20 feet, and they should be warm during the summer months, to help nurture any pups.
You should also remember that once the box is built and installed, it could take several years before a bat roosts.
The 18 DIY Bat Box Plans
1.

$20 Bat Box From Yellow Brick Home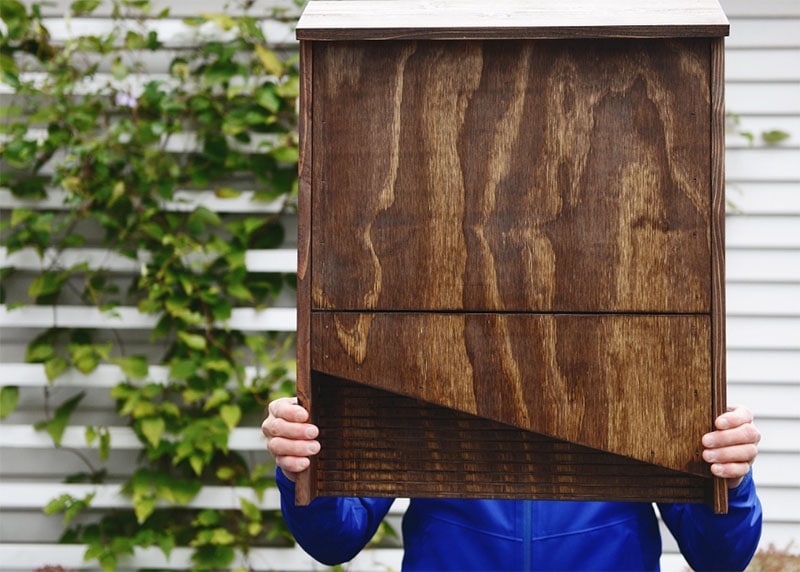 This single chamber bat box plan from Yellow Brick Home can be constructed for less than $20 and is made from plywood, with grooves sawn into the interior and then stained.
Grooves give the bats something to grab onto and somewhere to hang when they roost. Having a grooved area at the entrance also provides a great landing strip. Bats love hot conditions, so the box is stained to help retain heat inside the bat box.
This is a relatively simple build to make, but it is cheap and effective, with most of the work being completed with standard tools.
---
2.

Bat House Design From Thrift Diving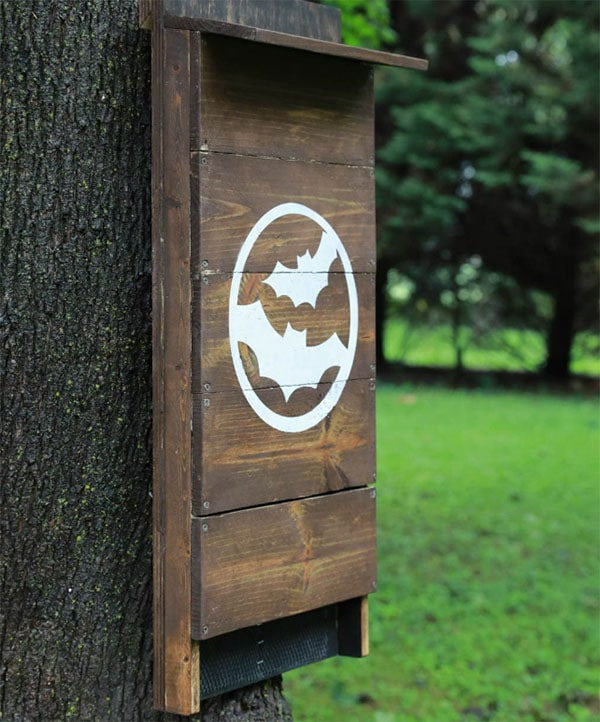 The builders of this bat box, at Thrift Diving, undertook the project to help rid themselves of mosquitos. The build uses red oak plywood, cedar fencing, and additional cedar wood. This build uses a mesh screen to give the bats purchase as they land, rather than the sawn wood edges of the previous build.
The bat house is a great way to get kids involved in a fairly easy construction, and although this is another single chamber design, it will still hold up to 50 bats and allow them room to roost. Obviously, the more chambers you add, the more bats you can attract.
---
3.

Sweet Tea Junkie's Bat House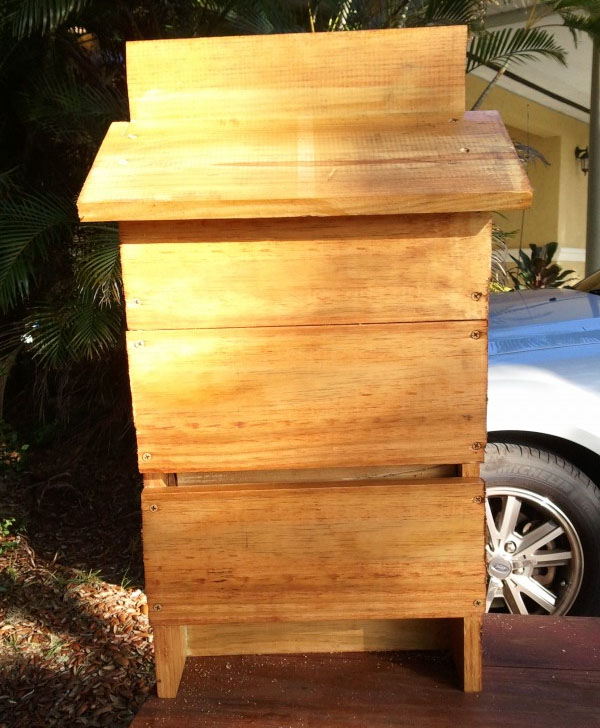 A single chamber bat house can provide room for up to 50 bats, although actual occupancy depends on the size of the chamber itself, as well as the size of the bat population in your area. While some bats do live in caves and other secluded areas, many of them head for trees because the branches provide a natural place to hang and the leaves provide cover. The canopy of a tree is also warm, thanks to the foliage, and it is these conditions that you want to replicate while making a bat house.
The bat house plans from Swee tTea Junkie are for a three-chamber house, so you could play host to more than 100 bats once they settle.
---
4.

Bat House Plans From WoodLogger
Bat houses are basically boxes, and boxes are easy to build, especially from wood. Even better, there's no need to sand and finish a bat box to make it smooth. In fact, bats need rough surfaces because this enables them to land and to grab onto something while they hang upside down and sleep.
WoodLogger has a video showing the construction of their bat house. This particular plan doesn't have roughened edges, however, which is something you might want to consider adding yourself.
---
5.

Bat House PDF From Canadian Wild Life Federation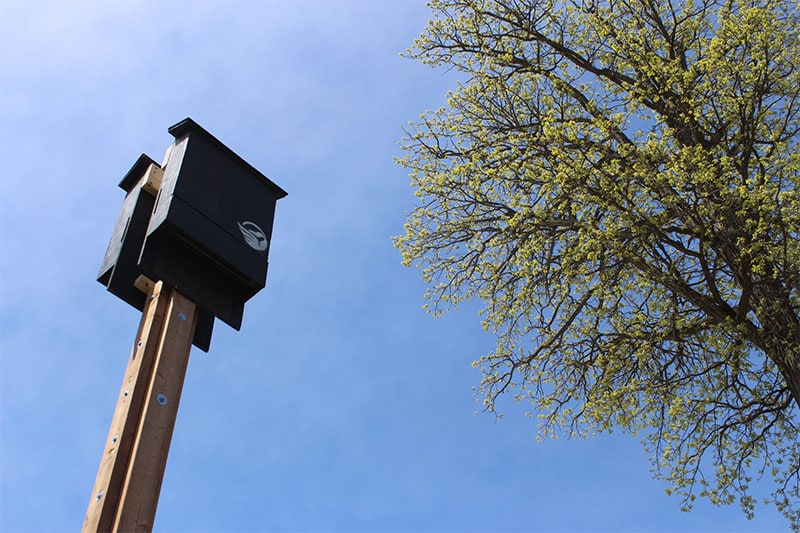 Multiple chambers are useful because female bats will roost together, and with a single bat box, you could attract a decent size colony of females. Males, on the other hand, tend to be more solitary, so single chamber boxes do still have their purpose.
This guide from Canadian Wild Life Federation has helpful tips that will help you find the best location for your bat box, as well as PDF plans on how to build your own two-chamber bat house.
---
6.

Bat Box Plans From Bats Northwest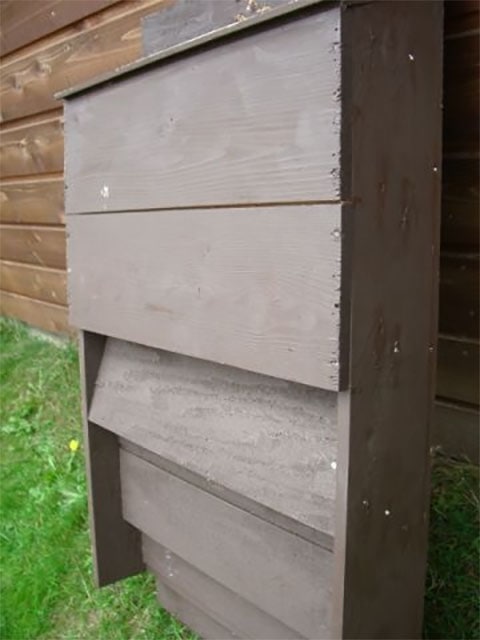 A bat box should be at least 2 feet tall and 14 inches wide. It needs to have a rough screen or roughened edges on the inside walls to act as a landing pad for your new bats. The landing pad should extend at least 3 inches from the bottom of the box, and each chamber should be approximately 1 inch wide.
Bats Northwest provides plans for a rocket box that meets these criteria. They also have a long list of guidelines and advice that will help ensure that your bat box has the best chance of becoming a roosting site. Remember, it can take six months to two years before bats start to use your box.
As well as the rocket box, Bats Northwest also features plans for a bat condo and a duck/bat house combo.
---
7.

Four Chamber Nursery Bat House Plans From EDIS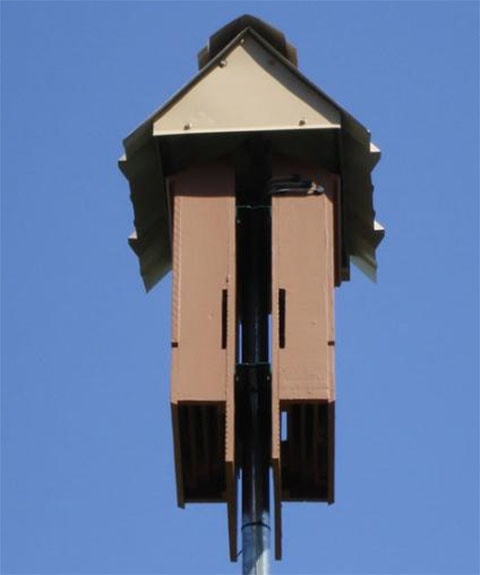 Bats can consume many insects on your property, and the sound of bat calls will deter other airborne pests from the area. A bat roosting site is used during the day, when the bats are sleeping, and the EDIS website has plans that will attract and house any of the species that are indigenous to the Florida area, including a nursery design and a four-chamber bat box. The box in the image has a metal roof because this helps retain heat, which bats need.
---
8.

Bat House Instructions From Wisconsin DNR
The DNR website offers a guide on building your own bat box, as well as instructional videos that you can follow as you build. They also offer guidelines on how to ensure that your box has the best chance of attracting new residents.
DNR encourages those who do establish a bat box to take the time to count the number of bats that emerge at dusk. This can help with conservation efforts by tracking and monitoring numbers to determine any increase or decrease.
---
9.

Reclaimed Pallet Bat Box From Instructables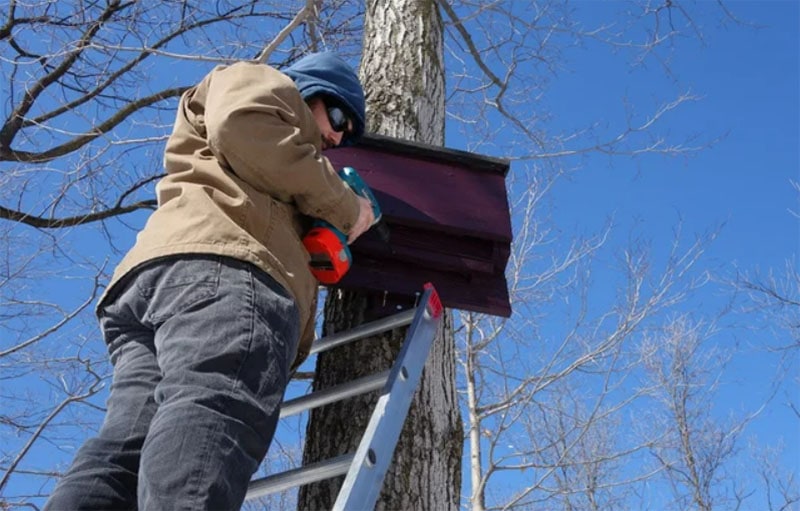 Pallets are typically only used once for shipping goods and then are sold or given away. Take a trip to almost any local store and ask about availability. Although some may ask for a few dollars for a pallet, others will be glad to get them out of the way without having to pay recycling fees.
This reclaimed pallet bat box from Instructables takes advantage of the typically untreated and rough surface of the pallet to create a two-chamber box. Also, it's labeled, so the bats will know it's for them!
---
10.

Garden Bat Box Design at Instructables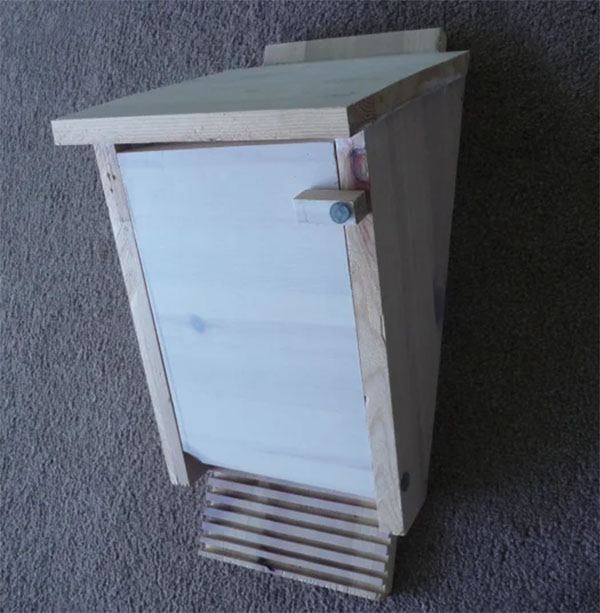 This Instructables guide can be completed in a little over one hour, and although it only has a single chamber, it can house up to 50 bats. It is also discreet and has a unique but effective design. This is great if you don't have much space and are looking for a box to fix to the top of the outside of your property, but do make sure that there are no security lights and that you hang the box at least 15 feet up.
---
11.

Bat House From This Old House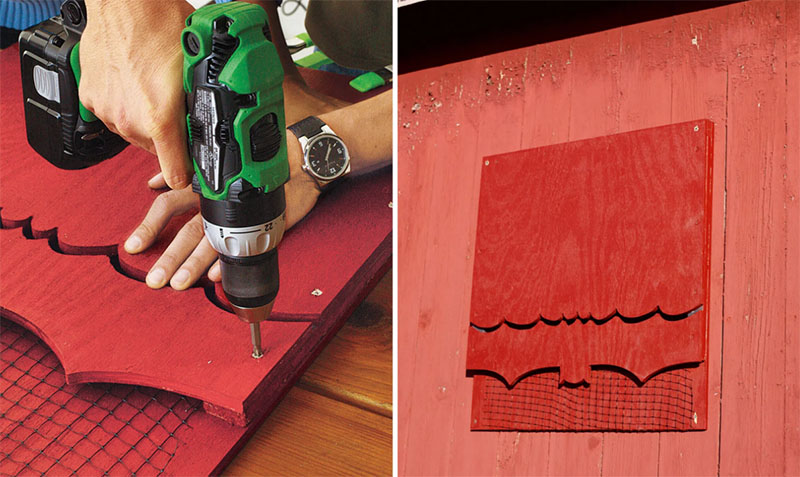 It's always good to get the kids involved in your DIY projects, as long as you supervise them and provide them with the proper protective gear. Not only does it mean that you have less carrying and legwork to do, but it encourages them to build by themselves: a skill that will stand them in good stead later in life.
This bat house project from This Old House has been designed to be built with the help of kids. It has two chambers and a great-looking bat motif cut into the bottom section.
---
12.

The Bat House Plans From Instructables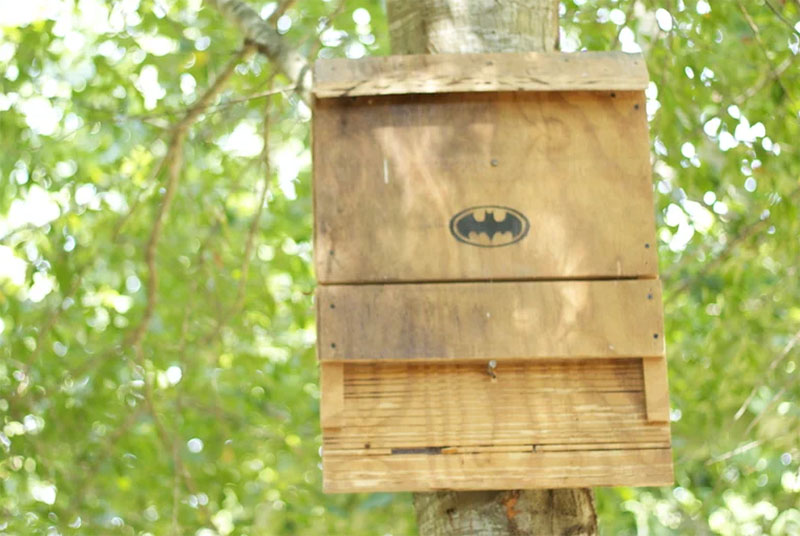 This plan by Instructables teaches how to build a bat box of a different kind. As the guide points out, the construction is simple because it is just a box, but it will go much quicker if you have a miter saw or table saw. If you don't have either of these available, though, you can still complete the build using a regular hand saw.
The plans call for your choice of galvanized metal or leftover wood for the roof. Metal attracts and retains heat better, but wood still does a perfectly capable job and is suitable for this type of project.
See also: DIY Goat Hay Feeder Plans
---
13.

Bat Box Plans From I Like To Make Stuff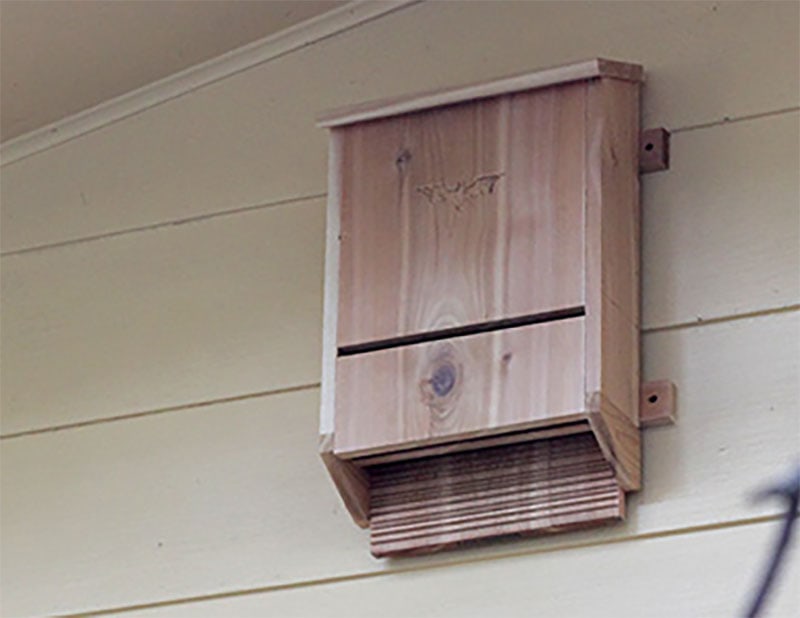 I Like To Make Stuff has a guide to make a durable and long-lasting two-chamber bat box. This particular box was made with cedar wood. The wood you use should not be treated, because this will deter bats and could prove to be dangerous. Cedar, therefore, is a good choice because it is hardy and hardwearing. It will last through the seasons and for years to come. It can prove quite expensive, but not too bad for a relatively small bat box.
This plan also includes a ½-inch vent on the front of the box, which allows for decent ventilation inside. It also has a great-looking bat symbol etched out of the wood.
---
14.

Batman Logo Bat Box Design From Instructables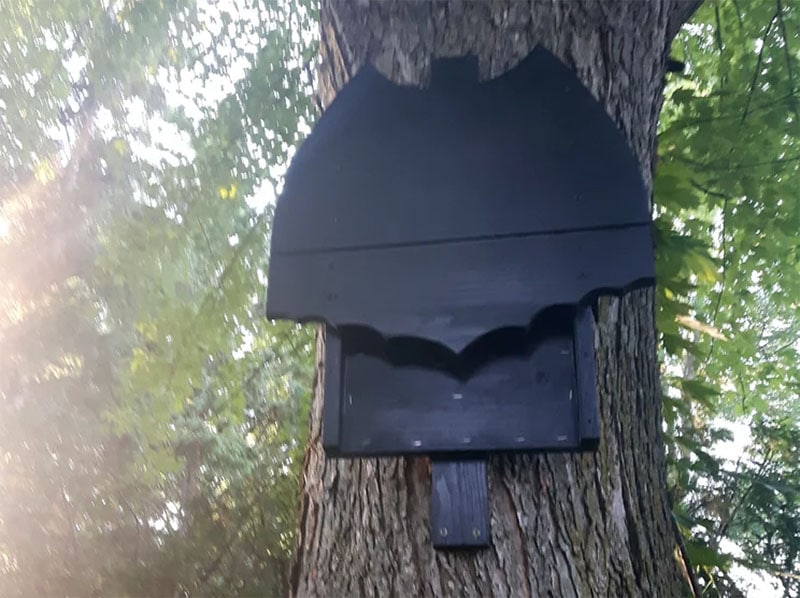 This is another guide from the pages of the Instructables website.
This time, the plans provide easy instructions on how to build a single chamber bat box that was made using leftovers from a shed project, as well as a few new pieces. As ever, you can adapt the design to meet your needs. Bigger bat boxes house more bats, which is always a good idea, but remember that bats like small crevices in which to roost, so don't increase the width of the gap. This bat box also has a great retro-inspired bat logo.
---
15.

Bat Nest Plans From Instructables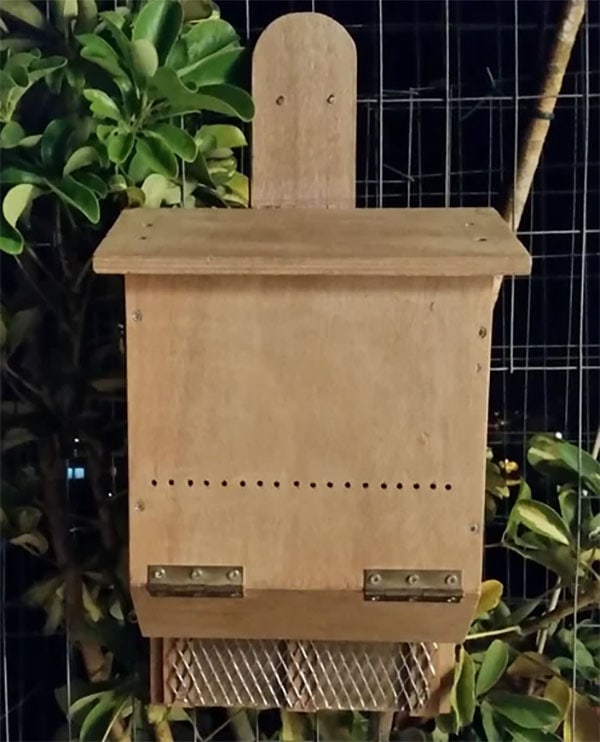 These bat nest plans from Instructables use a wire mesh inside that hangs out of the bottom of the main chamber. The mesh provides grip for the bats as they land, and as they hang, but if you're uncomfortable using wire mesh, you can create your own grooves by sawing or chiseling away at the inside sections of the wood.
Rather than a single ventilation slit, this design uses a series of holes cut into the front wall. This allows for ventilation. Bats love heat in their roosting nests, and the temperature will rise quickly if you have 50 or more bats in a box of this size. The ventilation holes allow some of the stale and hot air to dissipate.
---
16.

WWGOA's Bat House Plans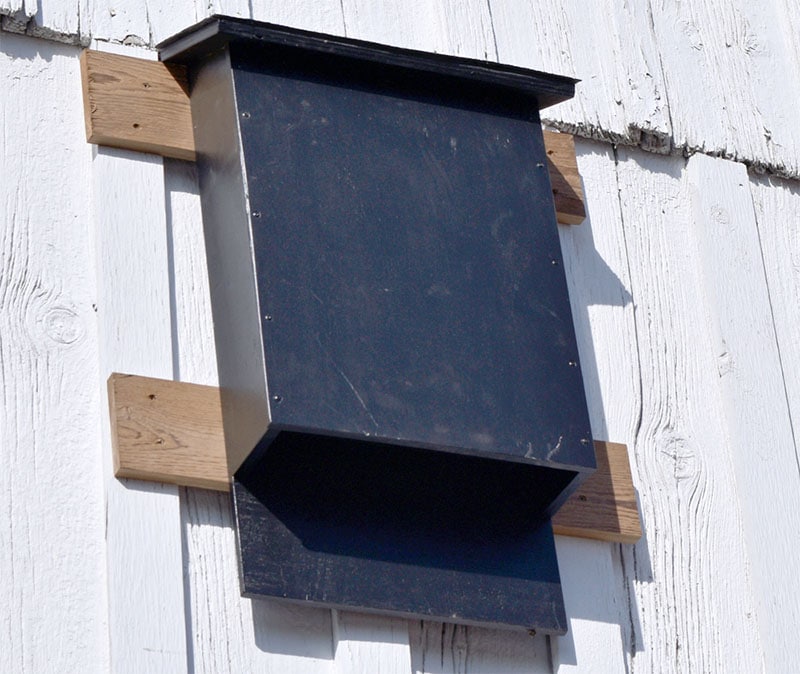 The creator of these bat house plans at WWGOA was initially looking for a way to get rid of bats from their barn but eventually decided to create a new home for them. Doing this enables you to get bats out of a location you don't want them. for example, in the loft space. and into something created especially for them. In many cases, the physical removal of bats is against the law, anyway, because bats are protected species.
This particular bat box has four chambers, so it will provide room for hundreds of the winged creatures. There's also a video giving instructions on how to best place your bat box. The video also reminds you that the color you should paint the bat box depends on where you live and is determined by ambient and local temperatures.
---
17.

RSPB's Bat Box Build
The RSPB has a guide on building a simple and small bat box. It only has a single chamber and uses untreated wood because the smell of treated wood will deter the bats rather than attract them to their new home.
The guide, which also includes a video to make it even easier to follow the instructions, advises roughing wood down if it is too smooth when you buy it. You can also modify this design with grooves or mesh so your new bat residents can get real purchase on the sides.
---
18.

Build a Bat Box With WikiHow
WikiHow has a guide to building a two-chamber bat box with good vertical height. Vertical height is important because the bats will move up and down the chamber in order to regulate temperature. The farther up in the house they are, the warmer they will be.
The guide includes multiple pictures, which makes it much easier to follow, and it has grooves etched into the interior walls for the bats' feet.

Conclusion: DIY Bat Box Plans
Bats are incredible creatures that provide natural insect control, eating up to 1,000 insects every hour. Unfortunately, their numbers are dwindling, especially as the trees and other habitats are being destroyed. Building and installing bat boxes on your property can provide them with somewhere safe to roost, and at dusk, you will be able to watch them emerge and start hunting. Hopefully, the plans above will inspire you to add bat boxes to your home.
Related Reads:
---
Featured Image Credit: HOerwin56, Pixabay