3 DIY Cleaning Supply Caddy Plans You Can Make Today (With Pictures)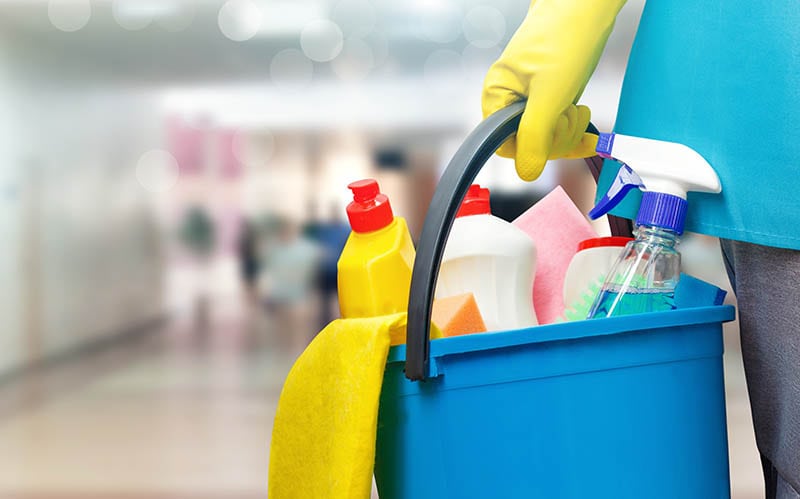 Cleaning caddies are vital to keeping all your cleaning supplies organized. However, commercial, one-size-fits-all options rarely work. The products and methods you use to clean are likely unique to you. Therefore, you need a cleaning caddy that can keep exactly what you need close by.
Therefore, we highly recommend choosing a DIY cleaning caddy option. These plans require minimum DIY skills to make yourself. Plus, they are very adjustable, allowing you to change the plan to fit your needs.
There are many ways to go about making a DIY cleaning caddy. Here are some of our favorite options:

The 3 DIY Cleaning Supply Caddy Plans
1.

Simple, Natural Cleaning Caddy
| | |
| --- | --- |
| Materials: | Cleaning bucket, glass spray bottles, white vinegar, rubbing alcohol, hydrogen peroxide, oxygen whitener, scrub brush, cleaning cloths |
| Tools: | None |
| Difficulty: | Very Easy |
If you just have a bucket laying around, you can make this cleaning caddy using absolutely no tools. The plan explains what natural cleaning products are recommended by the author, as well as how to fit them all into the bucket. Therefore, this plan is really about organizing a caddy that should work for most situations instead of building a caddy from scratch.
However, for those that just want a caddy right now with minimum effort, this plan is for you.
---
2.

Wooden Cleaning Caddy
| | |
| --- | --- |
| Materials: | 3/8" dowel, spray paint, painter's tape, wood scraps |
| Tools: | Drill, driver, table saw, glubot, brad gun, plywood wood glue |
| Difficulty: | Medium |
This plan involves creating a cleaning caddy out of wood scraps, making it a better option for those that was to get their hands dirty. Because the article assumes that you have wood scraps and several tools, it is probably best tackled by those with some DIY experience under their belt.
You can adjust this plan very easily based on the scraps you have available. Furthermore, the plan doesn't call for any paint in particular, allowing you to choose whatever colors you want. In the end, you'll be left with a pretty basic cleaning caddy that can then be stocked with all your favorite cleaning tools.
---
3.

Small Cleaning Caddy
| | |
| --- | --- |
| Materials: | Various pieces of wood, wood stain, rope, wood glue, masking tape |
| Tools: | Cordless drill, sandpaper, foam brush, table saw |
| Difficulty: | Easy |
This small cleaning caddy is made of wood. However, the plan is a bit simpler than the wooden caddy we discussed above. Therefore, it may be a great option for those with less DIY experience. You do need some basic tools, like a cordless drill. However, many people already have these around their home (or they can be purchased without paying too much).
The plan is very straightforward and requires little background knowledge. Even if you've never made anything before, this plan guides you through each step with plenty of pictures. Therefore, we highly recommend it for those just getting started with DIY.
Plus, the caddy it creates is very cute and functional. You can adjust the size and stain to match your aesthetics and needs.
Conclusion
Cleaning caddies can help you ensure that you have all the cleaning supplies you need on hand. Because these caddies are easily carried around the house, they allow you to get your cleaning done in one fell swoop. You don't have to keep running back to the kitchen to grab the cleaning tools you've forgotten. They're all ready to go whenever you are.
There are several ways to go about making a cleaning caddy of your own. Firstly, you can build one completely from scratch, like the two wood caddy plans above. Alternatively, you can get a bucket or similar container and focus on stocking it well. Obviously, this second option is less complicated and doesn't require any DIY tools.
No matter how you go about building your caddy, one of the plans above should fit your needs.
---
Featured Image Credit: Natali_ Mis, Shutterstock