10 DIY Farmhouse Bench Plans You Can Build Today (With Pictures)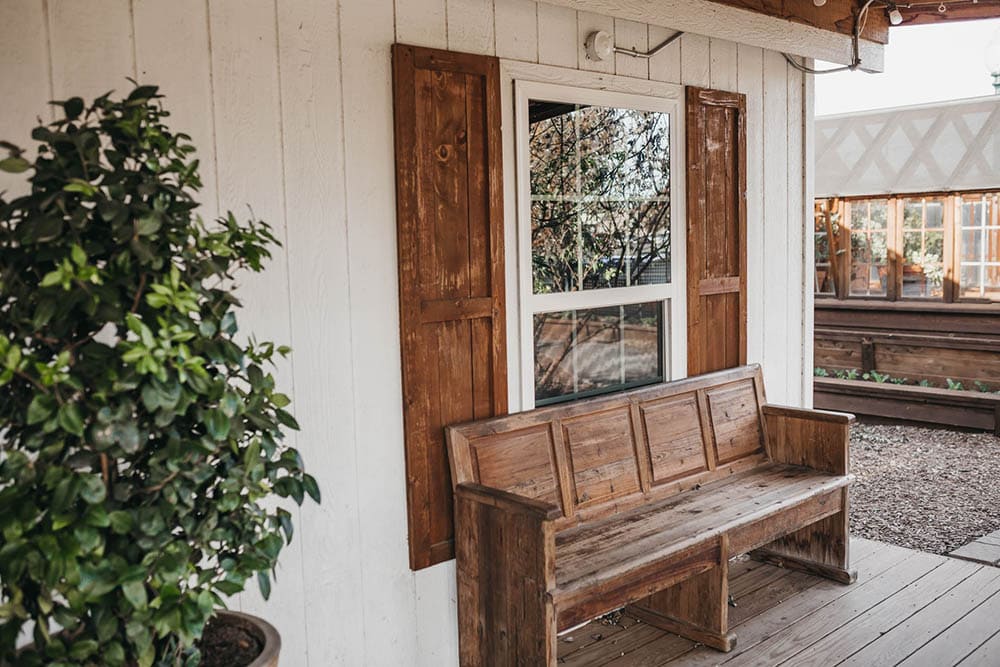 Need a place to sit down and put your boots on (or even better, take them off at the end of a hard day?) Build a sturdy farm bench for your mudroom, porch, or entryway! Commonly built out of the same large-dimensioned lumber used in farms and houses, these benches are built to be attractive while taking years of hard use.
As with all carpentry, even lifelong masters can find new ways to improve a design or make it more beautiful – and yet a complete beginner can put together a simple (still perfectly functional!) piece in hours. These pieces usually cost less, look better, and are much stronger than their finished store-bought counterparts.
These projects are ordered based on their complexity, length of build time, and how many tools they'll require. You might think that more time and more tools would cut into your savings, but they do let you build furniture with features and eye-pleasing looks that would require you to buy the next grade (or several grades) up – so compare the tooling, time, and complexity costs of the later projects to furniture you'd find in a furniture store or on Wayfair as opposed to Walmart or Target.
I cannot stress enough how different the durability of real wood from a lumberyard or specialty lumber store is compared to the cheap materials and veneer used in all but the most expensive store-bought furniture. It's well worth the time, and buying a tool is never just for one project. Good tools are used for years, sometimes over multiple generations.
Here's a selection of some DIY bench plans from around the web:

The 10 DIY Farmhouse Bench Plans
1.

Ana White's One Board Bench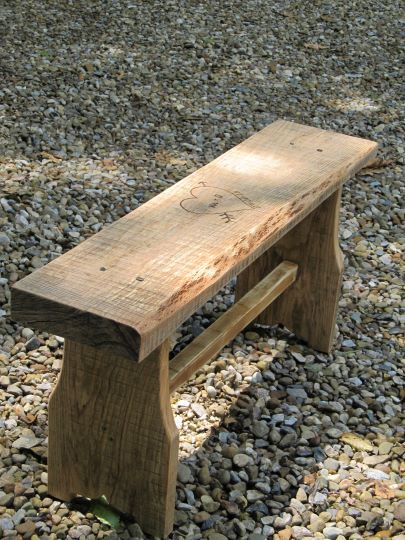 This project
is here to give us an idea of how easy it can be to get into woodworking. This bench is very simple, using one board (almost – technically, it uses a short length from a second piece!) for total construction. Built correctly using power tools it would take someone with even a little experience no more than an hour or two to make, and around double that with hand tools. Even so, made from decent pine and stained, it is stronger and more serviceable than anything at my local Walmart. She does list it as requiring a pocket joiner, but that technique and the tooling involved are not required, just one of the possible ways to build the piece.
---
2.

Ana White's Farmhouse Bench Plans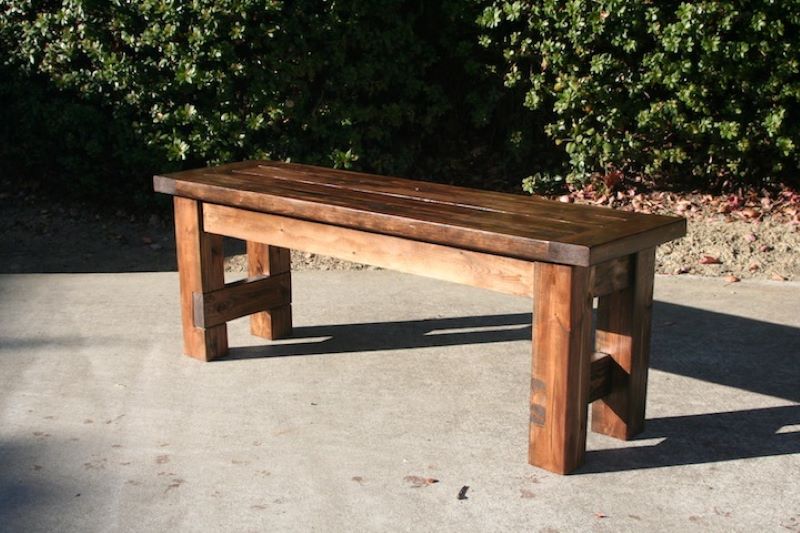 This bench
is a sturdy design, using commonly available lumber from your local lumberyard or home improvement store. Ana White has a good reputation for cost-effective designs that are beginner friendly.
---
3.

Little Green Bow's Farmhouse Bench Plans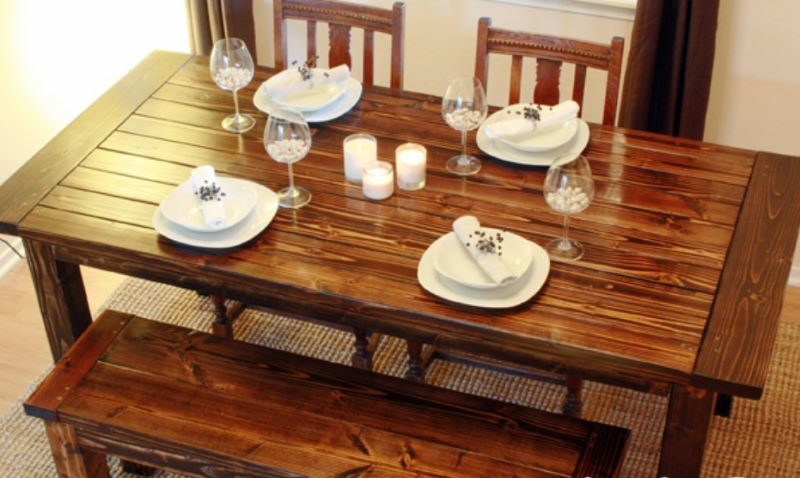 Here's another
sturdy bench
using lumber of common dimension. Similar to Ana White's it does not require pocket joinery or the tooling required – just a drill and easily obtained fasteners.
---
4.

The Design Confidential's Wooden Truss Dining Bench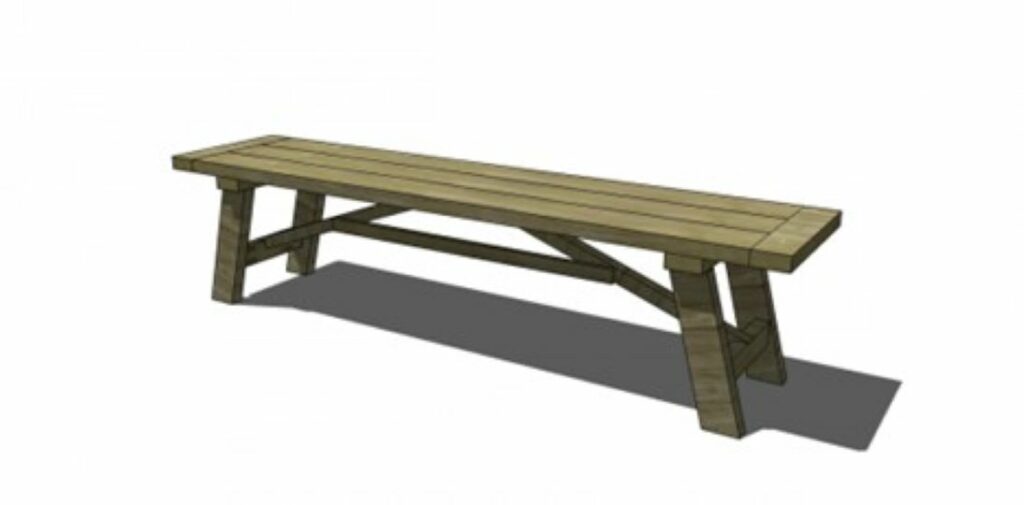 Slightly more complex but aesthetically pleasing,
this bench
does use pocket joinery. As joinery goes, pocket joinery is quite simple, allowing the use of screws for end-on connections. A professionally made jig, like those by Kreg, will make the job very simple. Otherwise building this bench is only slightly more complex than the other two and still uses commonly available lumber.
---
5.

Designs by Studio C's Bench With Curved Legs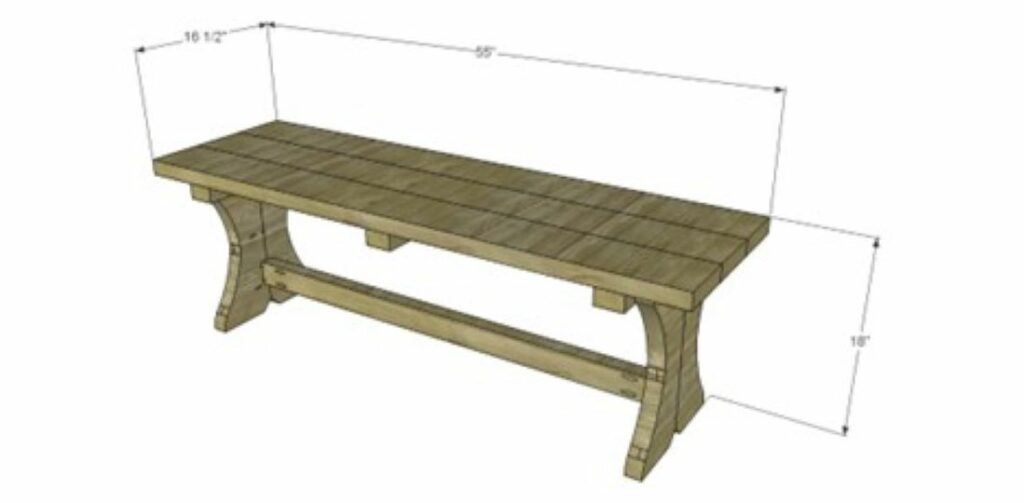 As we move up the complexity ladder,
this bench
uses pocket joinery and stretches your skillset to include cutting curves into wood. This requires a jigsaw or a bandsaw. Bandsaws are best for the job but are fairly expensive and bulky. Jigsaws are much less expensive and after watching
video
on how to use one all it takes is time and practice.
---
6.

Ana White's Fancy X Farmhouse Bench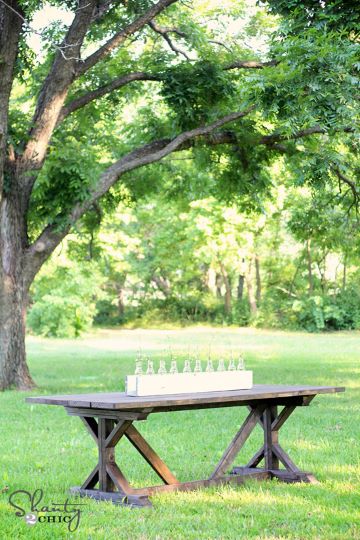 This
bench by Ana White
does not require curved cutting, but it does make extensive use of pocket joinery. Complexity is introduced instead using pieces specific to achieve a certain look or design. Previous designs were almost entirely functional, meaning the design was stripped down such that if you removed any more pieces the bench would not be a bench. This bench design includes elements simply to achieve a certain type of look.
---
7.

House of Handmade's Built In Bench With Storage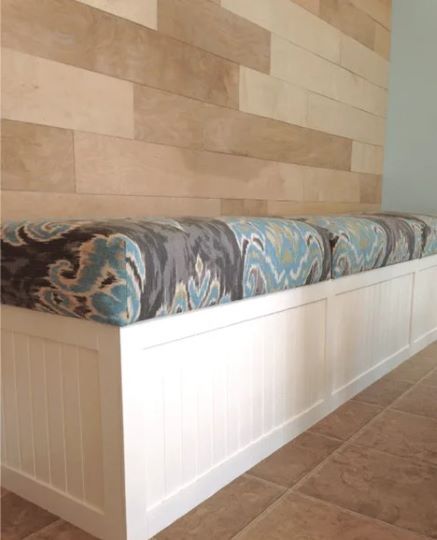 This bench
adds some obvious practical complexity: It has internal storage! Building it will require use of a table saw or circular saw with a guide to cut plywood or beadboard and the previously mentioned pocket joinery tooling. The design is simple but very strong, and you could alter its appearance easily by swapping out the beadboard for any similar product like stained plywood, veneer, or even paneling, and by changing the fabric on the upholstery.
---
8.

Ana White's Cottage Bench With Storage Cubbies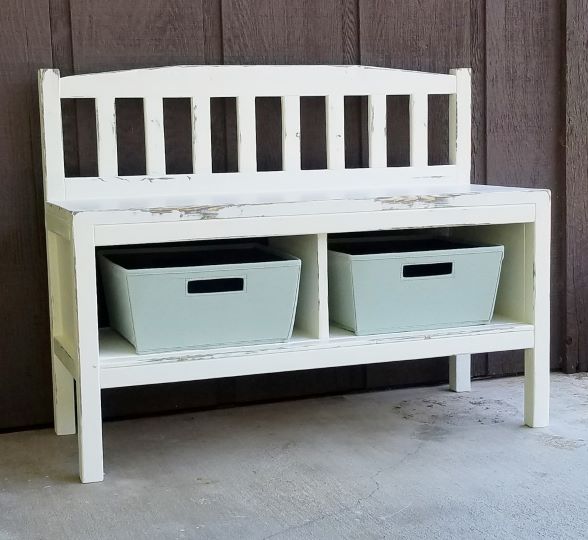 Another design by
Ana White
, illustrating how to build a bench with a back and some underside storage. We are now entering an area where this designer still uses
pocket joinery
, but one could use much more aesthetically pleasing techniques like biscuit joinery. These benches require hours devoted not only to something to sit on, but something nice to look at when it's not serving as a seat.
---
9.

Family Handyman's Entryway Coat Rack and Storage Bench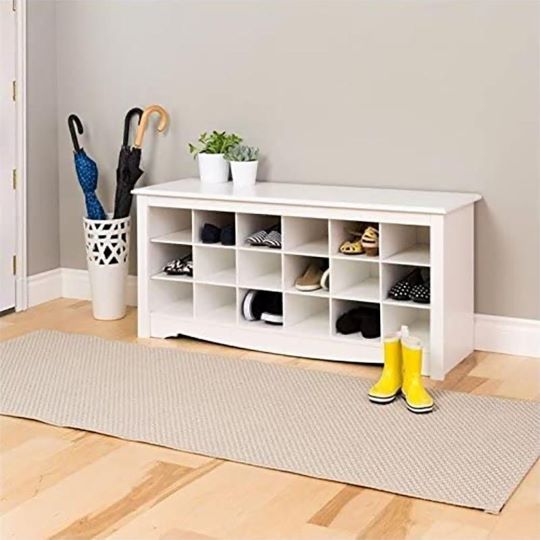 Now we leave the realm of weekend warrior and enter the handyman realm.
This bench/rack set
is going to be easier to construct if you have a dedicated space. Rather than a few large parts, it is comprised of many small parts that must be shaped and assembled with precision to achieve the desired end look. If made with higher-end wood (hardwoods and veneer plywood panels), the result will look better than anything on Wayfair, cost less, and be much stronger.
---
10.

Bitterroot's Easy Mudroom Bench With Shoe Storage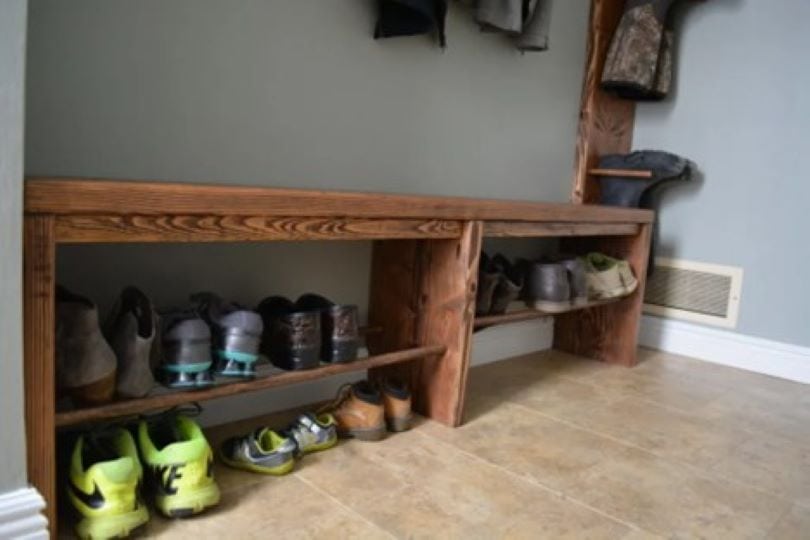 This final bench
involves less complexity and tooling than our last, but it uses forstener bits and dowel construction. It is also the first piece in a set that approaches a built-in feature instead of a simple furniture piece. This involves measuring and fitting each piece to a specific space, which increases the complexity of the project in that you will need to measure and re-fit the design to the room in which you want to put the final pieces.

Conclusion
If you've never attempted carpentry, never swung a hammer, and don't know that "fastener" means screws, nails, and anything else that fastens two things together, don't stress! You can start small and inexpensive and work up until you've reached the skill and comfort level that fits your needs and resources.
A great way to start is just to watch videos. Watch beginners trying simple things and masters working on finished projects. Here is a great list of videos to get you started.
Once you start a project remember to walk away if you get frustrated and come back later. It's easy to make mistakes if you're mad that something isn't working right, or if you smash your thumb with a tool. Put it down, go do something else, and come back another time. The project will be there, and you'll have a better approach for having slept on it.
---
Featured Image Credit: Camylla Battani, Unsplash