9 Clever and Creative DIY Grill Stations (With Pictures)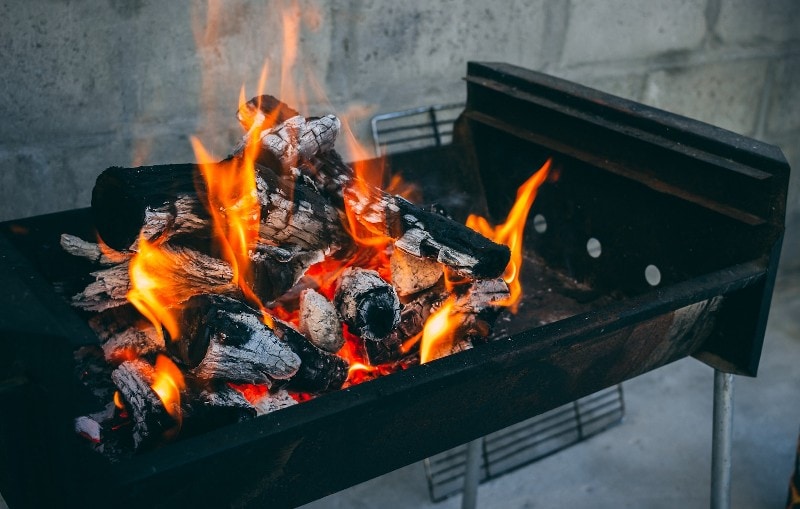 Having a cozy BBQ grill station in your backyard means you can host a party anytime. The aroma of delicious grilled chicken, sizzling beef steaks, and skewered shrimp makes our summertime more pleasurable. However, setting up the entire station could be pretty costly.
If your budget isn't too massive, you can build a DIY grill station from readily available and cost-effective materials. The best part is that you can customize it just as you like
Building a grill station isn't only economical, but it is super fun as well. So, gather your tools and bring out your creativity. Here are 9 easy DIY grill station ideas to make your gatherings joyous and productive.

The 9 Clever and Creative DIY Grill Station Ideas
1.

Convenient Rolling Outdoor Island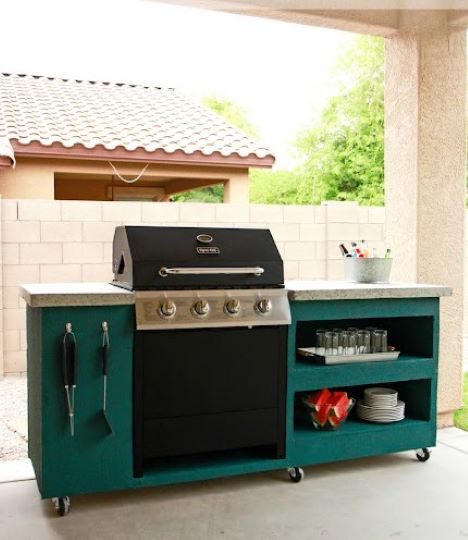 | | |
| --- | --- |
| Materials: | Cement backer board, RTC2Z connector, strap tie, swivel plate caster, and nut |
| Tools: | Steel stud, grinder wheel, hex head bolt, and washer |
| Difficulty Level: | Moderate |
This unique DIY grill station is a great idea consisting of a gas grill, multiple shelves, bars, and bottom casters. If you often move from place to place, building the Convenient Rolling Outdoor Island grill station is a wise option.
Even if you don't plan to move, you can change the position of your grill station and organize a party anywhere you want. The good thing is that you won't need a list of materials or tools to build this grill station.
The Rolling Outdoor Island grill station also offers adequate space for serving food and placing ice buckets. However, if you're a beginner, you might need help from a professional to arrange things together.
---
2.

DIY Grill Station With ProBond Advanced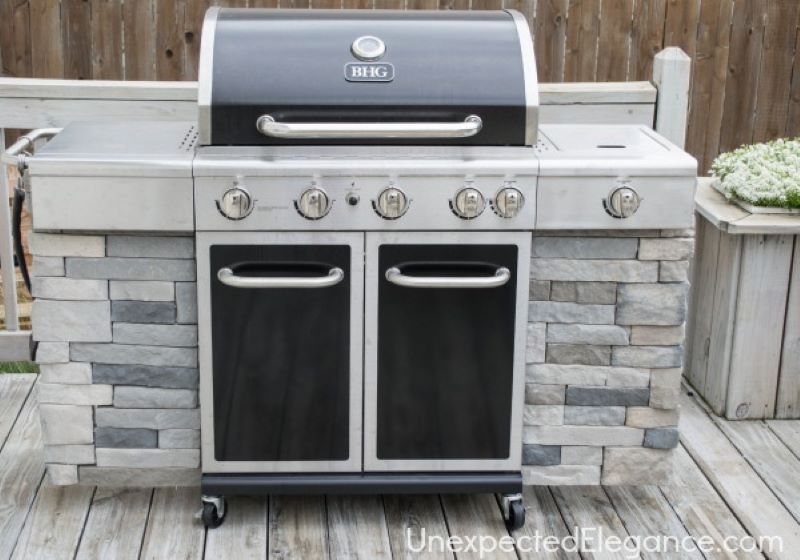 | | |
| --- | --- |
| Materials: | Wooden frame, metal sheeting, 1×2s and 2" screws |
| Tools: | ProBond Advanced (adhesive), drill machine, snips, and bricks |
| Difficulty Level: | Easy |
This gray and white brick grill station is one of the easiest DIY plans on this list. Apart from the convenience, it's also a good-looking grill station that complements the entire look of your backyard. However, you must get a ProBond Advanced adhesive from your nearest hardware store to build this grill station.
Once you collect all the materials and tools, you can focus on its design. This DIY plan includes the cabinet beneath the grill, but you can make it anywhere you want. You'll also get lots of space to store utensils and cookware.
Know that this plan includes cutting metal sheeting. So, if you're not a pro, it's better to ask someone for help.
---
3.

Simple Wood DIY Grill Station
| | |
| --- | --- |
| Materials: | Cedar fence pickets, outdoor glue, outdoor hinges + pull, outdoor pocket hole screws |
| Tools: | Drill |
| Difficulty Level: | Easy |
Building a grill station couldn't be easier. This simple wood grill station by ladygoats has enough shelves and drawers to store your necessities. Whether you have loads of plates and cups or table linens, the cabinets are spacious enough to carry all these things.
This grill station's outstanding feature is the counter's clever hole. It acts like a drop-in sink where you can place the grill. Believe us, it looks classy!
---
4.

A Classic Grill Cart
| | |
| --- | --- |
| Materials: | Iron pipes, iron flanges, iron couplers, 90-degree elbows, caster wheels, outdoor wood glue, Kreg HD pocket hole jig, outdoor screws, Kreg HD pocket hole screws, eye hooks, and much more. |
| Tools: | Beverage opener, brad nailer, power drill, belt sander, clamps, and palm or rotary sander |
| Difficulty Level: | Moderate |
This plan is like a grill cart that you can place anywhere near your patio or pool. You can also use it as a supportive space for your grill or install a cooking station on the cart. But you might need a professional's help to make this grill cart. It has many bars and supports that a single person can't handle.
The grill station is, however, quite spacious but compact enough to be placed in small gardens and backyards. So, you can easily store it anywhere else when it's not the BBQ season.
---
5.

A Granite Grill Station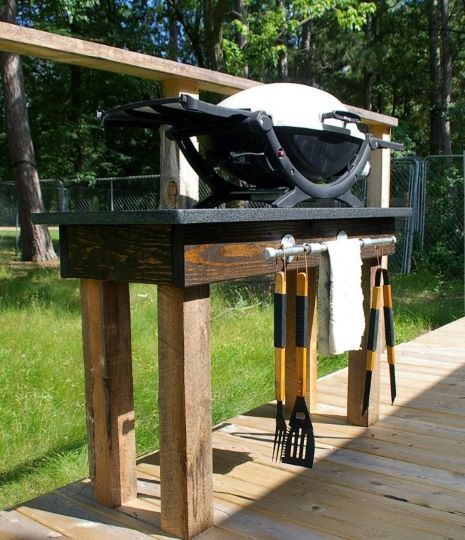 | | |
| --- | --- |
| Materials: | Old barn wood, outdoor torque screws, plywood frame, and granite |
| Tools: | Drill, saw, and hammer |
| Difficulty Level: | Easy |
This DIY grill station is made with all the refurbished items in your backyard. Also, it will make an affordable yet gorgeous addition to your backyard or garden if you live in the countryside near a lake.
You'd need a salvaged table or desk for this grill station. Then, collect some old barn wood, cut them into planks, and assemble them in a granite frame as mentioned in the plan. Next, cover the frame for additional support since granite is quite heavy.
The result will look like the grill has "ears," adding a retro, classic 60s touch to your backyard. Moreover, this grill station is super easy since you're using your old desk or table—nothing from scratch like other plans.
---
6.

DIY Patio Cooler Grill Station
| | |
| --- | --- |
| Materials: | 1×4 cedar boards, 1-1/4″ pocket hole screws, 1-1/4″ exterior screws, 48-quart cooler, 3″ utility hinges, front handle, bottle opener, single hooks, hose bib, and PVC fittings |
| Tools: | 12″ dual bevel miter saw, compact router, 18v brad nailer, oscillating spindle sander, pocket hole jig, and table saw (or circular saw) |
| Difficulty Level: | Moderate |
The DIY patio cooler grill station is hands down the coolest plan on this list. It doesn't include a grill, but the cooler and storage space for grill accessories make the cart stand out. If you're confused, this grill station is more like a modern version of a patio cooler and a grill cart combined.
You have to use cedar material for extra strength. The wooden cooler box will be in the center—big enough to serve every guest at your parties. The best part is that this project is easy to assemble, so you can handle it independently.
This grill station looks amazing placed next to your grill. Serve, prepare, or store food and beverages on this cool grill station and show off your creative side!
---
7.

Pallet BBQ Station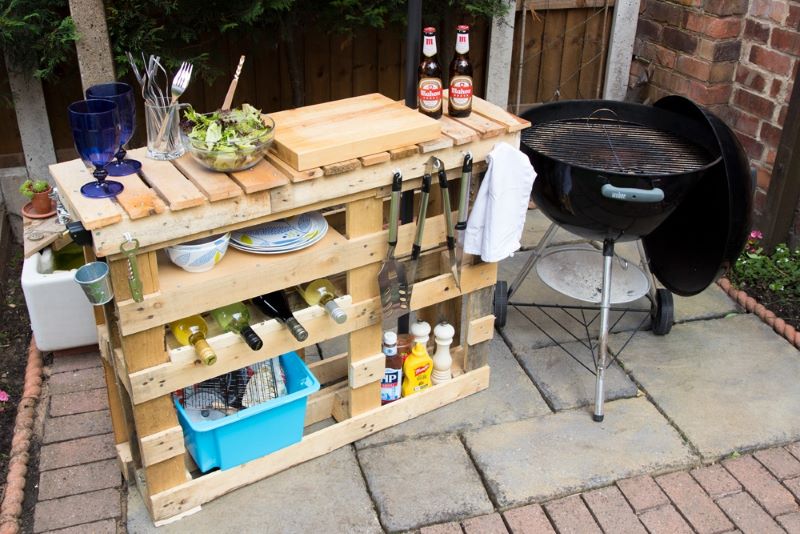 | | |
| --- | --- |
| Materials: | Pallet wood, screws, G clamps or cable ties, and hooks |
| Tools: | Drill, hole saw, table saw, and pencil |
| Difficulty Level: | Moderate |
If you have pallet wood, you can turn it into an attractive grill station in no time. This DIY pallet BBQ station includes separate compartments for drinkware, utensils, bottle openers, condiments, and much more. It's super practical and a great addition to your cozy backyard space.
All you have to do is cut the wood into planks, assemble them with screws and cable ties, make space for your accessories, and voila, you're done! But to execute this DIY plan flawlessly, follow the exact measurements mentioned in the YouTube video.
---
8.

The Perfect Barbeque Station
| | |
| --- | --- |
| Materials: | BBQ grill, cutting board, sink, wooden frame, and screws |
| Tools: | Drill and saw |
| Difficulty Level: | Easy |
One of the simplest DIY grill stations on this list, the Perfect Barbeque is just what you need for your patio or yard. It is super easy to build. Just follow every design and construction stage thoroughly, and you're good to go.
Once built, you can add the grill on one side of the station and place the sink on the other. Leave some space in between the station and set your wine bottles.
While creating this station, be careful not to get the concrete cracked. You can add multiple hooks to your grill station and accessorize as much as you want.
---
9.

Big Green Egg Grill Station
| | |
| --- | --- |
| Materials: | Treated lumber, Kreg blue-Kote 2 ½" pocket hole screws, wood stain, concrete tabletop, wood screws |
| Tools: | Water-based concrete sealer, Kreg pocket hole jig, orbital wet grinder, bottle opener, grill tool hooks |
| Difficulty Level: | Hard |
The Big Green Egg grill station is for all those pros who have built many DIY grill stations before. It is a high-level project that requires a team of workers to cut the lumber into the right measurements, assemble them, and place the concrete tabletop.
While building this DIY grill station, ensure it is durable enough to withstand the weight of your grill and other accessories. Also, it is a time-consuming DIY plan, so be prepared to invest your weekend in it. But believe us, it will be worth it!

Conclusion
A grill station in the backyard offers you the leverage to invite your friends over for a BBQ whenever you want. But unfortunately, these stations can be pretty hefty on your budget.
Although you can find multiple options in the market, gathering your tools and building a DIY grill station is always a good idea. You only need a few tools, spare time, and creativity.
Whether it's the Convenient Rolling Outdoor Island or the Granite Grill Station, we have listed some of the easiest yet coolest DIY grill station ideas out there.
---
Featured Image Credit: Jaco Pretorius, Unsplash