5 DIY Triple Bunk Bed Plans You Can Make Today (with Pictures)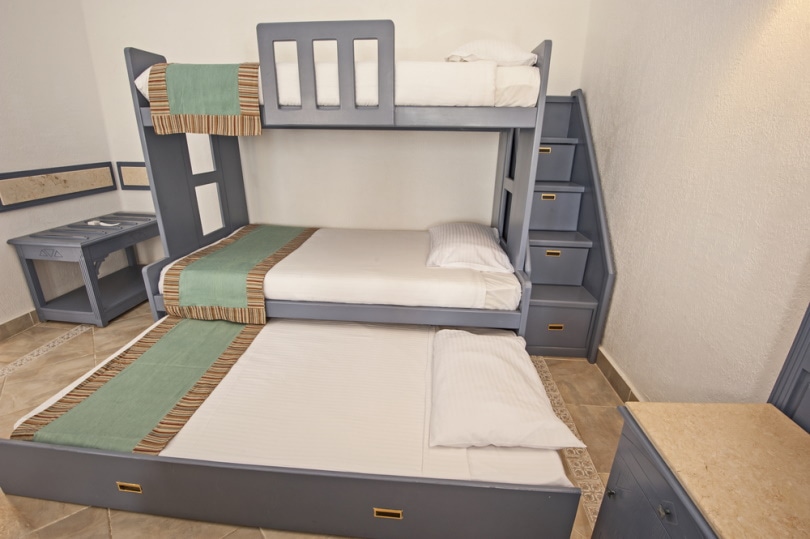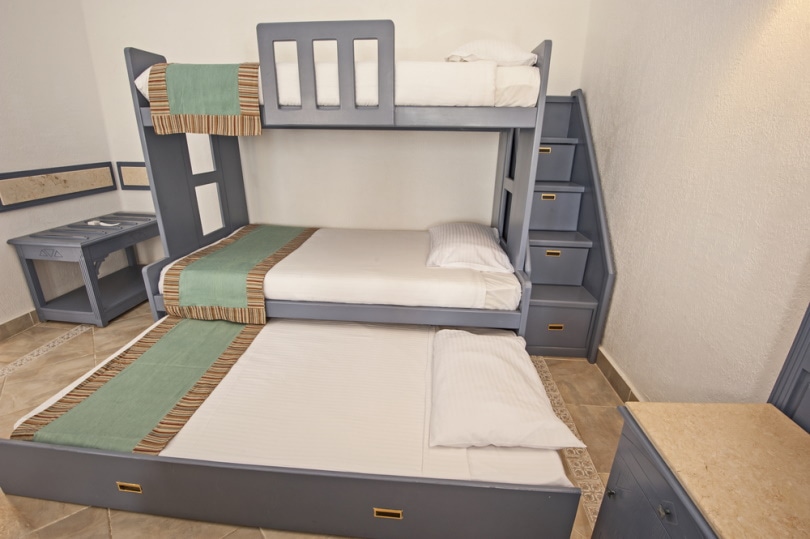 Bunk beds save floor space while enabling you to make the most of the vertical space in a bedroom. Many of us have fond childhood memories of battling over who gets the best bunk.
While there are plenty of premade bunkbed options out there, they can be uninspiring or fail to make the most of the space you have available. Getting the right design should not only complement the bedroom space, but it should also ensure that everybody gets a good night's sleep. Why not learn how to build triple bunk beds of your very own?
Safety is paramount when constructing elevated bunks, so you should only tackle these builds if you are confident in your DIY abilities. Also, unless you buy the lumber cut to size, there will be a great deal of sawing required. Some of the plans also suggest routing the edges for a smoother and more finished look. If you don't have already have a circular saw and a router, you may need to borrow or hire them for this project.
You can also make modifications to the designs as you go, whether to better utilize space or improve the aesthetics of the triple bunk beds. Below we have curated a list of five of the best triple bunk bed plans we could find.

Top 5 DIY Triple Bunk Bed Plans
1.

DIY Triple Bunk Bed From the Kids Activities' Blog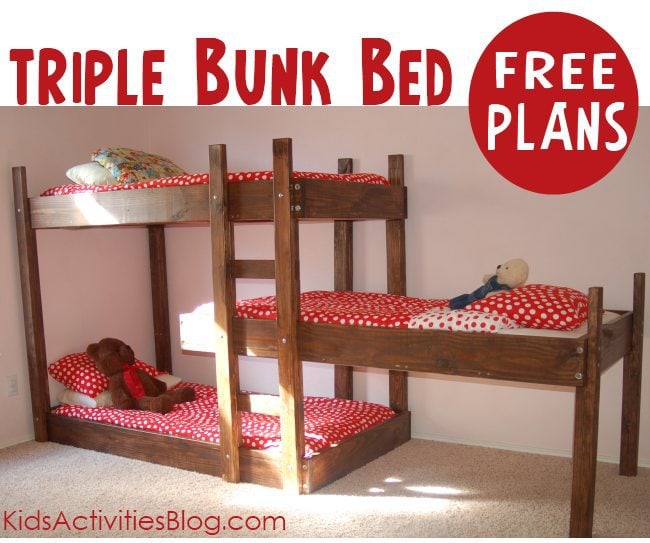 The triple bunk bed plans from the Kids Activities' Blog has the middle bunk offset to the side. This ensures that all three kids have room to move around, without banging their heads. It also makes these plans suitable for the long wall in a standard bedroom.
The plans detail how to construct the bed boxes, the ladders, and the supports. The result is a freestanding triple bunk bed that will save huge amounts of floor space while providing somewhere safe and comfortable for the kids to sleep.
---
2.

DIY Triple Bunk Bed From Jen Woodhouse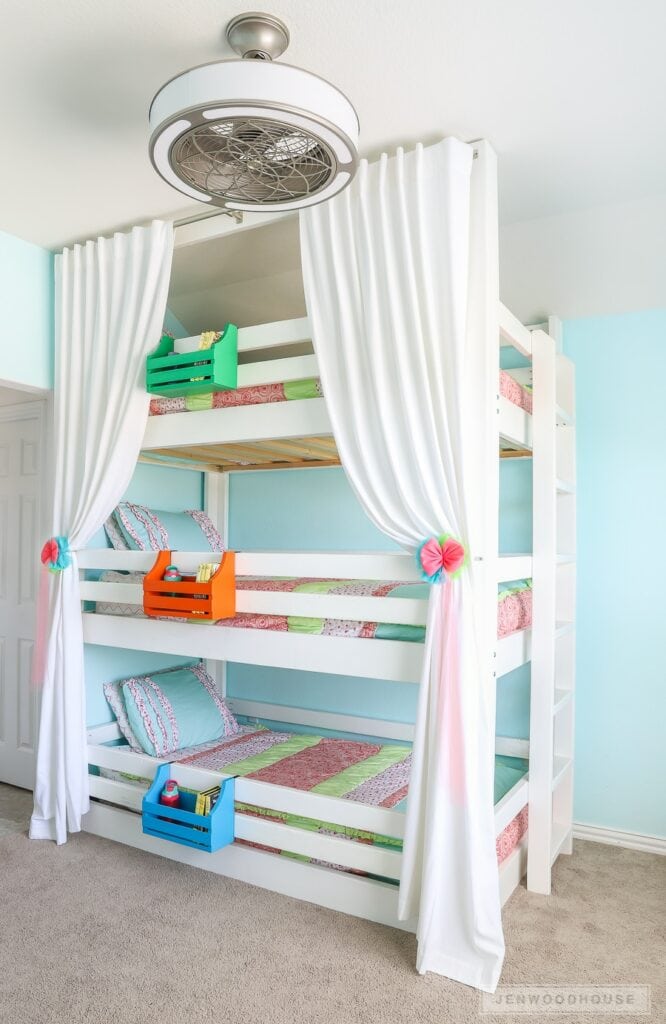 The Jen Woodhouse triple bunk bed plan has more of a traditional design, with the bunks placed in a vertical line. While this does limit headspace for each bunk, it also takes up less space than the previous offset design. Depending on the length of the bunks you create, this plan should fit along most walls, including shorter walls in the spare room.
The plans detail how to create the mattress boxes, panels, and the ladder. The pictures include great details that you can add yourself, including drapes for additional comfort and handy storage boxes that hook over the frames.
---
3.

DIY Triple Bunk Bed Plans From My Outdoor Plans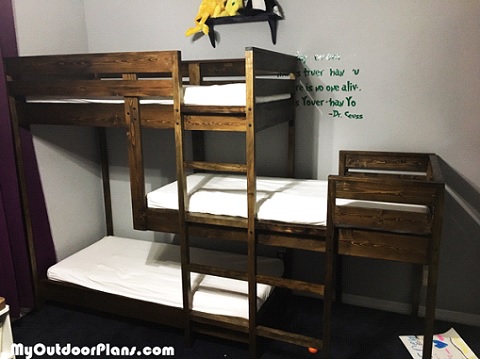 MyOutdoorPlans has detailed instructions and plans to create a stack of triple bunk beds. The middle bunk is offset to the side, but there is overlap. This offers the best of both worlds: The kids still enjoy headroom, but the finished bunk takes up less space than designs that have one bed almost completely separate.
The plans are quite detailed. They will tell you how to make the slatted mattress boxes, as well as the legs, supports, and sides. MyOutdoorPlans recommends the use of high-quality materials like redwood or pine and advises careful planning to ensure that you eliminate mistakes and cut down repair time.
---
4.

My Home Done My Way DIY Triple Bunk Bed Plans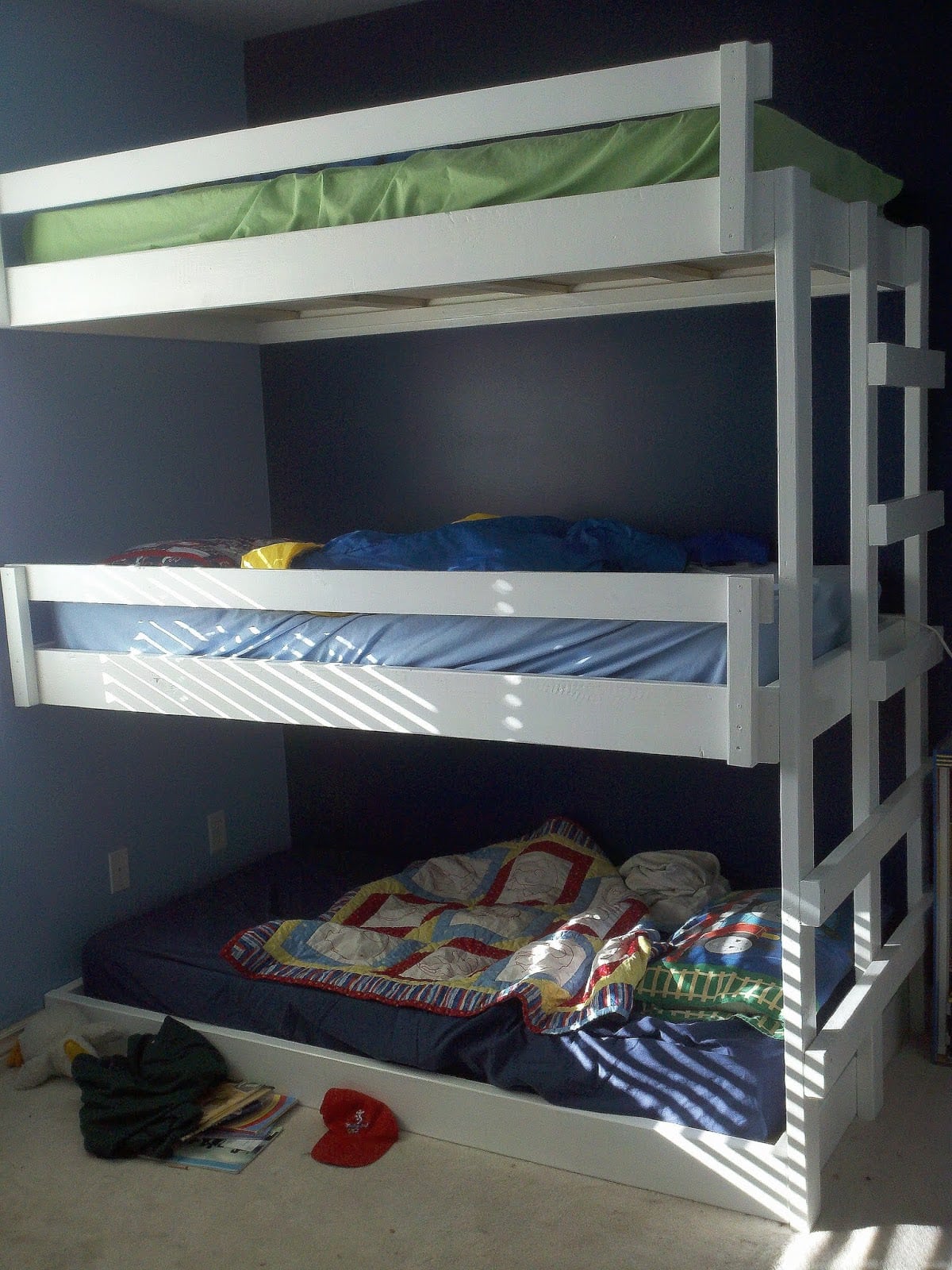 The triple bunk bed plans from My Home Done My Way are for a room with ceilings that are slightly higher than the average. The plans detail how to build a single bed base, but all you need to do is replicate the process for three bunks. Not all bedrooms are standard sizes, but by adapting existing plans, you can create a bed layout that is ideal for the kids and fits perfectly into the room.
This plan also suggests fixing the bed to the wall. This offers extra stability, as well as safety. Kids naturally want to play on their beds, and with a towering structure like a three-story bed, it can lead to accidents. Where possible, fixing the bed directly to the wall can prevent any accidents that might occur. In this case, fixing the foot of the bed to the wall also allows for the bunk sides to be ladder free.
---
5.

I Like To Make Stuff DIY Bunk Bed Plans

These bunk bed plans from I Like To Make Stuff can be used to create a standard bunk bed with two bunks and the optional addition of a third bed. The triple bunk layout is similar to that of a corner sofa, so it would fit perfectly into the corner of a bedroom. There is room under the third bunk for toys, or you could build a desk or much-needed storage.
This plan uses pocket holes for the screws. The flat finish not only looks great, but it is also essential to connect the third bed properly. Expect to spend quite a bit of time building this layout, but it will be worth it.
Triple Bunk Bed Plans
There is a huge selection of double bunk plans out there, but far fewer that teach you how to build triple bunk beds. This could be because of the lack of ceiling height in many homes, but if you have three kids sharing a room, you will know how important it is that they all have a space to sleep. You will also know the importance of leaving floor space so they can play.
You might also be interested in: 7 Free DIY Murphy Bed & Desk Combo Plans You Can Make Today
---
Featured Image Credit: Paul Vinten, Shutterstock