19 DIY Potting Bench Plans You Can Build Today (With Pictures)
Potting benches make your garden more beautiful, whether you are a weekend warrior or hardcore gardener. They allow you to do all gardening duties while standing, saving your back from bending for a long time.
These potting benches are simple to build from scratch using covert repurposed furniture or reclaimed wood. You can incorporate the various designs to make your potting bench have an elegant look.
Before we look at the various potting bench plans, let's look at some of the things you need to consider when building a potting bench.

The Top 19 DIY Potting Bench Plans
Here are some potting bench plans that you can use to construct a sturdy wooden bench for your garden. Even though some might be a bit challenging, they are all rewarding in the future.
1.

Pallet Potting Bench by The Spruce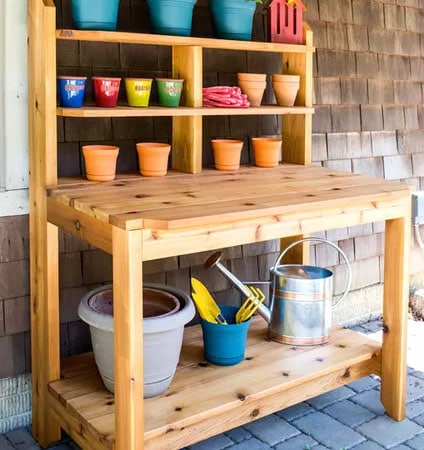 This potting bench is perfect for people with a tight budget since it is made with cheap building materials. But it is sturdy, functional, and durable; hence you see the value of your money.
It is simple to build and adds an adorable look to your space. It has a large working surface with a suitable height for anyone.
---
2.

Potting Bench with Storage Compartment by SHW HOME DECOR
If you are looking for a potting bench that is simple to boot, search no other than this one. It is just a mere table with an underneath self.
It has a small storage compartment that you can use to store tools and materials that need protection from the elements.
---
3.

The 3-Tier Potting Bench by How To Specialist
This is an outstanding potting bench and will add a serene touch to your yard. It is suitable for people who want to display plenty of their plants and pot them in one area.
This means that you will arrange all your flowers and plants in one location for a fascinating look. It is simple to construct, and it's sturdy.
---
4.

Covered Potting Bench by Garden Lana Journal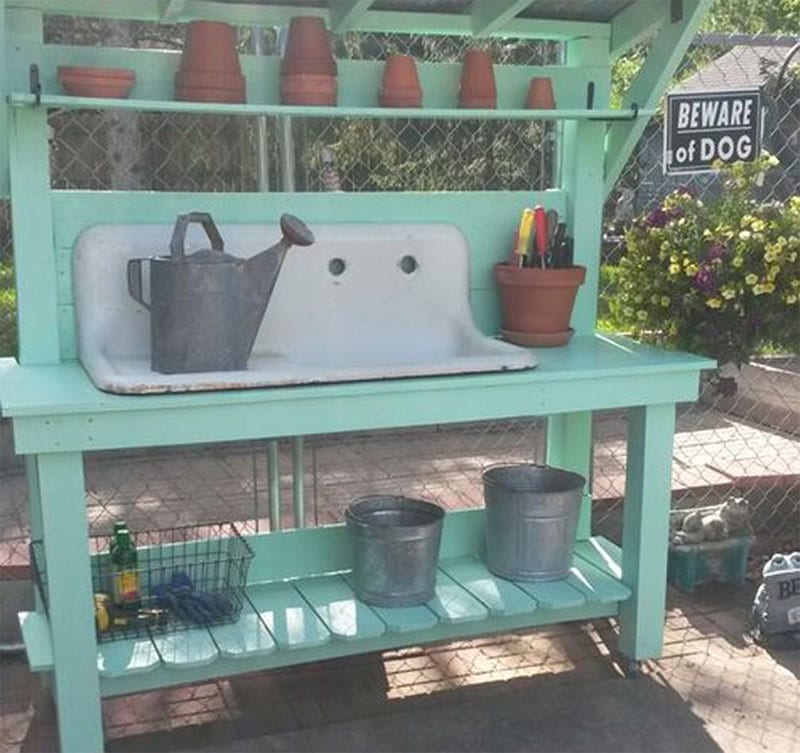 This covered potting bench is great, and you will love it. It has abundant space to store your plants and pots. In addition, the bench provides more space for hanging your pots.
The potting bench has a roof covering the entire workspace. The top helps to provide shade, especially during hot days.
---
5.

Easy and Simple Potting Bench by Home Road
This simple potting bench is easy to make, but don't be put off by the word "simple" in the title. The affordable design is excellent, and the materials make it highly durable. The potting bench has a top layer with enough space for working and a bottom layer to store pots, soil, or any items you need.
---
6.

  Potting Bench by Ana White
This Potting bench plan by Ana White is simple to construct and looks great! The design is similar to a peg board, which you can use over the cabinet accessories to customize the bench to your needs. You can also add a stain or a coat of paint to personalize it to your liking or keep it raw and organic for a more natural look that can easily blend into its environment.
---
7.

Recycled Potting Bench by Amber Oliver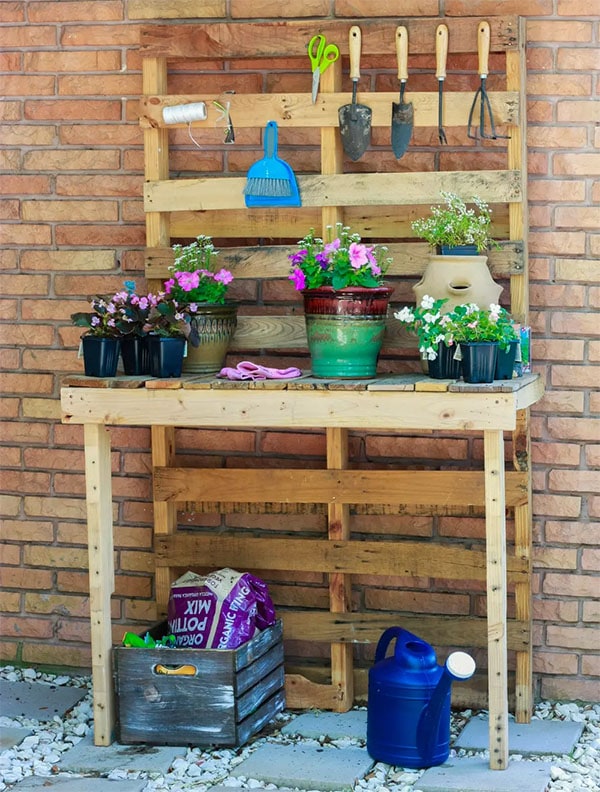 The ease and resourcefulness of this DIY potting bench plan make it ideal for beginners, but especially anyone on a budget. It is made by recycling old pallets, which are not hard to find. While it's an easy build, get ready for a bit of a workout as you disassemble the old pallet! If you are not quite ready for that part, you can call a fellow DIYer to help you.
---
8.

Sixty-Minute DIY Potting Bench by My Frugal Adventures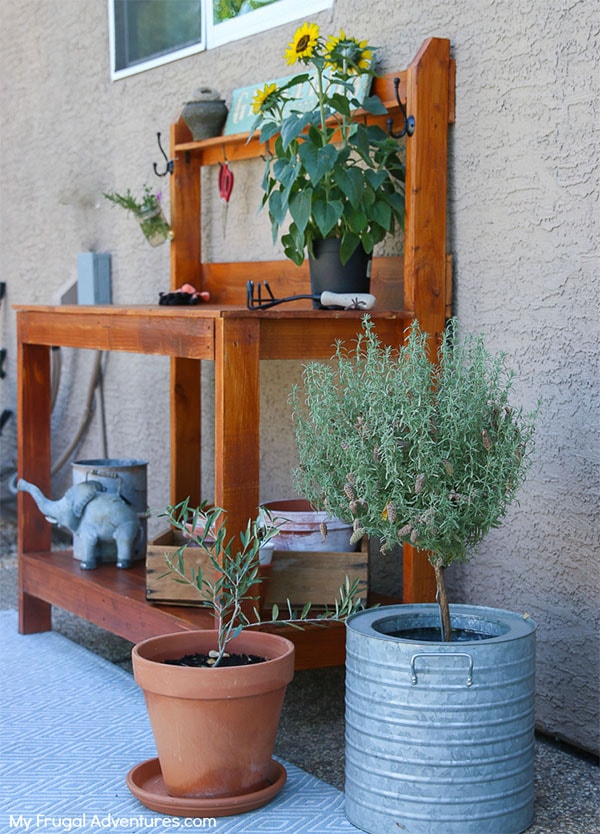 You can have this DIY potting bench ready in only 60 minutes! So, if you are looking for a quick, easy, durable design, this could be the perfect one for you. It is also fully customizable to suit your needs, so you can add more shelves and hooks, make it bigger or smaller, and even add some color if you feel inspired. You can use simple fence posts or go a bit fancier and opt for Cedar; the choice is yours!
---
9.

Potting Bench and Tool Storage by It's Overflowing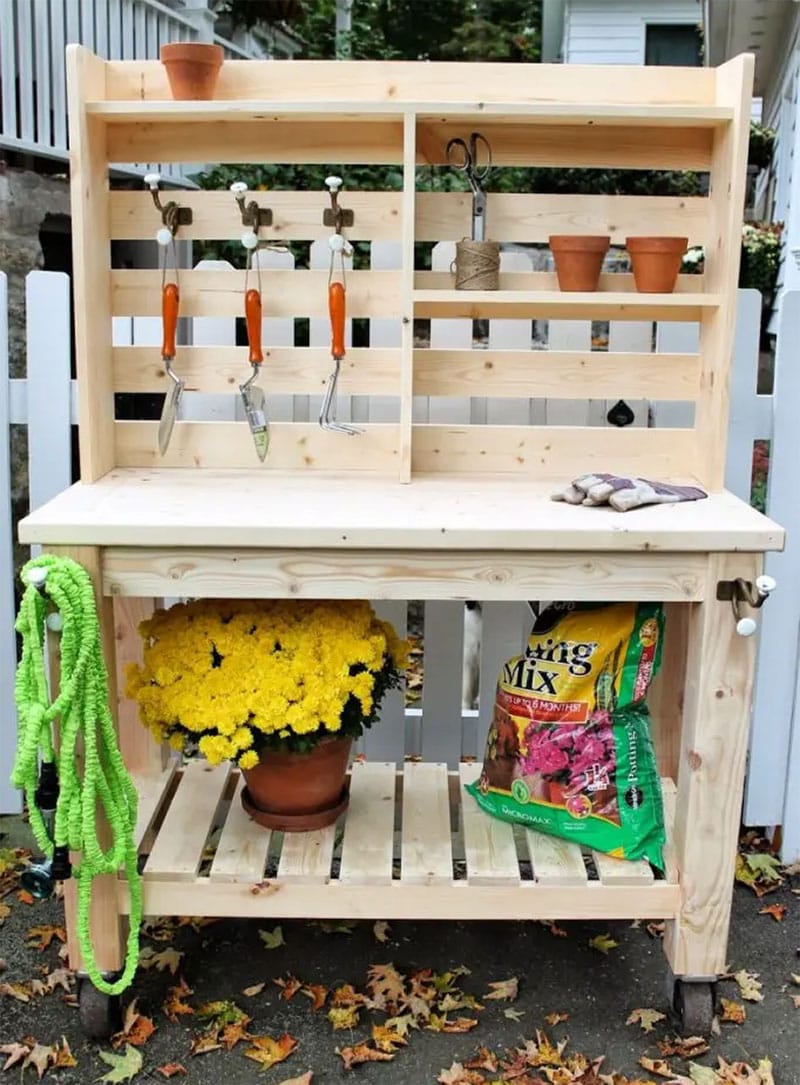 This DIY potting bench plan is leveled up by installing the cross braces on the side, which creates a chic aesthetic. This bench can be used to showcase your favorite plants when it's not in use or as just an extra table on your porch when entertaining. When you are ready to get potting for the growing season, it makes an ideal and spacious potting bench.
---
10.

DIY Potting Table with Sink by The Handyman's Daughter
Dirty hands and tools go hand in hand when potting plants, so why not add a sink to your bench for easy and efficient cleaning as you go along without having to use the hose or run back inside? This DIY potting bench plan shows you how to do just that.
---
11.

DIY Folding Potting Table by Prodigal Pieces
Revel in this DIY folding potting bench to up your gardening organization! It is made by upcycling an old table and can easily be added to the side of a garden shed and folded away for less clutter and efficiency. This bench plan is perfect for potting and prepping. However, you will need another setup for storing tools and equipment.
---
12.

Strong and Elegant DIY Potting Bench by Old World Garden Farms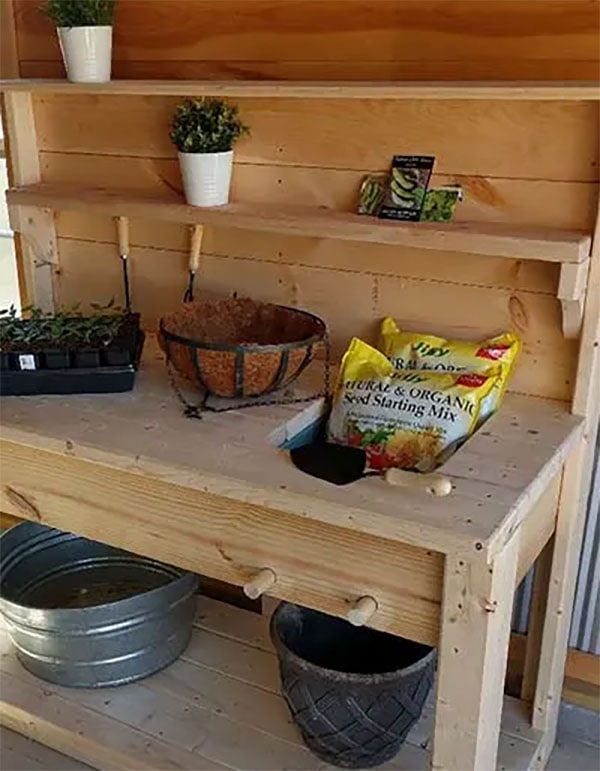 With this DIY potting bench, you can create a fantastic area for prepping or growing your favorite flowers and plants. To begin with, this elegant bench is sturdy, long-lasting, and quite practical. It also functions as a workbench, storage shelf, potting bench, and craft table all in one! However, the best part may be the simple and affordable design. It's ideal for amateur woodworkers!
---
13.

Chic DIY Potting Bench by Susan's Sunny Says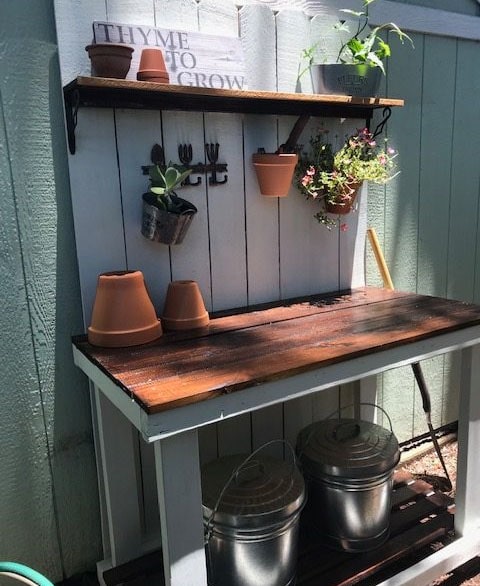 You're in luck if you're looking for a straightforward potting bench that is simple and enjoyable to construct but is also chic and beautiful because this DIY potting bench gives you all that. You may even be tempted to use this bench inside once you're done! Once you have your materials and tools ready to go, you can easily have this done in a day, making it a great weekend project.
---
14.

Large Potting Bench by My Divine Home Blog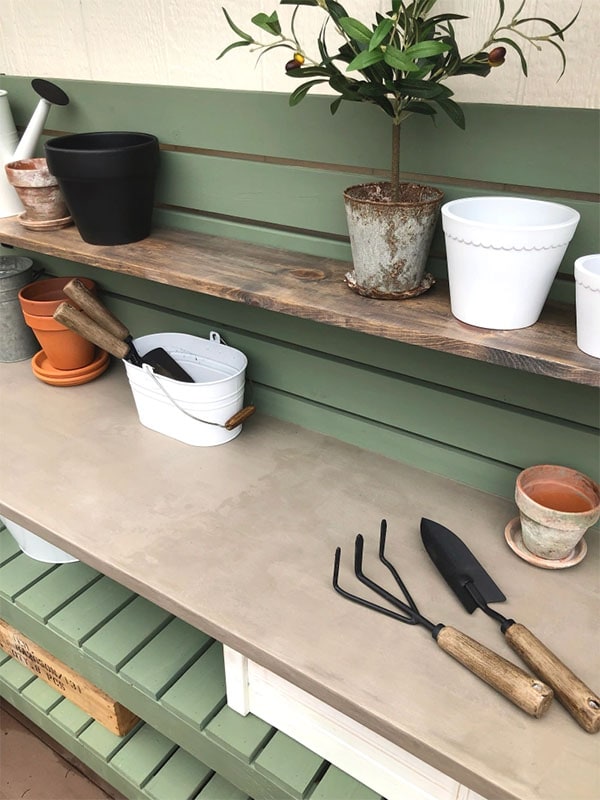 This large DIY potting bench is perfect if you need an extra outside counter area for decorating, arranging flowers, and placing food and drinks for small gatherings. The plans should also be very simple to modify if you need to change the size or width or add any items, such as hooks.
---
15.

Potting Bench with Lattice Finish by Simpson Strongtie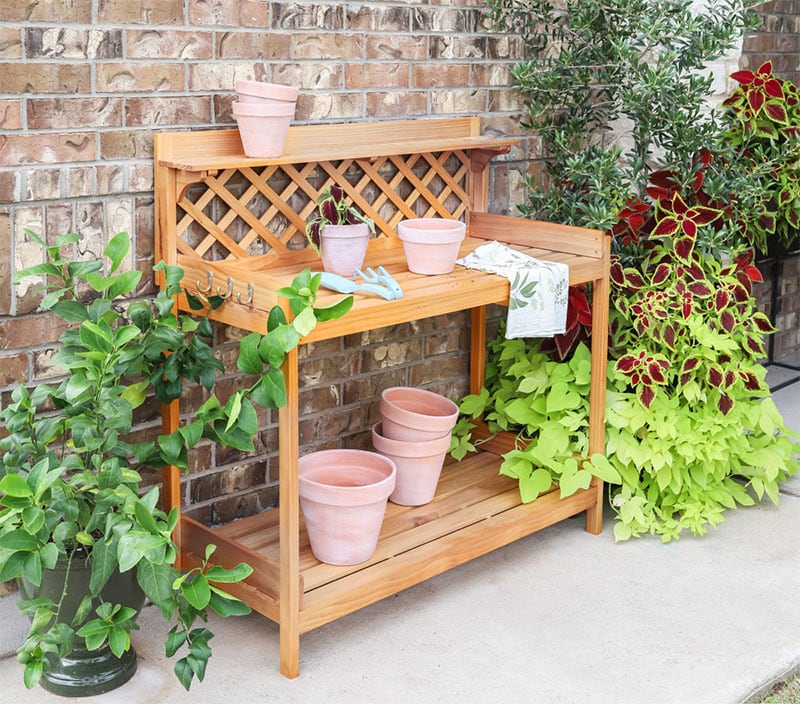 This DIY potting bench is the ideal weekend project for all you plant lovers out there if you appreciate having a designated area for all your planting and preparation.  This potting bench provides a roomy work area for all of your gardening tasks. Additionally, there is a large amount of storage room underneath for tools and other items. The tabletop and bottom shelf's slatted construction makes it perfect for outdoor use because rain can drain through the spaces between the slats.
---
16.

Upcycled Potting Bench by HGTV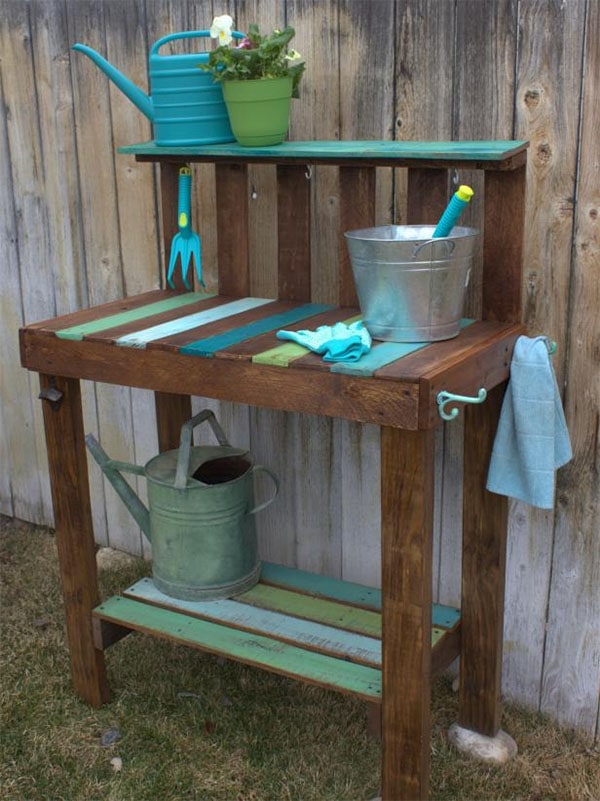 This is a simple and cheerful DIY potting bench to assist you with potting seedlings or any other small garden jobs you may need to do without bending over. The finish is what makes it stand out, and you can customize yours by pairing bright colors or painting it to match your gardening tools.
---
17.

Upcycled Garden Table by Songbird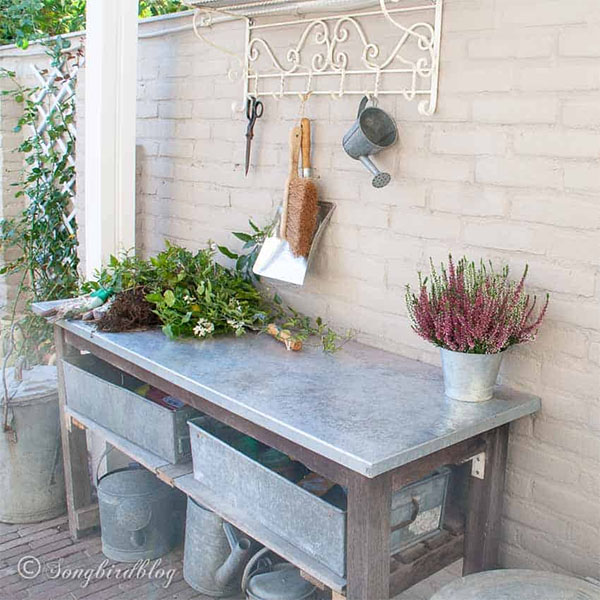 Make this potting table by upcycling an old table and adding a galvanized metal tabletop. This is the perfect project for upcycling as you can use an old table that has seen better days and only has a short lifespan left to create something so useful. The metal tabletop adds extra durability and makes cleaning up a breeze.
---
18.

Potting Bench that Has It All by Setting for Four
This DIY potting bench includes all the bells and whistles! It has a sink and faucet, hose reel, tool storage, and more! We love that the drainage from the sink drains straight into your garden to reduce waste and improve your flower bed! There are so many great additions that are easily customizable so that you can make your potting bench suit your needs and available space.
---
19.

Potting Bench With Garbage Enclosure by Reality Day Dream
This DIY potting bench is a rather straightforward build with a lot of surface area to serve as counter space for potting plants, shelving, hooks, and a place to hide your rubbish! It also includes an awning to provide a little shade for you and your plants while you spend the day prepping in the hot sun. It will also look great on the exterior of your home.

Things to Consider When Building a Potting Bench
The Potting Bench Height and Size
The primary role of potting benches is to help you work with ease and comfort. Depending on the building plan you want to use, your potting benches can be dual functional, portable, or compact.
The majority of the potting benches have a length of about 46 to 60 inches and a height of about 52 to 60 inches. However, you should build a potting bench as per your needs and specifications.
For example, if you are short, you need a potting bench that is short enough to ensure you don't strain to reach the working surface, more so when working for an extended period.
Materials to Use
Most potting benches are made of wood, but others are made of metals and other sturdy materials. Ensure you use weather-resistant materials for durability purposes.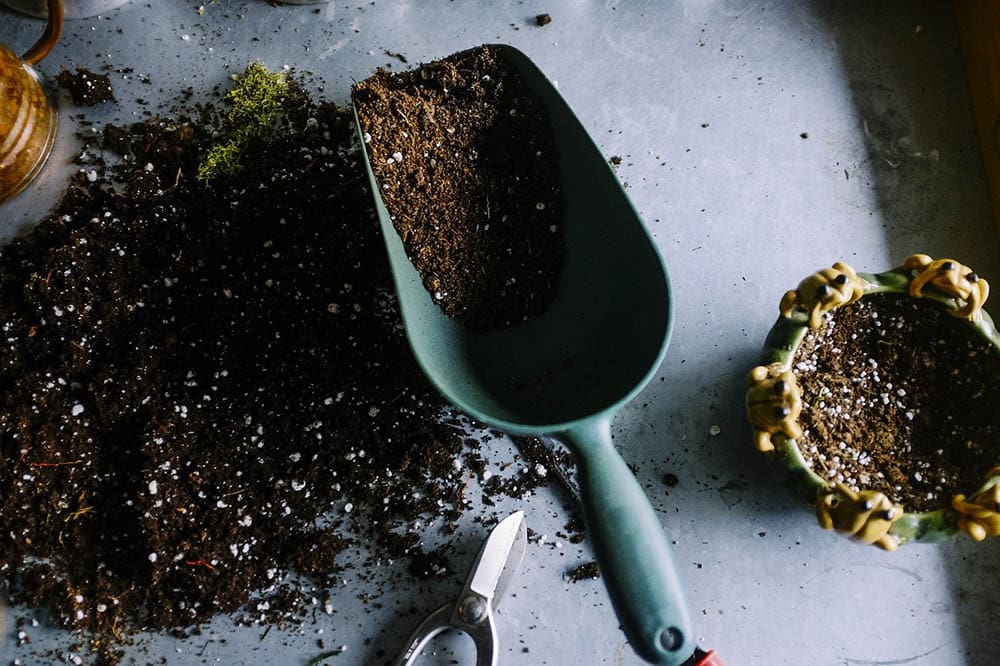 The Use and Location of the Potting Bench
Before you start building your potting bench, it is essential to consider where you want to house it. Many keep their potting benches on the back porches while others are in greenhouses.
For instance, if you want to have a dual function piece for potting plants & flowers and entertainment, you need a potting bench that is bigger than average to house it outside on your porch.
Mobility
Do you want a mobile potting bench? If so, you need to build your bench with lighter materials or attach wheels to it for portability purposes.

Conclusion
If you spend most of your time planting different herbs, flowers, and potted vegetables, potting benches will make your work easier.
The bench saves your back from bending for an extended period. It also serves as a storage capacity for gardening tools, fertilizer, potting soil, and containers.
 You Might Also Be Interested In:
---
Featured Image Credit: Pixabay