20 DIY Sewing Machine Cabinet Plans You Can Build Today (with Pictures)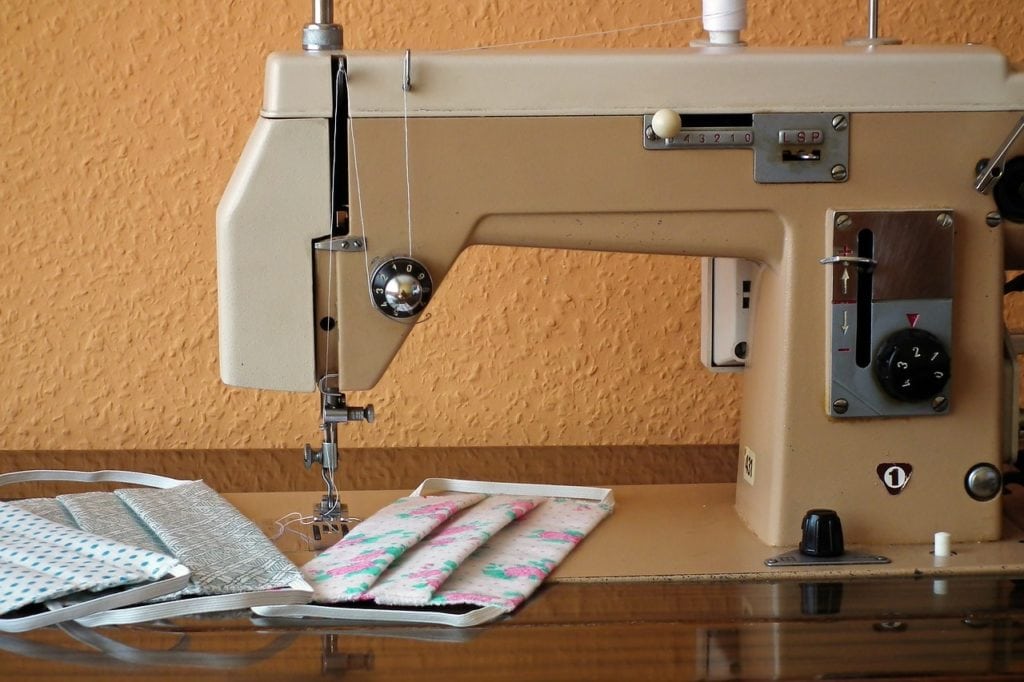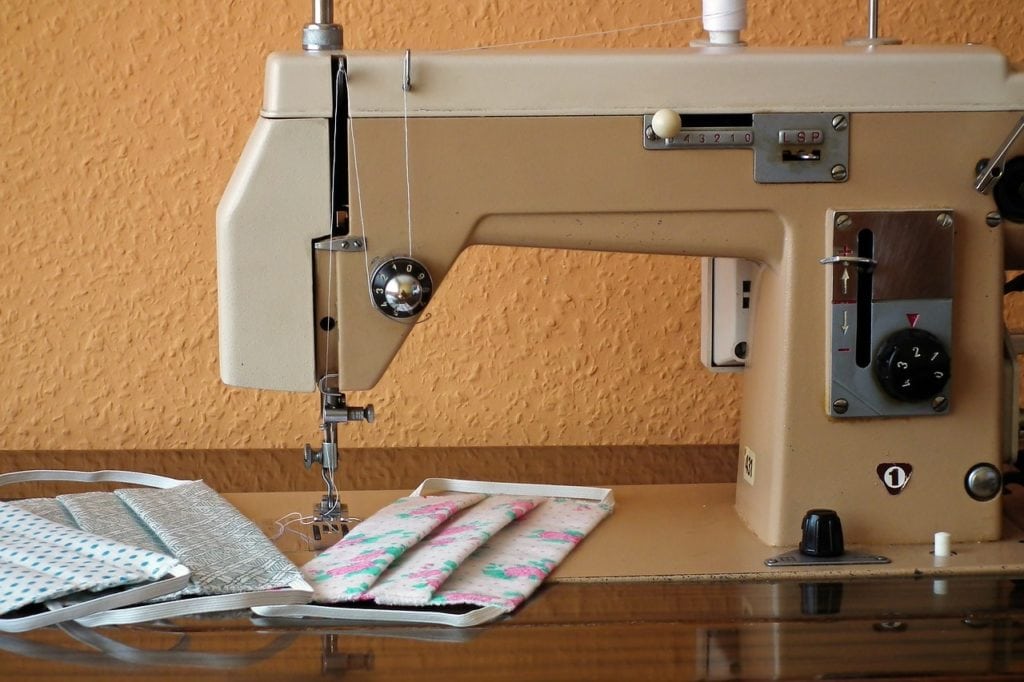 Many of us start out sewing on the kitchen table or dining table, but there comes a point when a sewing hobby and the equipment required outgrows these surfaces. When this happens, you will need to find a dedicated sewing machine cabinet or sewing machine table. These are designed to hold the machine as well as your workpiece, additional fabric, and sewing equipment. Some cabinets offer permanent or semi-permanent storage, while sewing tables assume that you have a basket or other storage location already.
Making your own sewing machine cabinet or table means that you can get exactly the dimensions you require. Whether you need something different from a standard size because you work on unique pieces, or because you need the table to fit into a compact space, you can modify designs and dimensions to meet those special requirements. You can also find plans for folding tables, Ikea table hacks, and the obligatory DIY pallet conversion.
In fact, below, we have included plans for learning how to build a sewing machine cabinet or tables. Choose the one that most closely fits your needs, make any required changes to the plans, and get to work making your next piece of craft furniture.

The 20 DIY Sewing Machine Cabinet Plans
1.

DIY Car Jack Sewing Machine Lift by Lumberjocks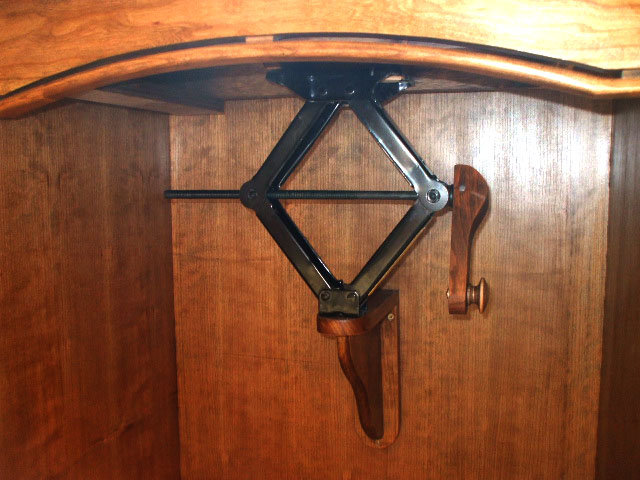 A sewing machine lift allows the machine to be hidden away inside the table when not in use. When it's time to do some sewing, the machine rises grandly out of the table ready for use. Different machines have different weights, but no matter how heavy your machine is, this design will cope. It uses a car jack as the lift mechanism, which gives it a weight limit of 3,000 pounds: enough to lift a car.
---
2.

DIY Sewing Machine Cabinet Update by eHow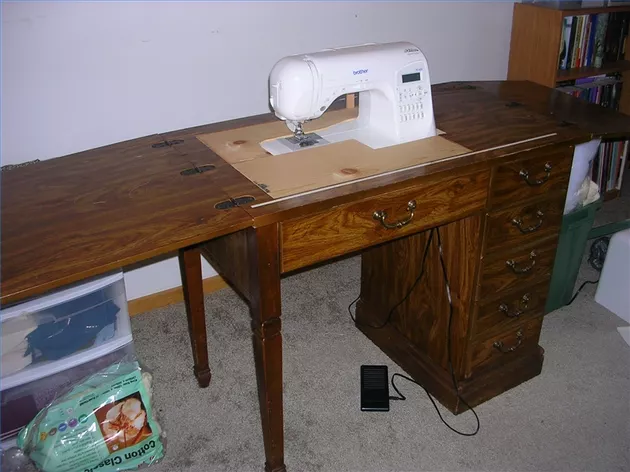 If you have an old sewing table in the garage or loft, give it a clean and maybe refinish it, before converting it to work with your new electric sewing machine using this guide. This particular conversion ensures that the table exactly fits your model of sewing machine and you may have to remove and replace the modification if you change machine in the future.
---
3.

DIY Upcycled Entertainment Armoire for Sewing Machine by Community Forklift
This DIY project uses an old entertainment or TV armoire and converts it to a durable sewing station. As well as offering a base on which to sew, it has numerous shelves, drawers, and cupboards, where you can store everything from replacement needles to fabric, off-cuts, and more. The fold-down table is convenient and it means that the whole thing will fold away for better storage.
---
4.

DIY Sewing Machine Dining Table Conversion by Free Motion Quilting Adventures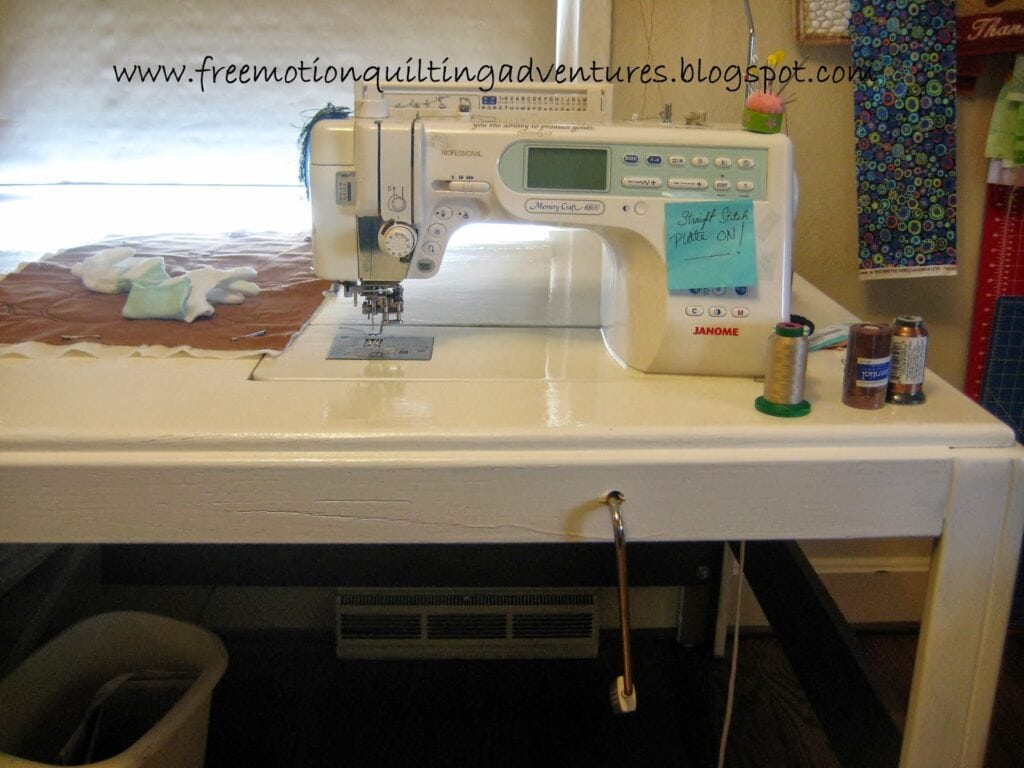 Rather than paying hundreds of dollars to buy one, you can take an existing table, like a dining table, and convert it. This guide shows you how to strengthen the table because it will need to take some weight during use, and then how to fit the sewing machine into its new housing.
---
5.

DIY Sewing Machine Cabinet Table by Busy Bee no.16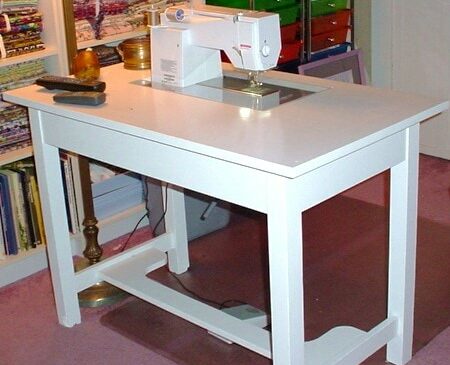 This is another modification of an existing table. When choosing an appropriate table to convert, you do need to ensure that there is room under the table to comfortably be able to operate the pedal.
---
6.

DIY Folding Sewing Table by Lumberjocks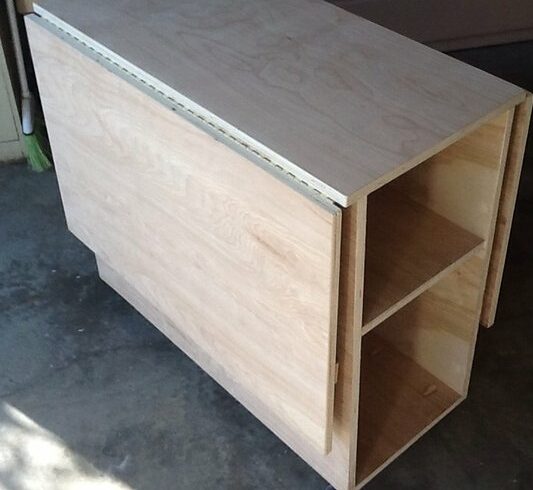 Even if sewing is your full-time job, you don't necessarily want a full-time sewing table around the house. This folding sewing table is functional, easily holding the sewing machine and fabric. It is also sturdy, which is essential when using it for this purpose. And it is convenient because it can be folded down so it is easy to store and enables you to put the table away whenever it is not in use. There's even some storage for the sewing machine itself, as well as an additional section that can be used to house fabric and other materials.
---
7.

  DIY Ikea Ingo Table Conversion by Quilt Fabrication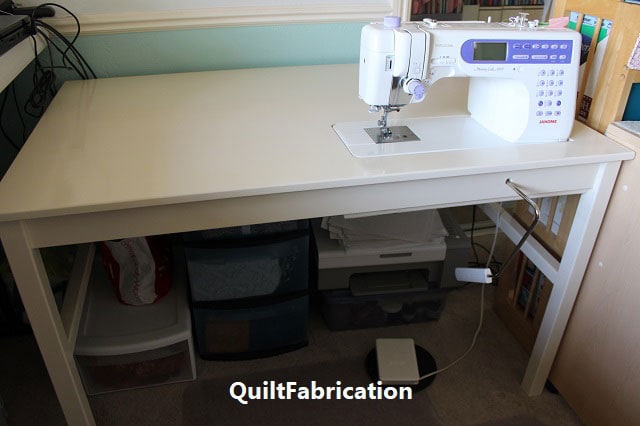 Ikea furniture hacks are becoming increasingly common. The furniture superstore offers inexpensive and decent quality furniture. Many people love the items they sell without having to adapt or adjust them, but with a little imagination and plenty of DIY skill, you can convert some of their furniture into highly specific and functional pieces. In this case, you can turn the Ikea Ingo table into a sewing table for your home.
---
8.

Custom DIY Sewing/Cutting Table by Noodle-head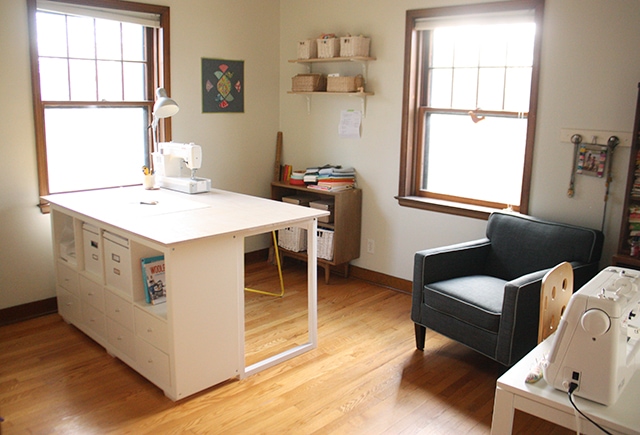 Another Ikea hack, this custom cutting table is arguably even better than the last. It uses the Expedit cabinet, has ample legroom and open space so that cutting and sewing are viable. It does require additional plywood and some fastenings, but it is considerably easier than starting from scratch and making your own cutting table.
---
9.

DIY Modular Office Sewing/Craft Table by Ana White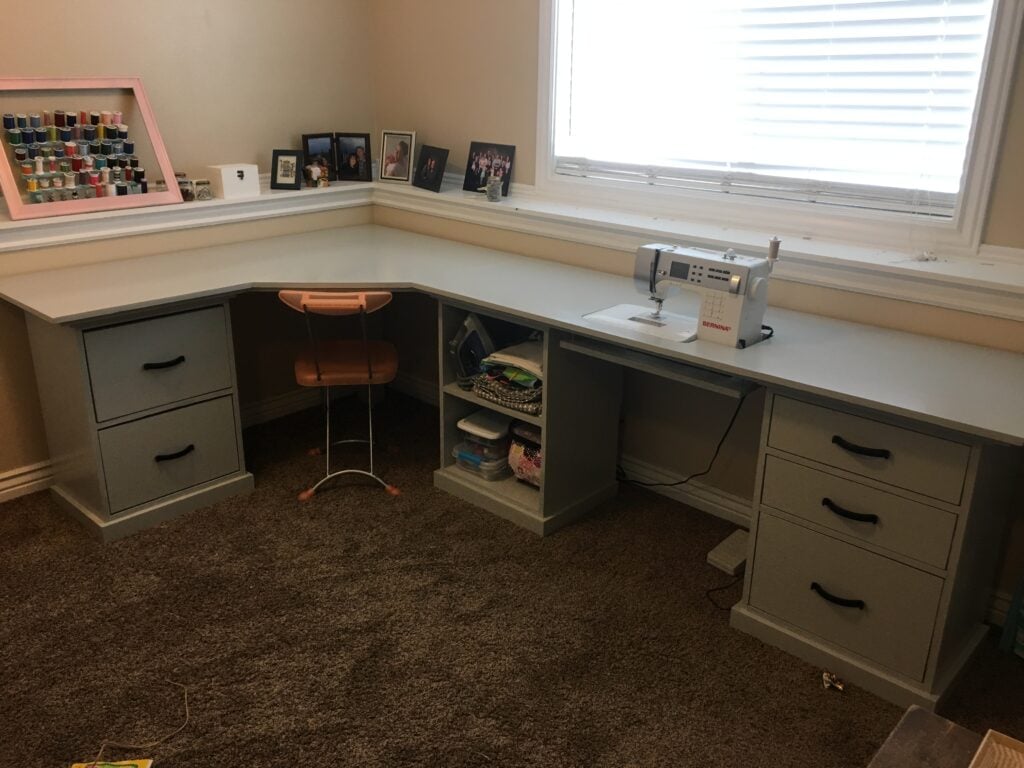 This plan uses modular office plans, including storage drawers and an additional desk countertop. It gives a corner unit that can be used for measuring, cutting, and adorning really big pieces of fabric. It has storage for everything you use, and it looks good. If you're serious about sewing and want a sizeable section of a room dedicated to your pastime, this plan is the way to go.
---
10.

DIY Ikea Kallax Hack by Fabart DIY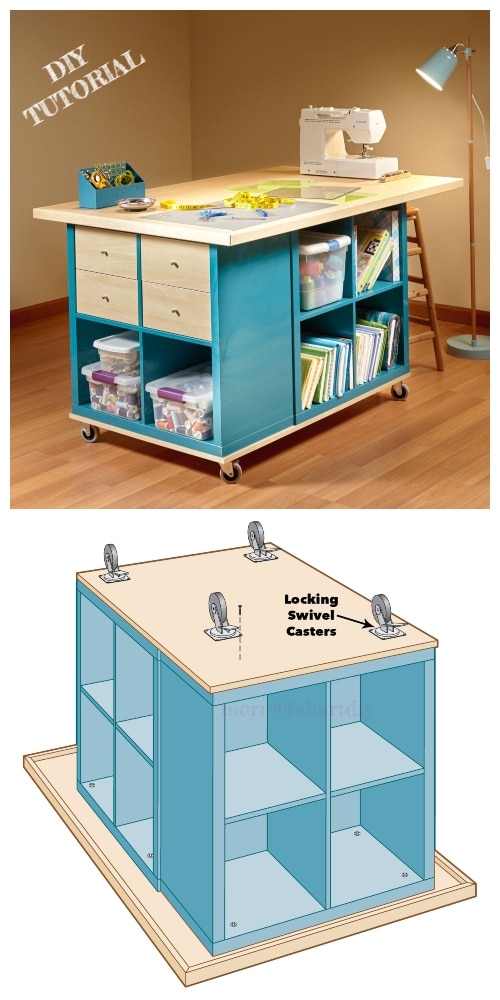 And, finally, we end with yet another Ikea hack. This time, the plan calls for the use of the Kallax. The Kallax is very popular and it offers modular storage so that you choose the shelf size you want and design the inserts to give you cube storage, drawers, bookshelves, and more. Using this plan, you can create a great sewing desk or craft island that has ample storage as well as masses of workspace.
---
11.

Another DIY Ikea Kallax Hack by Sew Can She
This is another Ikea Kallax hack, using two of the storage units and offering more storage cubbies than most craftspeople will know what to do with. The great thing about those little storage cupboards is that you can include drawers or baskets, or use them for folded linen and other materials. This flexibility means that the cutting table is also suitable for quilting and other crafty hobbies.
---
12.

DIY Drop-In Sewing Desk With Cabinet Storage by Badskirt
If you're looking for the ultimate DIY sewing machine cabinet and table, this plan from Bad Skirt is a phenomenal start. It uses a drop-in design for the sewing machine that makes it easier than ever to use, and with plenty of cabinet storage, there's plenty of space for threads, fabrics, and everything else you could need or want.
It requires a bit of work to build, but it's well worth the extra effort for everything you're getting. It's also extremely durable, so once you build it, you can enjoy it for decades to come!
---
13.

Extra Large DIY Table With Lots of Storage by Ikea Hackers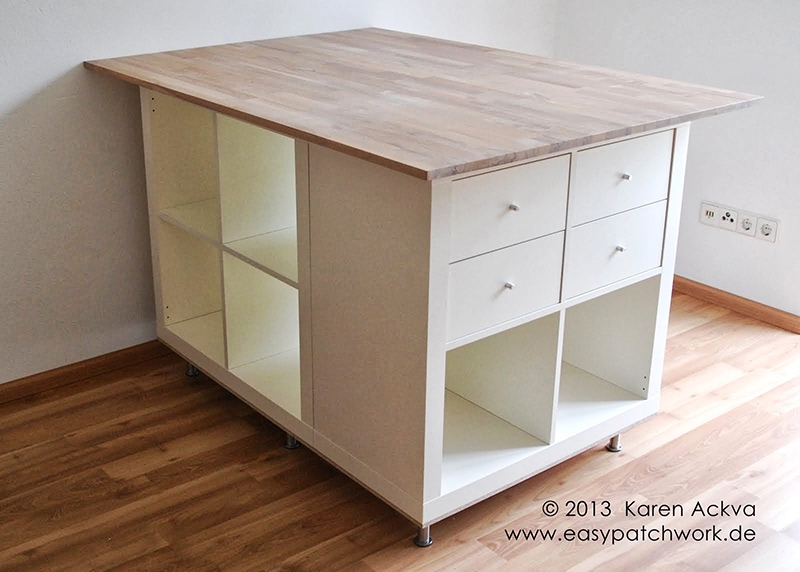 While this DIY table and storage area doesn't come with a drop-in space for a sewing machine, it's still a phenomenal sewing machine cabinet. It has tons of storage for all of your supplies and the machine itself, and with a large work area on top, it's perfect for crafts too.
This sewing machine cabinet is an outstanding choice for someone who does a ton of crafting, not just sewing. Even better, the guide does a phenomenal job of walking you through everything you need to know to build it.
---
14.

DIY Sewing Machine Cabinet by Lindy Cottage HIll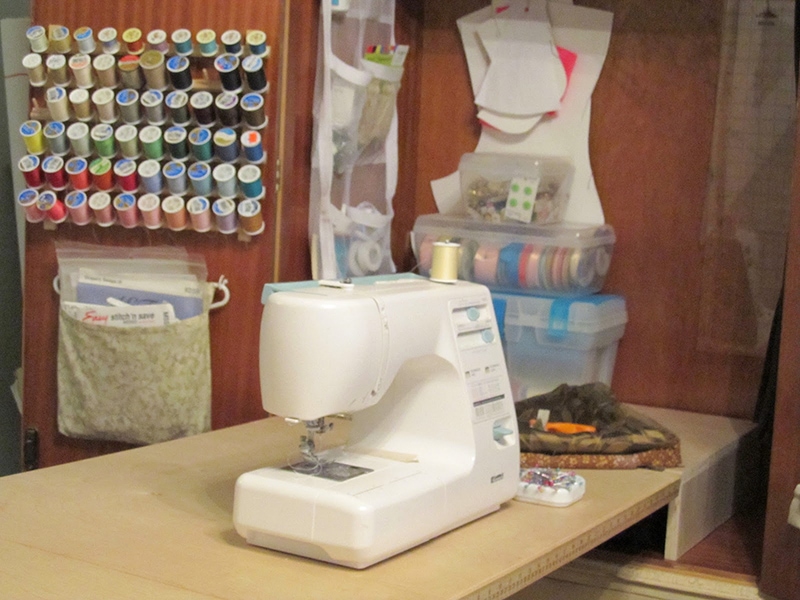 Now, this is a traditional sewing machine cabinet. It's large and has tons of storage space for the machine and all your supplies. It transforms a typical cabinet into a sewer's dream, offering plenty of storage for all the supplies and creating a pull-out table where you can use everything.
Even better, when it's not in use, the table folds up completely into the cabinet so it's out of sight and out of the way! It's quite a big project to build, but fortunately, the guide from Cottage Hill does a great job of walking you through everything you need to do to build it.
---
15.

Folding DIY Sewing Table With Storage by Ana White
Whether you're looking for a general craft table or the perfect way to store and use your sewing machine, this folding sewing table with storage is a great choice. It folds down into a small space, and with built-in storage, you don't always need to keep the sewing machine out.
This table and cabinet keep your sewing machine within easy reach for when you need it, but it also keeps it out of the way so you're not always bumping into it when you don't.
---
16.

Compact DIY Folding Sewing Table With Storage by Bendrea
This is another super compact folding sewing table you can use to store all your sewing stuff and keep it out of the way at the same time. The guide from Andrea does a great job of walking you through the entire project step-by-step, and when you finish, you get a great product.
This compact table also doubles as a great craft space, so if you find yourself needing a little more craft space, it's a great choice!
---
17.

DIY Table with Large Sewing Cabinets by Den Garden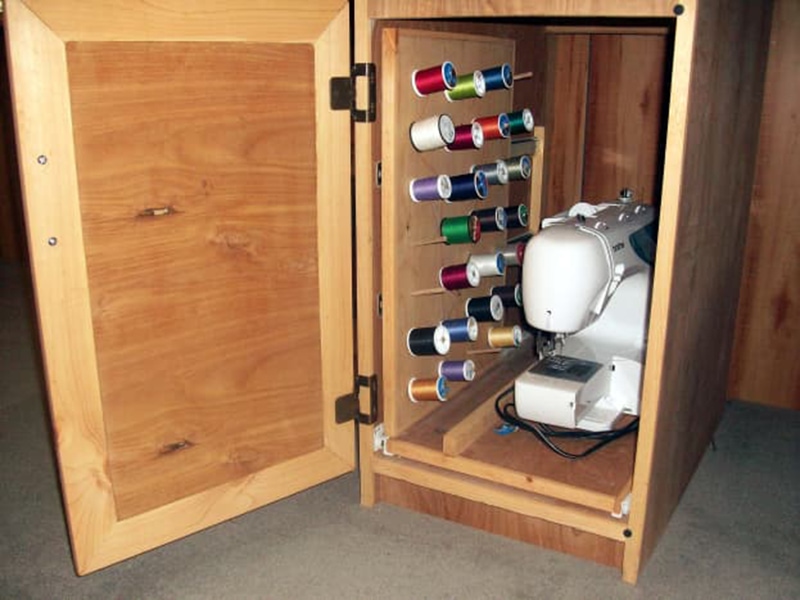 This is a classic-looking desk that transforms into an outstanding sewing table with tons of storage space. It has enough room for you to store all your fabrics and threads, and the open space on top is great for the sewing table.
Even better, when you're not using it, you can store the sewing machine in the table itself to keep it out of the way until the next time you need it.
---
18.

DIY Aqua Craft Table and Sewing Machine Storage by Ana White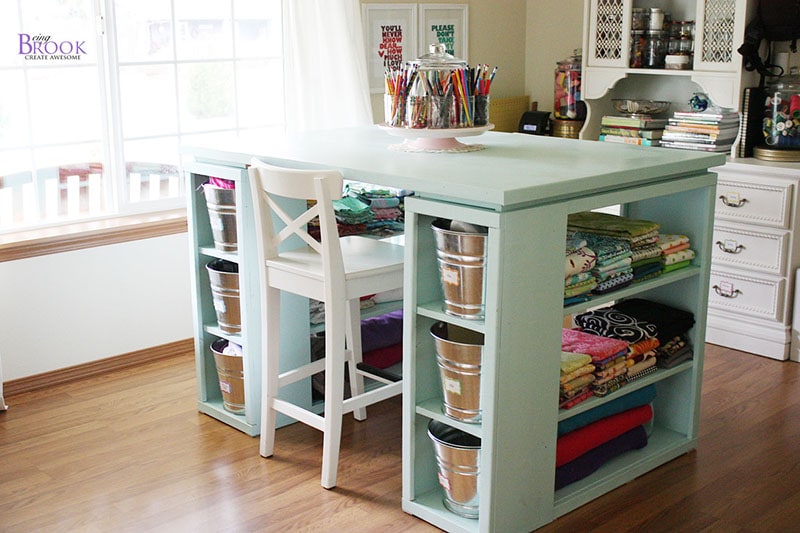 This table is a dream for most crafters. It has tons of storage for a sewing machine, fabrics, threads, and everything else you need while crafting. Not only that, but it has a large open work table you can use for just about any project.
It will take a bit of work to build, but the guide from Ana-White does an outstanding job of walking you through everything you need to know.
---
19.

DIY Sewing room Cutting Table and Storage by A Bright Corner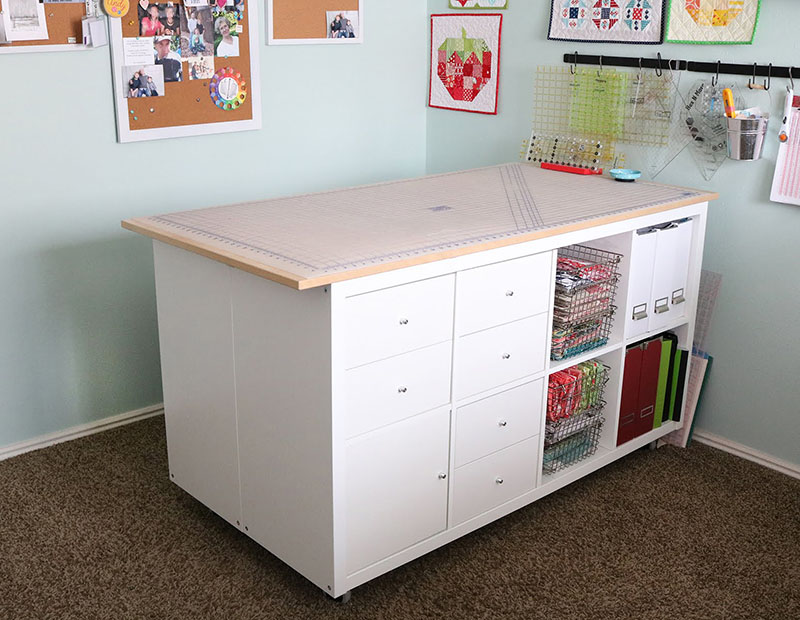 Are you finding your entire craft area overrun with supplies? If so, this DIY table and storage area from A Bright Corner is exactly what you need. It's a large table with tons of storage space, which is an outstanding feature for crafters.
It has plenty of space for the sewing machine, all your fabrics, threads, and anything else you can think of for sewing and crafting in general. Finally, the top of the table is extremely large, giving you plenty of space for crafting and sewing.
---
20.

Ultimate DIY Sewing Table and Storage by Goheen Designs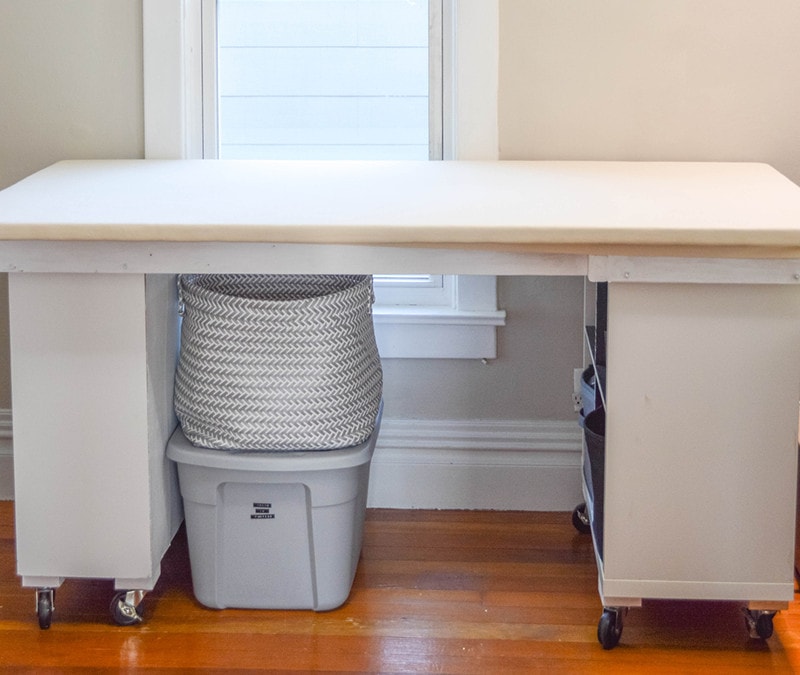 At first glance, this is a pretty simple sewing table with some storage. But the more you dive into it, the more you realize just how versatile everything about this table is. It has tons of storage space for the sewing machine and everything else you need, and since it's on wheels, you can easily move it to wherever you're working.
The working surface on top gives you plenty of space, and it's pretty easy to build. Finally, the guide from Goheen Designs does a great job of walking you through everything you need to do to build the table.

DIY Sewing Machine Cabinet Plans
The plans above offer convenient and functional storage and workspaces for your sewing, cutting, and quilting. Many of them utilize existing furniture, from new Ikea Kallax units to old Singer sewing table bases. Some are portable and designed to fit in small spaces. Others are much larger and assume you have a dedicated sewing space. We hope that you have enjoyed learning how to build a sewing machine cabinet. Once you choose the plans, and adapt them to your dimensions and requirements, you can enjoy the new sewing space you make for yourself.
---
Featured Image Credit: MrGajowy3, Pixabay