15 Wooden DIY Ice Chest Cooler Plans You Can Build Today (With Pictures)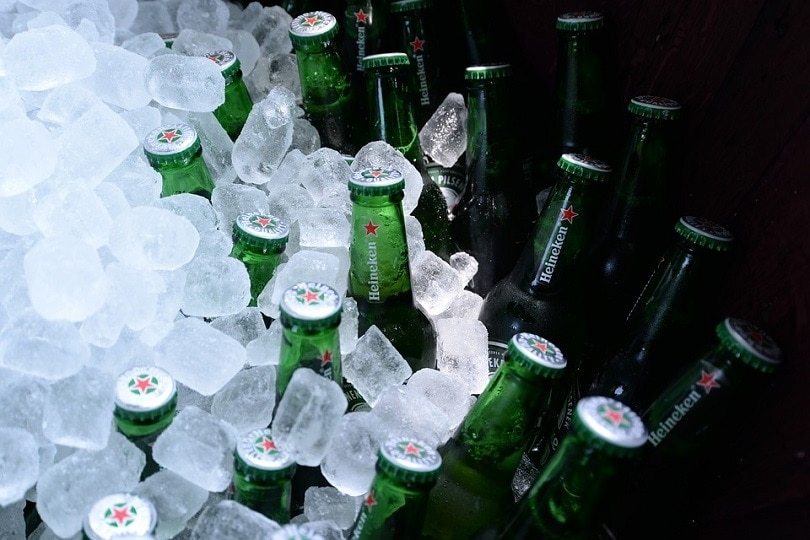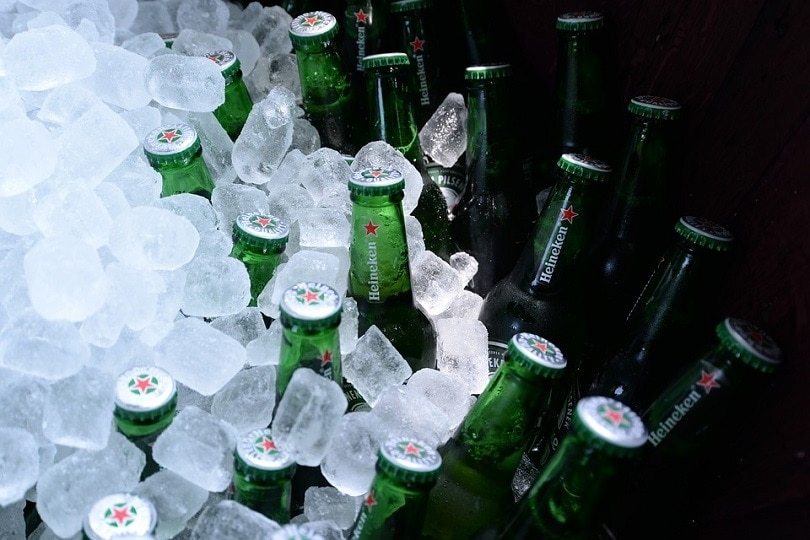 Summer is approaching, and that means hanging out and sipping cool drinks on the back porch! But do you hate having to leave the conversation and head back indoors to grab another drink? Then a wooden ice chest cooler for your patio might be just the ticket.
Cooler carts can be expensive, especially if they're attractive and weatherproof. However, if you have some basic woodworking skills & tools you could save yourself a bundle by making your own.
Learning how to build a wooden cooler cart is easier than you might imagine! And in this article, we've collected these DIY wooden ice chest cooler plans you can make today of varying skill levels to help you along.

The 15 Wooden DIY Ice Chest Cooler Plans
1.

Cedar DIY Wooden Ice Chest Cooler Plans from DIY Pete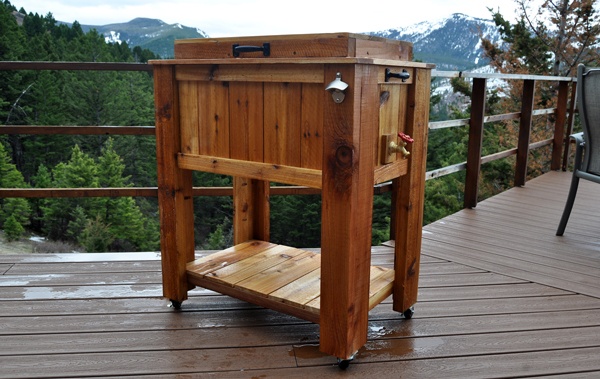 DIY Pete knows what he's doing with these cedar ice chest plans. It has it all: bottle opener, drain spigot, wheels, and a little storage spot underneath. And the form is just as impeccable as the function – you get a beautiful piece of furniture and a great cooler all in one.
The plans are easy to read, includes instructive video and photo, and breaks down what prices you should be getting on materials. However, due to the complexity of this project we recommend intermediate and above.
---
2.

Grill Cart DIY Wooden Ice Chest Cooler Plans from Fix This Build That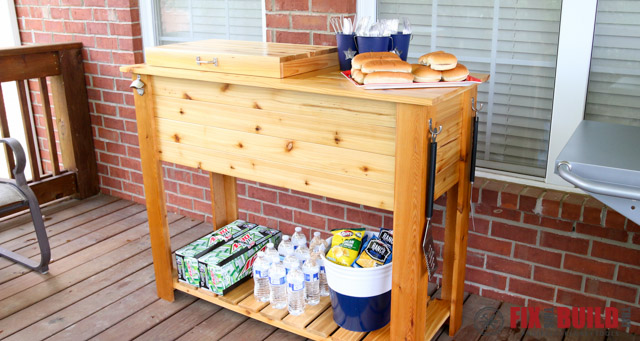 Looking for a double duty cooler? Check out this awesome grill cart ice chest combination from Fix This Build That. Built from cedar for weather resistance and sleek style, this cooler will compliment any porch party.
You're probably looking at an intermediate-advanced skill level here with techniques and tools, but the diagrams and cut lists make it possible for a beginner as well.
---
3.

Country DIY Wooden Ice Chest Cooler Plans from Shanty 2 Chic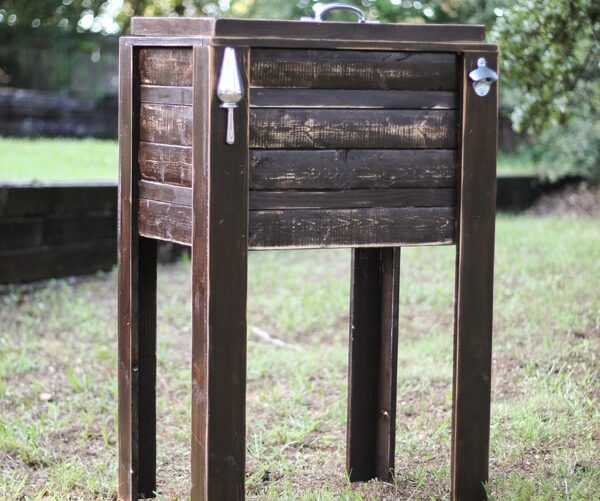 This country cooler from Shanty 2 Chic is simple and classy. It has a little old school, rugged flair and won't smash your budget to bits.
Access to a woodshop is a must, but even a beginner can follow these plans. Shanty 2 Chic has step by step instructions, diagrams, photos, and detailed explanations to guide you along.
---
4.

Pallet DIY Wooden Ice Chest Cooler Plans from Fox Hollow Cottage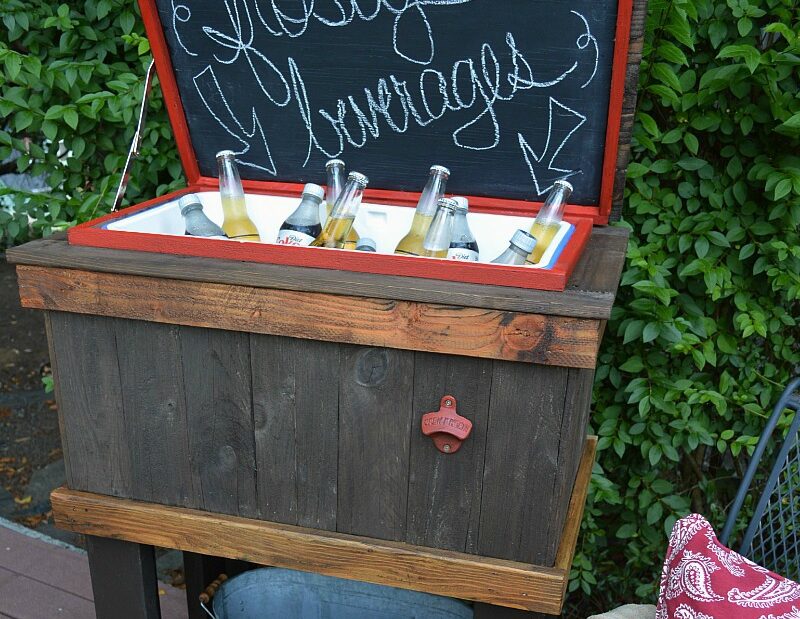 If you enjoy affordable projects that recycle old materials this pallet cooler from Fox Hollow Cottage may be the perfect fit. If you have a cooler already you can use this guide to disassemble two pallets and build a great looking ice chest around it.
Access to a woodshop is advisable, but Fox Hollow Cottage makes following their design easy peasy.
---
5.

Patio DIY Wooden Ice Chest Cooler Plans from Dunn Lumber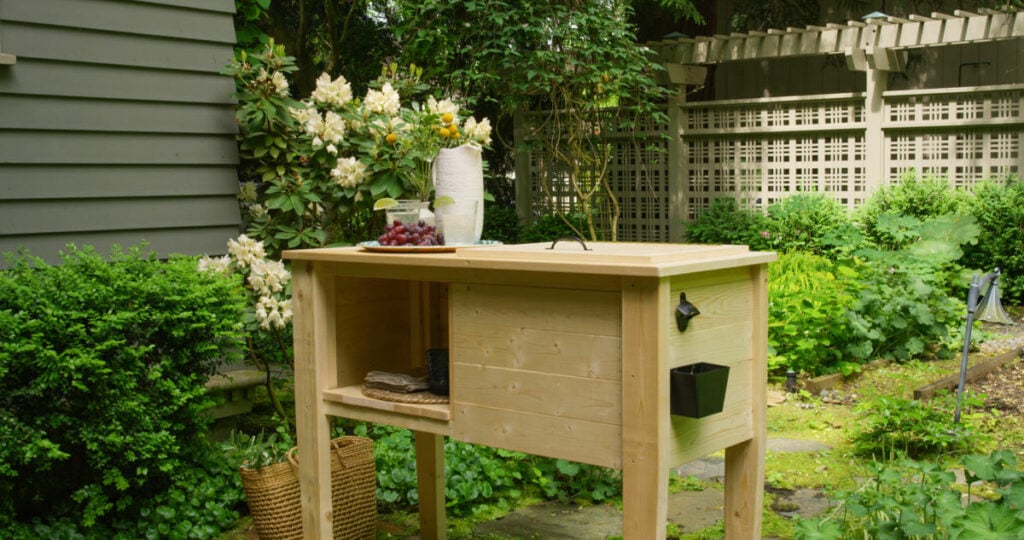 These patio cooler stand plans from Dunn Lumber will set you up with a simple and elegant little ice chest for your backyard. It's also another great example of a one stop DIY and materials shop to make your project go even smoother.
Though they are not beginner-friendly, these plans are exceptionally straightforward and easy to follow.
---
6.

Funky Little DIY Wooden Ice Chest Cooler Plans from Instructables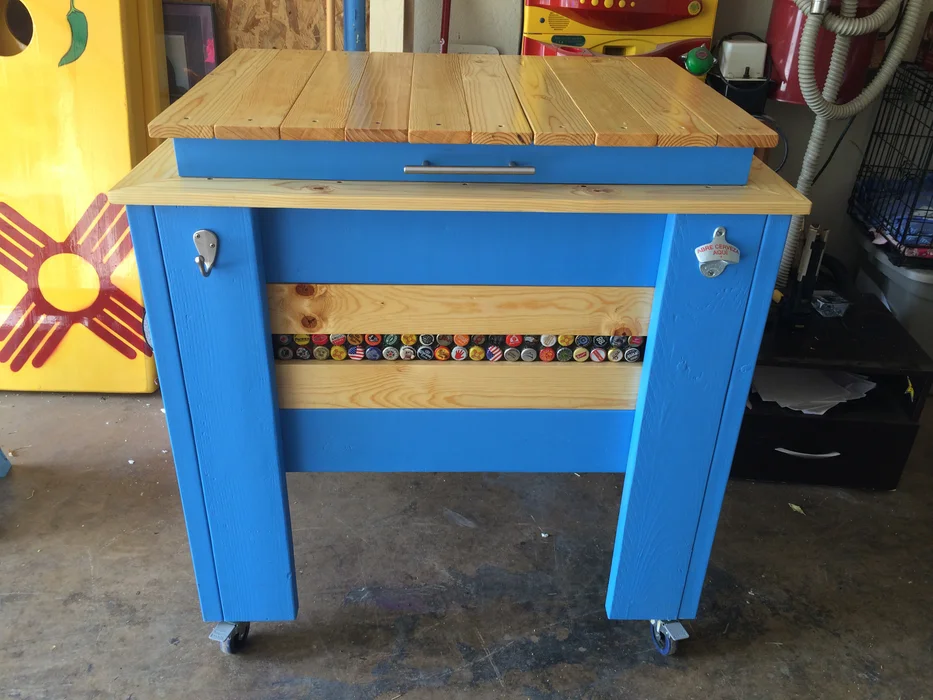 These wooden cooler plans from Instructables will show you exactly how to build your own uniquely decorated ice chest. Great look, well organized plans, and a sweet finished project.
Due to the complexity of materials we suggest this project for intermediate and above.
---
7.

Coffee Table DIY Wooden Ice Chest Cooler Plans from Build Something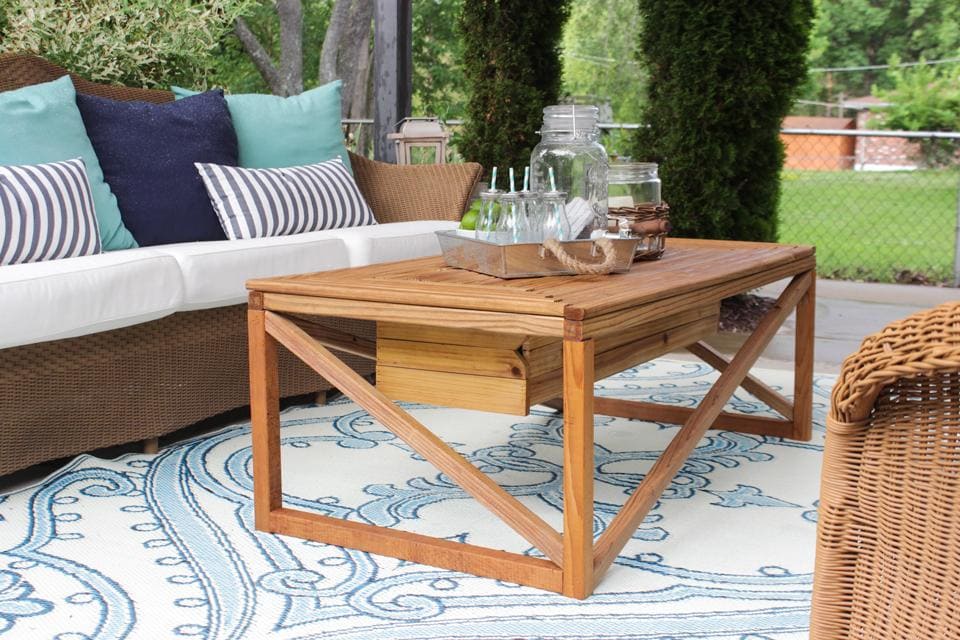 Here's a stylish little coffee table and cooler in one from Build Something. It's a bit simpler of a build than some of the other options, and less expensive too.
Though complex, beginner should feel comfortable enough with these plans if they have access to a woodshop. The cut lists and diagrams will keep you on track!
---
8.

Rugged Pallet DIY Wooden Ice Chest Cooler Plans from Easy Pallet Ideas
Looking for a great looking budget build for your cooler? Check out these Rugged pallet cooler stand plans from Easy Pallet Ideas.
The steps are photo documented, but lack cut lists and diagrams for less experienced builders to keep on track with. Intermediate skill and above is recommended.
---
9.

Industrial DIY Wooden Ice Chest Cooler Plans by Crafted Workshop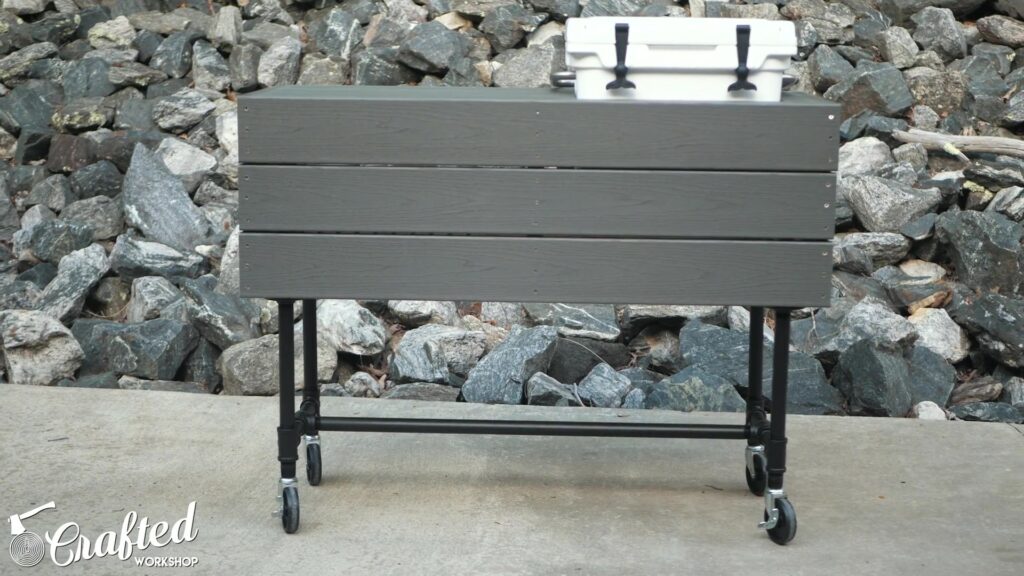 Those interested in a more industrial look may enjoy these patio cooler plans from Crafted Workshop. Built using super durable decking material for the outside, this cooler will be able to withstand any weather.
The advanced nature of techniques used and design (without accompanying diagrams) means we do not recommend this build for beginners. It's also a little pricier than some of the others because of the Trex.
---
10.

Vintage Chair DIY Wooden Ice Chest Cooler Plans from Oh My Creative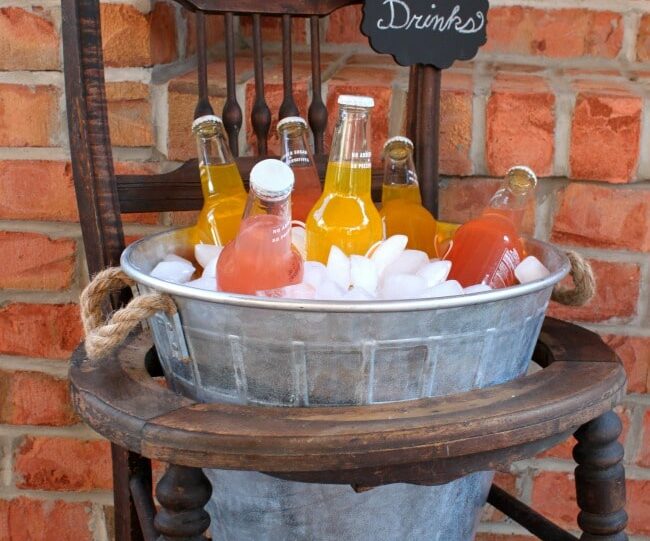 For the low tool option, we love this vintage chair turned into a drink cooler from Oh My Creative. Unique, classy, and easy to build!
If you've got a cool old chair and a saw, you're most of the way there – beginner welcome for this project.
---
11.

DIY Rustic Outdoor Cooler Stand From No Title Required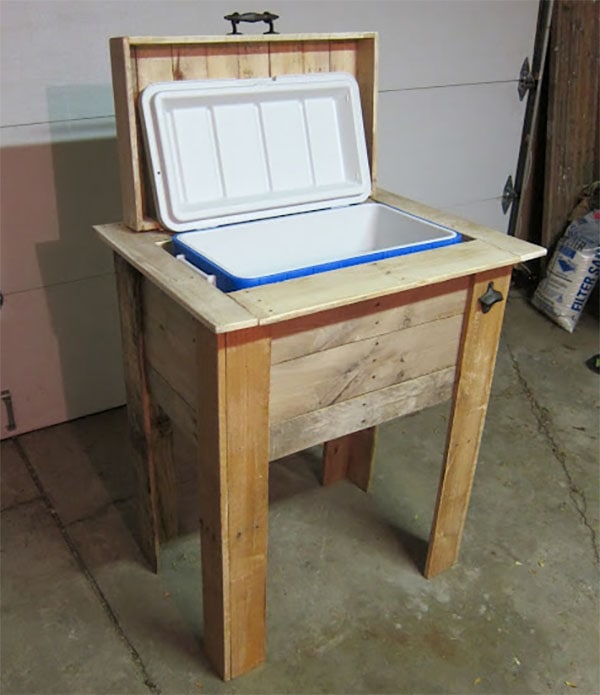 Pallets are some of the most reusable items on Earth, and this rustic cooler stand is just one of many ways to upcycle them. The plan emphasizes using high-quality pallet wood because shoddy or warped pallets will make a poor cooler stand. However, we know that you can't always be picky when you're getting the pallets for free.
---
12.

DIY Sliding Serving Center with Cooler From The Owner Builder Network
Multi-purpose projects like this wood sliding serving center are a godsend because you can not only keep drinks cold, but you have multiple layers of serving space. There's a small storage area underneath, and the coolest part is that the lid slides over—no pesky hinges to install, and it works as another surface in a pinch.
---
13.

Rustic DIY Pallet Wood Cooler From Home Repair Tutor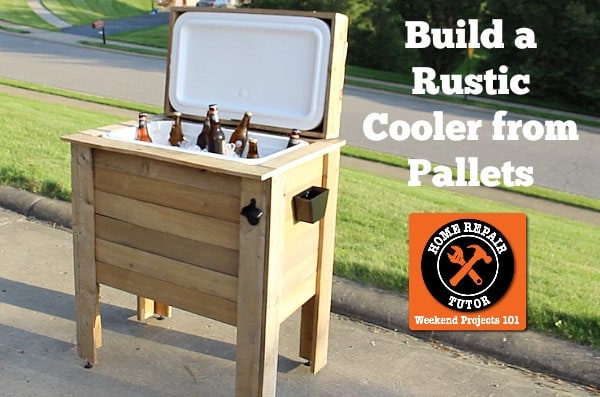 Unlike some other plans, this rustic DIY cooler plan only takes a single type of saw to build. Oh, and did we mention it's also made of pallet wood? We're big fans of the bottle opener on the side, but it's technically optional if you don't want to go to the trouble of adding it. To make it portable, simply substitute the flat feet for some caster wheels.
---
14.

DIY Wooden Double Drink Cooler From Purposeful Productions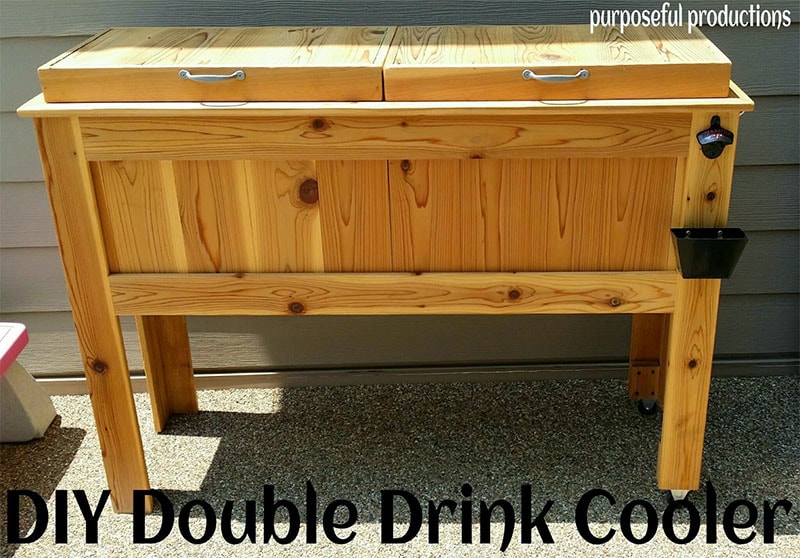 Some of the other plans don't hold enough drinks, which is where this double drink cooler plan comes in. It's loaded with features like caster wheels, a built-in grill cover, a bottle opener, and even a cup catcher. It might be a little more involved than some other plans, but it's well worth the extra storage capacity if you're willing to do the work.
---
15.

Cedar Ice Chest Cooler From This Old House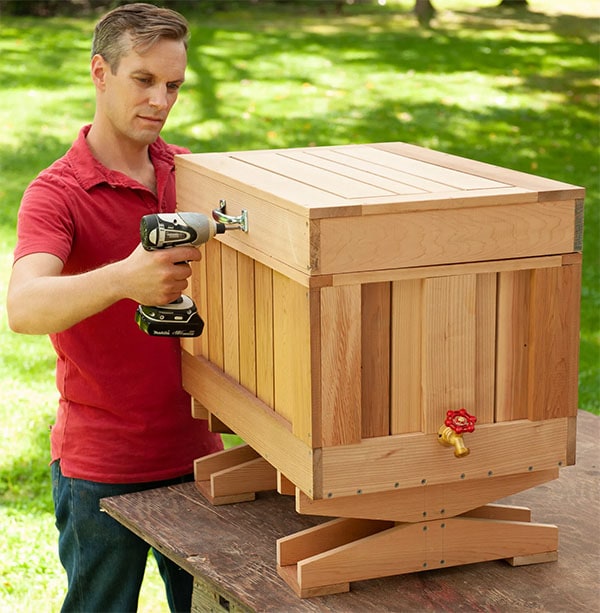 Other plans may be a little bulky, but this compact cedar ice chest cooler is perfect for keeping drinks cold in cramped spaces. It has classy fixtures like a stainless-steel continuous hinge, a brass spigot for drainage, and of course, a bottle opener. Most of this plan is suitable for relative beginners to woodwork, but the lid calls for some familiarity with a router.

Final Thoughts
Celebrate the return of warm weather with some outdoor projects and ice-cold drinks. What better way to do both than learning how to build a wooden cooler cart of your very own?
We hope that this list of awesome DIY wooden ice chest coolers has given you the knowledge and confidence to get out there and build – whatever your skill level.
Happy building!
---
Featured Image Credit: Skitterphoto, Pixabay