Dolphin Triton Plus Pool Cleaner Review 2023 – Pros, Cons & Verdict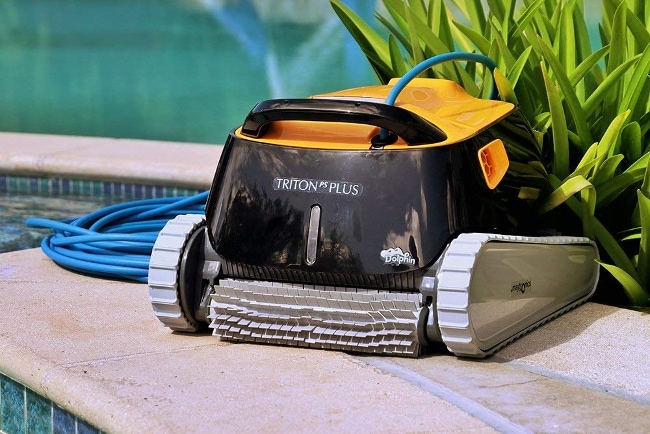 We give the Dolphin Triton Plus Pool Cleaner a rating of 4 out of 5 stars. 
Durability: 4/5
Cleaning Power: 4.5/5
Features: 4.5/5
Price: 3/5
The Dolphin Triton Plus is ideal for people with a larger sized pool that want an automatic way to keep it clean. It's quite expensive so it may be out of range for some people and might be too large for smaller pools.
The main selling point of the Dolphin Triton Plus is its quick cleaning cycle which puts the machine in overdrive to clean your pool in only one hour. It also features scheduled cleaning and blue tooth connectivity.
Dolphin brand pool cleaners are well-known and time-tested devices that have been cleaning pools for decades. The Triton Plus is one of the top models created by the Dolphin brand.

Dolphin Triton Plus – A Quick Look
Pros
Quick cleaning cycle
50-foot reach
Does not use your filter system
Bluetooth connectivity
Quick water release
Weekly scheduler
Cons
Short Bluetooth range
Expensive
The finicky filter locking mechanism
Specifications
Brand Name: Dolphin
Model: Triton Plus
Pool Size: Up to 50 feet
Filter Type: Single basket, extra large
Cleaning Time: Quick – 1 hour, Standard – 2 hour
Scrubbing Brushes: High-speed front, standard back
Cleaning Frequency: Weekly scheduler
Smart Phone Connected: Yes, Bluetooth
---
Quick Clean Mode
The quick clean mode puts the machine into overdrive mode, so it vacuums the pool in half the time it would ordinarily take. In most cases, cleaning is complete within one hour of starting the device.
Long Reach
His model features a fifty-foot cable that gives it plenty of range that should be more than enough for all but the largest pools. It has a six-foot power cord to reach the pool and a 50-foot submersible cord
Independent of Filter System
One of the major benefits of using a robotic cleaner is that it does not use your pool's filter system. You can run both systems at the same time for double the cleaning power, and any contaminants trapped in the robotic cleaner will never reach your filter system, which will help it last longer without maintenance.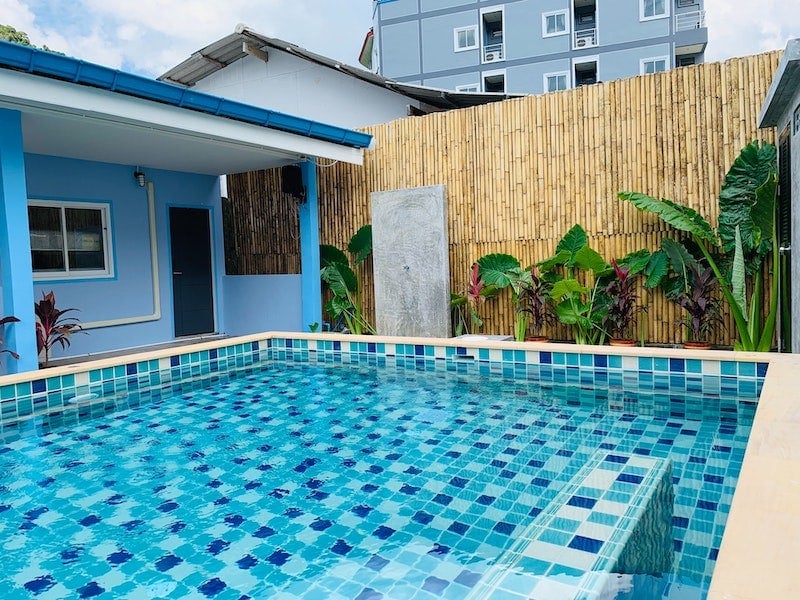 Smartphone Connection
Having the ability to connect your cell phone to the pool cleaner has some significant advantages. This device will allow you to do spot cleaning if you notice that the cleaner has missed any spots. You can also use it to turn the unit on and off, among other things.

FAQ
Can the Triton Plus be left in the pool?
Yes, you can leave the Dolphin Triton Plus in your pool for the whole season. It has a durable housing that's resistant to the effects of chlorine and ultraviolet rays.
Does the Triton Plus have a swivel cord?
This model does not have a swivel to reduce cord tangling. However, the built-in software that controls its cleaning path does an excellent job of keeping the cable from getting tangled as it travels around your pool.
Can you use the Triton Plus in above-ground pools?
Yes, this does an excellent job with above-ground pools, and they can make their way around ladders much better than random style pool cleaners.
Does the Triton Plus work in a salt pool?
Yes, this pool cleaner is suitable for saltwater and freshwater pools alike.
How long is the timer?
There are two timers built-in to the Dolphin Triton Plus. You can set the first timer to start the machine every day, every other day, or every third day. The second timer sets how long the device cleans, and you can set that timer for one, two, or three hours. You adjust the timer depending on how long it takes the cleaner to finish the job.
What the Users Say
People who bought the Dolphin Triton Plus were generally very happy with their purchase. They recognized that it's a bit of a cost, but found it to be well worth the investment. More than one referred to it as the Holy Grail of pool cleaners, which might sound a bit overwrought until you understand just how frustrating the issue of keeping a pool clean can be for its owner.
People liked its power and ability to hug walls while cleaning. They reported that it not only cleans those but does a good job on stairs, which is a standing issue with lots of pool cleaners. It works powerfully, works quickly, and can chart its own course.
Some people were less enthusiastic about its tendency to get caught on deep-end pool drains. If it was just one person who reported this, you could dismiss it as operator error or a one-unit fluke. Multiple users reported this, however, which is enough to think that maybe there's a design flaw that needs fixing.
Others said that the Dolphin Triton Plus is just simply not worth the money. It does an adequate job cleaning, but that it doesn't deliver on the quality it ought to for what it costs. Many of these people reported mediocre results in overall cleaning, but there were some people who thought it did a great job for them but that they could have gotten similar results for a much lower price.
There were also a couple of people who noted that it's a bit bigger and bulkier than other robotic pool cleaners. This made getting it into and out of the water a bit more work.
Overall, however, people were happy with their Dolphin Triton Plus. It's an expensive robotic pool cleaner, but it delivers great results in cleaning floors, sides, and stairs with equal excellence. If you've already dropped a bunch of money digging in your pool and on maintenance, the question is whether spending the extra money for that kind of pool cleaning performance is worth the money.
Some other popular Dolphin Models we've Compared:

Conclusion
The Dolphin Triton Plus is a powerful, fast robotic pool cleaner with features designed to maximize the efficiency of its own work. It'll pick its own cleaning route to optimize the time it has, which you can set as either an hour cleaning or two-and-a-half hours. This makes it perfect for getting a cleaning in before unexpected guests show up.
It'll cost you quite a lot of money, which admittedly considering the overall costs of building and maintaining a pool isn't all that great. It also has a tendency to get caught up in its power cable, which added to its overall steep learning curve can create frustrations for new users. If you're willing to shell out these kinds of dollars, however, we think it's worth sticking with the Triton Plus, because its benefits will show themselves the more you use it.
You might also like: