Dremel 8220 Cordless Rotary Tool Review 2023 – Pros, Cons, & Verdict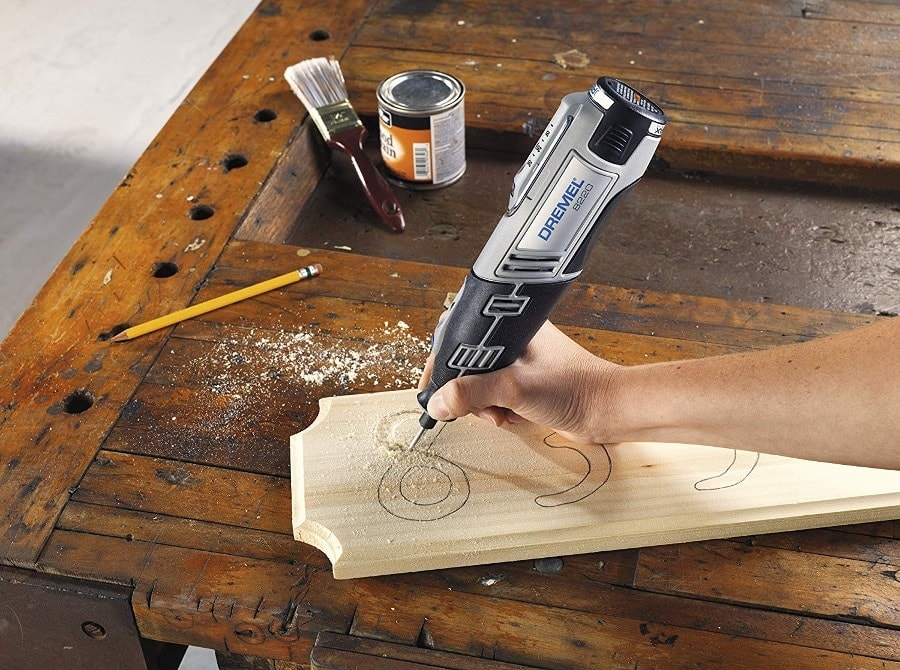 We give the Dremel 8220 Cordless Rotary Tool a rating of 4.6 out of 5 stars. 
Build Quality: 4.6/5
Power: 4.6/5
Features: 4.5/5
Price: 4.4/5
Review Summary
The Dremel 8200 was Dremel's first foray into cordless rotary tools, and the 8220 offers several improvements. Most notably, an even more powerful battery with as much power as the corded version of this tool. It is highly portable, usable in one hand, and compact enough to fit in any bag or container.
The Dremel's size not only makes it convenient, but combined with its cordless design and relatively light weight, makes it suitable for all-day use.
Whether you're a mechanic looking for a convenient method to whittle down door locks, a designer that needs a powerful grinding and cutting tool, or an avid DIYer that wants a rotary tool that packs a punch but doesn't cost the same as a commercial model, the Dremel is a good choice.
Although the new battery in this tool does a good job of matching the power of the corded version, it can only achieve this kind of power at full charge and the battery will drain quite quickly.

Dremel 8220 – A Quick Look
Pros
Powerful at full charge
Variable speed from 5,000 to 35,000 RPM
Ergonomic grip
2-year Dremel warranty
Compatible with all Dremel attachments
Cons
Not up to heavy-duty tasks
Need additional collets for some attachments
Specifications
Specifications
Brand Name: Dremel
Model: 8220
Length: 9"
Width: 1.8"
Weight: 1.45 lb
Speed: 5,000 – 35,000 RPM
Charge Time: 1 hour
Battery: Lithium-Ion
Battery Voltage: 12 V
Battery Power: 2 Ah
Accessory Quick-Change System: EZ Twist
Warranty: 2-year limited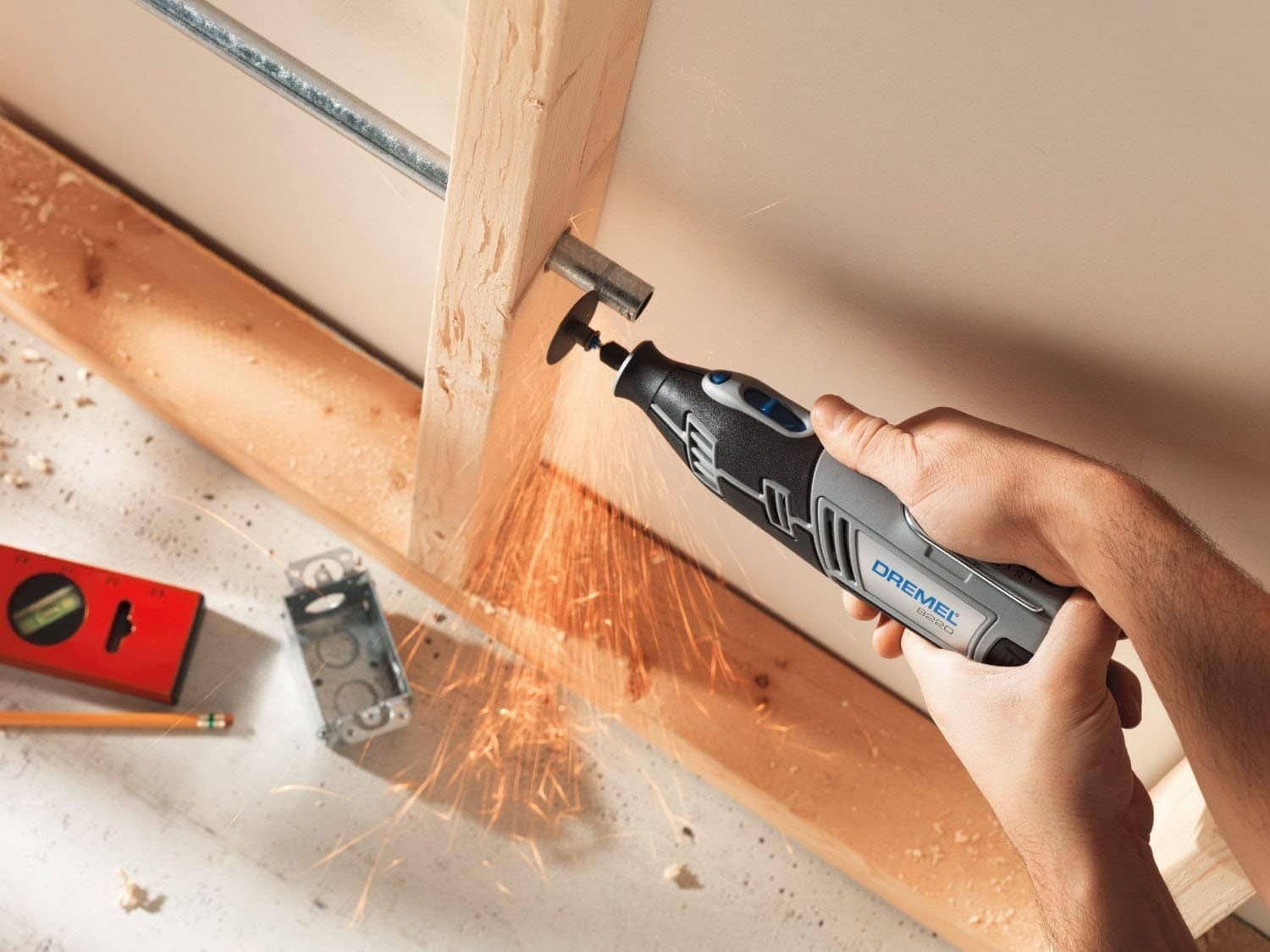 The 12V MAX Battery
A cordless driver is only as powerful as its battery and, while the battery in the original 8200 was a little tame, Dremel has beefed it up for the latest iteration. The Dremel 8220 features the 12V Max battery. Strictly speaking, this is a 10.8V battery but it can provide 12V in bursts and when required.
It will run 33% longer than the battery in the original 8200, and it is regarded as being a decent battery for this kind of cordless device. The rechargeable battery will fully charge within 1 hour, which means that you won't have to suffer too much downtime before you're back up and running again.
Compatible with All Dremel Attachments
Another improvement that the 8220 has made over the original 8200 is that it uses the EZ Twist, chuckless accessory change system. This system is used by all current Dremel devices. This means that you will be able to use a host of different accessories with the included collet. It also means that you can further extend the functionality of the device by buying additional collets and accessories.
The EZ Twist system is also quick and simple to use. You can change from a grinder to a sander in a few seconds and without the need to have to down tools and find the right Allen key or .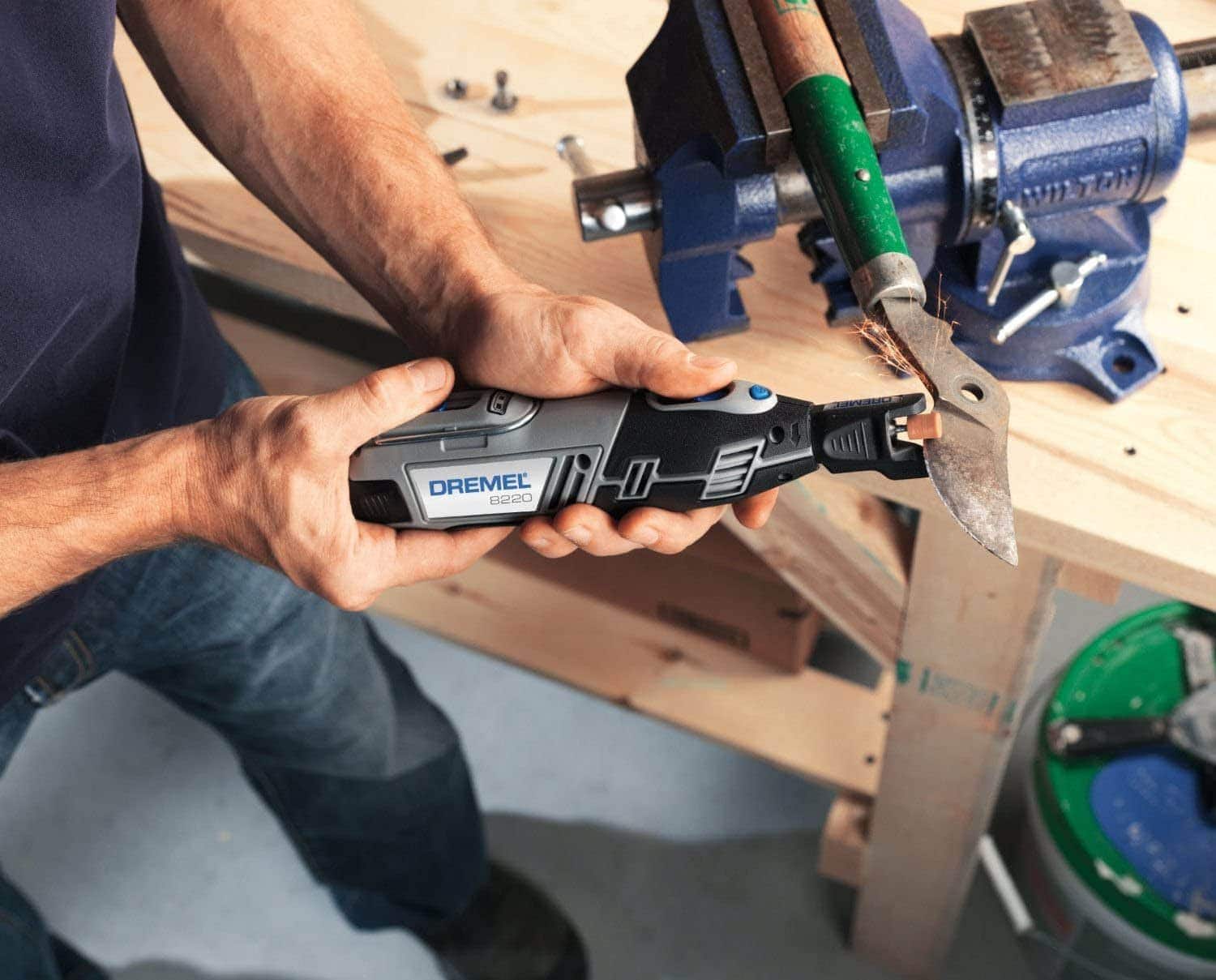 Comfortable for Long-Term Use
Wires are not only inconvenient because they prevent you from walking away from the socket. They also get in the way. You can spend as much time swinging a cord out of the way, as you do cutting rusted screw heads or routing tracks in wooden frames.
The Dremel's cordless design prevents you from having to remove your power tool from its cord. It is also relatively lightweight, although it does include the battery so is heavier than some corded alternatives. Its rubberized grip not only makes it comfortable to hold but helps dampen vibrations and improve comfort levels, even if you have to use this tool all day long.
You Will Need To Keep It Charged
The 12V Max battery provides nearly as much power as you would expect from the corded equivalent. However, this is only true when at full power, and the 3mAH battery does not stay at full power for long, especially if you use it at high speeds.
Some kits, which we would recommend buying, include two batteries as well as the charger. If you only intend to use the Dremel for quick jobs like cutting rusted screw heads, a single battery will do because you will be able to charge it ready for your next use. If you're doing anything like grinding or routing, you will want the second battery so that you can use one while you charge the other. Throw in some preparation time and, thanks to the 1-hour recharge, you should endure minimal downtime.
Dremel's problem is that they can't offer more power without greatly increasing the weight of the device itself, which would sacrifice its portability.
Other Dremel Products We've Reviewed

FAQ
How long does it take to fully charge the Dremel 8220?
The Dremel 8220 uses a 12V max battery that will take up to one hour to fully recharge. The exact amount of time it takes to recharge will depend on how depleted the charge is when you plug it in.
How long does a full battery charge last?
The 12v max battery is rated as offering up to 5 hours of run time. This is the maximum amount of time you will receive. The actual run time you get will vary according to a lot of factors. The speed at which you run the Dremel and the amount of load the grinder is placed under will be the biggest determining factors. It is also worth noting that while you could get 5 hours of battery time, the device will be greatly underpowered for the last hour or so. You should expect to get anywhere from one hour to three hours of useful run time from a full charge.
What is the difference between the 8220 1/28 and the 8220 2/28?
The 8220 1/28 and 2/28 are the same basic device. Both kits/packages include the 8220 device and a charger. The major difference is that the 1/28 includes a single battery while the 2/28 has two batteries.
Can you use the Dremel while it is plugged in?
The 8220 Dremel battery does not offer a pass-through charge. This means that the device cannot be used while it is plugged in.
Does the Dremel 8220 come with a warranty?
The Dremel 8220 comes with a two-year manufacturers' warranty from Dremel. Additional warranties may be included from other retailers and services.
What the Users Say
We have researched the Dremel 8220 to see what other users are saying. We've scoured forums, read reviews, and checked out eCommerce and consumer services to see what others are saying about the 8220.
The majority of users report a positive experience with the Dremel 8220. In particular, they enjoyed the portability of the device and were surprised by the amount of power that it had to offer when at full charge, saying that it was almost comparable to that of the corded and powered device. There were some complaints about how long the battery charge lasts, with users stating that they could only use the device at full power for an hour or so.

Conclusion
The Dremel 8220 is a portable and powerful hand driver. It can be used for a host of purposes from grinding and routing to sawing and buffing. It benefits from Dremel's universal accessory changing system, but its greatest benefit, especially over the earlier 8200, is that the battery offers power that is almost directly comparable to that of the corded alternative. Choose the kit with two batteries, if possible, because the second battery will keep your working while the first one charges. The device's only real weak point has proven to be the battery's short run time.
See Also: