Dremel 200 vs 3000 Rotary Tools: Which One's Best?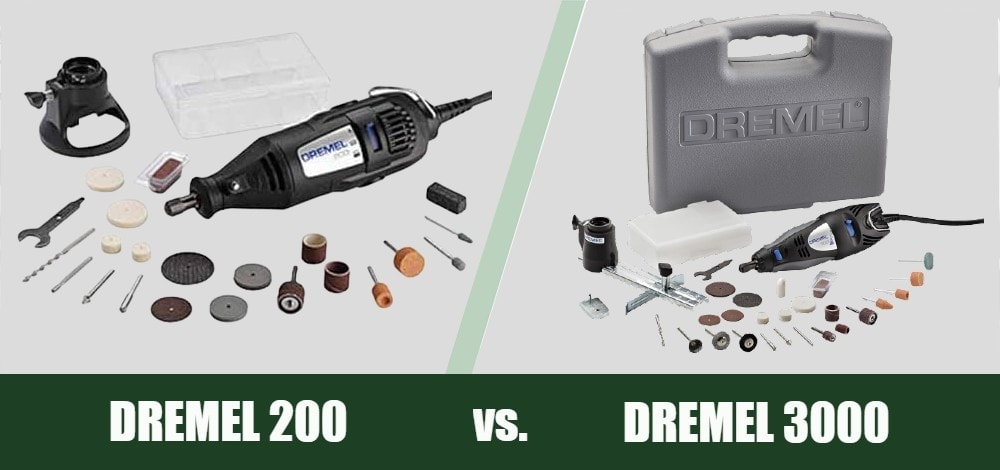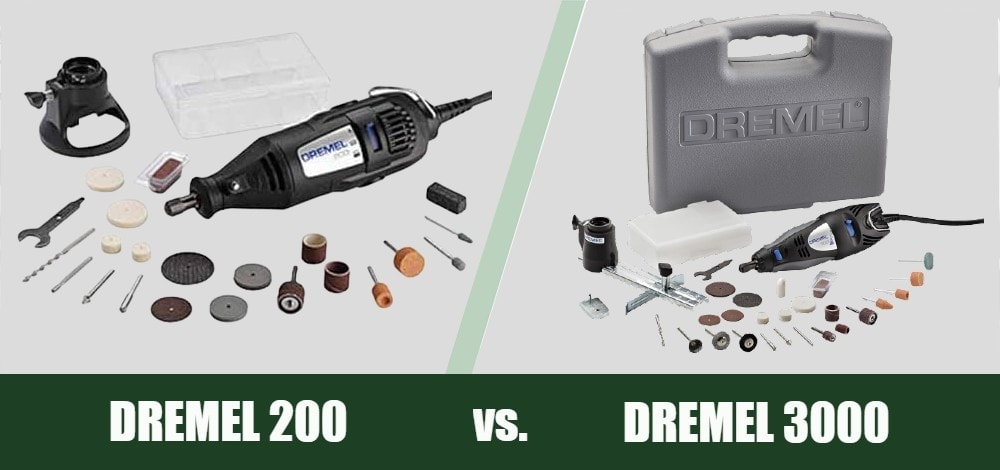 Rating
Image
Product
Details

The Winner

Dremel 3000-2/28 Variable Speed Rotary Tool Kit

Tool-less accessory changing
Available as 5 differently-configured kits
Variable speeds ranging from 5
000 to 35
000 rpms
CHECK PRICE

The Runner up

Dremel 200-1/15 Two-Speed Rotary Tool Kit

2 speeds – 15
000 or 35
000 rpms
Available as 3 differently-configured kits
CHECK PRICE
Dremel is one of the most popular brands for rotary tools. All of their tools are durable, impressive, and affordable. Two of their most popular rotary tools are the Dremel 200 and the Dremel 3000. These rotary tools offer impressive features at an affordable price, making it difficult to know which one is the best.
Between the two tools, we recommend the 3000. It has a variable speed that ranges from 10,000 to 33,000 RPM. This provides you with extreme control and precision over all of your projects. It costs the same as the 200, making it the better option of the two in terms of both performance and affordability. You are sure to maximize your dollar with this purchase.
Of course, the 200 is an impressive tool, but it has fewer features than the 3000 for the same price. Because of that, the Dremel 3000 is the best option, even though the 200 is still a great rotary tool.
To find out more about the Dremel 200 and 3000, read on. This article examines both products, compares them, and summarizes other users' experiences with the products. Let's dive in.

At a Glance
Let's look at the key points of each product.
Dremel 200
2 speed options: 15,000 and 35,000 RPM
Good for carving/engraving, cutting, cleaning/polishing, grinding/sharpening, and sanding
2-year limited manufacturer's warranty
Wrench accessory change system
Lightweight
Corded
Dremel 3000
10,000 to 33,000 RPM variable speed
Good for carving/engraving, cutting, cleaning/polishing, grinding/sanding/sharpening
Easy to use
Ergonomic design
Combats fatigue
EZ Twist nose cap attachment
2-year limited manufacturer's warranty
Corded
Review of Dremel 200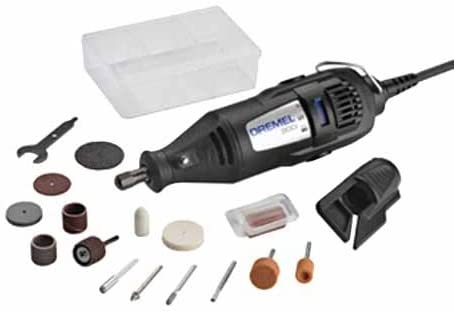 The Dremel 2000 is a great starter kit and has two speed options. It's ideal for DIYers and professionals who need tools for carving/engraving features, cutting, cleaning/polishing, grinding/sharpening, and sanding. When looking at any rotary tool, you want to ensure it has enough power for your jobs. The Dremel 200 can be used at 15,000 and 35,000 RPM. The two speeds provide maximum control and precision for your projects.
The 200 is also designed for a smooth and quiet operation. This ensures that your hand does not tire when using it, and the quiet motor protects your ears. All the while, the Dremel is lightweight. The lightweight design allows you to use it for an extended time without discomfort. Still, it is durable and can withstand abuse without breaking.
Pros
Lightweight
Highly durable
Cons
Corded
Requires a wrench for changing parts
Only 2-speed options
No comfort grips
Related Article: 

Overview of Dremel 3000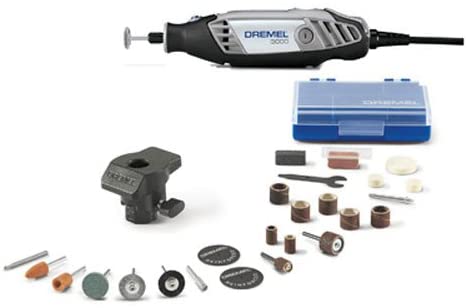 The Dremel 3000 is a corded rotary tool with a variable speed, ergonomic design, and easy-to-use features. It is affordable yet offers advantageous features for professionals and amateurs alike. Its most useful feature is its variable speed setting. It ranges from 10,000 to 33,000 RPM. As a result, you can gradually adjust the speed to carve/engrave, cut, clean/polish, and grind/sand your projects.
Even with the variable speed, the Dremel 3000 is easy and comfortable to use. The tool comes with an EZ twist nose cap that allows you to change attachments without using a wrench. The 3000 also has an ergonomic grip that combats fatigue and feels comfortable in your hand.
Whether trying to make your final product sparkle or engrave lettering into a soft metal or wood, the Dremel 3000 is precise and powerful enough to do both. Although it is heavier and less durable than the 200, it is still a great tool to add to your arsenal due to its affordability and versatility.
Pros
Variable speed range of 10,000 to 33,000 RPM
EZ Twist nose cap
Ergonomic design
Comfort grips
Cons
Corded
Heavier
Not as durable
---
What are the differences between them?
Performance
Edge: Dremel 3000
In terms of performance, the Dremel 3000 is more impressive. Even though the Dremel 200 does have two-speed options, the speed can't be gradually increased or decreased. Instead, you simply select the speed you want.
The Dremel 3000, in contrast, has a variable speed option with a wide range. This allows you to gradually increase or decrease the speed. The variable speed option of the Dremel 3000 makes it much more accurate, versatile, and high-performing than the 200.
Price
Edge: None
Despite the Dremel 3000's impressive performance, it is about the same price as the Dremel 200. For that reason, neither tool has the edge over the other in terms of price. However, you could say that you get more bang for your buck with the Dremel 3000 since it provides a more impressive performance for the same price.
Durability
Edge: Dremel 200
One area in which the Dremel 200 outperforms the Dremel 3000 is in durability. The 200 is designed to be a bit more durable than the 3000. With the 3000, you need to handle it carefully for it to last many years. The 200, in contrast, can withstand a few more bumps and drops than the 3000, making it more durable.
Design
Edge: Dremel 3000
The Dremel 3000 has an edge over the 200 in terms of design. It features an EZ twist cap attachment feature, allowing you to change attachments without a wrench. The tool also comes with a rubber grip, making it more comfortable. These features make the 3000 easier to use, more comfortable, and more impressive in design.
The 200 has a basic design that isn't very impressive or unique. Although it performs the job effectively, its design is dull and looks like other rotary tools.
Ease of Use
Edge: Dremel 3000
Because of the impressive design of the Dremel 3000, it is much easier to use. While you have to use a wrench to change the cap on the 200, the EZ Twist feature of the 3000 makes it much easier and more convenient to change the caps.
The one way they both fail regarding ease of use is that both tools are corded. You will be limited by the length of the cord when using either tool unless you have a portable generator.
What the Users Say
Knowing what other people think about these products is important. We checked online to see what other users thought about the 200 and 3000. Here is what we found:
Dremel 200
The Dremel 200 has over a four out of five-star rating on every site we reviewed. Users were satisfied with the 200 and said that it was affordable, impressive, and precise for most of their work. Whether carving into soft metal or trimming dogs' nails, the Dremel 200 was praised for its effectiveness. Many users were especially pleased by the 200's weight. Since it is so lightweight, they found it easy to use and convenient for all their needs.
As for the downsides, many users recommended purchasing the correct Dremel accessories. Not all Dremel accessories fit this tool, making it imperative to know which ones to get. As we expected, some users were not pleased by the two-speed settings, claiming they are chaotic and unhelpful for certain jobs. Several went as far as to recommend a variable setting option for more intricate work.
Dremel 3000
Reviews for the Dremel 3000 were largely positive. Most users were impressed by the tool's versatility and thought it was great for almost every job. Even amateurs found this rotary tool highly helpful and intuitive, making it an excellent option for beginners.
Most reviewers praised the Dremel 3000 for its affordability. Even though it is not very expensive, it has professional features that most users thought maximized their dollar.
Like the Dremel 200, the Dremel 3000 has some drawbacks as well. The most common critique was that it is not as durable as other Dremel models. The more delicate frame means you must handle it carefully.
The Dremel 3000 also does not fit all Dremel accessories. An attachment adapter is not included, either. You must purchase a separate adapter to use other Dremel attachments and products with the 3000.
Other Dremel Products We've Reviewed

Conclusion
Between the two Dremel Rotary tools, the Dremel 3000 is the most impressive. For about the same price as the 200, its variable speed produces more precise and accurate results. Though the 200 is also impressive, it simply doesn't provide as precise or powerful features as the 3000.
Nevertheless, all Dremel products are durable and useful. The 200 and 3000 are incredible tools, but the 3000 is more precise and comfortable to use.