The Essential Drywall Tools List: 17 Different Types & Their Uses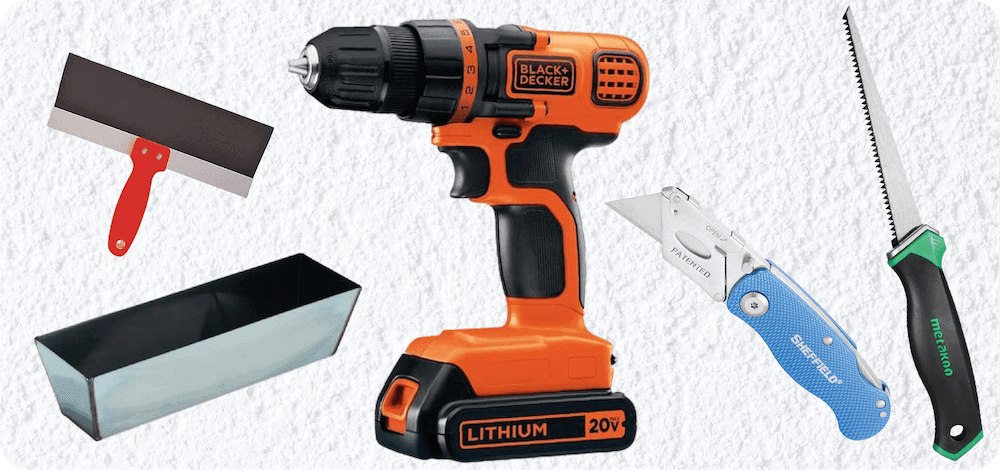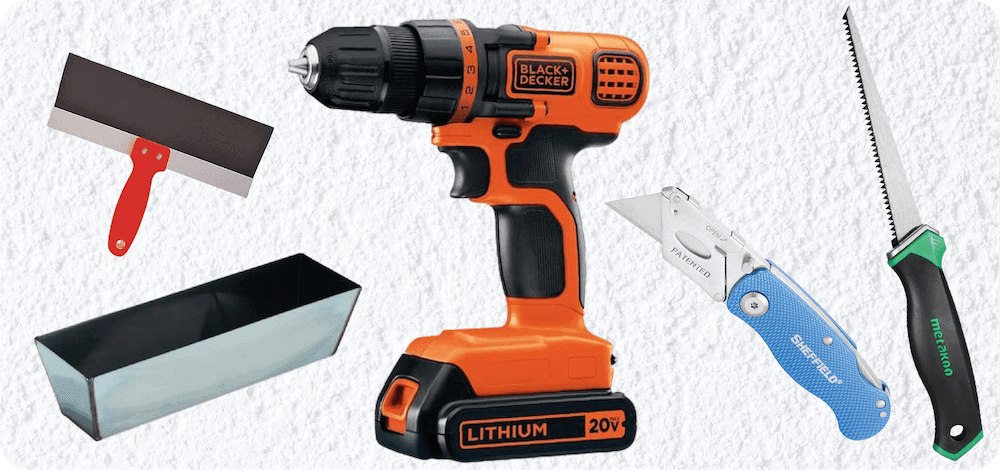 Hanging drywall isn't difficult to do. There are several tools you will need to put it up efficiently, though. When you mix up drywall mud, it only stays wet for so long, so make sure you have all the tools you need before you start the job. You don't want to quit and give the mud time to dry out before you're ready for it. Below, we've compiled a list of tools that you will need in hopes that you only have to make one trip to your favorite home improvement shop.

The 17 Different Types of Essential Drywall Tools
1.

Utility Knife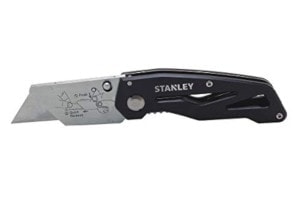 Most toolbags have at least one or two utility knives. They're portable, small, and very sharp. Avoid craft-style knives with snap-off blades but use models with interchangeable blades. This will prevent you from snapping your way through multiple blades, and they are more secure and stable.
---
2.

Tape Measure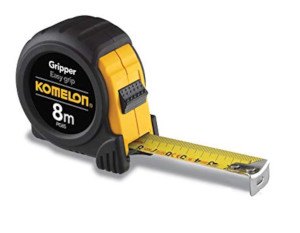 Any tape measure can be used to measure the size of drywall sheet that you will need. We recommend that you get one that is at least 12 feet long to enable you to measure longer walls.
Find a drywall specialist in your area, and get free, no-commitment estimates for your project.


---
3.

Drywall Knife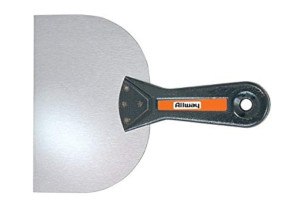 Drywall knives have flat blades to spread the joint compound or spackle over the seams to seal them. You may want to get a couple of sizes to use, depending on how big your job is. The most common drywall knives range from 6 to 12 inches.
See Also: 
---
4.

Drywall Screws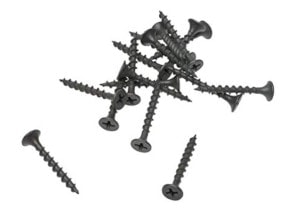 Once upon a time, drywall was hung using nails and a hammer, but that is no longer the case. Specialist drywall screws are better at securing the drywall sheets to the studs. Coarse thread screws are easier to use, and most projects use ⅝" lengths. You will usually use 32 drywall screws in each sheet of 4 x 8 drywall board.
---
5.

Cordless Drill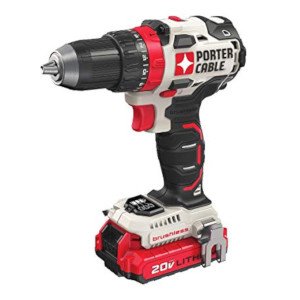 It takes quite a few screws to hang a sheet of drywall. The quickest, easiest, and most efficient way to screw them all in is with a cordless drill. Cordless is preferred over corded, so you can just keep working without stopping to change electrical outlets.
---
6.

Drywall Saw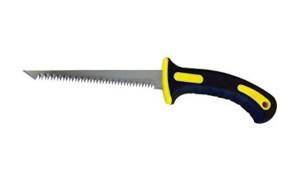 A drywall saw has a long thin blade with a handle on one end that is used to cut odd shapes into your drywall.
---
7.

Drywall Square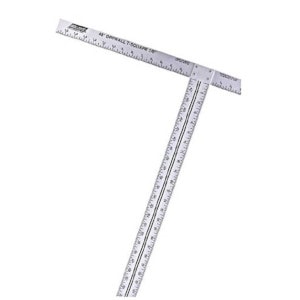 A drywall T-square has a full 48" length, which is longer than other types of T-squares. It can be expensive, but it can also prove invaluable because the head sits neatly over the edge of the drywall and is long enough that it reaches the other end. It's an expensive drywall tool, but it is an essential one.
---
8.

Drywall Mud Pan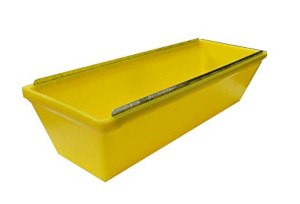 Mud pans are inexpensive and invaluable. They are used to hold the mud while you transport it around. They're available in multiple sizes, and you should ensure you buy one that is big enough without being overly cumbersome. Aluminum pans are lightweight and can be shifted around easily while holding all the mud you're going to use.
---
9.

Drywall Sanding Sponges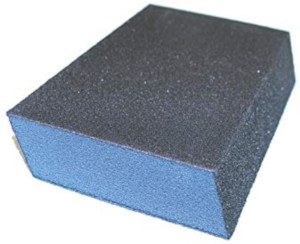 Though drywall sanding sponges work well for smoothing your walls, you don't want to depend on them to do the whole job for you. They are best used for touch-ups only. The sanding process is one of the most tedious and time-consuming aspects of drywalling. It is, however, a very important step. As with any good sanding job, you should start with an abrasive surface.
An abrasive sanding sponge looks like a kitchen sponge but is extremely coarse on one side and slightly less coarse on the other side.
A non-abrasive sanding sponge has a smooth surface with no grit on one side and a very light grit on the other. Again, this is used for touching up your tape work only.
---
10.

Dust Mask
Wearing a dust mask over your nose will keep you from inhaling the tiny dust particles.
---
11.

Drywall Corner Knife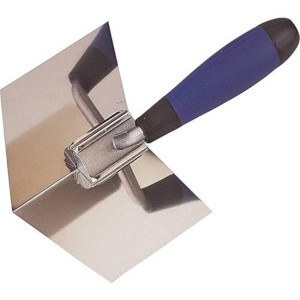 As well as the 4" or 6", and the 12", drywall knives, you can also buy a drywall corner knife. It is possible to complete the corners using your standard knives but it will be easier using a corner knife that is dedicated to the task.
---
12.

Sanding Blocks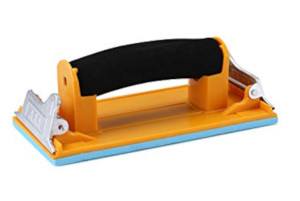 You need to smooth the rough spots over the seams once the drywall mud has dried. You can get handheld wood blocks with sandpaper on one side for smaller jobs. However, you need multiple grits from coarse down to fine. You don't want to sand with the coarse and follow that directly with the fine because the coarse will leave marks that the fine can't sand out.
---
13.

Pole Sander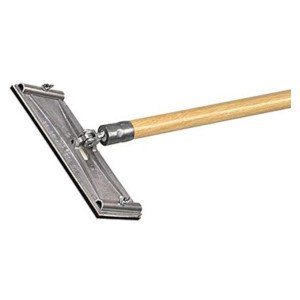 The Pole Sander is just a manual sander attached to the end of a pole. These serve two purposes. They can reach the tops of walls and ceilings without having to keep getting up and down ladders. They can also cover large areas from a single spot, making them more convenient than blocks or sponges.
---
14.

Corner Sander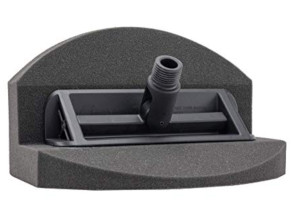 If you're using a sanding block rather than a pole sander, you may also want to buy a corner sander. They have a 90° angle that allows you to sand into the corner of walls or the ceiling corner. You can get blocks that you use in hand or those that attach to the end of an extension pole for the ceiling.
---
15.

Sanding Sheets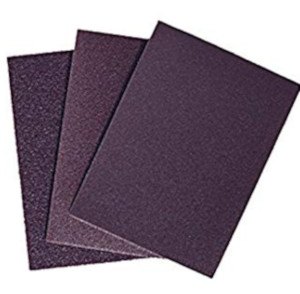 Whether using a sanding pole or sanding blocks, you will need plenty of sanding sheets, especially for large jobs. The coarse sandpaper removes large blocks and large pieces of debris from the surface of the drywall once the job is complete. Fiberglass sandpaper is mesh-like, which allows dust to fall through the holes and prevent clogging.
The coarser sanding sheets are used first to knock off the bigger pieces of dried drywall paste. They are made out of fiberglass and have large holes that the dust falls through. The sandpaper would gum up fast if not for those open holes.
Ordinary-Looking Sandpaper
The finest drywall sandpaper looks just like regular sanding paper used on wood. It removes the last few rough spots and achieves a nice, smooth, seamless wall.
---
16.

Jab Saw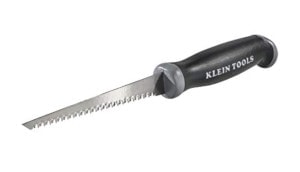 A jab saw is another essential drywall tool with serrated teeth. It's vital for cutting out irregular shapes in the drywall when you need to cover areas near pipes and appliances.
---
17.

Drywall Lift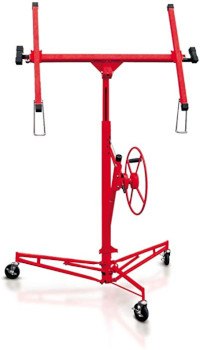 Putting up drywall is not difficult unless you try to do it on your own. If you have to do the job by yourself, spend the money to rent a drywall lift to lift your drywall sheets into place.

Essential Drywall Tools
With these tools, you can more efficiently complete any drywall project, whether hanging a single sheet or completing a whole room. Most of the products we discussed are affordable, but a few of the specialized tools are more expensive. Some of the tools, like the drywall lift, may not be vital for all jobs, but if you do need one, you will struggle without it.