19 Free DIY Farmhouse Desk Plans You Can Make Today (with Pictures)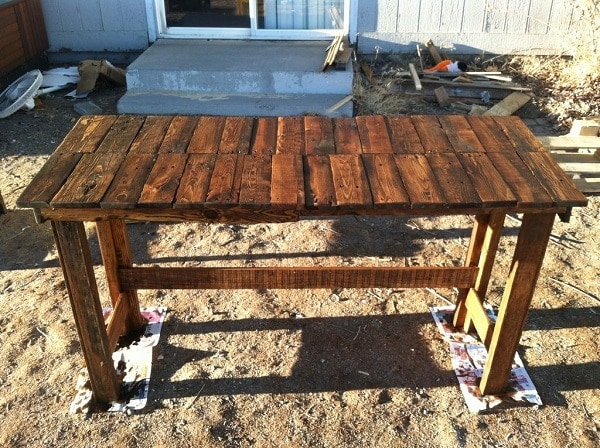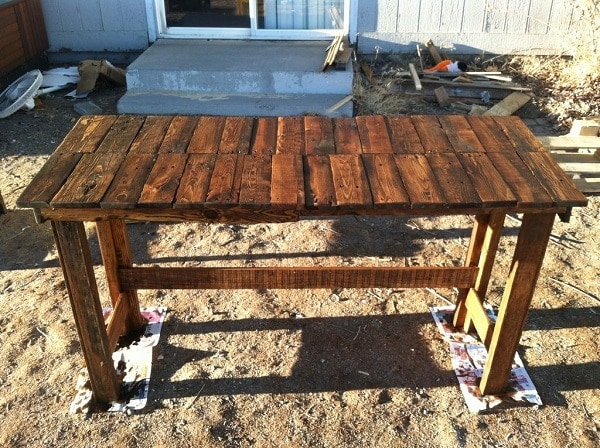 If you've got a spare room in your house, chances are you'll want to turn it into an office or workspace. No workspace is complete without a good desk, and rustic, farmhouse desks are very much in style. These desks can cost a fortune however, and building your own is a great way to save money. In addition, there's a sense of satisfaction and pride that only comes from making your own creation!
We've collected a list of DIY plans that will teach you how to build farmhouse desks with varying designs for affordable prices. From small writing desks, to large, spacious desks with storage, there's sure to be a design that fits your needs. There are different materials sourced, including recycled pallets, barstools or polished pine slabs, so there's plenty of options to use whatever you might have on hand!  Grab your tools and get ready to build a piece of furniture you'll enjoy for years.

The 19 DIY Farmhouse Desk Plans
1.

DIY Industrial Farmhouse Desk from Honeybear Lane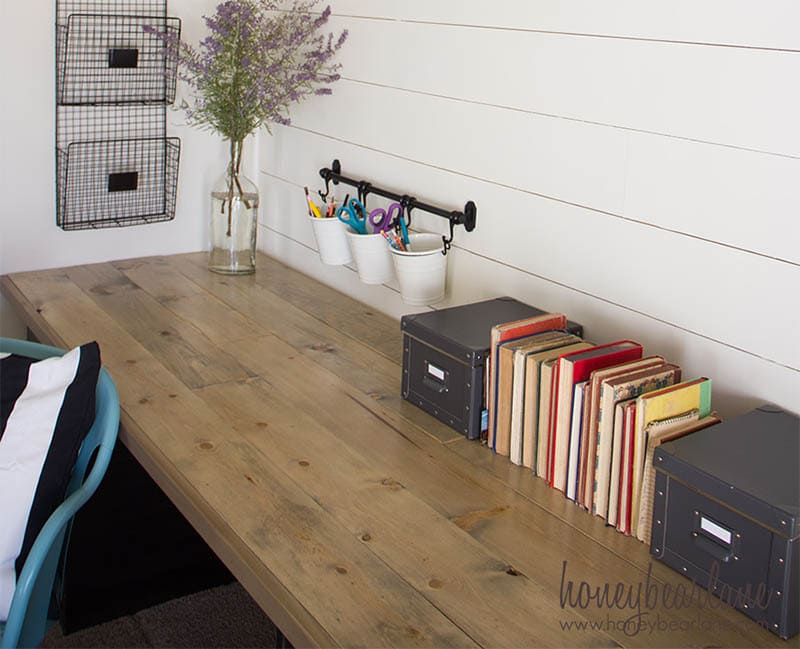 This design use sold filing cabinets as part of the frame. Various wood planks are attached to the frame, sanded and stained to make an attractive and rustic tabletop. The final project looks great and costs under $200.
---
2.

L-Shaped Double X Desk from Handmade Haven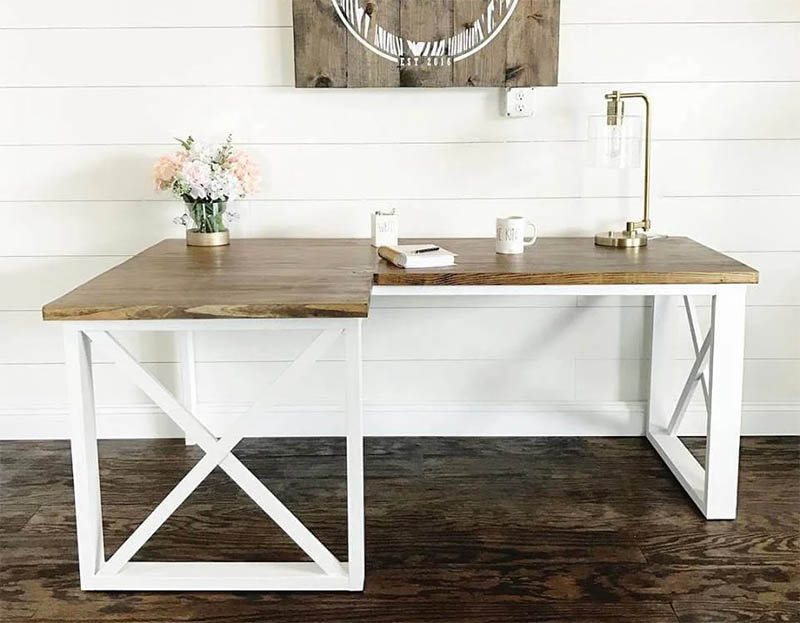 These plans from Handmade Haven make a desk that is medium sized, with an L-shape to provide you with a dynamic workspace. It has a nice finished wood tabletop with white legs, giving it a fresh farmhouse look.
---
3.

Rustic L-Shaped Wood Desk from Hometalk
This rustic desk has really unique, thick and blocky legs that accent a simple design. It's larger than the previous L-shaped desk, and has a dark wood stain that makes the room cozy, with a wood-cabin vibe.
---
4.

Custom Industrial Wooden Desk from Craft Thyme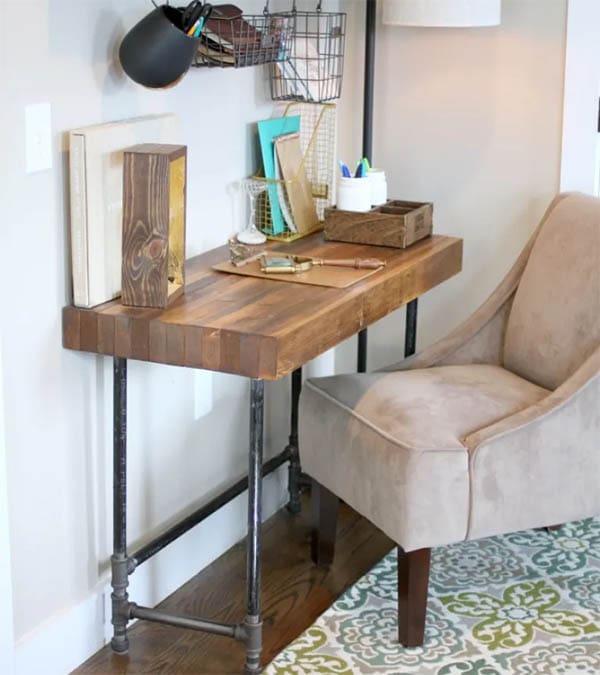 Iron pipes and untreated lumber give this small desk an industrial yet modern look. The metal materials included in this design are already precut and made to fit together, so there's no need for welding or other metal work.
---
5.

DIY Farmhouse Writing Table from Cherished Bliss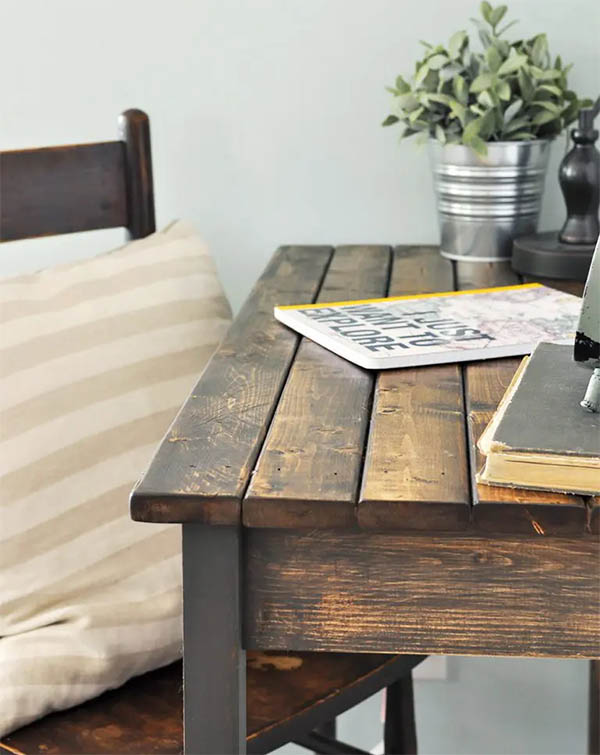 If you're looking for a smaller, more compact design, this writing table is for you. It uses stair spindles for the legs instead of plain lumber, which gives it a more elegant look. The dark stain on the wood gives it a nice earthy tone that will look great in your office or workspace.
---
6.

Rustic Factory Salvage Desk from Home Stratosphere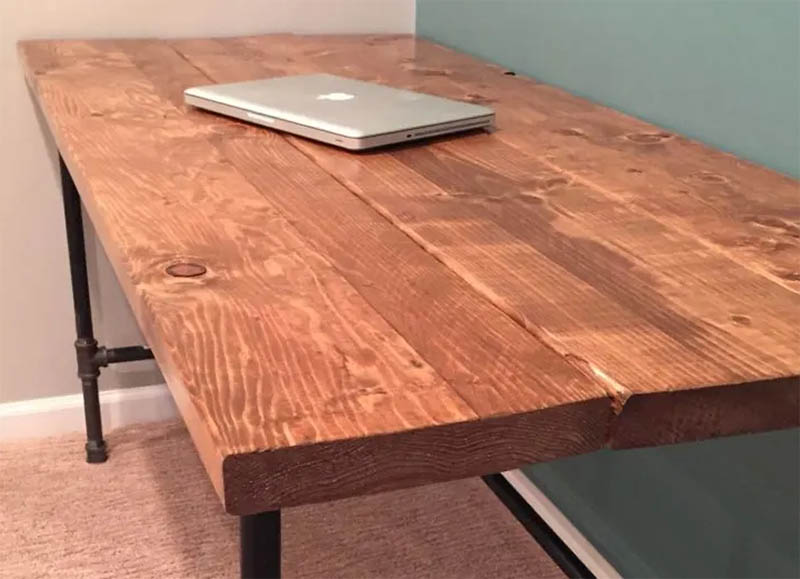 A budget friendly design, this desk uses wood boards and steel pipes for a simple, but aesthetic look. With some wood stain and varnish, the wood will have a nice clean gloss that also protects it from water and stains.
See also: 9 Free DIY Pipe Desk Plans You Can Make Today
---
7.

DIY Modern Farmhouse Desk with Cubby from Make it and Love it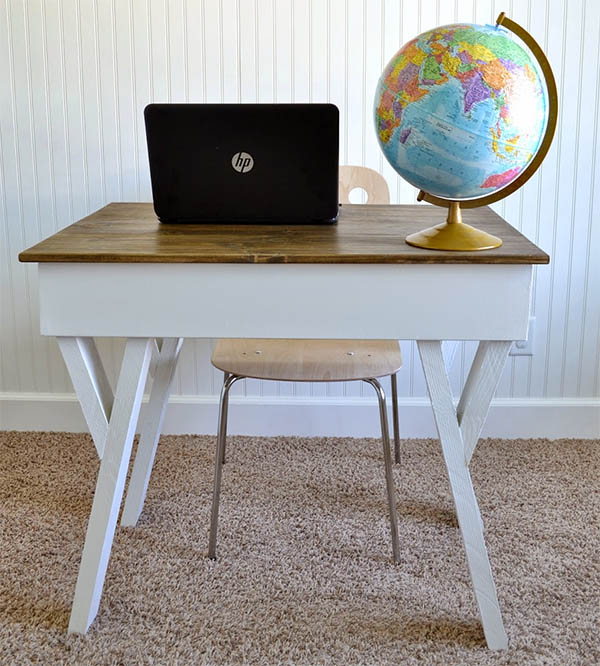 This is a smaller, compact desk that has the ability to store notebooks, pens, schoolbooks or whatever supplies you need. It's a great desk for kids, or for a small office space!
---
8.

DIY Live Edge Wood Desk from the Merry Thought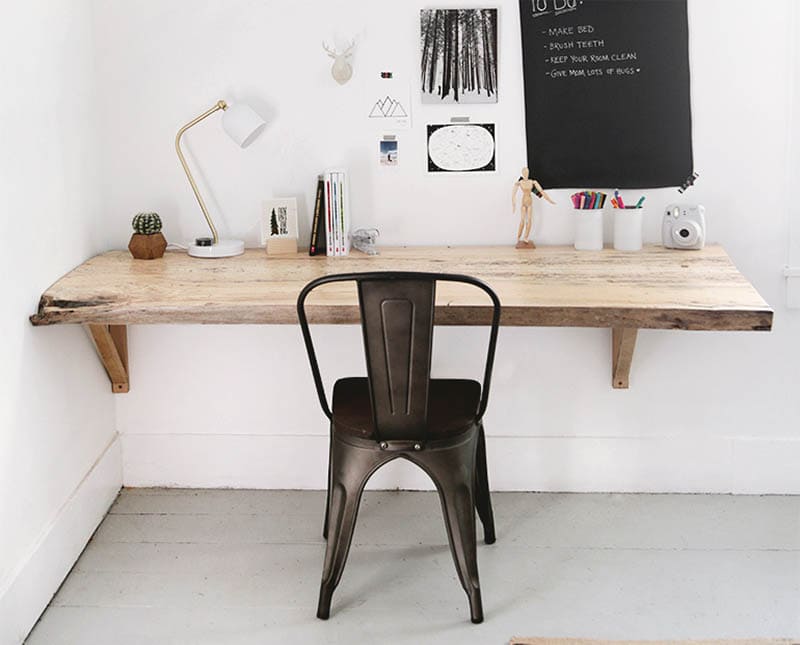 This desk is super unique! It's rustic yet minimalistic. It doesn't have legs, and it built more like a shelf, which gives it a clean and simple look. It uses two wood boards and some simple wooden brackets to fasten it to the wall.
---
9.

Pallet Desk from Thistlewood Farms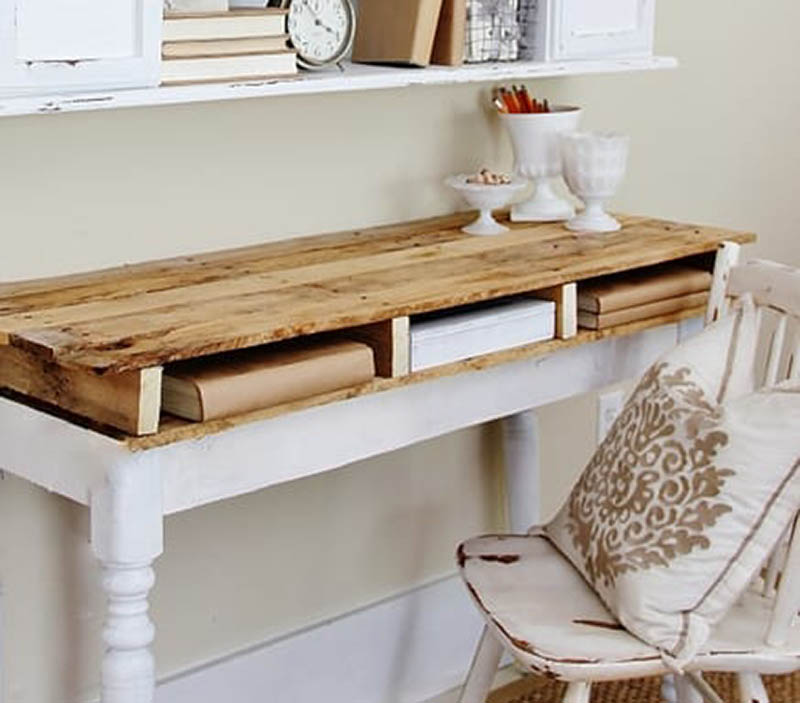 Pallets seem to have endless recycle value, as demonstrated by this classy yet rustic desk. Its sole ingredients consist of braces and legs from a recycled old table, and a pallet. Add some white paint to the legs, and you have a fresh and quirky desk that also has built-in cubbies!
---
10.

Farmhouse X Desk from Handmade Haven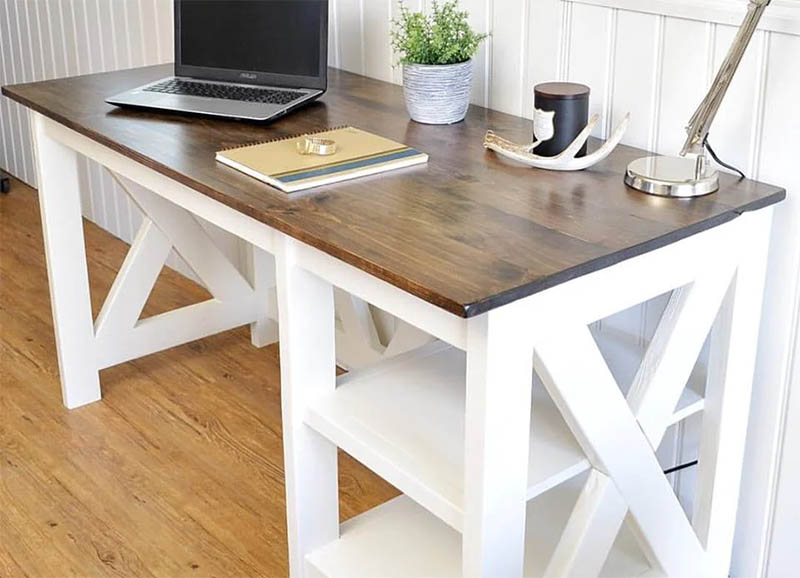 Another design from Handmade Haven, this desk has a classic look, and uses brand-new fresh materials to give it a clean and manicured vibe, while still maintaining a farmhouse feel. It comes with built in shelving so you can store extra supplies with ease.
---
11.

DIY Modern Farmhouse Desk with Storage by Anika's DIY Life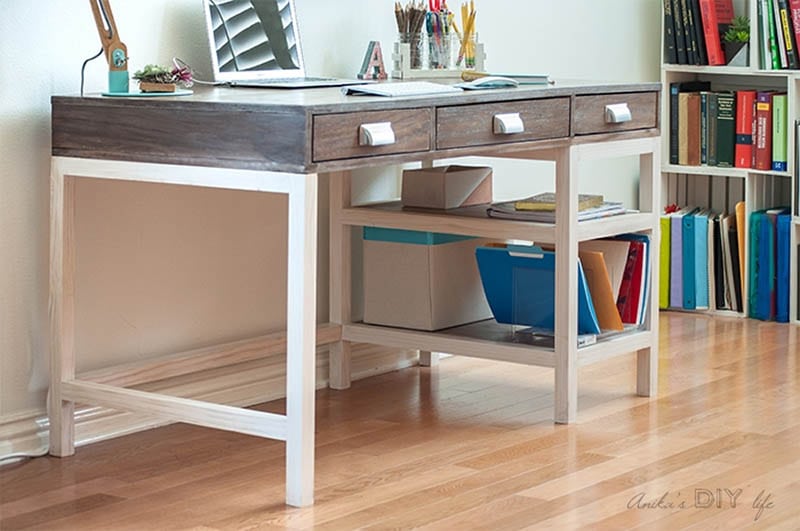 Another great crossover between modern and rustic, this desk will look great in your office! Not only does it feature shelves like the last design, but it also includes some drawers for added convenient storage. It has a dark oaky top, with white legs that blend a farmhouse look into a modern household with ease!
---
12.

Rustic Desk with I-Beams from DIY Projects with Pete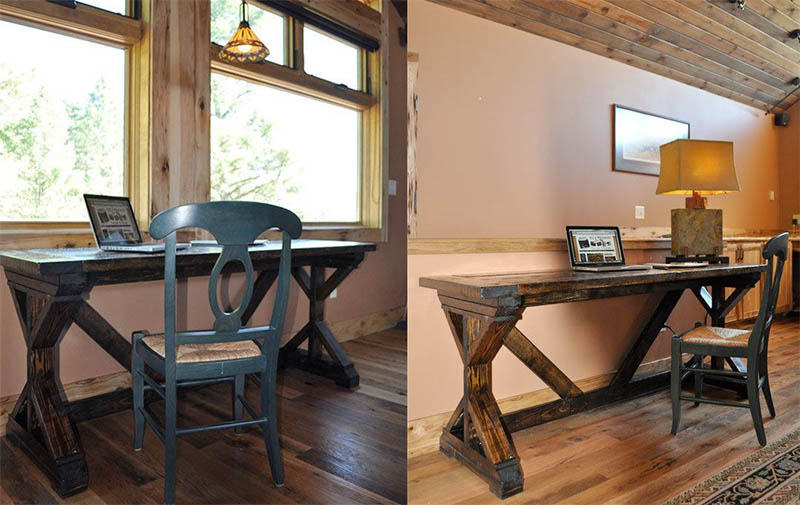 Thick, blocky legs give this desk a rustic, barn-like feel. It's designed with a more narrow profile, and the dark finished wood is sanded, making this desk warm and cozy while still being refined and elegant. Perfect for an office or study!
---
13.

DIY 6 Board Farmhouse Desk from Shanty-2-Chic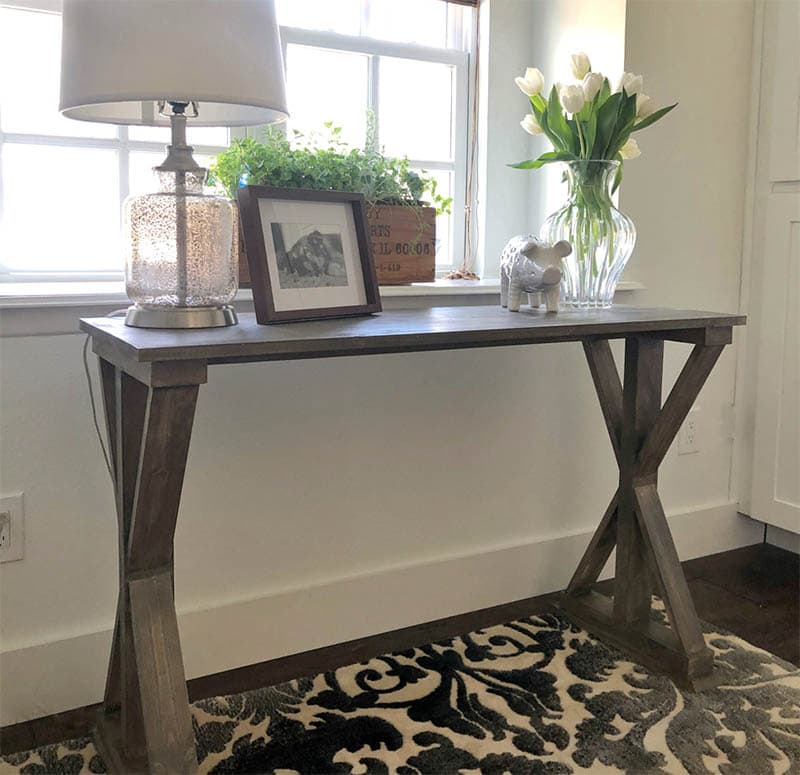 This desk plan is self-descriptive, using 6 boards as the base materials. It sounds simple, but the design still comes out looking sophisticated. The legs have a unique hourglass shape, and the narrow shape makes this desk ideal for smaller spaces, or perhaps as a display desk.
---
14.

1×3 Sawhorse Desk from Ana White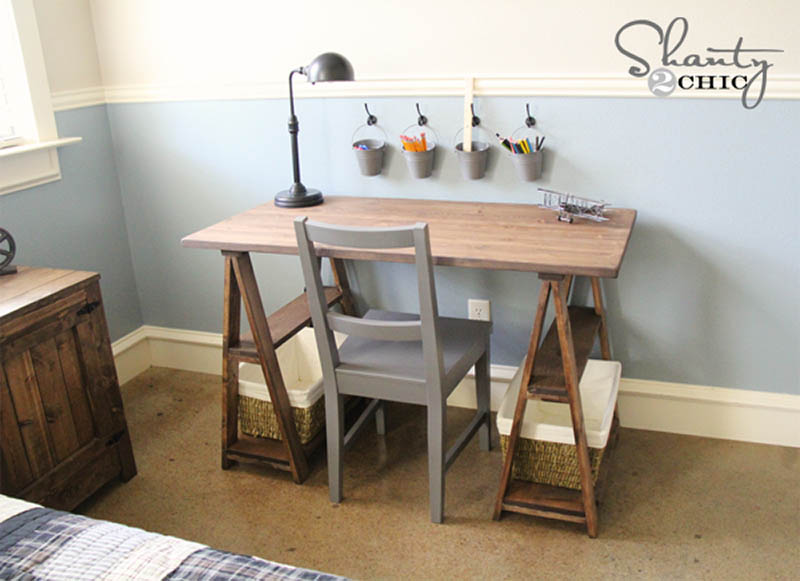 Ana White brings us another great project! This desk has a super unique and interesting concept, with sawhorse-like structures for the legs. The medium-sized template makes this design work as a writing desk, computer desk and many other functions.
---
15.

Recycled Desk from Instructables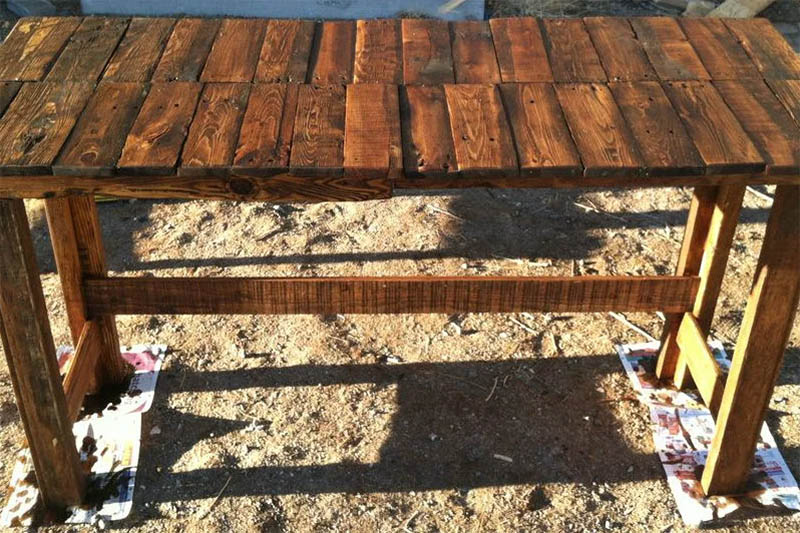 A budget-friendly build, it's possible to make this desk spending zero dollars! You'll have to hunt around for scrap wood, but if you're aiming to be frugal then this desk is for you. Sand it down and add some stain, and you'll end up with a great rustic-looking design!
---
16.

DIY Barstool Desk from Liz Marie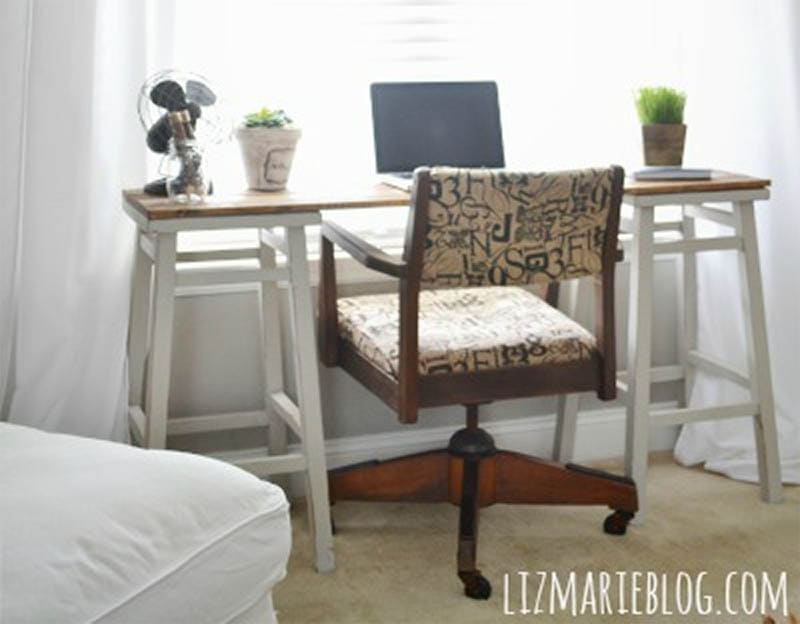 Another unique and fun desk, this design features reused barstools as legs. It's actually very simple to assemble. The base materials are just two barstools and some wooden boards to serve as the tabletop. The result is a farmhouse-style desk that stands out and looks great!
---
17.

Flip-top Reproduction Child's School Desk from Instructables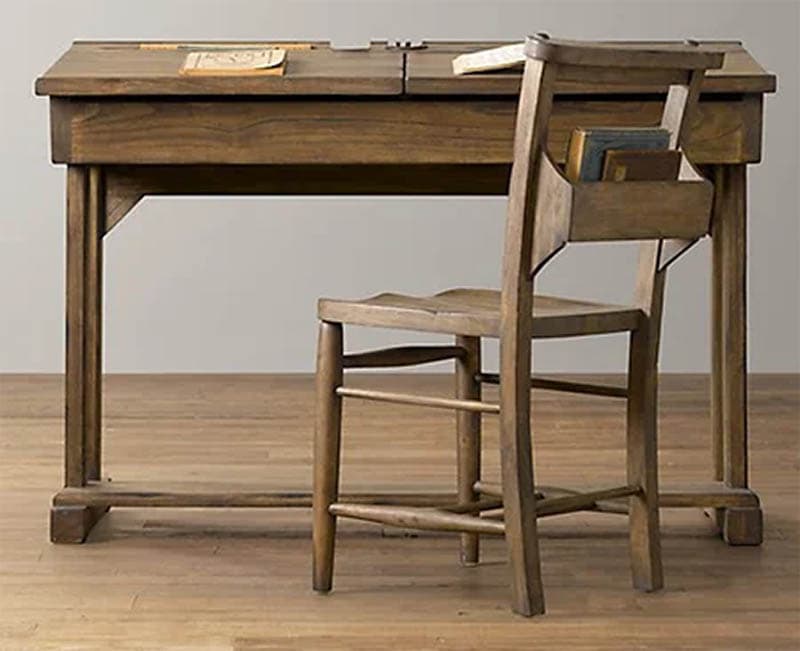 Here's a design that has an antique, schoolhouse feel! It features a tabletop that flips over to reveal storage compartments, perfect for keeping books, writing utensils and other school supplies at the ready. It's great for kids to do their schoolwork, and you'll enjoy building this rustic masterpiece.
---
18.

Saw Horse Desk from It All Started with Paint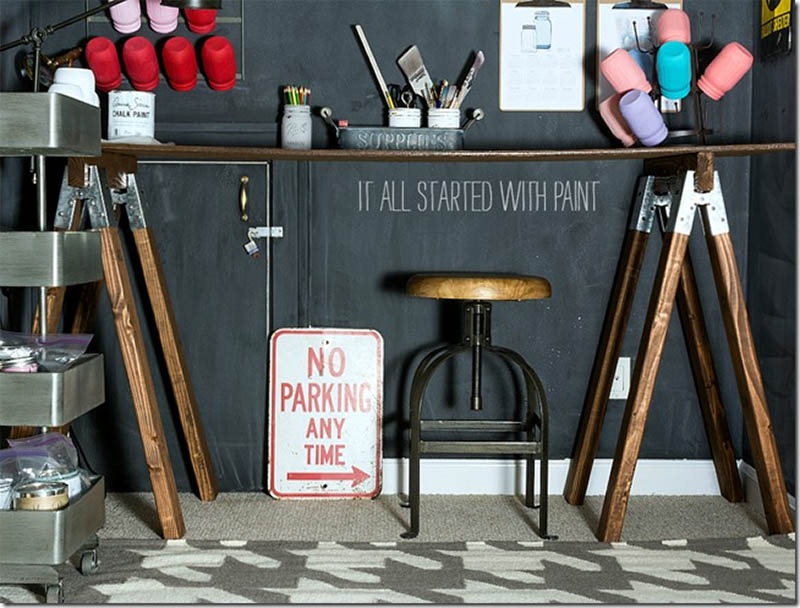 Another sawhorse design, this desk is a little more simple and looks like it actually came from a workshop! It has metal hinges that make up the sawhorse legs, and a single piece of plywood sits on top.
---
19.

Pipe-Framed DIY Rustic Desk from Simplified Building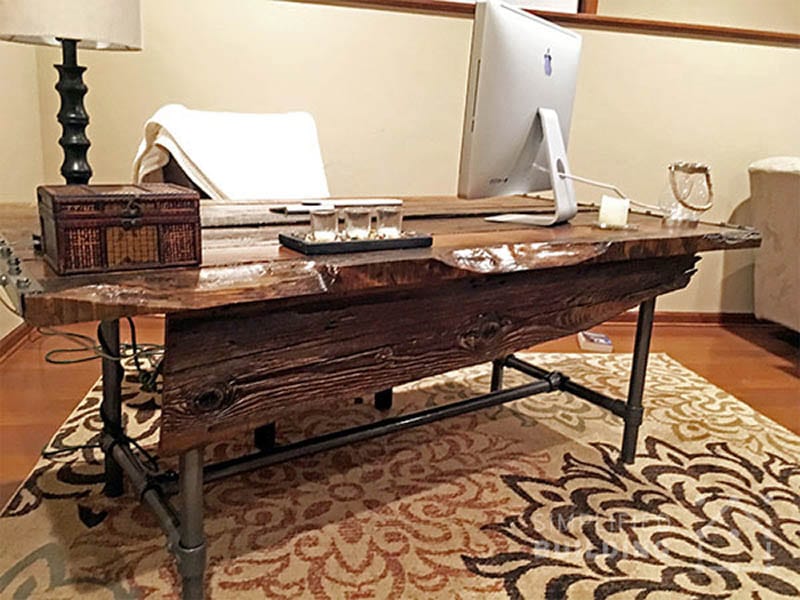 This masterpiece is one of a kind, with jagged, rustic boards and oversized bolts and steel pipes. It's a more in-depth project, but when finished it has a striking rustic farmhouse appeal. A desk like this would be extremely expensive to buy brand new, but learning how to build a farmhouse desk of it's kind yourself will give it a manageable price tag.
You might also be interested in: 6 DIY L-Shaped Desk Plans You Can Make Today
---
Featured Image Credit: Instructables